Link to HOME FISHING WITH WILLY 2011 FISHING WITH WILLY 2012 FISHING WITH WILLY 2013FISHING WITH WILLY 2014 FISHING WITH WILLY 2015 FISHING WITH WILLY 2016 FISHING WITH WILLY 2017 FISHING WITH WILLY 2018 FISHING WITH WILLY2019 FISHING WITH WILLY 2021


Tuesday, March 15, 2022
Out in the fog.
Small crew today, temps in the high 20's, low 30's. The crew was Dave, Frank and me. Dave had his snow machine, Frank and I had four wheelers. There was about four inches of new wet snow on the ice, great for Dave but not so good for Frank and I. Frank had marked a couple of spots to cross the cracks, yes there are two of them this year. We headed out to the first crack in the fog and followed it till we found Franks marker. We headed out to Franks second marker but went in a circle and came right back to our first crack. I was trying to drive my four wheeler in the fog and read my gps on my phone. My classes were fogged up from all the moisture in the air and I could barely see my hands, much less read a gps on my phone. Then Frank tried his gps and couldn't see that. We regrouped, Dave and I broke out our compasses and Dave got his fish finder GPS working. He could read that. We followed him out till he said, "this is the spot".
Holes were cut and the weather was so nice we didn't need to flip our tents up. I put my line down and on the second jig there was a whitefish on, must be a good spot? It was a great spot for Frank and me but Dave wasn't catching much. He got up and kicked around in the snow till he found last weeks hole about 6 foot from where he was fishing. Pretty good GPS work.
It took Dave a while to figure out this weeks bite. It seems that every week you have to very your method a little to get them to bite. We fished till just after two till we had our limit of 30 whitefish. They were running big today so we had a load of fish to haul in.
There was no wind so we could follow our old tracks back in the fog. The fog didn't lift till we were within 1/4 mile of shore. We laughed when we saw our old tracks where we drove in circles. Very east to get tangled up in the fog.
Our adventure wasn't over. I was following Dave home and all of a sudden I saw his trailer axel fall off and head for the snow bank on the other side of the road. He pulled over and we called Frank for help. The axel was retrieved and put on my trailer. Frank came by with a dual axel trailer and we used a come-a-long to winch his wheel less trailer onto Franks trailer. The rust had deteriorated the struts holding the axel on and they had just broke leaving the axel to separate from the trailer. Dave has some trailer repair to do. We kept asking, what would Willy do. He would have come up with some cleaver way to attach the wheels back on the trailer and limp it home. He is a genius when it comes to a quick fix.
Other then getting lost in the fog and loosing an axel from a trailer we had a very successful day.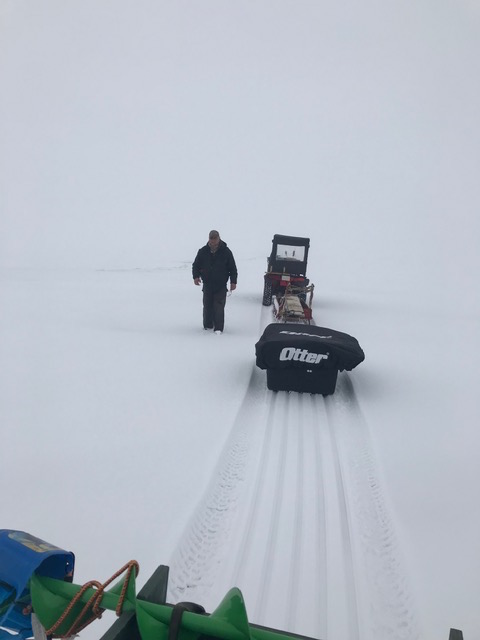 Frank lost in the fog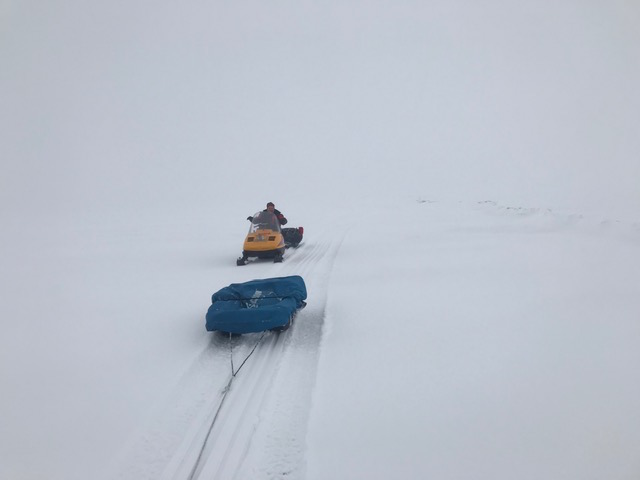 Dave in fog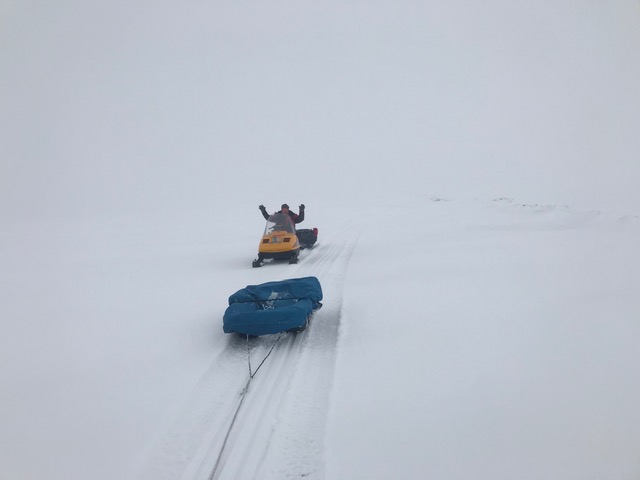 I give up, where are we?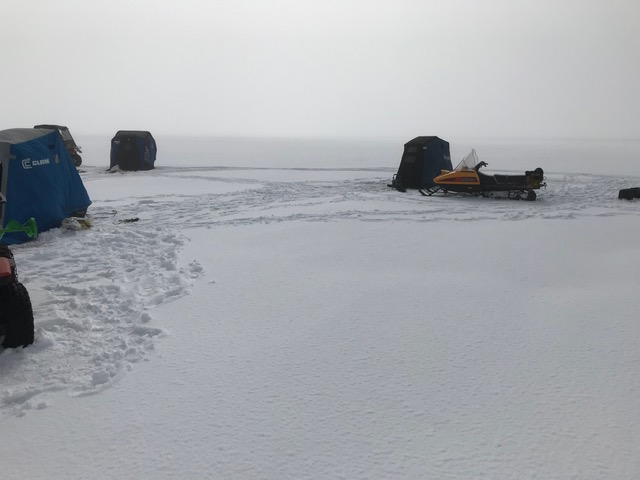 Three tents lost in the fog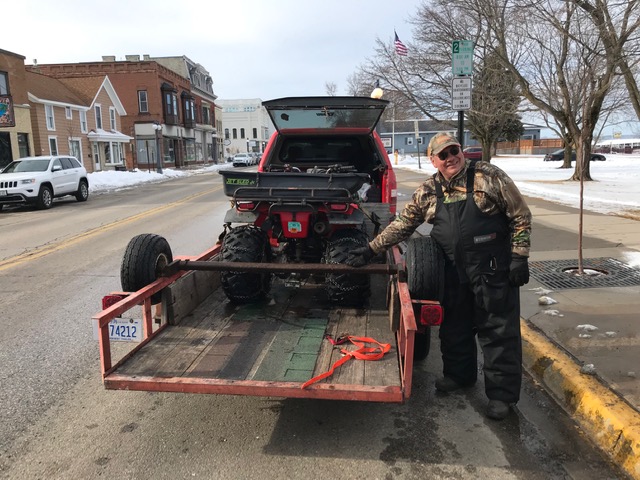 Dave's axel on my trailer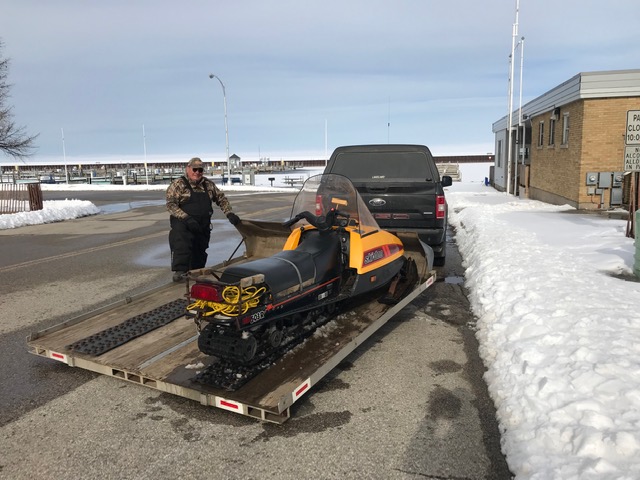 Look Ma, no wheels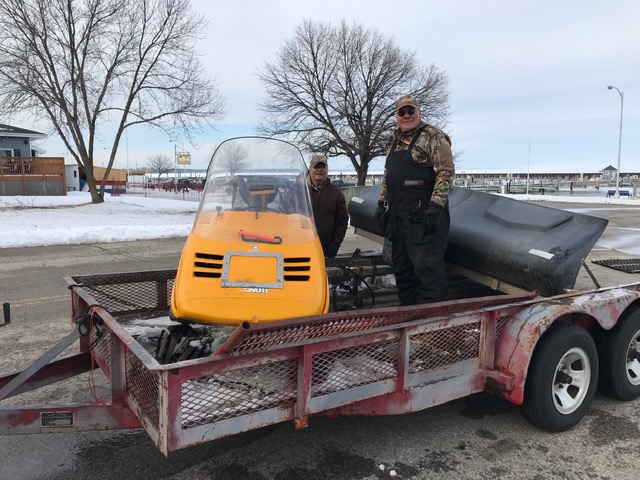 Snowmobile and wheelless trailer heading for Franks, some repair needed.
Tuesday, March 8, 2022
Whitefish Willy the master returned
When Dave and I got to the launching site, Willy, Frank, Mark and Steve were already out. Dave and I hooked up our sleigh and headed out to find them. It wasn't too hard to find them as they were all set up and we could see their tents. Willy and Frank were set up in one of Willy's old spots. Frank was by him. Dave went over by them and Steve and Mark were trying to catch last weeks fish. I set up by myself over last weeks hole.
It didn't take long and I caught the first fish. My line went down and I missed one. Then Steve Gruenberg called, he was in his airplane and heading our way. He was somewhere over Lake Michigan and would be landing soon. I had the phone in one hand and the rod in another. Sure enough another fish hit of course I lost it. Then Dave called on the radio, of course another fish hit. I dropped the radio and did land this one. They were really bitting for a while and I was busy. Frank and Dave were also having fish hitting. Willy had good luck but nothing special. Steve and Mark were marking fish but no bitters. Then Steve came in for a landing on the slick ice.
Steve had a tent in his airplane. It was windy and it was hard to set up his tent. We finally got it set and he started fishing. Steve was used to hauling halibut in Alaska and he pulled too hard and lost his first couple of fish. Things settled down and we picked away at them. We quit at 3:00 with 53 white fish and one burbot between us. Dave caught his limit of 10 whitefish before Willy, Willy said that he finally graduated from the Whitefish Willy fishing school!
Note the glare ice. Those of us with snowmobiles took 360s on the way in. My snowmachine died about 100 yards off shore but I was able to limp it in. Some repair required.
Here are a few pictures from the trip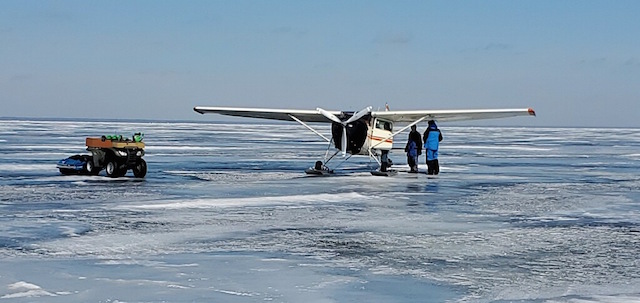 Bring an airplane, just in case. Steve flew over from Cadilac to fish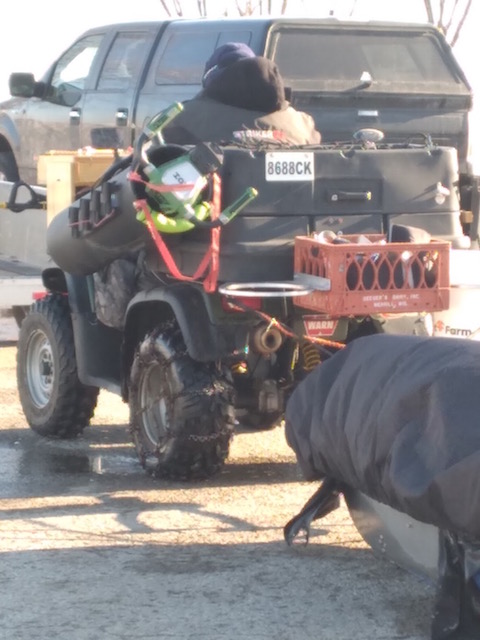 Steve 's rig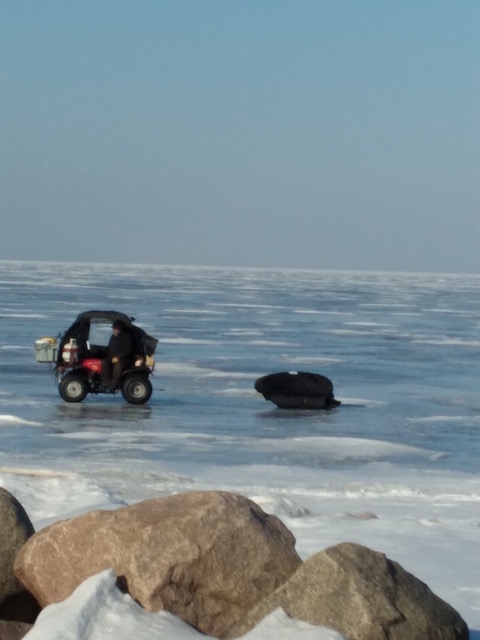 Frank's rig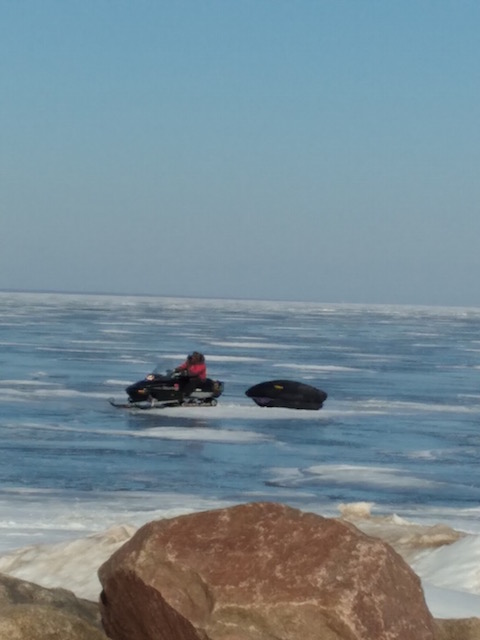 Dave's rig
The ice conditions are ok for four wheelers but not good for snowmobiles. The ice is slick and when a gust of wind hits your snowmobile will just do a 360 and there is nothing you can do but ride it out. Hopefully the ice will last another two weeks or so.
How to clean a burbot.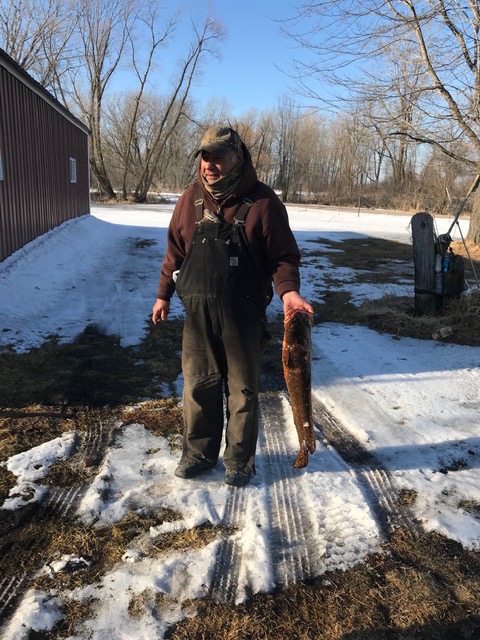 First you catch one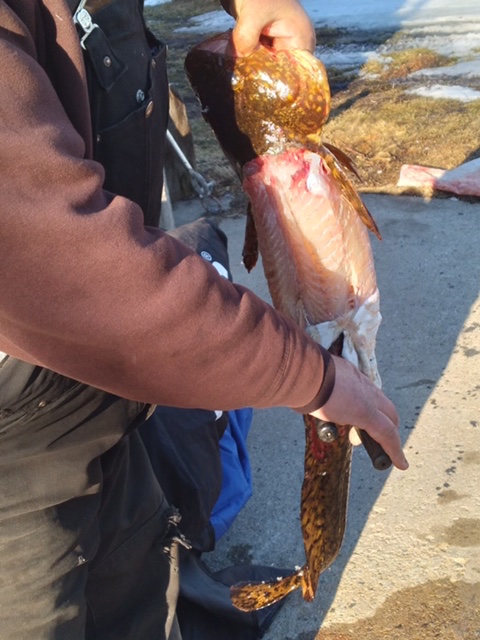 Then you skin it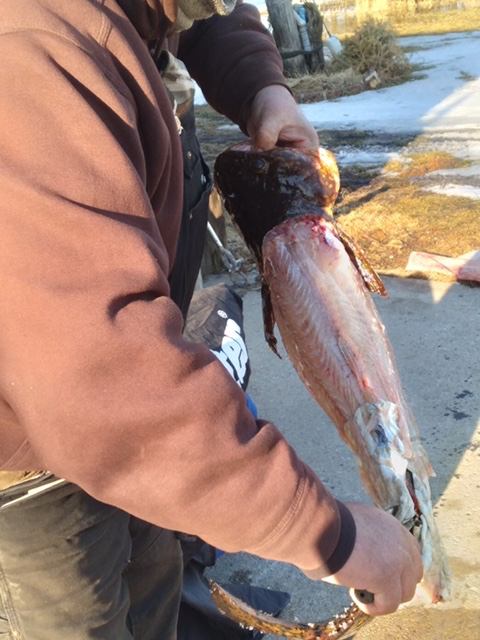 Keep pulling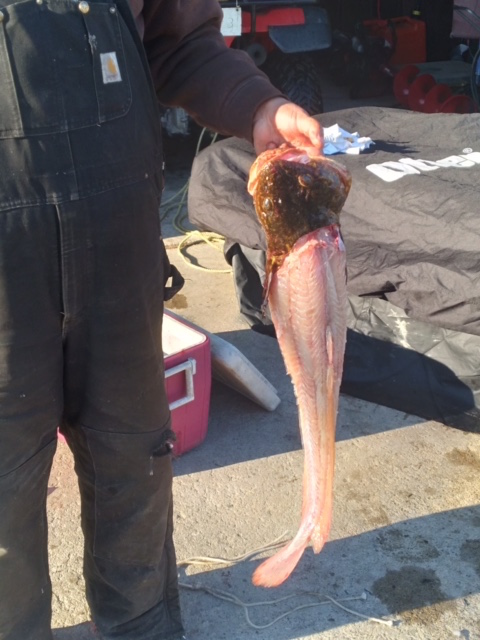 Skinned lawyer, Take the meat off and you are done.
More fish pictures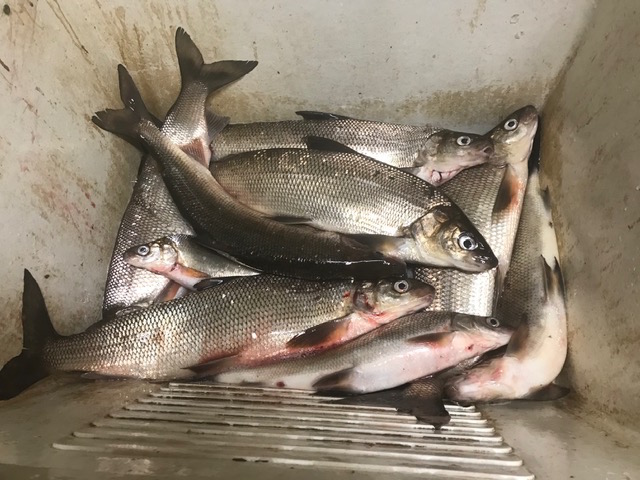 A limit of whitefish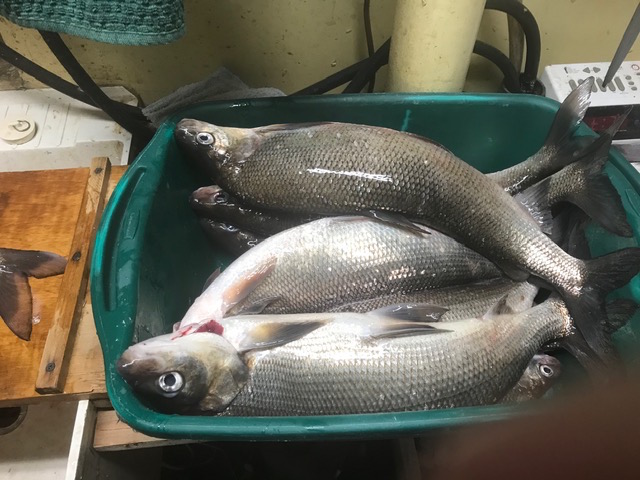 Ready to scale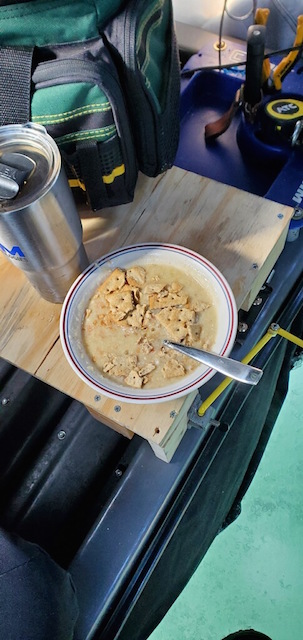 Mark made some whitefish chowder for out on the lake.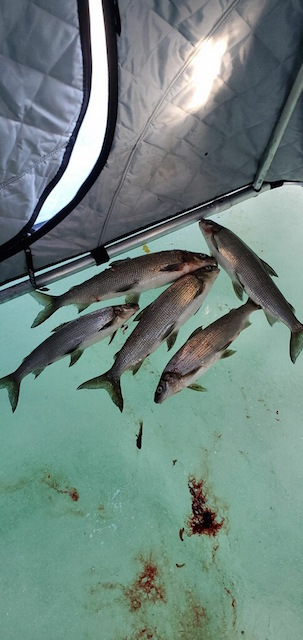 Steve's fish on clear ice
Tuesday, March 1, 2022
Finally a warm day
We met up at 9:00 and headed out. The temperature was in the high 20's and the sun was expected to come out. The crack is still froze shut so it was easy to cross. Steve had the coordinates in his gps so he lead the way out to where we fished last trip. I had a different idea and thought we could try where we caught fish two years ago. We had limited out by noon so it must have been a good spot. Well you guessed it, you can't catch yesterday's fish, or fishing a spot that was good two years ago. Steve and Mark did catch a few fish there. Frank and I couldn't get a fish so we moved over to last weeks holes to try and catch the afternoon run. Dave came over and joined us.
It didn't take to long and some fish showed up on the depth finder. I had a few pecks but no bites. Frank did catch one as he always catches the first fish. I changed baits, that didn't help. I went back to my "old faithful" bait and soon caught a fish. The two o'clock run never did come but we did catch a few fish. Steve was still catching fish where we had started. It was a beautiful sunny day and we fished till 3:00. Our total catch was 23 whitefish and one lawyer.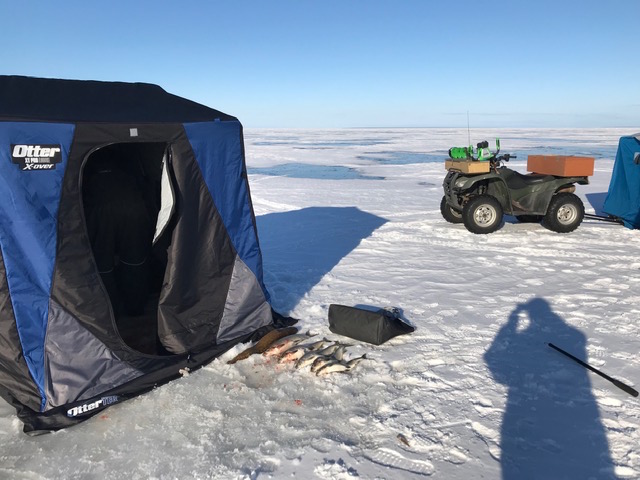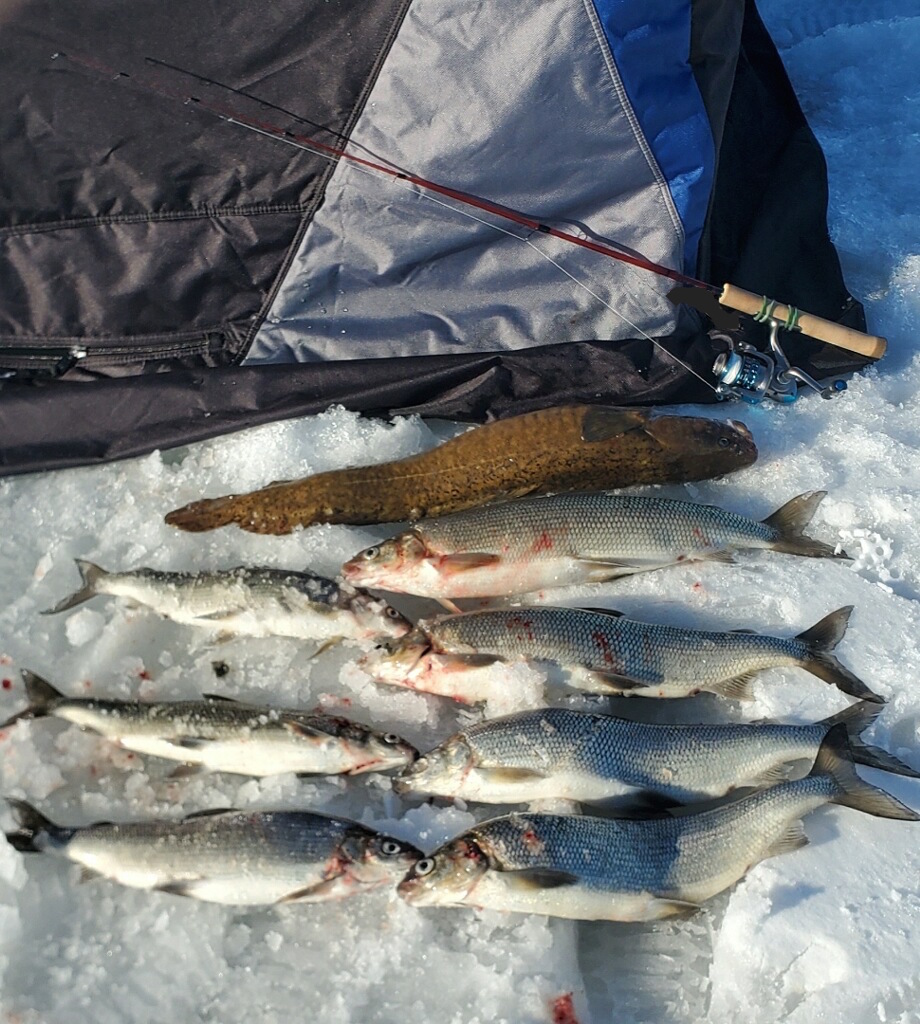 Thursday, February 17,2022
Afternoon bite?
We headed out into the bay on a cold morning. The crack was healed up after a few days of below zero temperatures. Our goal today was deeper water and we made it out to 80 feet. It didn't take Frank long to catch the first fish on his new rod. It was on the ice before I even had my line in the water. Is that good luck or bad luck?
Steve and Mark set up by us. We picked away at catching fish and we didn't have many on the ice by noon. We were thinking about moving but then somebody would hook a fish. About 1:30 the afternoon run started. The fish finder lit up and the fish were coming by in schools. Then the bite started and Steve and Frank started to catch fish. Mark the rookie still hasn't figured it out. We quit at 3:00 with 26 fish on the ice.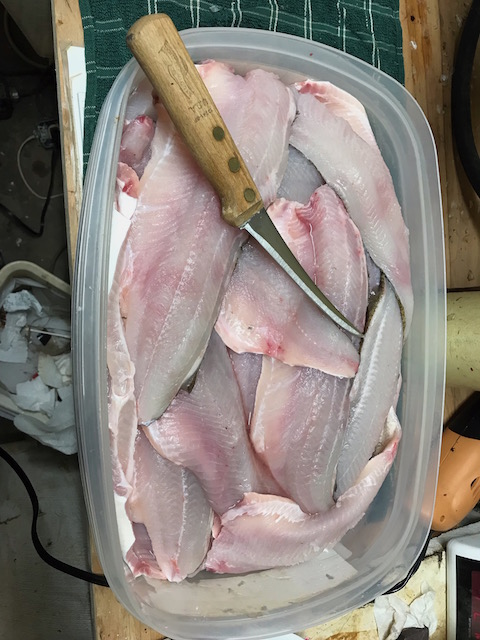 Thursday, February 10, 2022
Slick ice.
I took my snowmobile down to Franks and met Steve and Mark there. We were heading out on the bay for another try for whitefish in deeper water. When we got out on the bay we found out that there was no snow on the ice. It was slick black ice. Frank led the way out to a place we could cross the crack. There was about 3 inches of water on the other side of the crack but there was some skim ice on top of it. Steve crossed first and a little water splashed as his four wheeler broke through the skim ice. Mark and Frank both crossed there and the hole got a little bigger. I had the snowmobile so I easily crossed the crack in a different place.
I got my tent set up, pulled my rod out and looked for my bait. I had put it in my lunch bucket. Where was my lunch bucket, in my truck on shore. My coffee, breakfast, lunch and bait were all on shore. I borrowed some bait from Frank and started fishing. It didn't take long and I decided that I needed my coffee. I had no choice but to head for shore and get my lunch bucket. I didn't miss much as Steve only caught one fish while I was on my adventure.
The fishing was slow all morning. The current was strong and most fish that came by were a couple of feet off the bottom. When they are suspended, whitefish do not bite. We picked away at catching some. It wasn't till 2:00 that the bite started. We fished till 3:00 and ended up with 20 whitefish between us.
Here are some pictures of crossing the crack.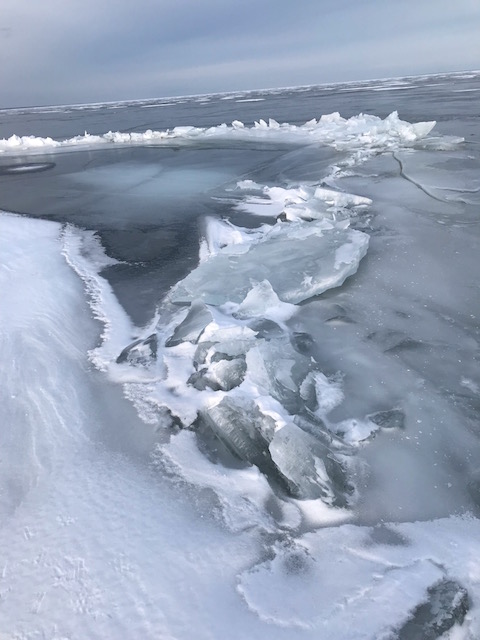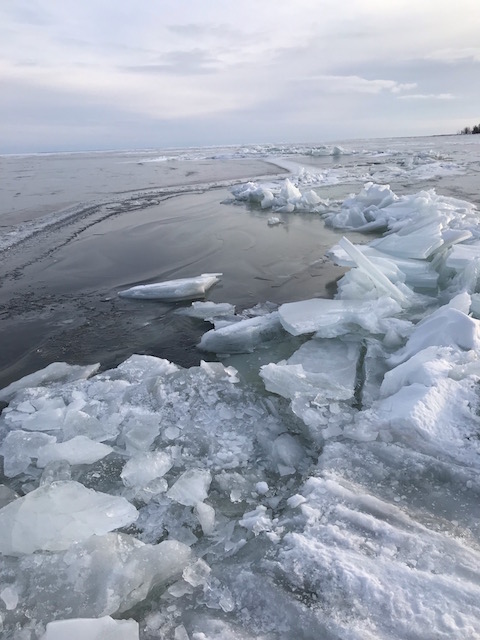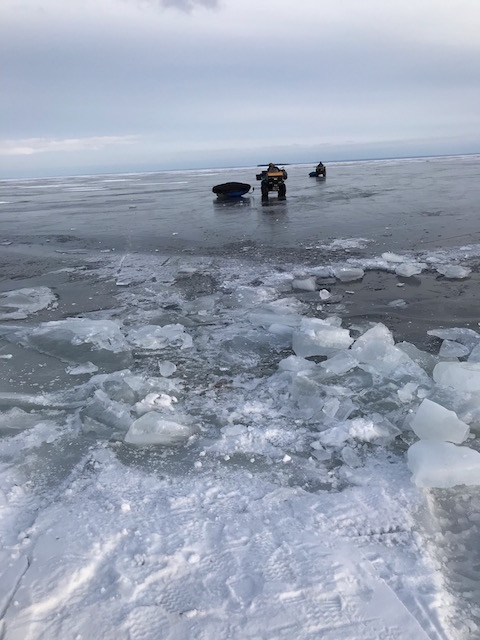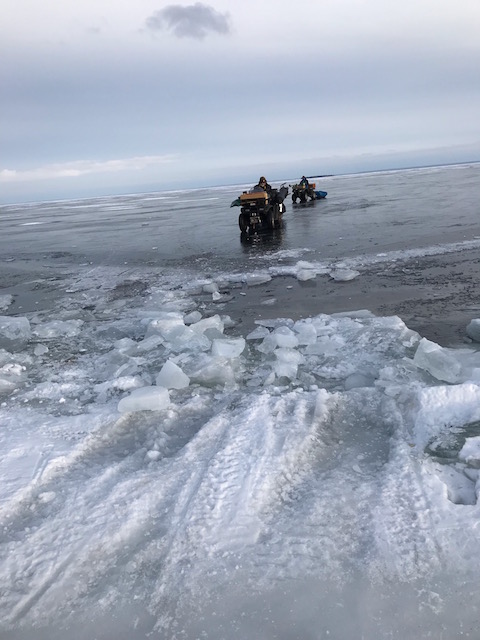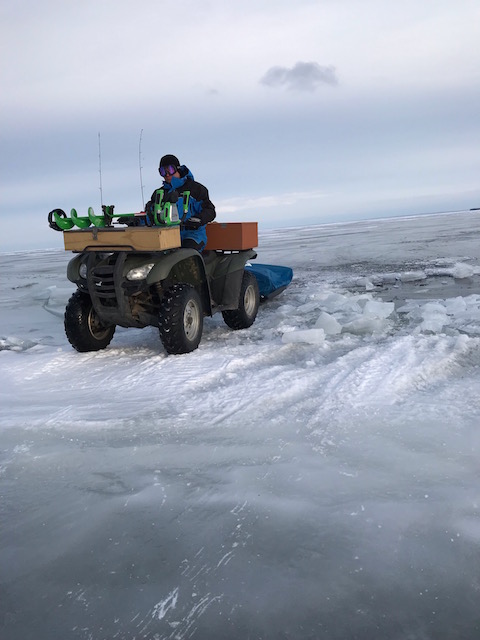 Monday, February 7, 2022
Good ice
Finally we have good ice, Green Bay is froze from shore to shore so we hit the off shore reefs. Frank has been checking the ice and said that the ice is good. Steve picked me up at 8:00. Since there is very little snow on the ice we took the four wheeler. Dave had his snowmobile and Steve List had his four wheeler.
When we got to the launch, Frank was already out looking for a good spot to cross the crack. It is not to bad on early ice so we didn't even have to put the crack planks down to help the four wheelers cross the crack. The crossing went well and the ice was smooth out to one of our favorite whitefish holes, the fish finder showed fish on the bottom even before our lines went down. The first fish was a large fish that had shoulders, at least a 3 pounder. Then things slowed down. There were lots of fish showing on the sonar but they were small fish, very unusual for this spot. We iced a few more smaller fish with a few 16 inchers thrown in. The bigger fish were over twenty inches and were very heavy. By the end of the day we had 23 fish. Not bad for the first trip out to the deeper water.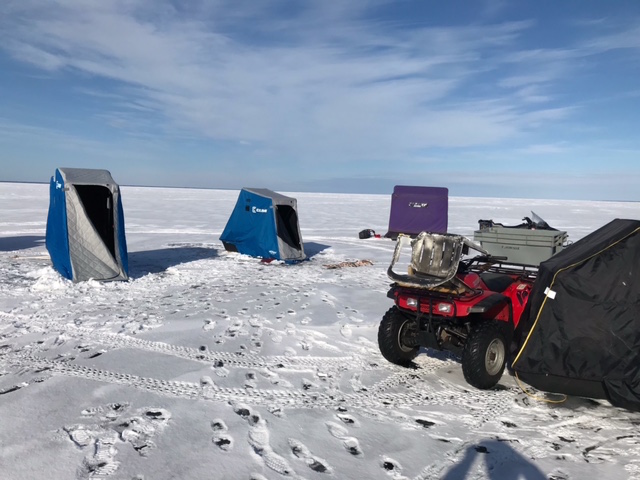 Tent city on the ice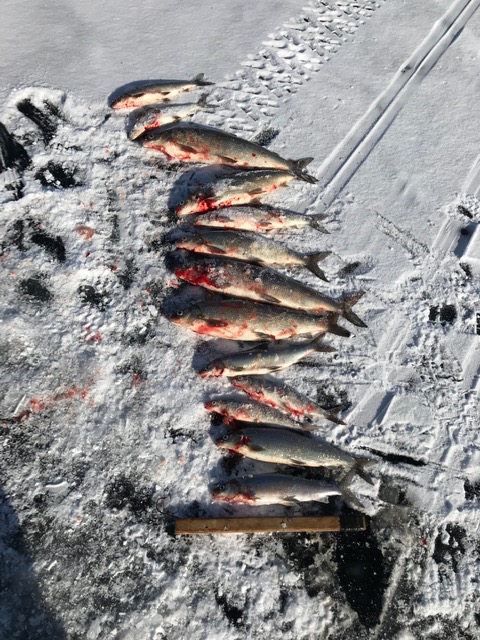 Part of todays catch
Tuesday, February 1, 2022
Windy day
Dave, Willy, and Frank were the crew today. It was warm and windy so we stayed in shallow water. Of course Willy had 2 by the time Frank and I got to the fishing hole. I had a tent but Frank did not. He had a camera but couldn't see the screen because of the bright sunshine. It didn't take long and I hooked a whitefish but of course it fell off just as it's head was entering the hole. Thee were a few fish coming by but not many so we moved to spot number two. Willy and Dave picked one spot and Frank and I were about 200 feet away.
After we got set up at the new spot it didn't take Willy long to get another fish, then Dave got a fish. He hooked another fish and when he stood up his tent blew away. He had to forget about the fish while he chased his tent. The predicted wind had arrived. I had to put my auger and heater on the tent flaps so it wouldn't blow away. I lost a couple more fish and then finally landed my first whitefish for this year.
Dave has a visitor in his tent. A muskrat gave him a visit. He shoed or out of his tent but it came back and tried to eat his fish. Willy turned his dog Abby loose on it and it jumped into a crack in the ice and was gone.
We quit at 2:00 and headed in. A windy but good day on the ice. The plan is to catch more fish next time. Ya right.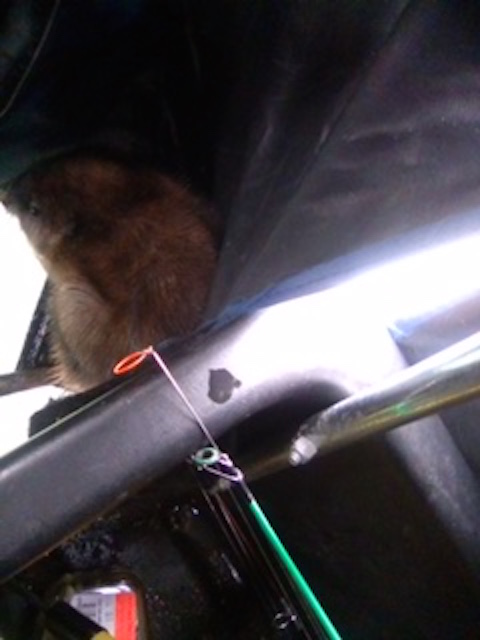 The brown furry object is Dave's pet muskrat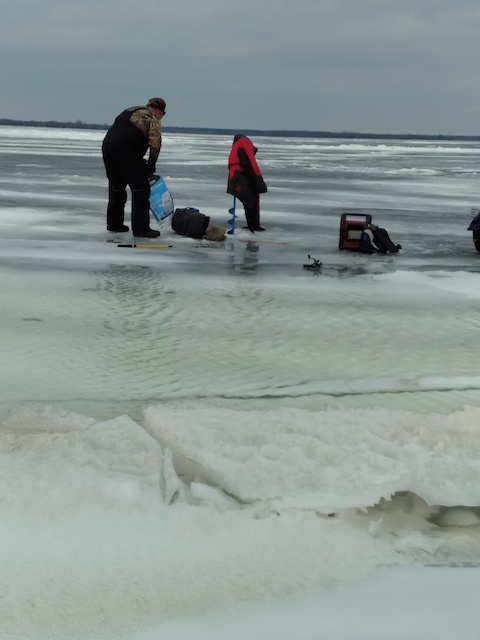 Dave looking for his tent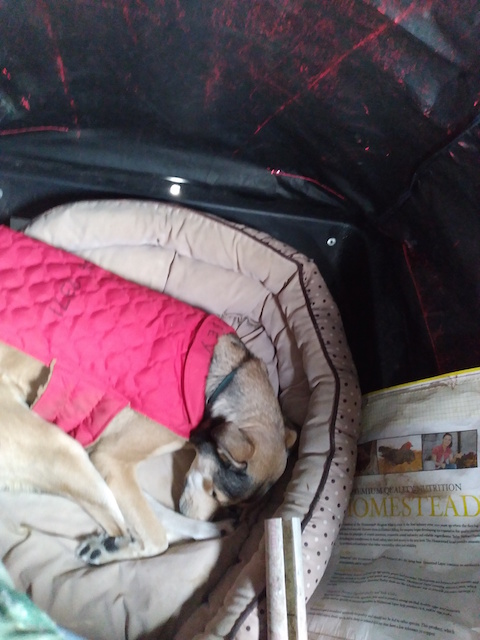 Willy's dog Abby in tent
Monday, January 24, 2022
Shakedown Trip
It was cold last weekend, we had 24 below. The ice in Green Bay has been shifting and we figured that this would set it up. Our plan was to take the four wheelers out to fish a drop off that was about 1 mile out. When we got to the boat launch there were some piles of rock and a sharp turn to the right. The truck made it but the trailer had to climb a hump and it didn't make it. the tire stuck, the truck tires spun and we were stuck. It took three of us a twelve foot plank to lift the toung of the trailer off the ball. Then we were able to hook a chain to the trailer toung and get the trailer off the rocks.
We hooked the trailer back up and drove out on the the ice in the shallows and parked. Steve List was already there and unloaded. This was a new spot and nobody had been out with four wheelers or snow machines. That meant that there were no tracks to follow and the ice was terrible. There were some ice push ups that were 5 foot high and lots of jumble ice too. We bagged it and decided to check out another spot. When we got to another spot there was a Red tent with a dog on the ice by it. Whitefish Willy was out there. We called him on the cell phone and he had five fish on the ice. That did it, we parked the truck, unloaded the four wheelers and we headed out to fish by Willy. The three of us surrounded Willy and started fishing at 12:00, we started our adventure at 8:00. There were a few fish showing up on the sonar, I missed two, Steve Hadden missed one, Steve and Willy never had a bite once we started fishing. We quit at 2:00 with Willy 5 fish, Bob, Steve, and Steve zero.
Things learned, check ice at the spots you want to fish before you go. remember to take your heater, don't forget your fish bags. All things that are typical for a shakedown cruise. Ohh, I water released the two whitefish because I didn't want to put a slimy fish in my sleigh. Thats my story and I'm sticking to it.
.