Link to HOME FISHING WITH WILLY 2011 FISHING WITH WILLY 2012 FISHING WITH WILLY 2013FISHING WITH WILLY 2014 FISHING WITH WILLY 2015
Monday, March 7
Last ice
I met Willy on the ice. There was water and slush on the ice as the temperature was 50 the day before and 33 in the morning. Willy had tapped trees the day before and said that the sap was starting to flow. The sun was shining, there was no wind, and the geese were calling. It looked to be a beautifule day. Willy and I crossed the first crack following the tracks left from Steve and I on the previous Friday's trip. We wanted to get out to the 14 to 15 foot of water. Willy cut a hole and the power auger went through in seconds. Whoa, I said and we checked ice thickness, we were standing on three inches of BAD ice. It didn't take us long to get out of there and back on the 12 inch ice. I set up in one of our old holes from Friday and hooked a fish right away. I lost it of course. Willy went back to one of his old holes and landed a fish, then he lost one. My hole went dead so I moved over to a hole by Willy. I had one fish bite three times but I lost that one too.
There were not a lot of fish moving around and we really didn't like being on the river ice with a strong current flowing. That current is eating the ice away from the bottom. The ice looked better on the other side of the breakwall and there were some other guys out there. One of them had three fish so Willy and I headed over there. I picked an old fishless hole and Willy went over by the crack. He caught another fish just as I was moving over near him. One hit from my ice pick went right through 2 1/2 inches of punky ice that was on both sides of the crack. I cut a hole rather then fish on that thin ice. We fished till 2:30 with Willy getting another fish. The total score was Willy 4, Bob 0. I had even resurected my old shirt out of the garbage can so I had no excuses this time. I chalk it up to "Willy doe it again".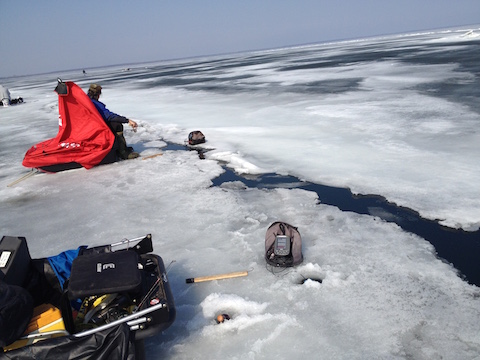 Friday, March 4
Skunk Trip
Steve and I headed out to what we call the "Honey Hole". It is way offshore in Green Bay. The fishing was not good. There were some fish there but they were non biters. We cut holes all over the ice from 30 feet to 55. There just were not a lot of fish showing up. The score was Steve 1, Bob 0.
I think I figured it out.
For years, I have been wearing the same ragged old quilted flannel shirt. There were holes in the elbows, only half a collar, and finally a third button fell off. It didn't cover my belly any more so I retired it and actually threw it in a garbage can, big mistake. The fish gods were watching and they came down on both Steve and me. That is why they wouldn't bite, it has to be. There is no other reasonable explanation.
The first picture show the way home. The second picture is Steve inspecting the crack we just crossed. There are no fish pictures today.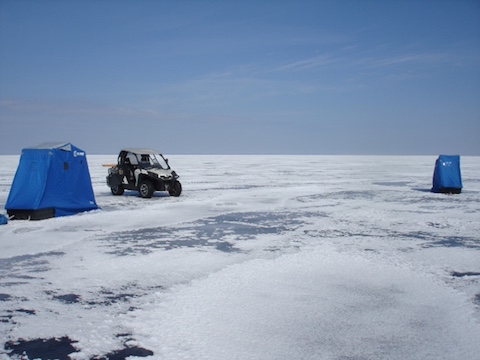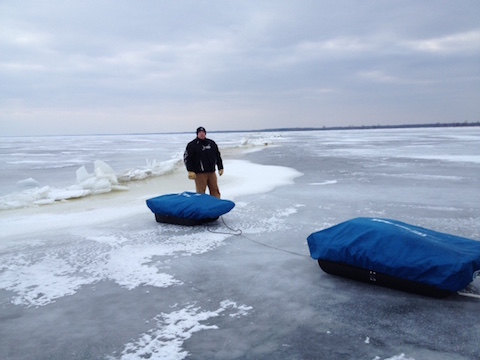 Wednesday, February 24
Still Windy
As you get older there are a lot of medical problems that crop up. Daves wife just had surgery, Steve has a two week cold, and Willy just got out of the emergency room so I didn't have any partners to fish with. I went to Green Bay and fished where I could walk out onto the ice. It was still windy, the big storm that is affecting the east coast is making it windy on Green Bay. The wind was on shore but it was pretty strong. The pressure crack was not looking good so I fished inside of the crack. No fish were showing on the depth finder and you couldn't see your lure because of the strong current. The lure stuck to the bottom, must have been a zebra muscle. A few jigs later it stuck again but this time it was a whitefish. I caught another one a few minutes later, that made two in the first 15 minutes. It took four more hours to catch another two fish. I would have moved around looking for fish but the wind was strong and I did not want to cross the pressure crack. Four nice whitefish however made for a nice day of fishing.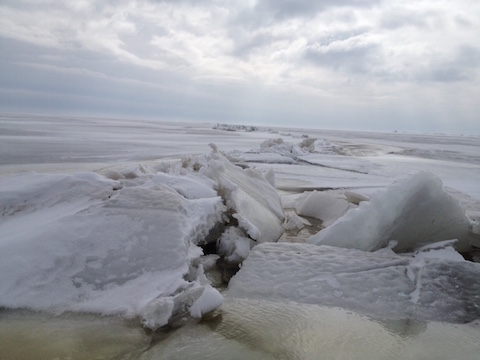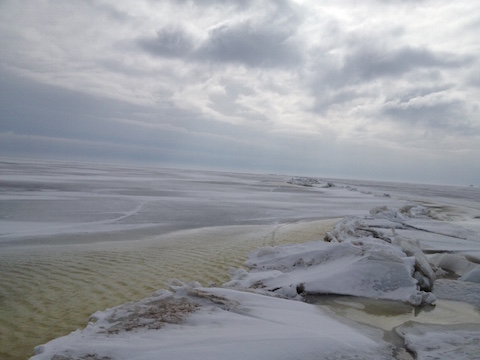 Saturday, February 19
Windy
The wind blew hard on Friday night. I was going to explore some near shore shoals but I would have to cross the pressure crack to get out to the shoals. The temperature was 45 degrees when I walked out the door. The driveway was slick ice with water on it and I could hardly stand up on it. I went directly to my ice fishing sleigh and put on my ice creepers. That really helped.
I was backing up to hook up the trailer when a gust of wind almost took my hat off. That did it, no trailer, (which now has new tires on it) for me today. The four wheeler will stay at home.
With no four wheeler, I would have fish some walk out spots. Willy had a good day on Thursday in an area close to shore. I have not had very good luck in that spot but thought it deserved another try. Since it was a Saturday I expected to see a crowd there. I was surprised to see only one guy fishing there. There was some water on the ice but it wasn't bad. I walked around and found some open holes. I was surprised to see some fish on the fish finder while baiting my line, whitefish? It didn't take long and a fish hit. It turned out to be a whitefish, no skunk today. To my surprise, I kept catching fish. Normally the close in water yields few fish. I ended up with six whitefish when I quit at 2:00 and headed for home. Kind of a dull day, no wet feet, no jumping pressure cracks, and no tires falling off the trailer, how boring. The fis will taste good though.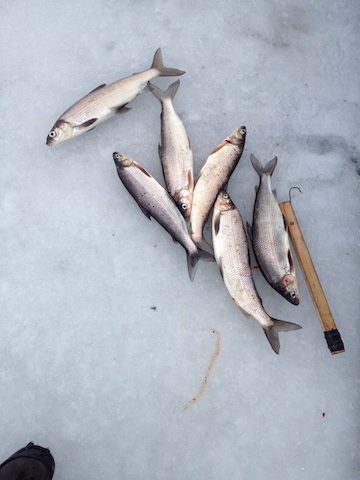 Monday, February 15, 2016
Fishing with Bob and Willy
It was snowing when I left. One of those nuisance snows, light fluffy white snow that slowly comes down and covers everything. The plows will be out and there will be salt on the roads.
I was to meet up with Dave and Willy at the boat launch.
While hooking up the trailer i found the pin for the trailers tilt bed was not inserted. Not having this pin is could lead to your trailer tilting and unloading a four wheeler onto the highway at 60 miles per hour is not recommended. I inserted the pin, hooked up the lights and off we go.
All went well on the trip down to Menominee. The plows were out and i was able to get around one in a stretch of four lane. You know the signs that say "Caution, Bridge may be Icy"? Well they are right about that. I was crossing the Menominee river and had just crested the high spot when an ambulance came around the corner with its lights on. The pickup truck ahead of me pulled over and stopped. I hit my brakes and the anti-lock system started to growl. I just kept sliding down the bridge right words the blue pickup, my truck was not going to stop in time. There was no choice but to jump the curb and hope that the truck would stop before it hit the bridge guard rail. It did with no damage except for my pride. With that out of the way I was off to the fishing hole.
At one of the lights in Marinette a pretty young girl pulled up along side of me and motioned for me to roll down my window. I thought she wanted to chat with a yooper all dressed up in his fashionable fishing gear. Nope, she said that i had something dragging off the back of my trailer and it looked like a charger. I pulled over at the next intersection and sure enough, there was my charger minus the plug, someone had failed to unhook it before he took off with the trailer.
I was at the launching site first. I was unloading when Dave and Willy arrived. It seems that either the GPS was confused or the guy who programmed it that morning was confused. They had turned south on US 41 instead of north. When they saw the signs for Green Bay they figured it out and headed north. The four wheeler went easily through the 3 inches of powder and I told the guys to meet me at the first pressure crack. About half way out to the crack there was a field of jumble ice. i picked my way across it and when I got to the other side it was obvious that you could take a different route to avoid it. I waited, and waited, and waited for Dave and Willy to show up so they could take the easy route around the jumble ice field. After a phone call to Dave he confirmed that Willys snow machine wouldn't start, nothing unusual about that. It wasn't too long and out they come.
The pressure crack was not good. It varied from a 4 foot by 10 foot pushed up wall to patches of water on top of the ice. We searched along the crack until we found a place where the open water was only about 15 inches wide and 10 inches deep. Pieces of ice were chipped and stuffed into the crack till we made a temporary road to cross the crack. It worked great and the four wheeler flew across the crack and hardly got the wheels wet. Once across the crack we were on a smooth ice sheet 18 inches think and stretching all the way across to Door County.
The first holes were cut in 30 feet of water, just off the first droop off. There were some fish coming by but they didn't want to bite. Willy hooked a couple of fish that got off and I caught a whitefish. After about an hour with not much action we packed up and headed to an offshore reef. After putting an old point into a GPS we were on our way. The ice was perfect, kind of like driving on a large airport runway, flat and even in every direction. Willy and I ended up in 55 feet and Dave who wasn't very far away had 40 so we were in the right area. There were no fish under Willy and I so we moved and ended up in 32 feet. Dave was seeing fish on his fish finder and was getting bites. Then Willy went into action and soon there were fish on the ice. Our holes had dried up but Dave was still catching fish so Willy and I moved in on him. We started catching fish right away but Dave stopped catching any. (That ought to teach him to keep his mouth shut) Our catch was Willy 10, Dave 5, and Bob 6.
The trip off was uneventful. Our ice road across the crack was unusable so we found another place to launch ourselves from the lake side to the land side of the crack. Willy tried to put his snowmobile through the front of Daves trailer but other then that, every thing went well.
I was on the highway just north of Menominee when I heard some sound from back by the trailer. I pulled over to investigate and found every thing ok except for a missing 2 X 4 that is used to raise the side of the trailer so it can haul more brush. Off I go heading for home. Near powers there was a strange metallic sound coming from the trailer. There is a park and ride there so I pulled into it to check things out. The metallic sound was coming from the trailer. It seems that when there is no longer a tire on the rim and it is metal on the pavement it does rather sound like a bell. The spare was home in the garage of course, where else would you keep a spare. I dropped the trailer in the park and ride, it looked a little lonely in the rear view mirror as I left it there as I headed for home to get the spare.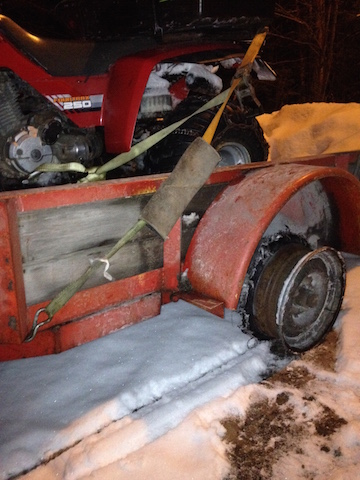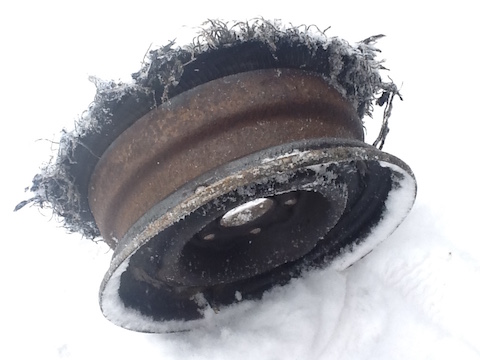 Marge showed up and helped me put the spare on the trailer. I guess even a trailer needs a shakedown cruise.
One more event before the story ends. When you carry your bait container in your lunch pail make sure the cover is on tight. Marge refuses to clean out a lunch pail that has sawdust and worms in it.
Friday, February 5, 2016
Sugar Creek
Steve and I met up and headed for Green Bay. We were looking for safe ice so our destination was Sugar Creek up on the Door Peninsula. When we got there the parking lot was full of trucks and trailers. We managed to squeeze into a corner of the parking lot and get unloaded.
Steve's new ride took us to our old fishing spot about 1 1/2 miles out. There was already a crowd. Our spot was off to the side of the crowd but still a lot closer than I liked. There was only one open pressure crack to cross. It wasn't wide so the four wheeler had no trouble crossing it. There is about four inches of snow on the ice so travel by snow mobile or four wheeler is good.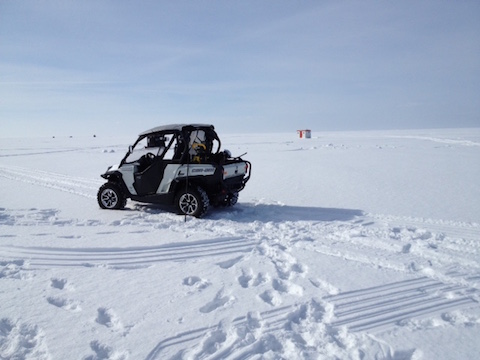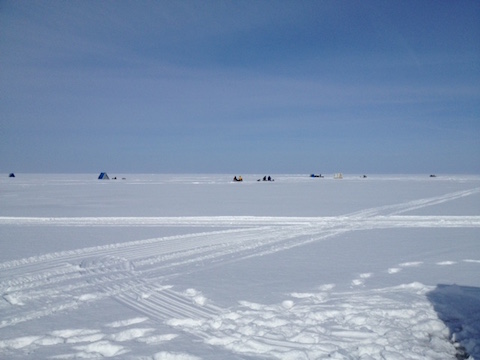 We set up and Steve got his fish finder going. Right away he said that there were fish down there, a good sign. I was trying to get rigged up and of course the trebel hooks on the jig got caught in the tent. I was seeing fish on my fish finder too and that didnt help me get the hook out of the tent. Then I dropped my can of wax worms that thankfully didn't go down the hole. When I finally got my my hook baited there was still a fish on the fish finder. I dropped my jig down the hole and I saw the fish start up from the bottom. I flipped the bail on the reel and suddenly the fish was on. Holy Whu! I didn't even get my line to the bottom and I had a fish on. Good sign.... usually not. Many times when that happens you have a bad day out trolling.
There were fish under us most of the morning. Some were active and would follow your baits and then swim away. Others would just swim away and not even look at the bait. We changed lures, put on more bait; I even resorted to putting fish oil on my lure. Everything seemed to work a little and nothing worked a lot. It was a struggle to get them to hit and we both lost fish in the hole. I even landed a fish, took the hook out, and promply dropped the fish and of couse he fell right into the hole and was gone. We shouldn't complain though as our catch was 16 nice white fish. The sun was shining, no wind, just a very nice day out on the frozen lake.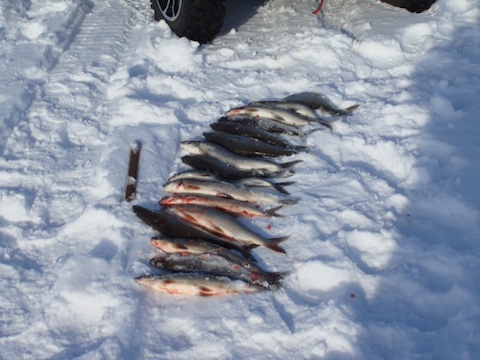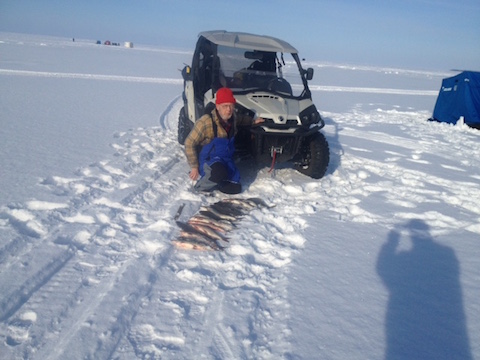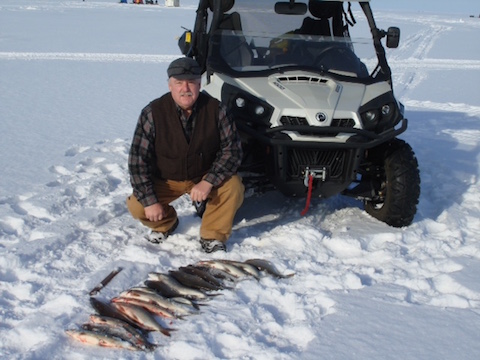 Thursday, January 28 2016
Tried a New Spot
I met Willy in Pembine, Steve and Dave were smarter and didn't come along on this trip. The weather report was not good but we were going anyway. We had been fooled two times already this week. It was warm and windy but the forecast was for the winds to die down in the afternoon. Ya sure, right.
We found a place to access the lake between Oconto and Suamico. The marine charts showed a spot where the reef went from six foot to 20. It was about 2 miles out so we had Willy's trusty 30 year old snow mobile.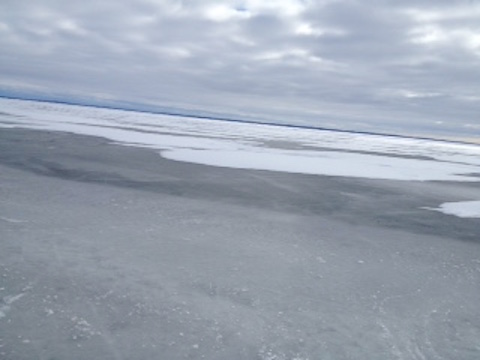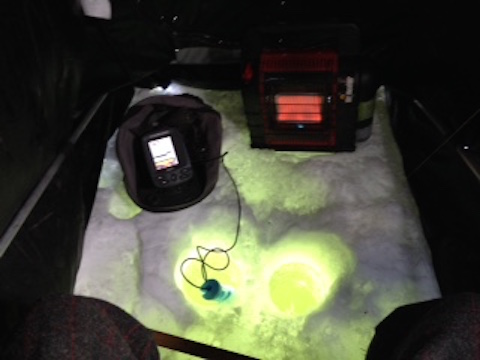 Black ice and picture from inside of the tent.
The ice conditions were not too bad. There were spots with black ice, some spots with jumble ice and some spots with three inches of snow on the ice. On the way out we stopped to check a pressure crack. There was slush over the crack so I got the ice pick out to check it. The slush/water was about 8 inches deep but the ice seemed thick on the other side. Willy gunned the snowmobile and shot across the top of the slush and that left me on the wrong side of the crack. I didn't have as much flotation as the snowmobile so I had to move quickly to keep from filling my boot. I made it without a wet foot. That was a plus. We crossed one more slush spot before the GPS showed that we had arrived.
It didn't take long and there was a mark on the fish finder near my jig. It hit, but of course I missed it. The second fish followed the jig off the bottom but wouldn't hit. I lowered the jig and used the trick of laying the jig on the bottom. It worked! The 18 inch white fish had all three trebles in its mouth. The fishing was slow with an occasional fish fish coming through. I stayed in one spot but Willy tried four other spots. When we picked up lines at 1:30 we both had three fish on the ice. We quit because the wind that was predicted to drop was now gusting over 20. The tents were in danger of blowing away with us in them so we packed it in and headed for shore.
Since we quit early we checked out the river mouth at Oconto on the way home. The ice there is ugly. Water is showing up and there is some very thin looking ice. Nobody has been out cutting holes so it must be bad. It will take a good cold spell to set that ice up.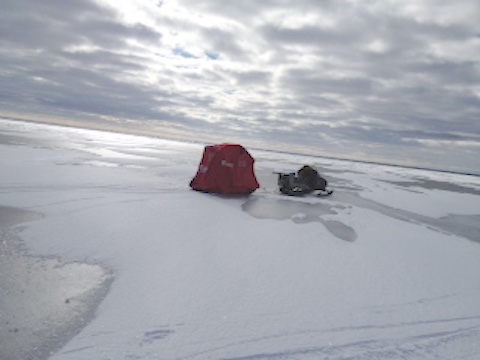 It was a fun day even with the wind, slush, and Willy's snowmobile quitting on the way back in. He fixed it in five minutes, typical for Willy the motor expert.
JANUARY 19, 2016
IT HAS STARTED
It has started, The ice has been in Green Bay for a week or so. I loaded my tent on to Steves truck. His new side by side went on to the trailer and we were off to Green Bay at 7:00 AM, that is early for an old fart like me. Willy and Dave were meeting at Pembine and following us down. Steve and I went on the ice at Dykesville and Willy went on at Red River. Since it was our first trip out for the season we wanted to try a couple of different spots. The first holes that Steve and I tried were in 22 feet of water. They turned out to not have fish under them so we moved to the top of a reef in 18 feet of water. There were fish under us right away. I was fishing with my deep water rods and that is my excuse for missing the first 6 fish that hit. One even hit 3 times in a row. How soon you forget how to catch whitefish. Steve figured it out first and had a fish on the ice. I finally landed a fish after hours of practice fishing.
Willy and Dave were further up the bay. Dave missed a lot of fishing time trying to get his son in law's four wheeler running. Willy figured out what they like in shallow water. He took our bigger deep water jigs off and went to something small. It payed off for him as he caught 8 whitefish. Our total for the day was: Willy 8, Steve 3, Bob 2, and Dave 0. This was a sucessful shakedown trip.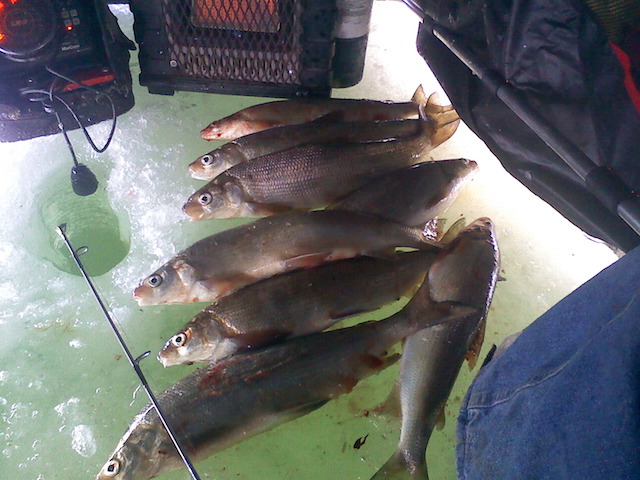 Willys first catch of 2016