Link to HOME FISHING WITH WILLY 2011 FISHING WITH WILLY 2012 FISHING WITH WILLY 2013FISHING WITH WILLY 2014

APRIL 15, 2015
ICE IS OUT
Steve and I met Willy at the boat launch. Our plan was to go out where we caught whitefish in the winter, anchor, and fill the cooler. Sounds easy right? We had the waypoints on our GPS so finding the spot wasn't hard. We anchored within 50 feet of a place we had fished in the winter. We fished there for an hour and had two possible bites. We moved, tried another spot and between Willy and Steve, three fish ended up in the cooler. I never had a bite. We moved again and caught nothing. Willy likes to cruise up and down drop offs and look for marks before he drops anchor so that's what we did. After some searching we headed out to deeper water. When marks showed up on the finder the guys had me drop in the anchor because we didn't have much luck when Willy would "launch" the anchor off the bow. I gently slipped the anchor down in just the right spot, I let out just the right amount of anchor line, and felt the anchor line to see if the anchor was set, and we started fishing.
It started out slow but then a couple of of fish bit. Then finally one came over the rail. Marks were showing up on the finder, another good sign. We figured out that the fish were picking the bait off the bottom and then things turned our way. We ended up with 25 or 26 fish, there is still some dispute in our ability to do higher math.
The seas were calm, sun was shining, the fish biting. What could be better, ahh, life is good.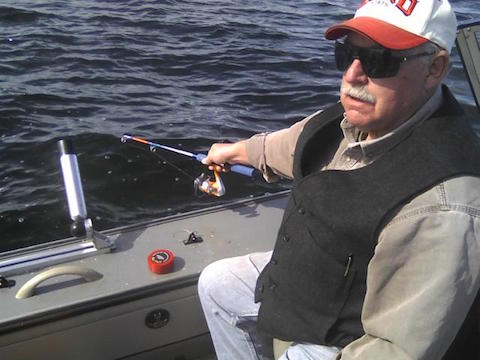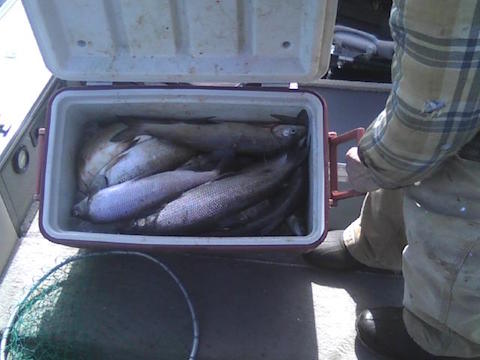 MARCH 31, 2015
NO FISH TRIP
We tried off Sand Point at Baraga. Bruce broke one off, he didn't have his drag set and broke his leader. I had one that came up to the hole backwards, I guess he bit with his tail. He was in the hole three times and then broke off too. Dave had one hit. There were quite a few fish coming by but they were not biting. We only fished two hours and then proceeded up to camp with no fish to show for our effort. There is about 14 to 18 inches of not very solid ice out there. It won't last long. It was nice to sit in the sun anyway.
Dave and I solved all the world problems after a few beers based bloody Mary's. You can all rest assured that there will be no more problems in the Middle East or with Politicians.
MARCH 12, 2015

LAST TRIP
Steve and Whitefish Willy went out on Tuesday. It was a warm, sunny day, with a brisk SW wind. The temps were in the 50's. The ice was not very happy with this and the cracks were moving. The got their limit of whitefish but the reports that they gave on the ice cracks was not good. The shore crack was opening up and they had a hard time getting off the ice. I called Frank the commercial guy that is on the ice almost every day and he said that he fell in at the shore crack while getting his equipment off the ice, not good news. I called Dave, Bob, Doug, and Mark and gave them the not so good news. The plan was that we would try it anyway and make our, Go - No Go, decision at the launch.
Thursday was a beautiful spring day, no wind and temperatures just below freezing, perfect. The birds were singing as we loaded Bob's sleigh into my truck. Things were looking up. The conditions at the launch were just as good. The below freezing temperatures had dried up any water on the ice and conditions were perfect for traveling. The shore crack wasn't bad and a crossing was found just south of the launch. The ride out to the fishing grounds was great, all the drifts and bumps had been smoothed out by the warmer weather and the cool weather had set up any soft spots. Bob rode with me and Doug followed with Mark on the back. The second crack hadn't changed in two weeks so crossing that was a non issue.
Mark, the rookie on this trip, caught the first fish. He also was the first to catch his limit so we took away his rookie status. Bob was busy hooking and losing fish. Doug was slow and steady. We limited out with 40 fish by 1:00.
It was an unbelievable day on the water, The sun was out, there was very little wind and we never set our tents up. A very fitting way to end the ice fishing season. Note the Coast Guard Cutter breaking ice in the last picture. This is another sign that the ice fishing season is done, what a way to end the season!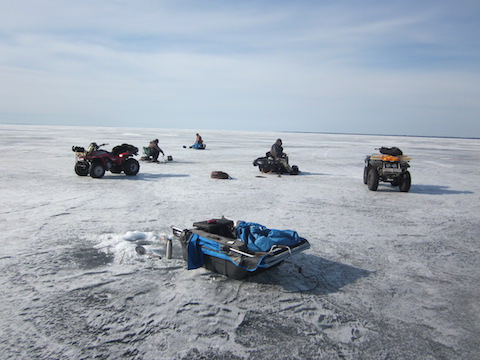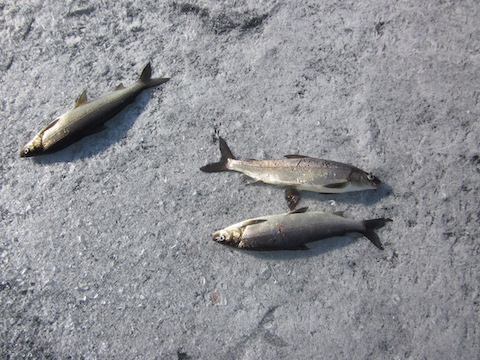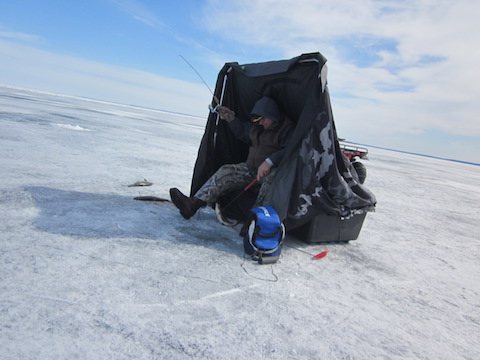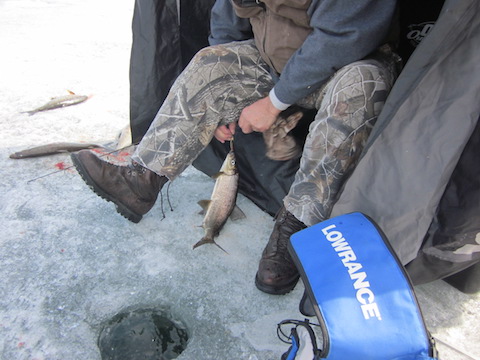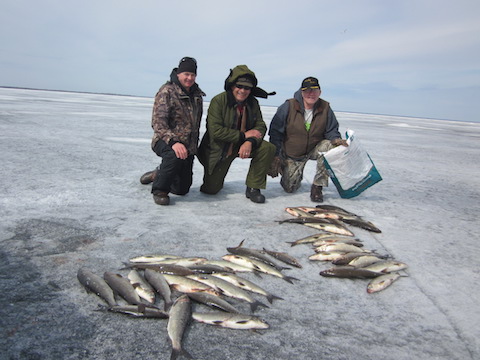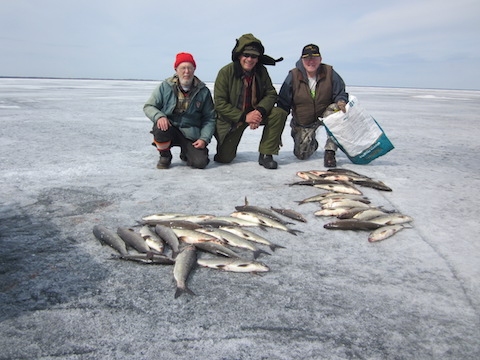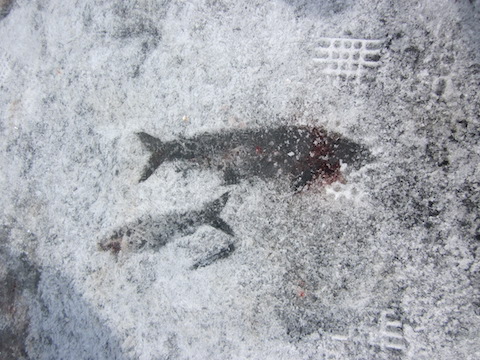 MARCH 8, 2015
FINALLY WARMING UP
I had a bad idea and wanted to check out a place near shore that has produced fish over the years. It is closer to shore and I was checking places that could be walked to as the ice conditions deteriorate. Willy and Dave met me out there. My hole didn't pan out. Willy got two quick fish and one green slime. Dave missed one whitefish. We were about 4 miles from where we have been fishing so when a half an hour passed with no more fish we packed up our gear and we headed for deeper water.
When we got close to our old holes there was a large push up but it was froze on both sides. That made it easy to cross the crack. We found our old holes and set up about 10:30. It didn't take long and we started catching fish. The fishing was fair and our number of fish was adding up. About noon we had a large ice quake. It was so strong that it almost knocked you out of your chair. When it was over I looked out and there were Willy and Dave out of their tents looking around. It was quite a quake and was close to the largest one I have ever experienced. There was a second one about half an hour later but it didn't compare to the first one. We limited out by 2:00 and headed in. The crack had changed dramatically from the time we had first crossed it. Instead of being frozen it now had large areas of water on the ice and floating slabs to watch out for. Dave and I found a safe place to cross but Willy was long gone by then. He was moving along the crack looking for a place to cross. He found a place about two miles away and met up with Dave to make the rest of the trip to shore.
We had a great day on the lake, with the warm weather coming this week we expect the ice conditions to deteriorate. This will probably be the last week of ice fishing for spring 2015.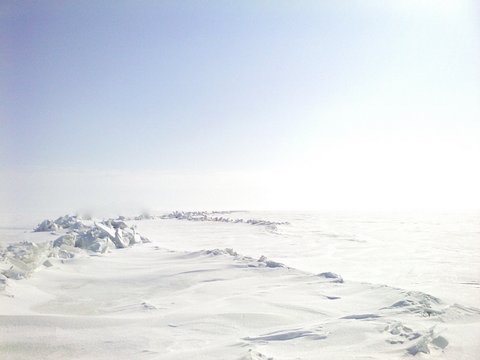 FEBRUARY 13, 2015
COLD AND WINDY
Only 8 below the night before and around zero when Steve and Tom arrived at my house to
pick me up for another trip down to GB. The forecast called for a light SW breeze so it should be nice out on the bay, yah, right. When we were driving into town the flags were flying almost out straight, not a good sign. You can't let little things like wind and snow stop you from going fishing.
I was to ride out with Whitefish Willy on his snowmobile. Steve and Tom would be on Steve's four wheeler. I had a memory lapse and forgot about all the adventures I had survived while riding on the back of Willy's machine. We loaded up and and off we went. Steve and Tom disappeared into the distance as we were racing out onto the ice. There are drifts and ice push ups that normally one would slow down for. Not the case when Willy is heading out fishing. I was sitting backwards on the snow machine so I could keep an eye on the two sleighs. We would launch off a drift and I would watch my sleigh go airborne. A couple of times there would be two feet of air under the sleigh. I could just imagine the ride that my iPad and fish finder were having back in the sleigh. Riding in one of our sleighs could be the next big attraction at an amusement park. Come ride the death defying, anti gravity sleigh.
Well everything survived the ride out as we were at the fishing grounds in record time. The wind was blowing pretty good by then and visibility was down to one half mile. The cold bite of the air was making it hard to do anything. Setting up the tents was brutal. Steve's tent is a tee pee design and stays up good in the wind but it is a bugger to get set. If the wind catches it, it will turn into a sail and take off down the ice. We finally got the tents set and snow packed around the base. Steve caught the first fish and Willy the second. After an hour or so Willy had seven. Steve and I just had one each. Pretty soon the fish showed up by us, and Willy quit catching them. Because of the worsening weather, we quit at noon and headed back off the ice, Willy in the lead as usual. There was quite a discussion as to which way shore was as the visibility was very limited by the snow and blowing snow. When we started back, Willy was going 90 degrees off course and that is not good. Soon he turned and followed his old GPS track back to shore. We got back to where we came onto the ice and Willy said "The GPS actually worked this time".
We definitely need to find better a better weather forecast next time.
I usually don't show where we are fishing. I watch the background in the picture so I don't give away our fishing spots. Not today, the background shows exactly where we were fishing.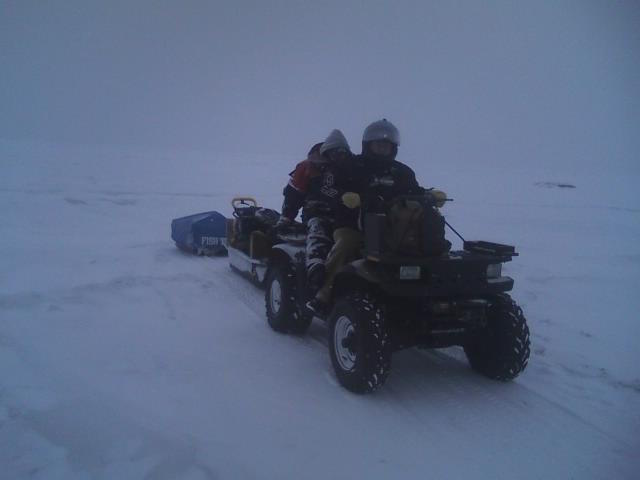 FEBRUARY 10, 205
TAKE A FINN OR TWO FISHING
Bruce and Dennis came down from the Copper Country to try their luck for whitefish. Steve came over and picked me up and we met Dave at the launch. We got there about 8:00 and headed out. The first pressure crack wasn't too bad and we crossed that easily. There was an open water crack that we crossed but that was only a two incher. Since there was no snow on the ice it was easy to find our old holes. Bruce and Dennis set up in a two man tent, I was about 100 feet from them and Steve was 80 feet from me. Dave headed into some shallower water.
When we started fishing there were lots of fish showing up on the sonar. It didn't take long for Steve an me to ice a couple of whitefish. Dennis was a total rookie at whitefish but experienced at jigging lake trout so he caught on quickly. Bruce had rigged up a new rod and reel equipped with non stretch line. He found out right away that the line was not firmly attached to the spool and when he hooked a fish the line just slipped on the reel so the fish got away, another rookie lesson to be learned. A little super glue should fix this problem.
The fishing was slow so our plan on getting our limit by noon was dashed as Bruce and Dennis only needed 18 more to get their limit. The fish were there but not bitting very good. In the afternoon there were not as many fish fish around but more bitters. I think the total for the five of us was 44 fish, six short of our limit so there were heavy fish bags and happy fishermen leaving the ice.
The open water crack had closed up into a pressure ridge on the way back so we had to use caution crossing it on the way in. We heard that it opened up to a two footer today so be very cautious out on Green Bay and watch out where you go out there.
Here is a picture of Bruce and Dennis by their tent and a sink full of fish to be cleaned. It was good to have two experienced fishermen to help clean the fish.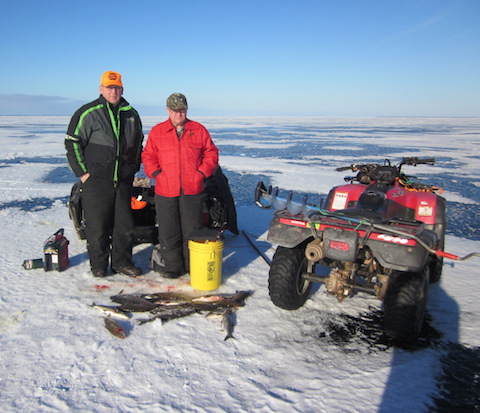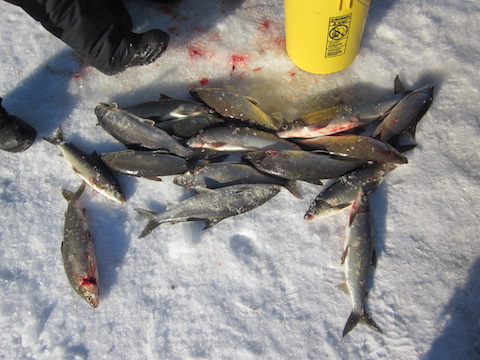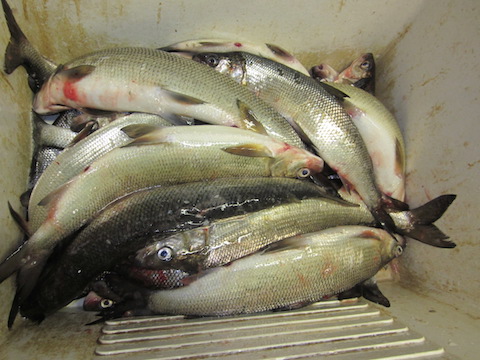 JANUARY 30, 2015
YOU SHOULD HAVE BEEN HERE LAST TUESDAY
My friend Steve, the pilot, was up snowmobiling in the UP so he decided to stop by and try for Whitefish. My friend Steve that fishes regularly also had a guest, Tom that wanted to fish. We met up and headed for GreenBay at 7:00. Our destination was the same place that proved to be so good on Tuesday.
We loaded our sleds and our GPS led us out to the super spot. The ice was clear and black as most of the snow was blown off of the ice by the strong north west wind the day before. We even found our old holes even though there were no sticks marking the spot. We keep forgetting a stick or tree branch to use as a marker. Holes were cut and we did see some fish on the finders before the lines were set. As soon as we lowered our lines we knew it was not going to be a good day. The line went sideways in the current. You could not see your lure in the fish finder so we had to fish blind. A couple of fish were caught but the catch rate was pretty slow. There were just enough fish being caught that we didn't move. Our super spot was not super today. Steve and I told our rookies that "You should have been here last Tuesday." Of course they said "We have heard that before". The sun was shining, the wind was calm and we all had a good time. Our total for this trip was 28 fish, even the rookies caught fish. Nothing went wrong, was that because Whitefish Willy didn't make this trip?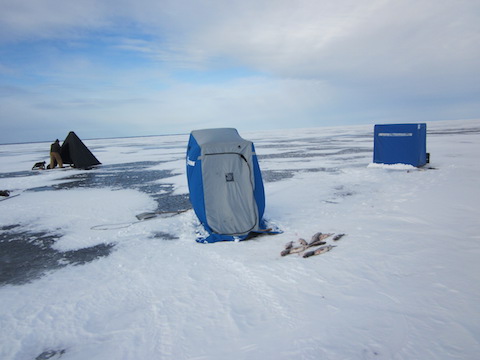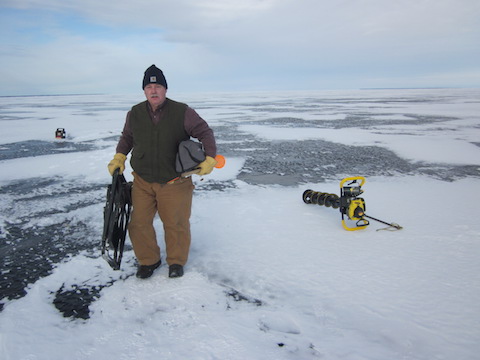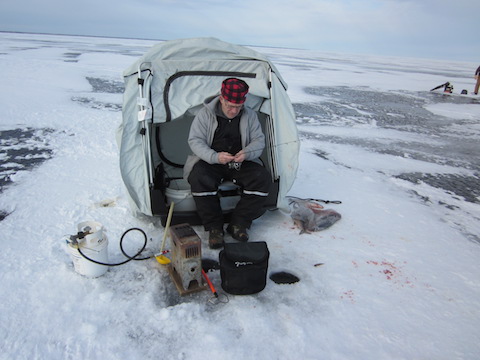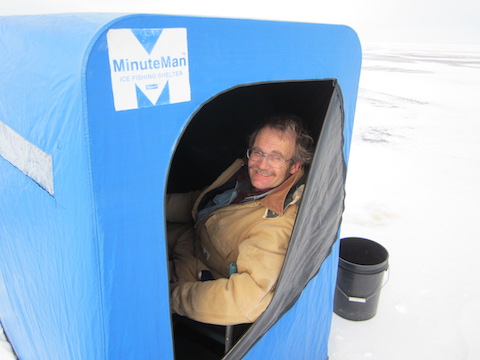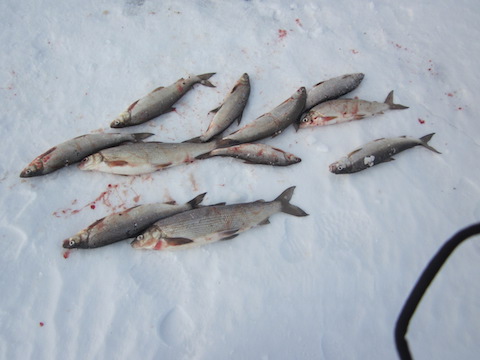 JANUARY 27, 2015
NOTHING WENT WRONG, ALMOST

The day started with a flurry for me as I set the time on the alarm a day early but never activated it. I woke up with a start when Marge said "it's daylight, aren't you going fishing?". Steve was picking me up in fifteen minutes and he is never late. It was a good thing that my lunch was packed, bait was loaded, iPad was packed, GPS programmed, hat stored in winter jacket, cell phone charged, coffee in filters ready to be made, and various other things done the day before so I didn't have to remember them in the morning. I got ready in the record time of 15 minutes and sure enough Steve was there sitting outside my house wondering if I was going to show up.
We headed for Green Bay and met up with Willy and Dave. Our sleighs were hooked up to Steves four wheeler but the battery was dead on it. Someone had left the ignition switch on all night and killed the battery. It started on the third pull with the pull cord and off we go to another spot that we haven't fished so far this year. You would think that we would go back to where we caught fish the week earlier but that would be to easy. The ice was good and there was only one pressure crack and a small patch of jumble ice to cross to get to a place we had fished last year. The decision turned out to be a good one as the fish finder showed fish under us as soon as the transducer was placed in the water. As usual, Steve said "No skunk today" because he had the first whitefish of the day on the ice. Soon I had one. The fishing was great as Steve, Willy, and I had our limit of whitefish by 11:30. The rookie, Dave, had four. We gave him some intensive training on Whitefish 101 and he ended up with eight. Willy caught three burbots too, a nice addition to our catch.
The trip home was uneventful with lots of talk about fish caught and fish missed. We got to my house and unloaded the sleigh and other items from the back of Steves truck. I helped Steve to get his trailer turned around in my cramped yard and he headed down the road. Where was my jacket, fish finder, and rod case? How about in the back seat of Steve's truck. I got on the cell phone and made a hurried call to his cell. I caught him before he made it a mile down the road. I hopped in my truck and retrieved my stuff. That is not the end of the story. When I started to put my stuff away I looked for my half eaten lunch. Where did I leave that? It was left in the back seat of Steve's truck. It's hell to get old!
Willy read this report and called to remind me that he did have a problem on the way out. The ignition went out on his snow mobile but in true Willy fashion, he dug up a spare from somewhere and fixed the problem. That guy can fix anything.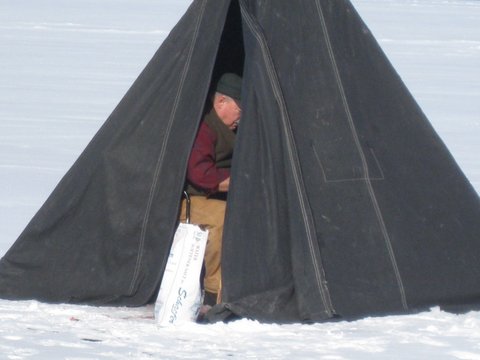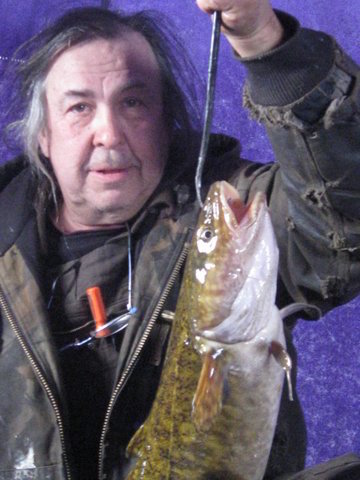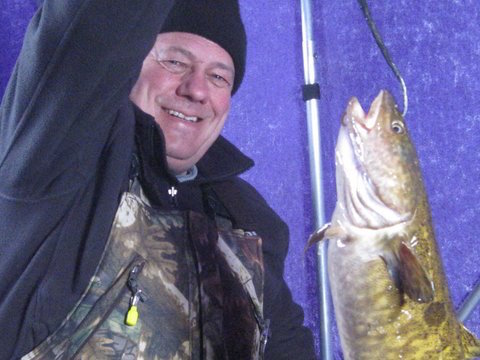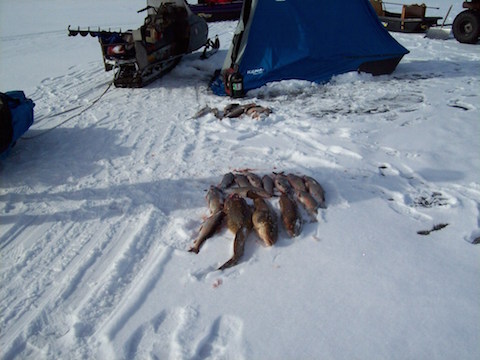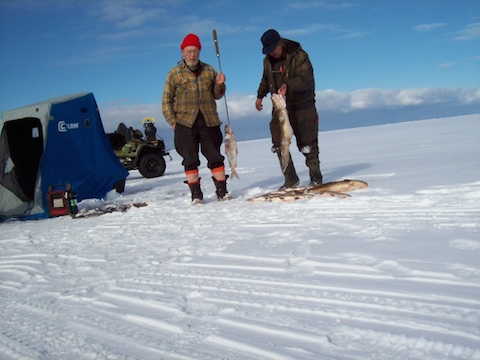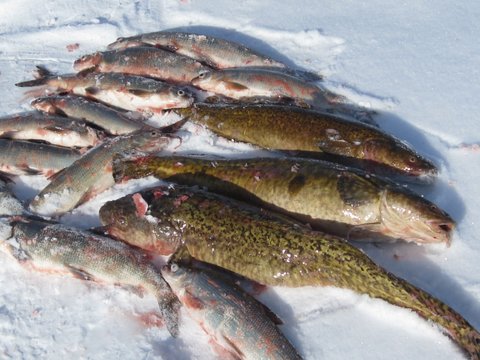 JANUARY 22, 2015
A TRIP I MISSED
It was a very nice day and I had a wiring job going in my pole barn and needed to get it done while the weather was nice. Whitefish Willy met up with Dave and Steve in Pembine and headed for Green Bay. We have been looking for drop offs where the water drops from 15 feet to 35 feet and Willy and I had charted one that went to 50 feet. That was their destination. They headed that way and found a massive ice field of "jumble ice", not good. A change of plans was in order so they headed for the "Honey Hole", a place we fished three years ago. I called them around noon and they were not doing very well. Steve had two and Willy one. Willy started drilling holes all over the lake and finally found some fish in 30 feet of water. The boys converged on that spot and ended up with a bunch of whitefish and one walleye. I did get my wiring done so I accomplished something anyway. I would rather have been out fishing!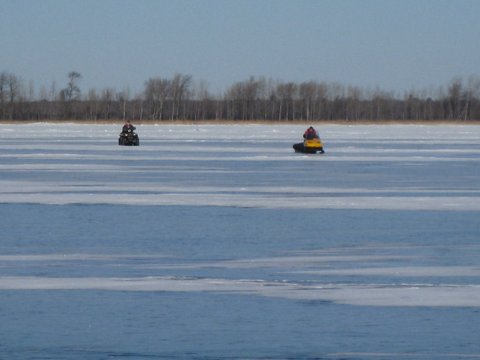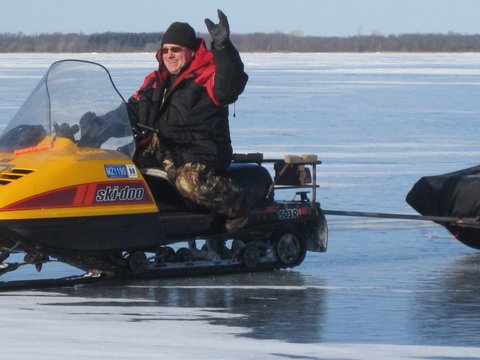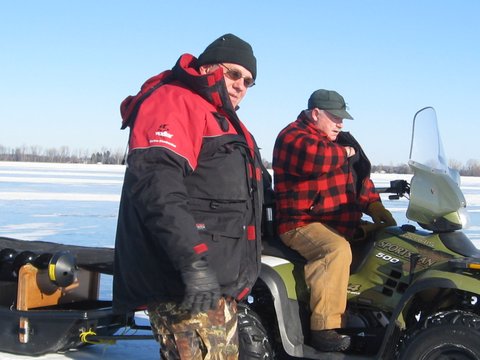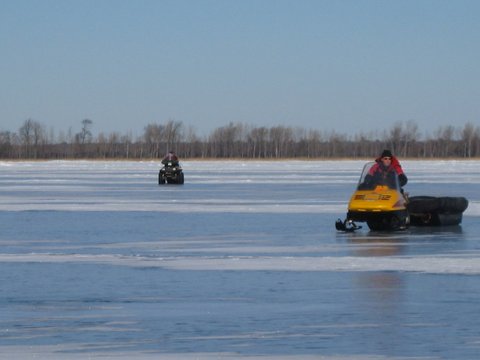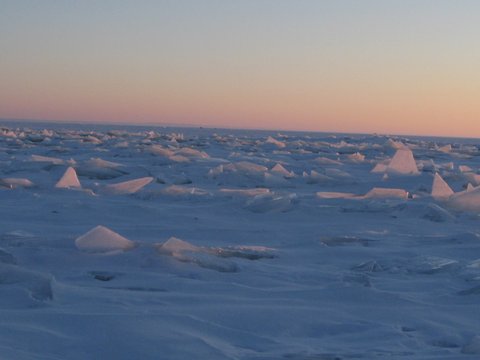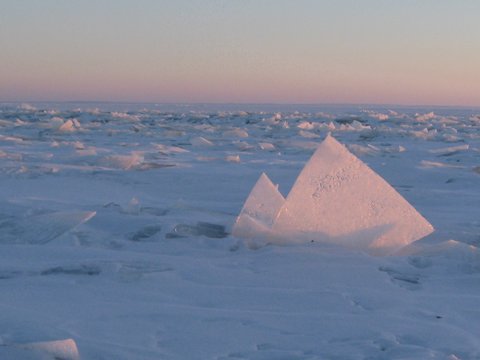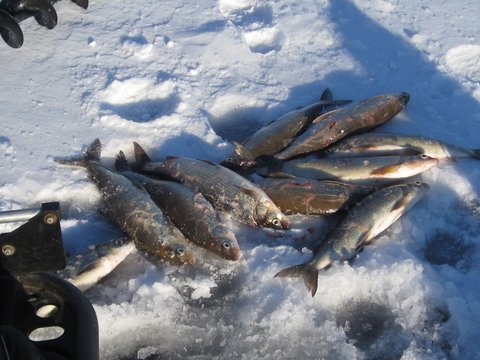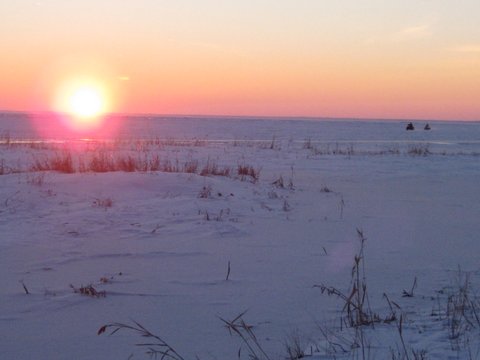 JANUARY 17,2015
Only One Wet Foot
The plan was to try a new spot and also to find another way to get onto the ice. I met up with Willy at 9:00 and we were successful in finding a new way to get on the ice. We drove the truck out on the ice and off loaded the four wheeler. I was the driver and off we went. About a mile out we found a pressure ridge. There were push-ups and push-downs and water was on top of the ice. We picked a spot and I tried to take the four wheeler across. The water was deeper than we thought and the front wheels of the four wheeler hit a wall of ice. And there I was, stuck in a puddle. When I tried to get off and pull the front end of the four wheeler over the ice slab I slipped and now I had a very wet left foot, fun. We had to pull the four wheeler back and find a different place to cross the crack. Once across the the crack it was smooth sailing on smooth black ice. It is always a little scary skimming across black ice not knowing how thick it is. Willy would get off now and then and check ice thickness with the ice pic. We had a waypoint in a GPS and followed the arrow out to a reef we never fished before. Our first two holes were a bust, no fish on the finder and no bites. We moved into 60 feet of water and the fish finder showed fish right away. I lost the first four fish. Some day I will figure out how to catch the early fish. Soon I got the hang of it and started to ice fish. Willy was busy catching, catching fish as usual. We had our limit of twenty whitefish by 2:00. This was good news to me as my foot was now numb. Don't dunk your boot in the water when you head out onto the ice!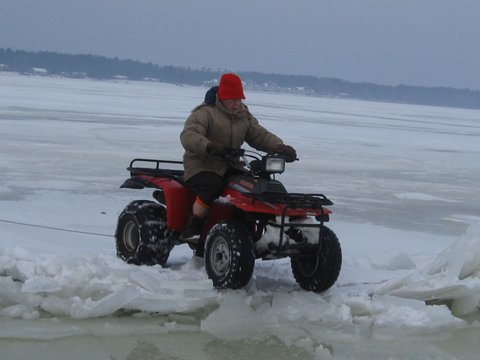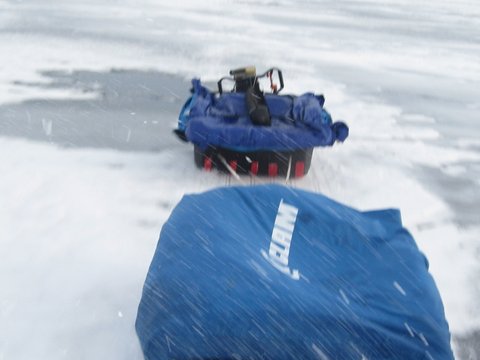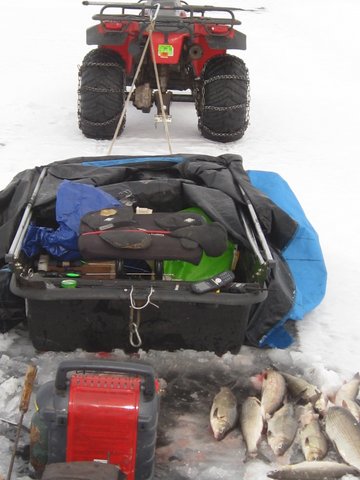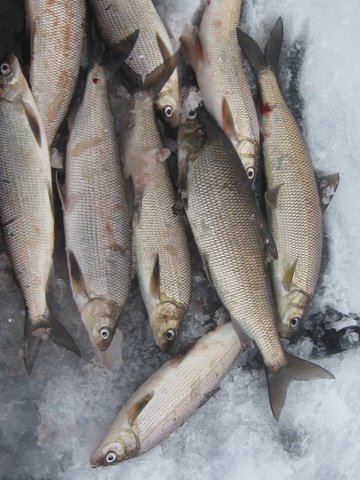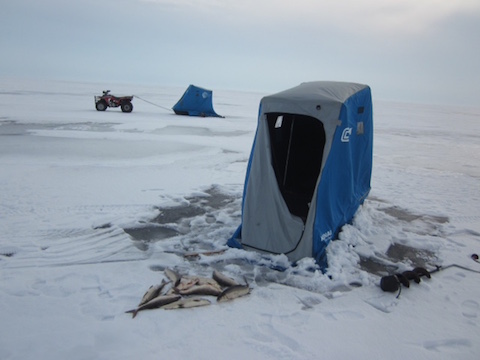 January 12, 2015
FIRST ICE, FIRST TRIP FOR WHITEFISH

20 below and on the way to Steve's house. Did that stop us? DUH, hell no. We headed down to Green Bay for our first whitefish excursion of 2015. By the time we got to GreenBay the temperature was a balmy 8 degrees. We met Doug at the boat launch, loaded out tents and headed out. Dave and Willy were right behind us.
There were two bad ice push ups on the way out to the fishing grounds. While checking the depth, things looked good because there were fish showing up on the fish finder. That is always a good sign. Steve, Doug and I set up there in 30 feet of water and it didn't take Steve long to get a fish on the ice. I was busy hooking fish and losing them on the way to the surface. Steve hit a hot streak and iced 5 nice whitefish, then his luck turned. A string of unmentionable words came from his tent as he would hook fish, get them to the surface, and then have them get off in the hole. Doug and I were slowly catching up to Steve.
Willy and Dave went to the outside of the reef and set up in a little deeper water. It didn't take long and Willy was hauling in fish. Dave is a rookie at whitefish and was busy losing fish.
It took him a while, but he figured it out.
The sun came out, there was no wind and we caught 47 whitefish and one green slimy walleye between us. What could be better?