Link to HOME FISHING WITH WILLY 2011 FISHING WITH WILLY 2012 FISHING WITH WILLY 2013FISHING WITH WILLY 2014 FISHING WITH WILLY 2015 FISHING WITH WILLY 2016 FISHING WITH WILLY 2017 FISHING WITH WILLY 2018 FISHING WITH WILLY2019

Thursday, March 4, 2021
Last Trip?
The weather looked nice and warmer weather was expected for the next week. Frank said that the crack was ok to cross so we decided to head out for what may be our last trip for 2021.
Frank was right and the crack wasn't bad so with the help of his crack planks we made it across. The crew today was Steve Hadden, Steve List, Dave, Frank and me. Of course Willy was already out across the crack by the time Steve and I got our stuff unloaded. He had Frank as a guide so we figured he would find the fishing hole.
By the time we got out to them they already had 3 fish on the ice. We set up near them and the bite was slow at first. The schools of fish would come and go. They seem to come and go and there were times when they would bite as soon as your lines would hit the bottom. We don't have an exact count but the six of us caught around 50 whitefish. Now the work starts.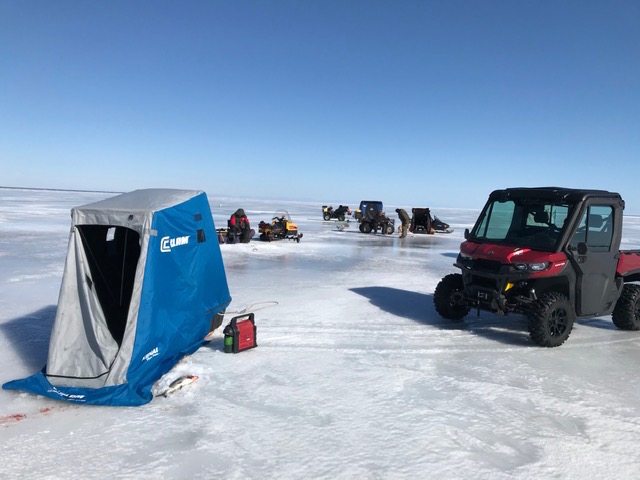 Group picture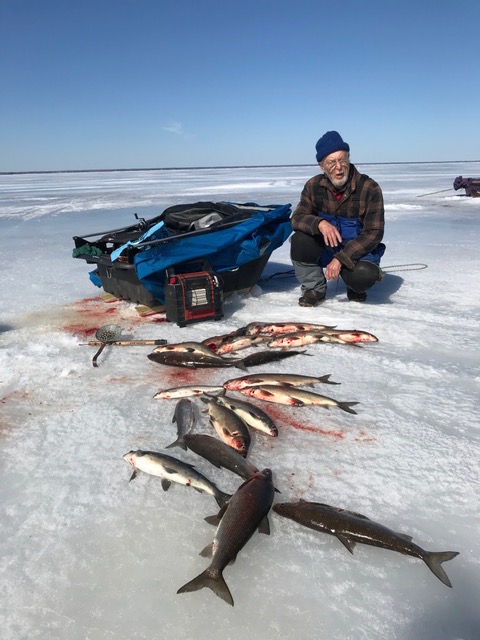 Bob with catch from him and Steve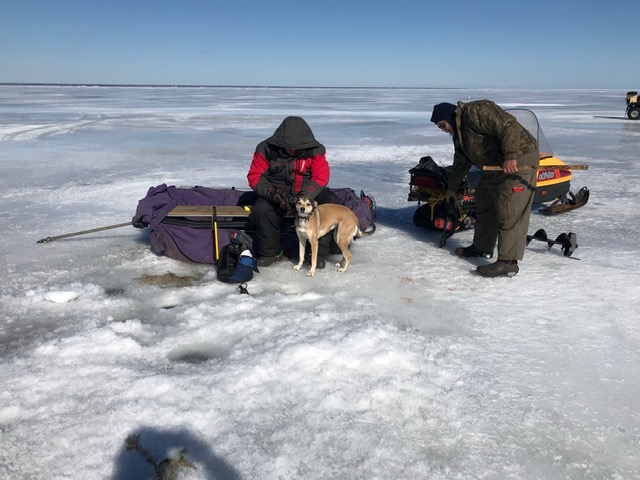 Dave, Willy, Abby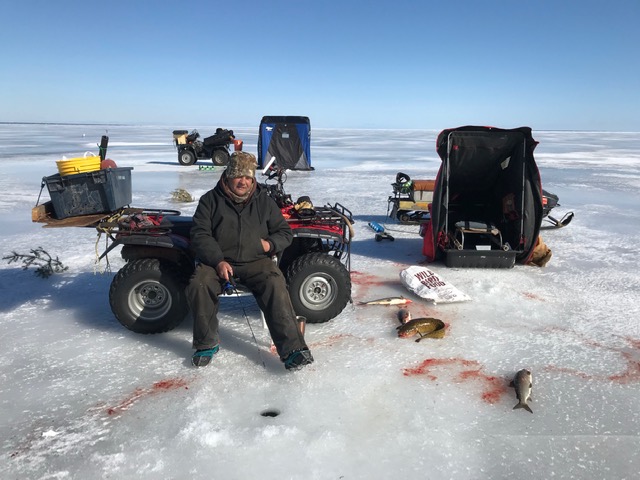 Frank with fish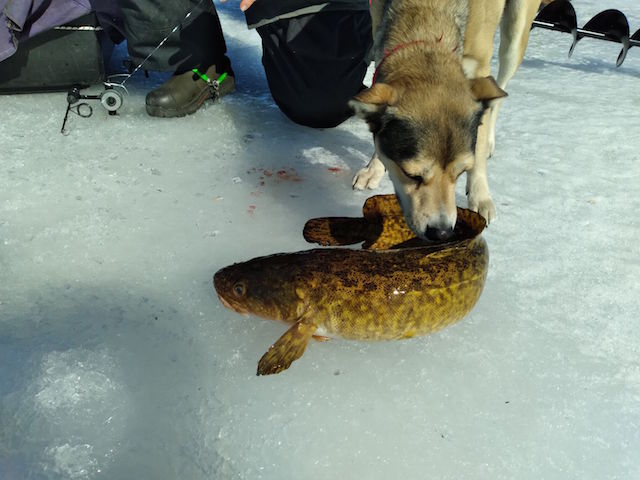 Abby with Burbot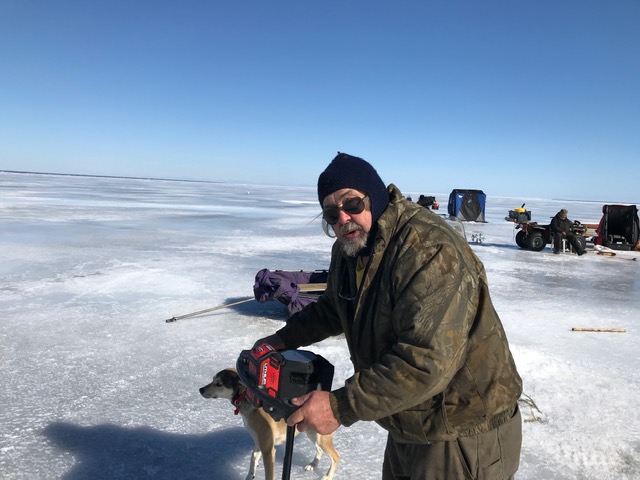 Willy the master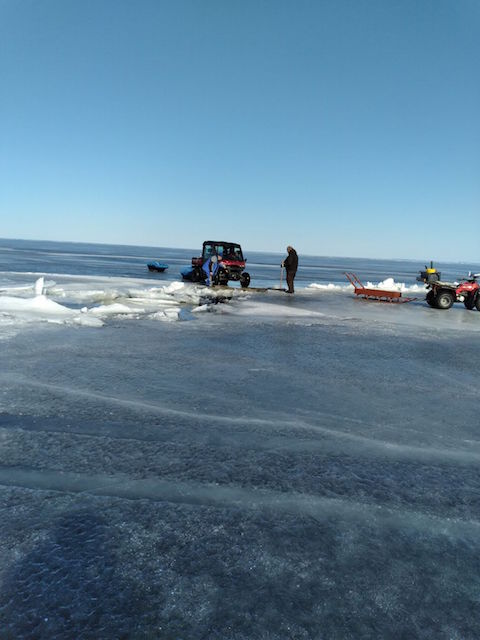 Crossing the crack
Tuesday, February 23
Move the shack
I went down to help Frank move his ice fishing shack. He wanted to get it inside the crack so if the ice moves it will be on the land side of the shack. When I got there he already had his shack moved. We decided to fish some of the shallower areas not to far from shore. We drilled a couple of holes and it didn't take long for Frank to hook a fish. It fought hard so it was a bigger fish but it got off right at the hole. We never did see what kind of fish it was. Another hour went by without a hit or any marks on the finder. Frank said, "Let's go out to the deeper water where we fished last week." Since it was a beautiful day, nice and sunny and warm we decided to go. Frank ran to shore and got his big crack planks and we used them to cross the crack. The ice on the outside of the crack is good, no cracks or slush. We ended fishing out in the 80 foot depth and as usual Frank caught the first fish. Then he caught a couple more before I got one to bite. The fished moved in on us and soon we both were catching fish. We quit at 2 o'clock with 17 fish.
The crack had moved while we were out there. The temperature had risen to 50 degrees and things had shifted a little. We used the crack planks and took the four wheelers across. Another nice day out on Green Bay.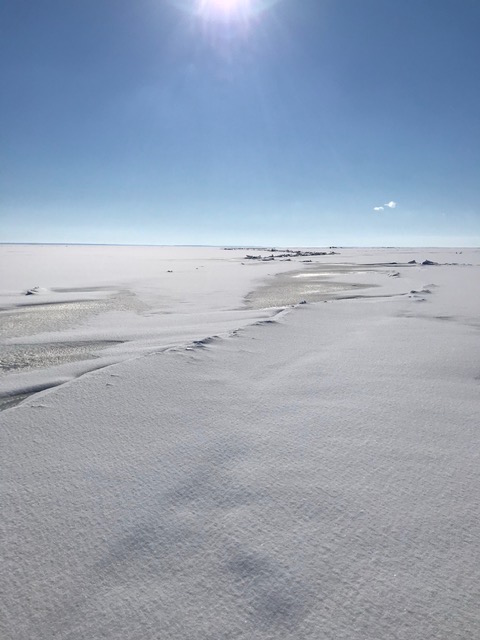 Crack with slush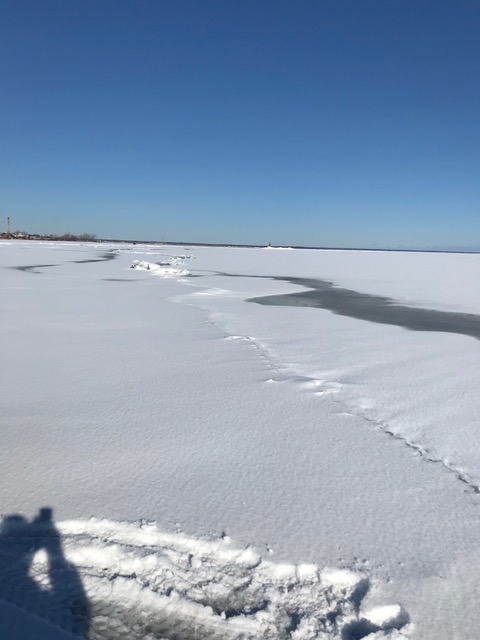 More crack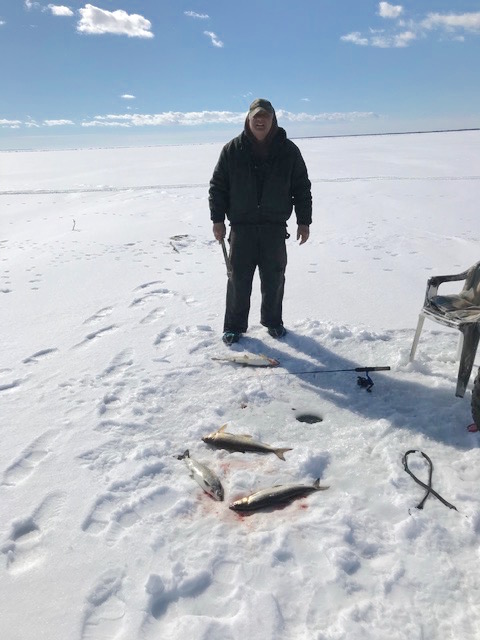 Frank with some fish on ice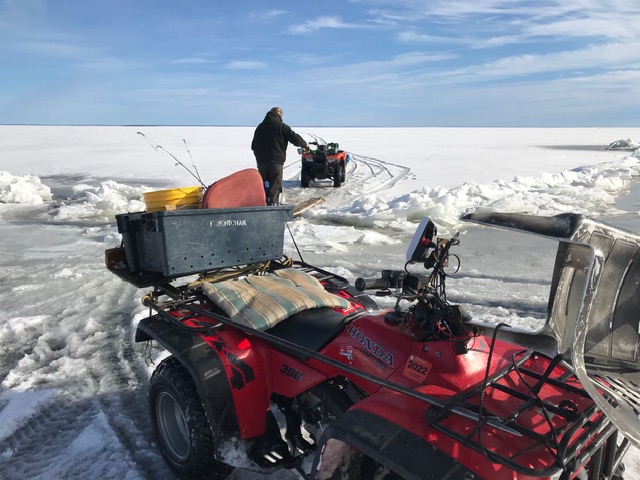 Crossing the crack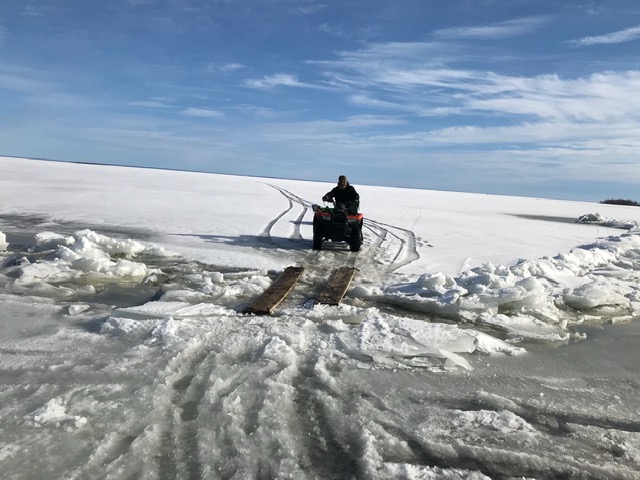 Planks across the crack
Tuesday, February 18
Deep water whitefish
We headed out towards deeper water. The ice thickness was 10 inches near shore and around 24 inches out farther. The GPS took us out to where we caught fish two years ago. Our crew today was Willy, Steve, Dave, Frank and me. Holes were cut and lines went down. Of course Willy caught the first fish. Frank was next. The fish finders showed fish right away and they didn't want to bite very well. We kept trying different things and they all seemed to work a little. The fish kept slowly coming and soon they started to add up. Steve was the dock star today and he ended up with his limit of 10 fish. Together we ended up with 38 fish for the bunch of us.
When we got to the pressure crack it had moved. We drove around looking for a good place to cross and put planks across to get he four wheelers over the crack. Someone on shore must have seen us messing around with planks on the pressure crack and called 911 because when we were loading up our four wheelers and snowmobiles the fire department with their search and rescue equipment showed up. They asked us if we had called them but we didn't. When we left they were still trying to decide if someone was really in trouble out on the ice.
Here are some pictures from today's adventure.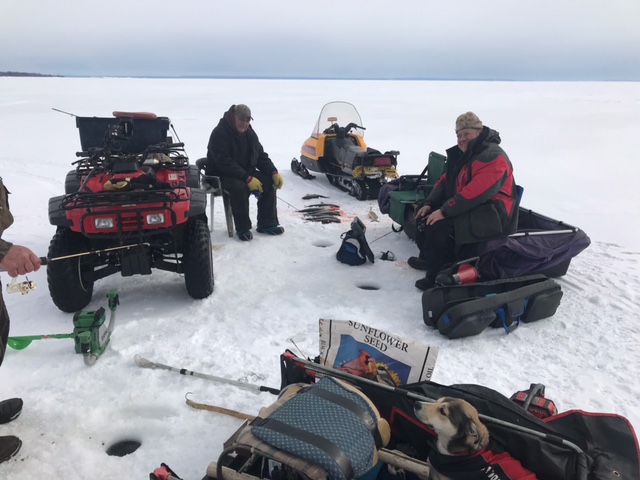 Frank, Dave, Abby on sled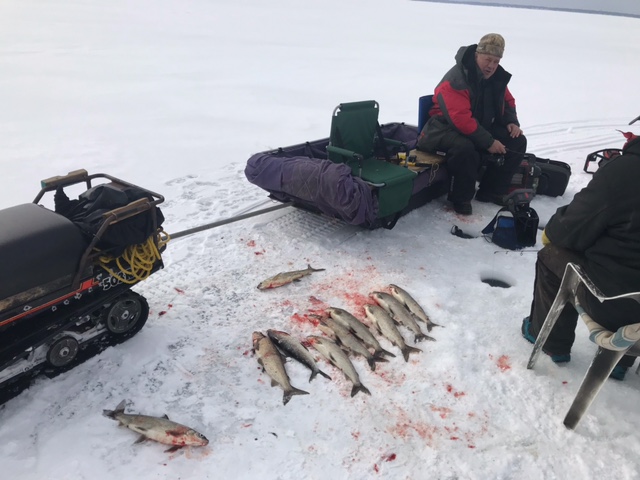 Dave on sled

Whitefish by tent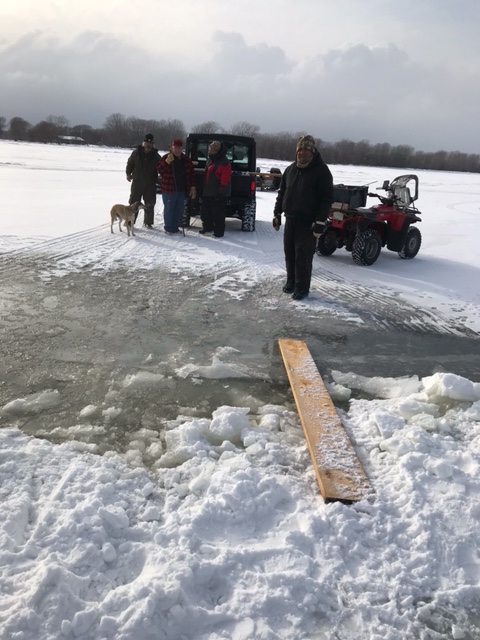 Crack on way back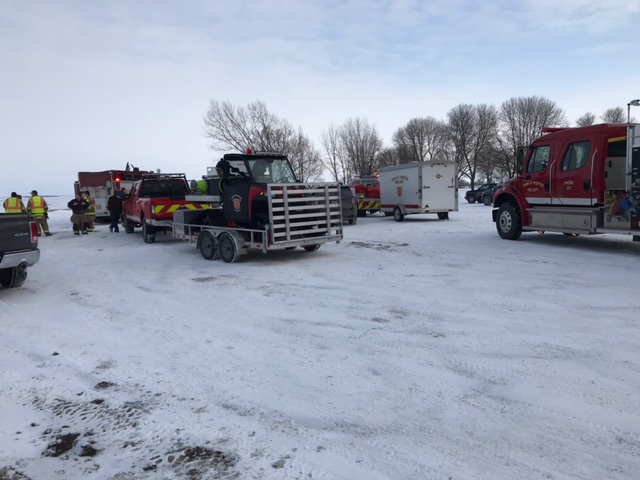 Somebody saw us way out on the ice and called 911 and a bunch of fire trucks showed up in time to help load our
sleighs on our trailers.
Monday Feb 15, 2021
Dave and I went down to help Frank set his permanent shack up. Frank already had his shack out on the ice so we took two of his four wheelers out to tow it to a spot he hoped had perch. They caught a lot of them there 30 years ago. The shack was froze to the ice and it took two four wheelers to break it free so it could be towed to one of Frank's hot spots.
Frank and I were watching whitefish on Frank's new camera. They would just swim by and not even look at our lures. Then Dave would see them and soon he would have one on, he caught the first two whitefish. Frank wanted to catch some jumbo perch so he was set up with live minnows. No perch came by so we pulled up his minnows and he started jigging for whitefish. Finally one bit my lure and I landed a nice whitefish. Then Frank caught a walleye. I caught a big sucker. We ended up with Dave 2, Frank 2 walleyes and a whitefish, Bob 1 sucker and 3 whitefish. A good shakedown cruise for Frank's fishing shack.
Thursday, January 7, 2021
First Trip
The weather was nice, Marge and I checked out some places on a shopping trip to Green Bay. There is shore ice that is extending a half mile or so but it has open water beyond it so it is not firmly anchored from shore to shore. That means one has to be careful that it doesn't just start floating out to sea. There was ice where we fished last year and some other anglers had left some holes so I decided that I could catch a few whitefish there.
I had put new leaders on my ice rods and picked out a hot lure to try. My sleigh had been loaded into the truck for a few days. I charged up the batteries on the fish finder and auger. Everything was ready to go. I packed my lunch and read the note reminding me to take my phone and wallet as I headed out the door, this should be a good day. The ride down was uneventful but my mind kept going over all the things I might have not taken with me. About a mile from my destination I figured out that my battery for the electric auger was still at home. I called Marge and she looked, sure enough it was at home. I had an ice pick with me so I could still make a hole through the ice so I kept going. When I got to my fishing spot my plans quickly changed. There was a one foot sea running right into the ice sheet. Where I had planned to fish, the ice was cracked up and not looking good at all. A couple of guys were fishing the shallows, 5 feet of water, so that turned out to be the new plan.
One of the guys was fishing for whitefish so that was good enough for me. I opened some old holes near him and started fishing. The water was extremely clear and I could see my bait and the bottom. A few minnows swam by but no whitefish. After a while the guy by me caught a fish, then nothing. We both decided to quit at 1:30. The guy asked me, "Are you going to dirty your knife or mine". I told him that "I accept charity fish" so the fish, a 21 inch whitefish went home with me. The first fish of the year and it tasted just as good as if I had caught it.
.