Link to HOME FISHING WITH WILLY 2011 FISHING WITH WILLY 2012 FISHING WITH WILLY 2013
APRIL 9, 2014
FISH STRIKES BACK AT ANGLER
Local anglers Whitefish Willy, Fish Slayer Bob, and Finnish Secret Weapon Bruce headed out over the still frozen waters of Green Bay. The temperatures were in the forties with forecasted temperatures in the fifties. Bruce and Bob got to the launch first and went out with and ice pick and tested the ice for thickness. A local commercial fisherman was there and he said "plenty of ice out there, just stay away from the reefs" when we got back to shore. Bob had a lot of questions for him about reefs, number of fish out there and where he has been fishing this year.
Willy arrived and drove right past us yelling out his window, "your wasting time, it is time to go fishing". He backed his truck across the sand, launched his snowmobile, hooked up his sleigh and he was OFF! Bruce shrugged his shoulders and said, "I guess he wants to go fishing". He was a speck in the distance by the time we got the four wheeler off the trailer and all the "might be needed junk" we carry loaded into the sleigh. On the way to the ice we closed the drivers door on his truck. In his haste to get fishing he forgot to close it.
The ice conditions were a little shaky by shore with some standing water on the ice but once you got out a little it firmed up. The four wheeler sped along nicely and soon we were gaining ground on Willy. It looked like he was going to stop at one of our spots closer to shore but we waved him on and he was off to the races out to the "Honey Hole" where he says "anybody can catch a whitefish out there". As usual he got a little lost and overshot the hole by a quarter mile or so. He turned around and came back to Bruce and I when he figured it out.
Holes were drilled through 30 inches of ice. The ice is getting punky so we figured that this would be our last trip. The auger just flew threw the ice and the ice comes out of the hole looking like little pencils. It will not last very long now. The appearance of a Coast Guard Ice Breaker working about two miles from us didn't help either. We kept a wary eye on him all morning.
Fish appeared on the fish finder right away, that is always a good sign. It didn't take long and I hooked a fish while showing Bruce what we do. Willy went right into action and soon there were a few fish flopping on the ice. The Finnish Secret Weapon and Whitefish Willy were busy hauling fish up to our side of the ice while I was missing them. It was looking like it was going to be one of those days for me where the fish don't bite my bait. It took a while but finally I caught a fish. Then things started to go right. At 12:30 we did a fish count and there were 27 fish on the ice. At 12:45 Bruce caught the last fish and even though he was given a safety breifing on how sharp the Gamatsu treble hooks are he didnt listen very well. He "pulled a Doug" and reached for a fish that was flopping on the ice. In one last great surge of energy the great fish used the same lure he fell for to catch the un-wary fisherman in the thumb. The point was in way past the barb so he had to push it out through his skin so we could pinch the barb down and the hook backed out of his thumb.
Us +30 them +1 at the end of the day.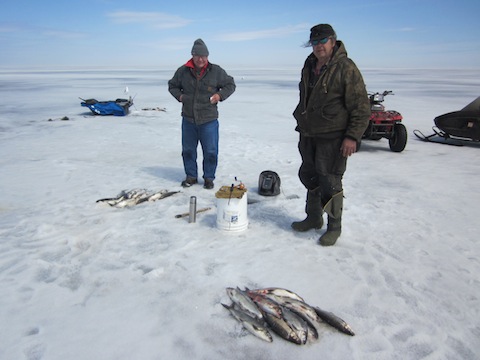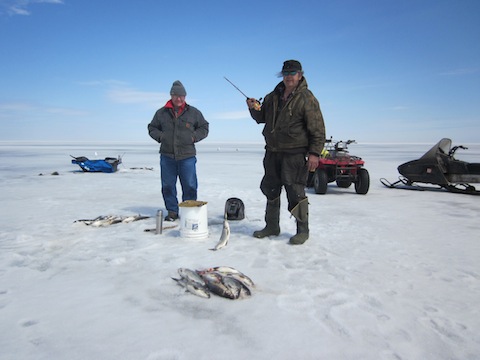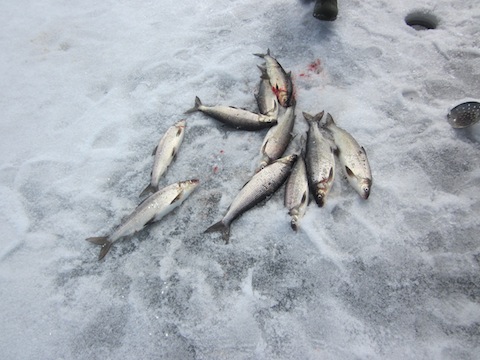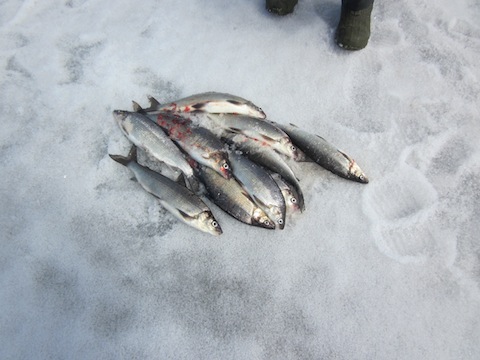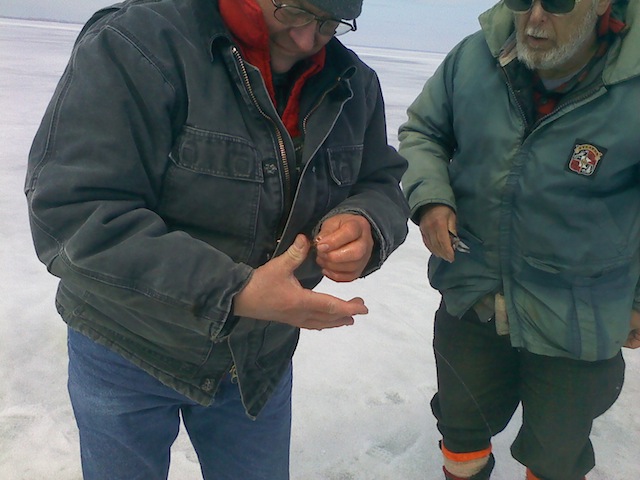 MARCH 31, 2014
FISHING WITH BILL AND BILL (WHITEFISH WILLY)
Bill Hesterberg drove up from Oshkosh to meet me and Willy at the boat launch. Willy, as usual, was there early and was out fishing by the time we got there. Bill and I loaded up and met up with Willy about a mile out in Green Bay. He had one fish on the ice when we got there. We set up on some old holes that we have been fishing and Willy went back to where he a
Had caught a fish. It didn't take long and Bill the rookie had a fish on. I caught a small one and threw it back , big mistake. My theory is that if you throw your first fish back they go down and tell the other fish about you and it is very bad luck, kind of like having a banana on your boat.
Willy was up to his old tricks,cutting holes all over the lake and moving from hole to hole. It must work because he caught his limit of 10 whitefish and one lawyer while Bill caught 5 and I was the low man with 3 fish.
The weather was warm and the snow melting. We didn't put a tent up till the end of the day. It sure is fun to fish the last ice when it is above freezing.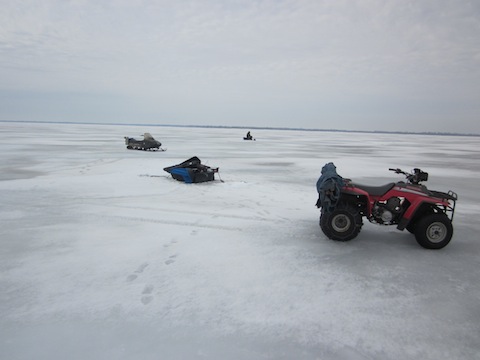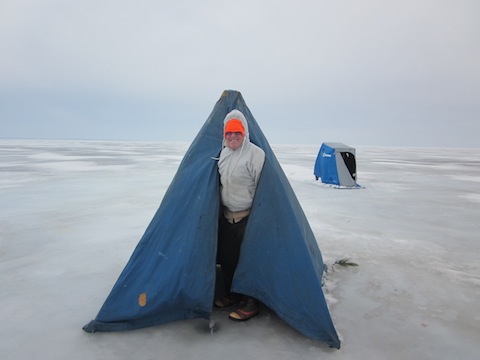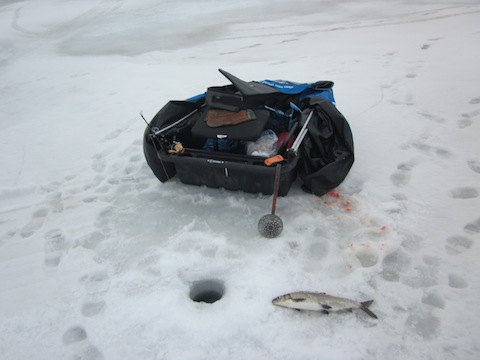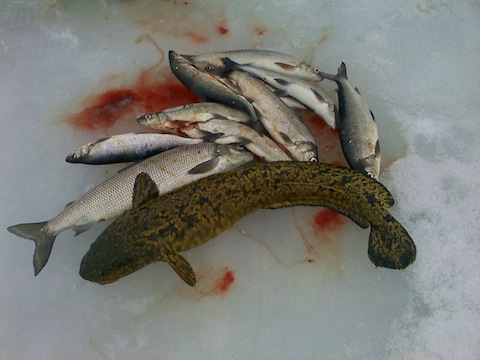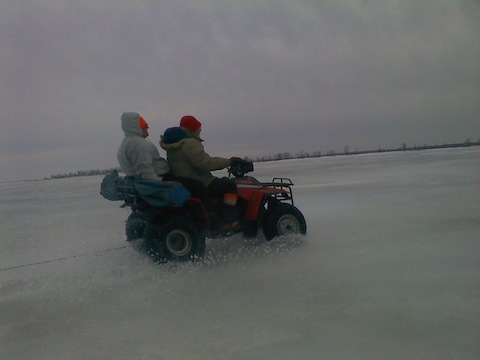 MARCH 26, 2014
JUST ME
Steve was snowmobiling and Willy had been out earlier in the week so I didn't have a fishing partner. The weather was nice so I headed for Green Bay. The ice is thirty inches thick so I found some old holes and opened them up. There were some fish showing upright away but they were not hitting very good. I caught one and lost five by noon. By 12:30 I had five on the ice. I fished till 1:00 and quit with six fish on the ice. Now I have to head for home and clean them.

MARCH 20, 2014
FINALLY WARMING UP
It was 32 degrees when we left and the forecast was for mostly sunny and 35 when we set up at 9:30. Today we were trying a new spot and if it didn't pay off we could move out to our honey hole. By 12:00 we had 10 fish but the fishing had slowed down and our other spot was beckoning to us. The tents came down and out we go. The fish were not biting there very good either. We should have stayed in the first spot.
The current was strong and you couldn't see your jig so you were fishing blind. The fish that bit seemed to be not hitting good so you would loose them on the way up. We stuck at it and had our 20 fish limit by 3:30.
The best thing about the day was that you didn't have to use a heater. The predicted sun never came out but it was really nice out on the bay. There was a light wind and the little snow cover that there was melted making for a nice smooth ride.
Lots of fish to clean again tonight.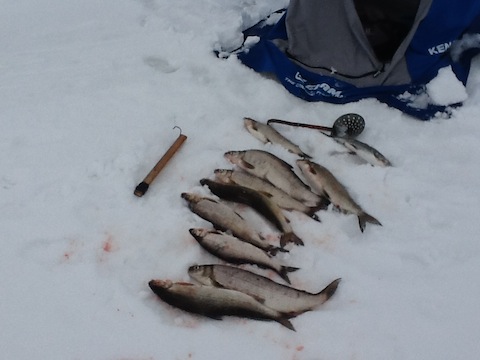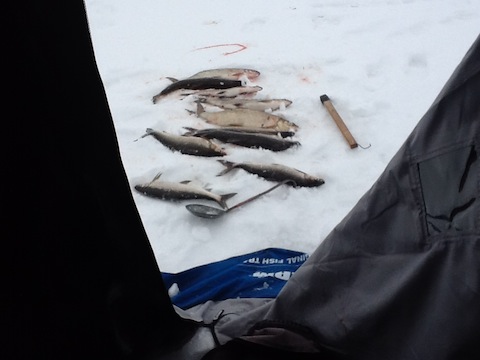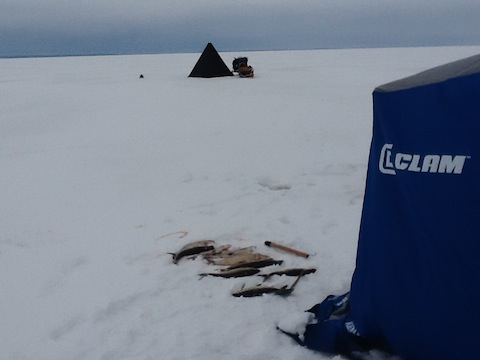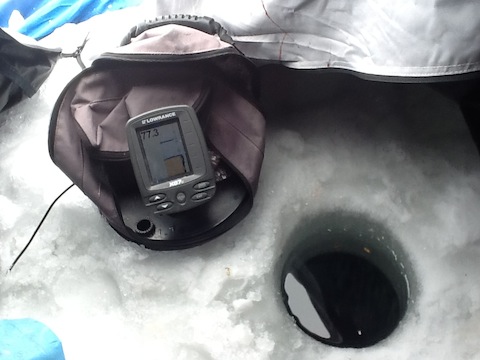 MARCH 14, 2014
A FLOATPLANE ARRIVED
It finally happened, Steve Gruenberg flew his floatplane over to fish with us. We have been planning this for years. Last year it didn't happen because he did not have his skis on. Steve Hadden and I left for Green Bay at our usual time of 8:00. We had just got set up when my cell phone rang and it was Steve calling from his plane. He was somewhere over Lake Michigan and heading our way. When he was about 5 miles out he turned on his landing lights and we directed him in.
It had taken us a while to set up because there was a south west wind blowing at about 10 to 12. Steve Haddens's (too many Steves) TP tent holds good in the wind but it is hard to set up. My pop over tent sets up easily but wants to blow away once set up. When we got to fishing there were fish swimming under us as soon as we turned the fish finders on. This had the makings of a good day.
When Steve G got there he had his equipment stowed in the float plane. His tent went up and he was ready to go except that he had never fished for whitefish before. I had left my lure hanging about 2 foot off bottom while rigging him up. When we got into my tent it showed three fish around the lure. I told to Steve, "this is how you have to jig". I jigged the lure twice and there was a fish on. Then I showed him the tricks of back reeling when trying to land a whitefish on light line. The demo took less then five minutes. That doesn't happen very often.
There were lots of fish down there and we all had our limit by 1:00 and called it quits. All the gear was stowed on the plane or sleighs and Steve G. took off. In 500 feet he was airborne and on his way back to lower Michigan. Steve H and I headed for shore and loaded his four wheeler on the trailer. We were not even half way home when we got a call from Steve G that he was on the ground at Cadilac; he beat us home. Now that's the way to go ice fishing.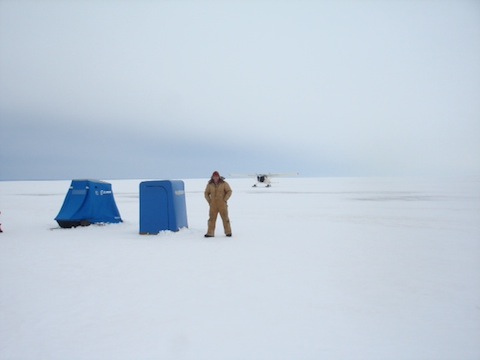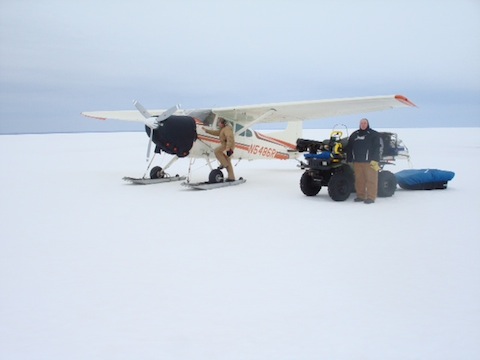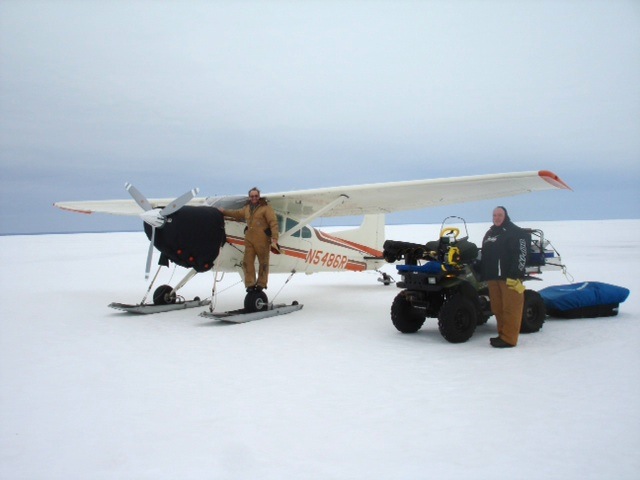 MARCH 11, 2014
FIRST WARM DAY THIS WINTER
The temperature climbed to 50 degrees and I couldn't stand it. I loaded up Rowdy and Old Blue the pulling sleigh and we headed for Green Bay. The pulling was pretty hard because the snow was melting making for wet snow and slush on the ice. We walked out about a half a mile and used the hand auger to cut a hole through the 30 plus inches of ice.
The weather was nice but the fishing was slow. The first fish came through about a half an hour after I set up. It was a small one but they make for good eating so he went in the bag. I fished for two more hours and only bagged three whitefish.
The walk in was a lot easier because I hooked Rowdy up to Old Blue and the two of us trotted off the ice. It is not easy to keep up with a long legged hound as he pulls a sleigh.
If we get some cold weather the lake should set up like a rock. It should make for some easy travel with four wheelers.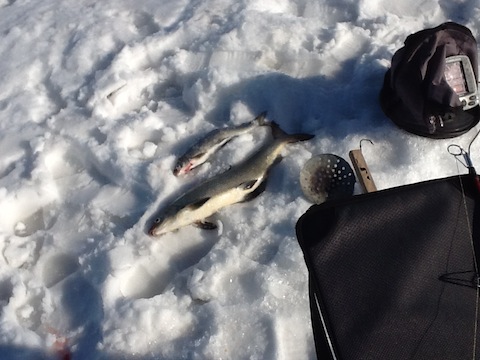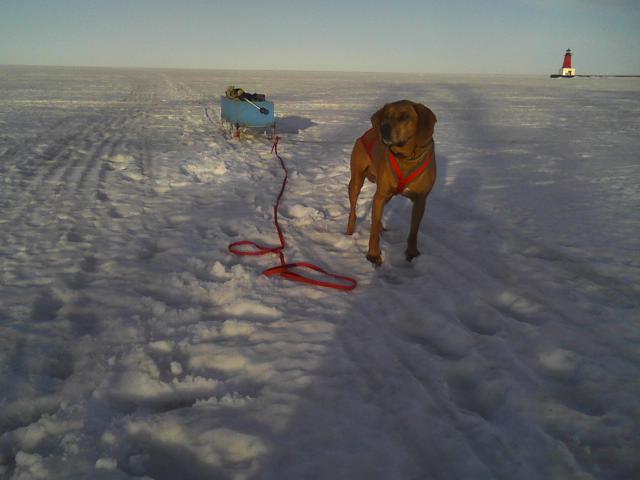 MARCH 6, 2014
A GREAT DAY
Don't ever cancel a fishing trip because of a weather report. The weather people were predicting a SSE wind of 12 to 16 MPH and the temperature was predicted to be rising to the high teens. That didn't sound too bad to us so we decided to go. I met Steve at 8:00 and we loaded up. The temp was zero on the truck thermometer. Willy was going to meet us at the boat launch. When we got to the launch the sun was shining, no wind, and the sun shining. So much for the weather forecast.
We followed the GPS out to our fishing spot. This one was 3 1/2 miles out but the ride out was easy. There is about 4 inches of soft snow on the ice so the travel was easy with the snow machine and sleighs gliding smoothly over the snow. We set up over 65 feet of water and started fishing. Steve caught a couple right off the bat so we were encouraged. Soon I hooked one and landed it. Willy showed up and went out a little farther to try another spot. Steve and I picked the right spot because there were fish under us almost constantly. I had my limit by 12:06 and Steve soon had his. Willy moved over by us and soon he was icing whitefish too. We each ended the day with a limit of whitefish and a lawyer, (burbot). It was one of those days when you didn't need to run your heater because the sun provided all the warmth we needed.
Steve had bought a 8 inch auger and extension for his propane auger head. It was a good thing he had the extension because the ice is over thirty inches thick. He had a 10 inch auger but it was having a hard time cutting through that much ice. I can give you three reasons that a smaller hole is better then a large hole.
When you step back into a dark tent from a sunny outside and step right into your hole you don't get wet up to your knee.
When you break a fish off in the hole by trying to lift him onto the ice without gaffing it and your line breaks it leaves the fish in the hole with your favorite lure in its mouth. The fish can't turn easily in small hole so you have time to grab your gaff and retrieve the fish and your favorite lure.
When a large fish flops and throws your ice fishing rod and reel into the hole you have a chance of retrieving it before it makes it to the bottom of the hole.
We had a great day on the lake, I can't wait to get out there again.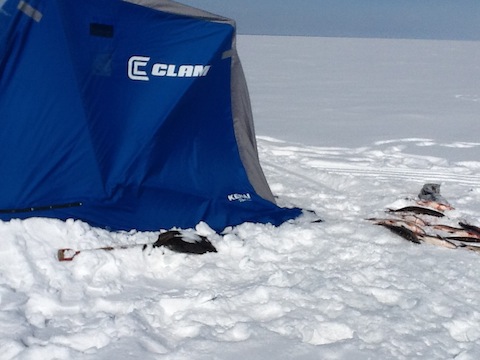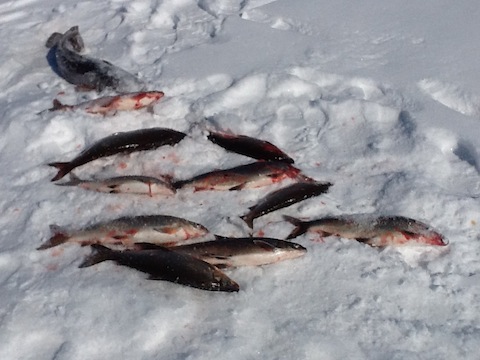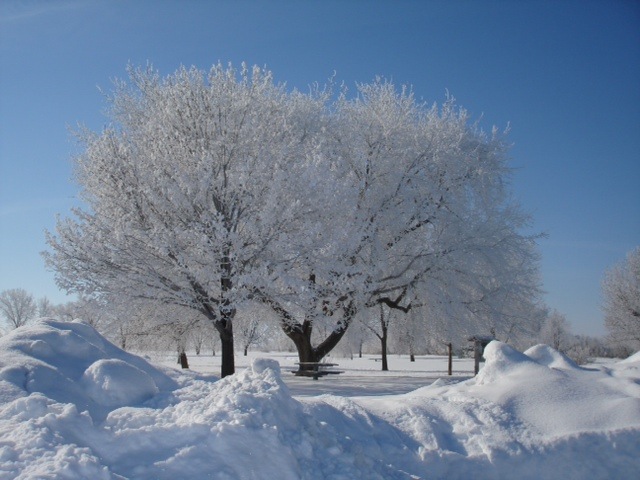 February 24, 2014
Close in fishing
Green Bay was our destination today since it warmed up to 8 degrees. I met Steve at the "Park and Ride". We loaded our tents into his truck and we were off. The sun was shining when we met Doug in the parking lot. Willy wimped out on this trip so it was just the three of us fishing without our whitefish catching machine, Whitefish Willy. We were going to try it anyway.
The sleighs were loaded behind Steve's snowmobile and the trip out to the fishing grounds was short. Today we were fishing about 1/2 mile out in 28 feet of water, a relatively short trip for us. Holes were cut and we started fishing. It became obvious that today was a slow day. A few fish came in and hit but the majority would follow the lure and not hit. Doug had the hot hole and he was hooking and losing fish. He did get a nice two footer up onto the ice. I think it was the biggest whitefish of the year.
Steve and I both moved. Steve started to see fish on the finder and was soon catching them. I decided to move and grabbed Steve's auger. The ice is over 30 inches thick and the auger is barely able to punch through to the water. I was bent way over when the auger found water and being a rookie at power augers I didn't let off the throttle and so out of the hole came a mixture of water and ice chips. This is perfect for a manhattan but is not good in your boots. It got both boots and now I had cold wet feet to look forward to for the rest of the afternoon.
We ended up with 14 whitefish, not bad for a cold day on the water.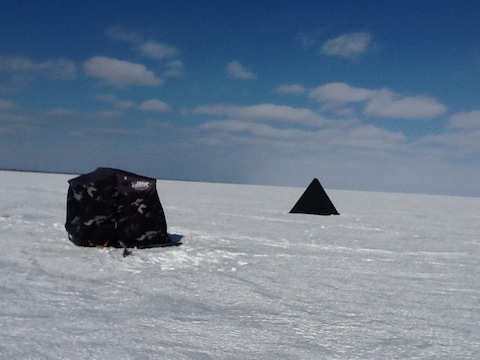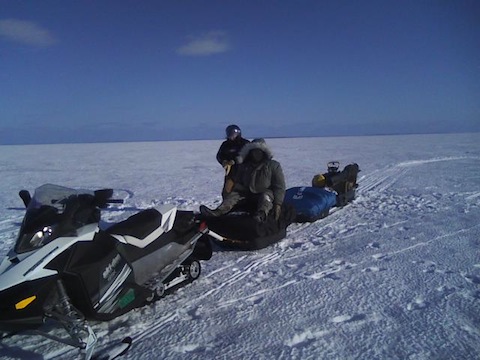 February 12, 2014
Doug joined us
Willy towed his snowmobile to my house. We loaded his sleigh into my truck and hooked up the trailer. We were out of here a little after 8:00. Our destination was Green Bay again.
Doug met us at the boat launch. Three sleighs were hooked up to the snow machine and Willy towed them down to the lake with Doug and I following. I had a destination programmed into a GPS and out we went. I had left a stick in the ice to mark my old hole from a previous trip so it wasn't too hard to find a place to start fishing. Doug and I set up there and Willy went exploring for a new spot.
My heater would not start and I spent the frst hour fooling around with the heater. The heater was brought back and forth to Dougs tent. Finally we cooked it on top of his heater. It thawed out and started. In the next hour I had two whitefish and one 4 pound walleye, (called a green slime by me). No fish were coming by on the depth finder but Willy was getting some on the outside of the reef so Doug and I moved. It worked and as soon as we set up there were fish below us. The bite seemed to be better in the afternoon then in the morning. When it was time to quit I walked over to Doug's tent and here he come holding his finger. The last fish he caught flipped on him and drove a treble hook through his finger. The barb was driven all the way through so we were able to pinch down the barb and he was able to back it out of his finger. Doug said, "good thing I just recently had a tetanus shot.
Our sleighs were loaded and we headed for home at 4 with Doug riding on his sleigh and yelling "slow down". But, with Willy there is no slow. We ended up with 25 whitefish, 2 walleyes, and one sucker.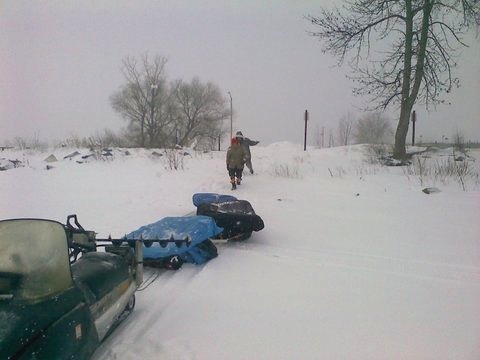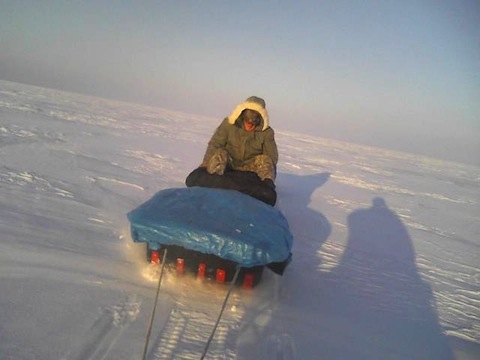 FEBRUARY 9, 2014
Fishing With Rowdy
It was a bright sunny Saturday, the wind was down and temperatures were forecast to get into the teens, WOW. Willy was working on a cold weather plumbing project. There has been a lot of those this winter. I was breaking my "Don't fish on the weekend" rule but with the nice weather I just had to go.
I switched sleighs because I was going to be pulling my sleigh and the flip over shelter pulls hard. I enlisted the help of Rowdy the red bone hound. Our friends who run sled dogs sent us a pulling harness so he had some work to do. I harnessed him up and out we went on Green Bay. The pulling was hard because the temperature was 8 degrees and the snow is not slippery at that temperature. Rowdy pulled hard at first but as soon as he realized we were heading out into the Arctic Tundra instead of along the shore he revolted. He is smart enough to realize that there aren't any rabbits out there. I cut him loose and continued on my way with Rowdy about a half mile ahead of me.
I drilled a couple of holes through the thirty inches of ice and started fishing. It started out slow. Soon a fish echo appeared on the fish finder and it actually bit. The first whitefish came reluctantly up to my side of the ice. The spot turned out to be a good one and I ended up with seven whitefish; not too bad for a trial spot.
No pictures for this report because the fisherman forgot to take any. Oh, Rowdy beat me to shore by a half a mile. He disappeared as a spot in the distance, found the truck, then he returned to urge me on back to the shore.
FEBRUARY 3, 2014
Fishing with Steve
The truck thermometer said 22 below, yes that is right -22 degrees, as I headed over the hill to meet up with Steve. I didn't believe it and that was the first question I asked when he pulled up. His truck thermometer also read 22 below. That wasn't going to stop us from going out on Green Bay. Willy couldn't make it because of a frozen septic system, fun.
The ice conditions are great for a snowmobile but not ideal for a four wheeler. There is about two to four inches of wind packed snow on the ice and a snow machine skims over the top. We could see by the four wheeler tracks that they did fine until they hit a drift, then they have to struggle through it. A snow machine is the way to go until we have a thaw that will firm up the snow a little.
There is about thirty inches of ice. Steve has a propane auger and it didn't start because the temperature was so low that the propane would not vaporize. We had to switch the bottle with one we carried in the truck. It was warmer and the auger started. After we cut a couple of holes we started fishing. It was very slow at first but the fish that did show up bit. Then the fish quit hitting. We tried all kinds of tricks. They would follow a bait but would not hit. Now the question was, should we move or just wait them out? DON'T LEAVE FISH TO FIND FISH! So, we just stayed there and kept fishing. I lost seven fish in a row. About 1:30 the bite started. More and more fish were showing up on sonar. The fishing just got better and better. We limited out with 20 fish and were done by 3:00. Another great day on the lake.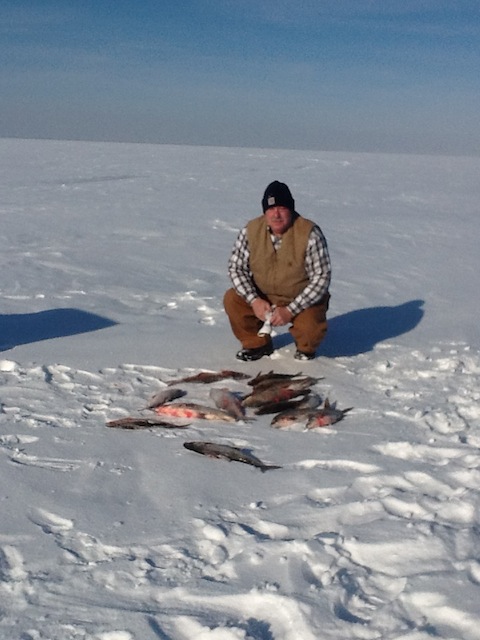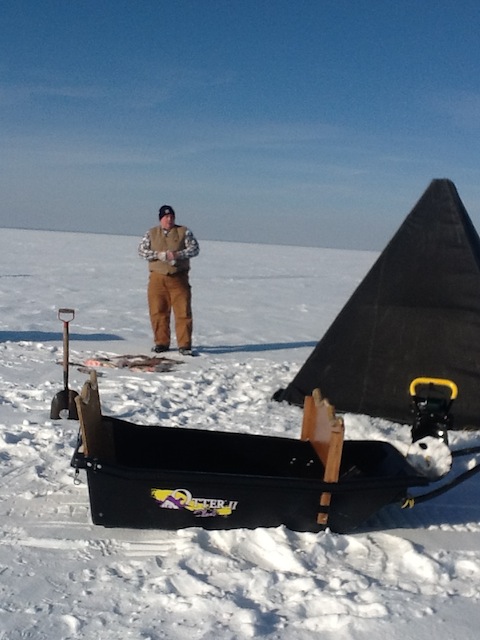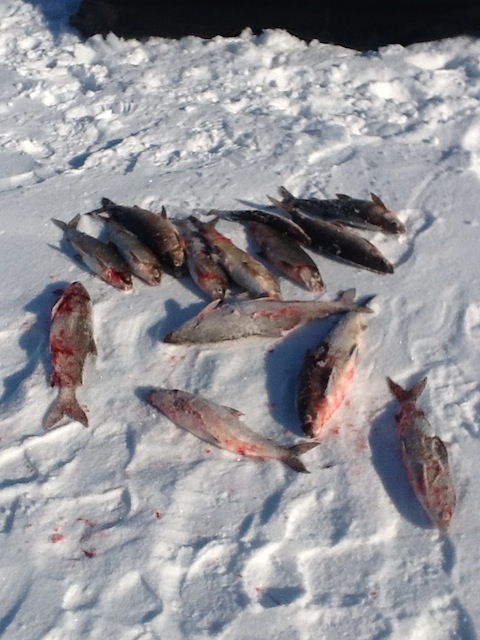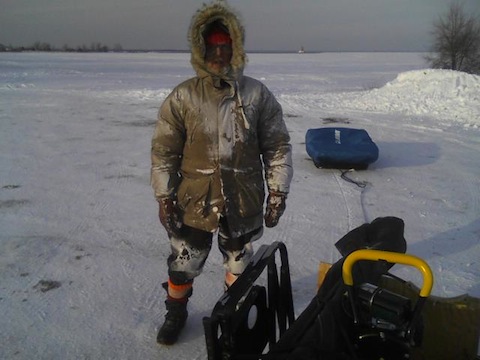 This is what happens when you ride backwards on a snowmobile.
JANUARY 25, 2014
Brutal
Left home about 8:00 to meet up with Willy. The car thermometer said minus 2 and there was a light snow falling. The roads were snow covered and slippery but we were not going to let a little snow bother us. I met Willy at Pembine. He was a little late because he had to pull a car out of the ditch while on the way. He showed me his finger and half his finger nail was missing and his glove was full of blood. He said that you can't let a little thing like that slow you down.
We transferred sleighs and snowmobile trailer to my truck and we were off to Oconto. Doug met us at the launch and we headed out following a line of Christmas trees stuck in the ice. Visibility was about 1/8 mile because of blowing and drifting snow with a wind chill of 31 below. The snow machine had no trouble gliding over the snow but Doug's four wheeler was struggling. He only got stuck once on the way out. We really didn't know where to go but we found a 40 foot hole that was out about 1 1/2 mile out. Holes were cut and we set up. I had to anchor my sleigh down with my ice pick. The wind wanted to lift the sleigh right off the ice like a big blue kite. Once I was in the tent you had to sit there because it wanted to head for Washington Island. So much wind was blowing through the crack in the bottom of the tent that it kept blowing out the heater. Boy, we are having fun now. To top that off we never marked one fish after fishing for and hour. We had a quick conference and decided that we had enough, Doug said "It is brutal out here" and we all agreed and headed back to the shelter of the breakwall. Willy and I were about half way back when we noticed that Doug was not behind us. The sleighs were dropped and the snowmobile turned around. About one half mile behind us we found Doug and his four wheeler buried in a snow drift. Fun hey? A little pushing and pulling and we got the four wheeler through the drift and we were off again. Our convoy made it to the breakwall this time so Doug called it quits and headed for his truck. Willy and I didn't have that much sense so we set up again, this time in 10 feet of water and in the shelter of the breakwall. After about two hours of frozen hands and feet we quit. Willy had two whitefish and I never even had one swim under my hole.
Here are my new rules for ice fishing.
1. Don't leave home when the temperature is minus 2.
2. Don't go out on the ice if the wind chill is minus 31.
3. Don't fish at Oconto.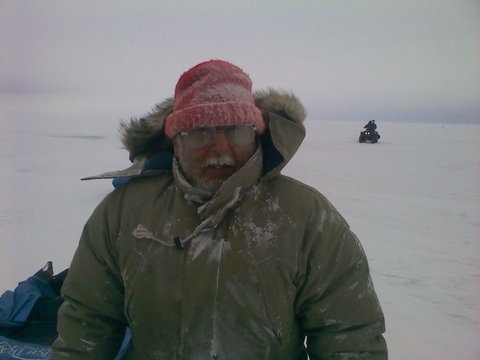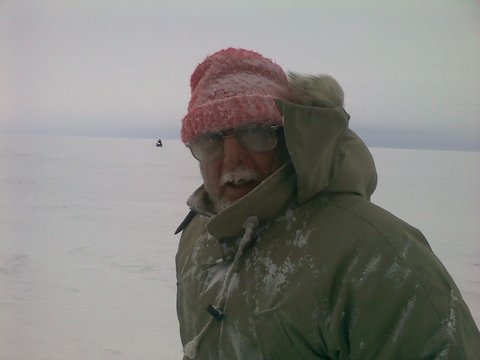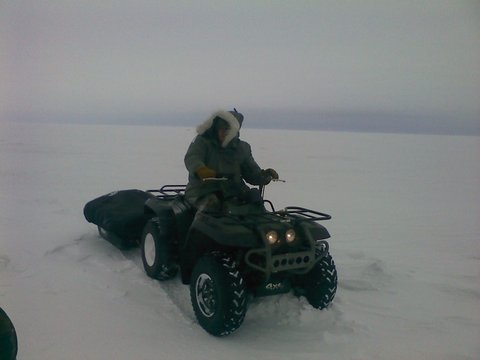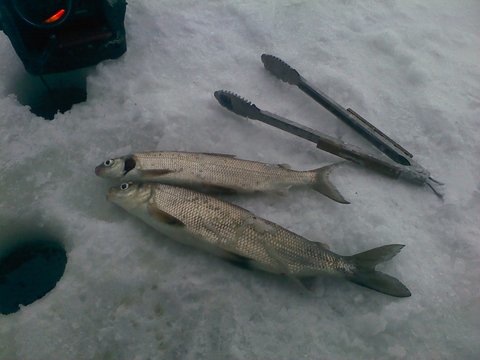 JANUARY 18. 2014
YOU ARE FISHING TO SHALLOW IF YOU CATCH A FROG
Oconto, don't go there, especially on a Saturday. I got there about 10:30 an set up in 9 feet of water. Willy had one, he caught another one while I was setting up. I marked a few fish and had some follows but none hit. Then the Saturday crowd showed up with power augers, snow mobiles, and four wheelers. The fish disappeared. I fished till two and called it quits. I never had a bite. Willy was still moving and trying different holes. It turned out to be a nice truck ride, a little stinky on the way home but still a nice ride. After I left Willy went over and fished my hole. This is what he caught. It is a bullfrog. Never have seen one caught through the ice.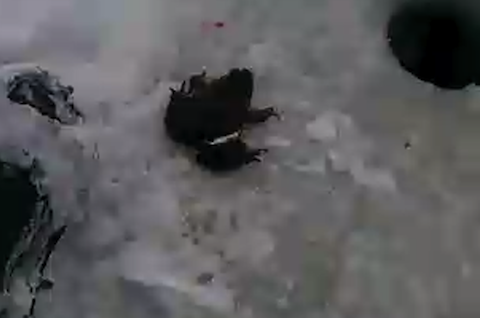 JANUARY 10, 2014
WET FOOT
Met Whitefish Willy at 8:30 at the launch. The day was foggy with about half a mile visibility. I had the day off nursing duties as some of Marge's friends were going to take care of her while I fished.
We loaded the snowmobile, hooked up the sleighs and off we go. Our fishing spot is to the right, Willy is directionally challenged and has demonstrated that a number of times and we headed off to the left. I pounded on Willy's shoulder and pointed to the right. He would start out the right way and soon veer to port. I could tell because I had a point loaded into my GPS and he was off the track line. Soon we made it over the jumble ice and three pressure cracks and got out onto some smoother black ice. It was interesting crossing the pressure cracks because there was water on the ice and floating slabs in some of the larger cracks. Well we got out near the spot we wanted to fish and it just didn't look right. We both had too many old tracks and points in our GPS units. We went past our spot and there was a hidden crack in the black ice. Where we hit it was about 3 foot of open water. The snow mobile shot across the crack but the back end hit hard on the far side. I was launched off and ended up sliding on the ice and somewhere in the confusion my foot must have gone under water because I had a very wet foot. We stopped and picked up the items scattered on the ice and decided to get back to the shore side of the open crack.
It wasn't far back to some of our last years marks and we set up and started fishing. Since this was the shakedown cruise for me it took me quite a while to get fishing. My fish finder had taken quite a jolt somewhere on the way out and was not working, the wires were not connected to the battery and the battery had broken from its mount and was flopping around in the carrying case. I gave up on it and started fishing. It wasn't long and it felt like my lure caught on a clump of zebra muscles. I checked the depth and figured out that I was off the bottom, guess I missed the first bite of the year. Soon I missed the second, third and fourth bite of the year, bummer. Guess I forgot how to catch whitefish. Finally I figured it out and started to catch some fish. There actually were quite a few fish and soon I had fish flopping on the ice. It took about two hours to catch 8 fish and then the bite slowed. The last four fish took Willy and I two more hours to catch. That completed our limit of twenty whitefish. The fish averaged about 18 inches with the largest one just over 22 inches.
The ride in was rough but uneventful. We picked our way through the push-ups and found a way over the rough ice to the launch. This was a very good shakedown cruise. Other then a very wet foot everything went well. We made it back to fish another day.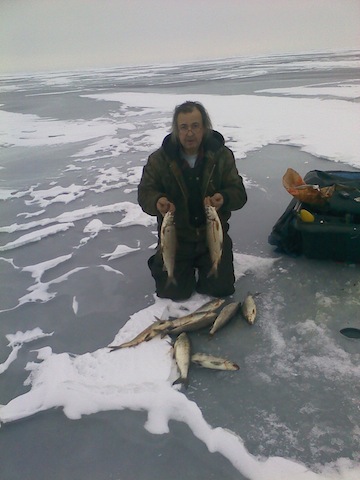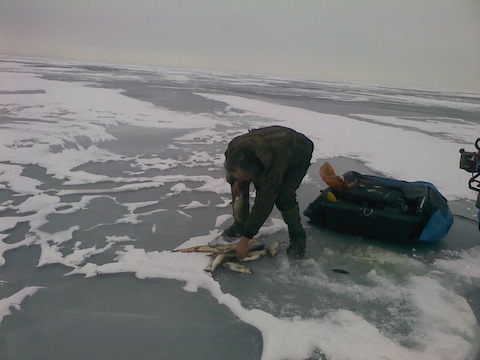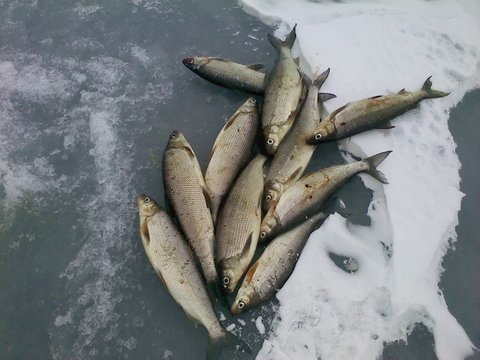 JANUARY 2, 2014 FIRST ICE
Checked out the ice on Green Bay. It looks like lots of ice so I walked out wearing a float coat and carying an ice pick. I picked my way out to some black ice. The ice was about 8 inches thick. It will be a lot thicker after the next blast of below zero weather. Marge's new hip is healing well and the fishing may start next week after the weather warms up to ten degrees or so. It is not shaping up to be a warm winter.