Link to HOME FISHING WITH WILLY 2011 FISHING WITH WILLY 2012
LIFE IS LIKE A GAME OF MAHJONG
Willy kept repeating that over and over on September 28. We were suposed to meet at 6:30 but by 7:00 there was NO WILLY. My cell phone was going off but there was no one on the other end. Finally I got a message, "Broke Down in Dunbar". I headed down the road to Dunbar and there was Willy and his boat trailer with no wheels. It was down on the axel and it did a good job of grading the shoulder of the road. Ever wonder what happens if you tow a trailer without a tire?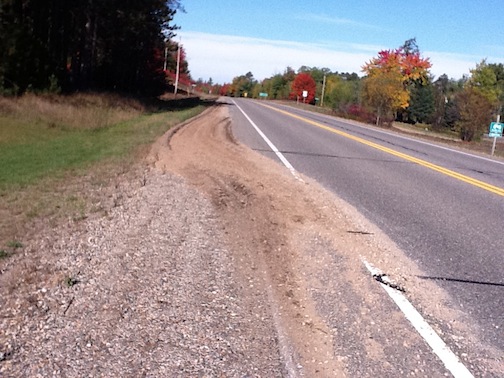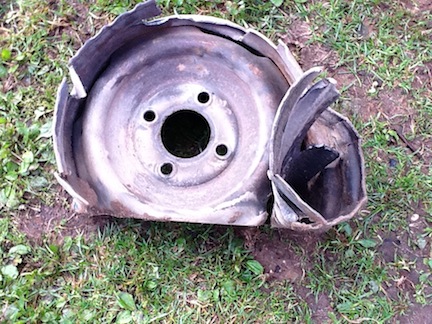 Take a look at the rim, the axel broke off the other side of the trailer so there was no tire or rim on that side either. We did a tire search and found the tire way down the highway.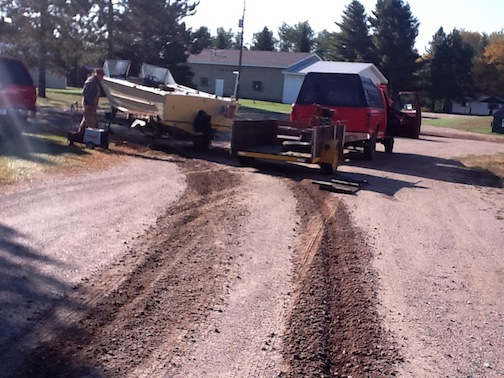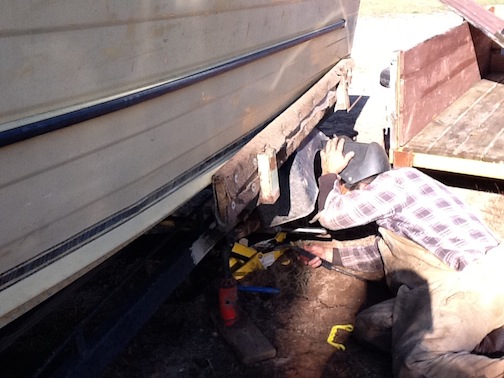 We headed for Willy's house and picked up a welder and generator. He searches and finds a spare spindle laying around so off we go with Willy muttering about "Life is like a game of Mahjong". His welder is not quite working right but he does manage to get the spindle welded to the axel and we limp the rig home to his house at a top speed of 15 miles per hour.
I am thinking that is it for this fishing trip but Debbie says, "It is early, why don't you take the little boat". "Good idea" say Willy and off we go, Willy trailering his little boat and me following. The plan is the drop his truck at Pembine and I will trailer the boat the rest of the way from there. About a quarter of a mile from our drop off spot I notice some smoke coming from the left trailer tire. When we stop I tell Willy about the smoke and he checks the tire, wheel bearing completely shot. There is an auto parts store just down the road so we head over there and get a bearing set. Back to the trailer we go, a one inch bearing does not go on a 1 1/8 spindle, back to the store and get a 1 1/8 bearing set. This one does not fit becaues it is for a tapered spindle, back we go to the parts store again. They know us by our first names now and they do have the right bearing set. Willy says, "Life is like a Game of Mahjong". The trailer is fixed and we made it to our fishing hole by 4:30.
We did catch 10 whitefish after all our troubles. Then we started back with Willy giving it all his little 10 horse power motor has.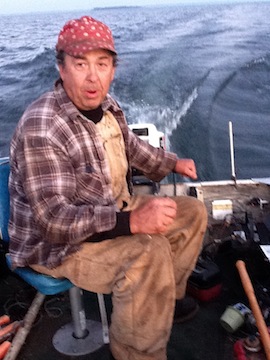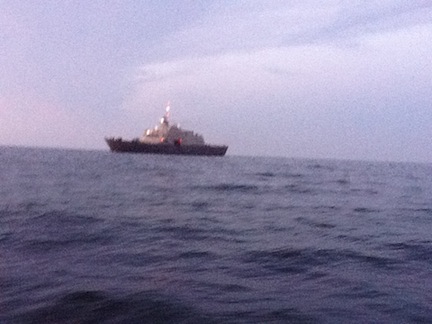 The navy chased us back and we turned a bad day into a sucessfull outage.
OH, about the Mahjong, there is a game of Mahjong where you pick a tile and if you pick another one and it matches you win. Good things happen when you find the right tool, right spindle, and right bearings to fit the spindle, then you can head to the fishing hole. It took some time but we got all tht tiles to match.
JANUARY 21, 2012
FISHING WITHOUT WILLY
Willy wimped out because he had a bunch of fish left over from his trip earlier in the week. He went out and caught his limit during the week and didn't want to head out again in below zero temperatures. (He wimped out) Fishing without Willy meant that I didn't have to get up at 5:00 in the morning. I slept in and left home at 8:00 AM.
It was 11:00 by the time I got out and set up on the Bay. I fished for an hour in 16 feet of water and never had a bite. I wandered out and talked to a couple of young guys (they are almost all younger than me) and they had a few fish and had some showing up on their fish finder. My tent was packed up and I was moved out to the 20 foot depth in a hurry. It didn't take long and there were some fish showing up on the depth finder. I lost the first four fish. They were not hitting hard enough to hook good and I kept changing lures until they started to hang on long enough to come up to my side of the ice. Six whitefish and one stinkin' walleye was the final tally. I was able to trade the stinkin' walleye to the young guys for two whitefish. It really sounded like a good deal to me so the total for the trip was eight whitefish. There will be real good eating when they are cooked under the broiler on a charred oak plank.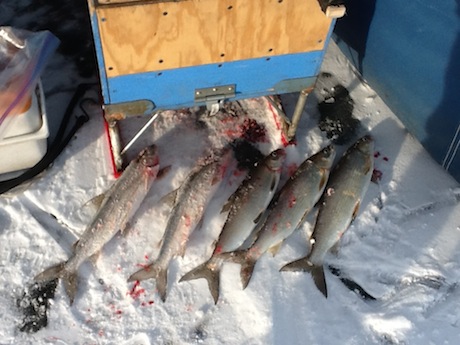 1/24/2012
FISHING WITH WILLY
It was an early start today when I picked up Steve and we headed down to Pembine to meet up with Whitefish Willy. Three sleighs, tents, heaters, rods and three hopeful fishermen were loaded into my pickup. We we fishing a river mouth where Willy had caught 10 whitefish yesterday. An hour later all of our gear was unloaded and
carefully slid down the steep hill to the ice. Willy was out to his old hole like a shot. Steve and I found a place near him and we started fishing. By the time we were set up Willy already had two fish on the ice. A half hour later he had two more while Steve and I were staring down fish-less holes. Steve caught one and soon I had one on the right side of the ice. Wily started to hole jump and was catching one here and two there while we were still looking at a bottom void of fish. Two o'clock was our quitting time and my last years rule to tell how many fish Willy has doesn't hold this year. Last year I would count my fish and double that number and that is what Willy caught. It looks like this years rule is to count my fish and multiply by five as the final tally was Steve 1, Bob 2, and Willy 10.
It was a good day on the water, Steve almost but did not fall through the hole in the ice and of course we have another 15 reasons why Willy caught all those fish while Steve and I didn't. Some day one of those theories will work out. The only one we have so far is that Willy stinks like a fish and he keeps dipping his hand in the water to attract them.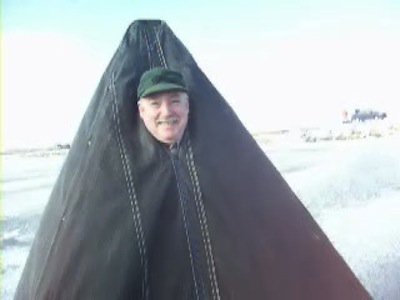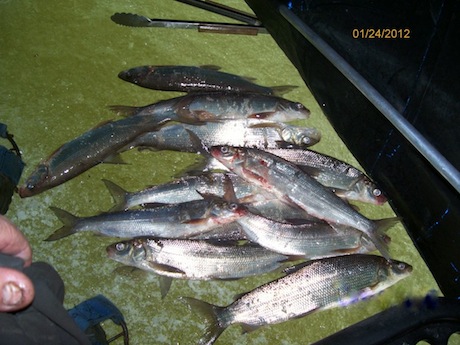 Steve looks fine wearing his tent and Willy's cleaning table has a bunch of fish on it. This is what happens to a whitefish after 25 minures in a Finnish stovetop smoker. It works great.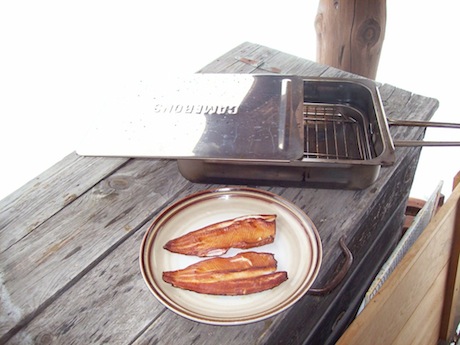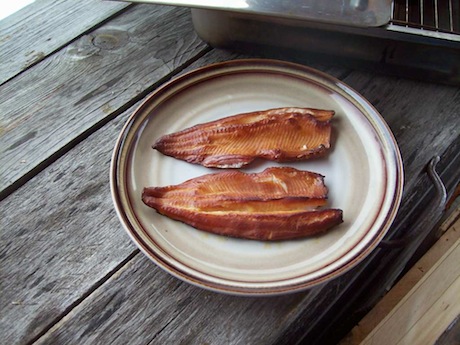 ICE SAFETY VIDEO BY WHTEFISH WILLY
Click on this link to view video in a MOV format
Click on this link to view video in a WMV format
JANUARY 27, 2011
ABANDONED ON THE ICE
Willy, Steve and I headed out, Steve and I on his four wheeler and Willy riding on a sleigh that was towed behind. We headed to a spot that held fish last week. Steve and I set up there but Willy wanted to go over to a bunch of shacks about a quarter of a mile away.
Off goes Willy on Steves four wheeler leaving Steve and I there. The plan is to use a couple of Amateur Radio (Ham Radio) hand helds that Willy and I bought for this purpose last Christmas. The radios were all programmed and ready to go. The only mistake was not to check out the radios before Willy headed out. A half an hour later we only had one fish on the ice and they were not under us. The call went out to Willy on the hand held radios, no answer, another call, no answer. No fish coming by either and Steve and I were abandoned there with no way to move out tents because Willy had the four wheeler. Finally we remembered that Willy has a cell phone, he almost never has it on but this time he did and he was over fish. HELP, COME GET US was our cry. Our tents were down and we were ready to roll by the time Willy came to rescue us. I asked Willy, "whats up with the radio". I had got sent of to never never land in his pocket.
After our move we were into fish immediately. It was a nice pristine location on a remote lake.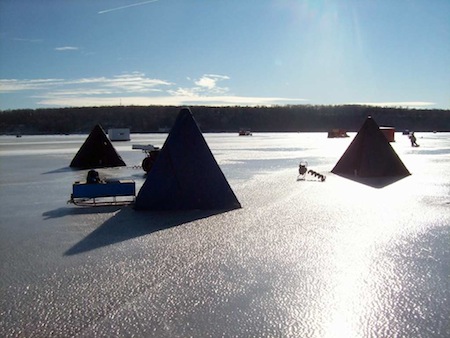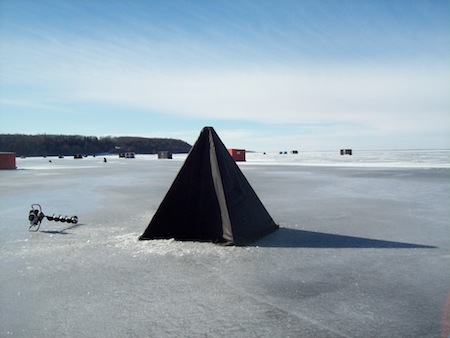 The fish kept coming and soon we had 29, the last fish is always the hardest one to catch. I was hole jumping and was outside of my tent. I heard a noise and there was Willy, flat on his back, with his rod still held high in the air. He had hooked a fish and fell over in the excitement. The fish was landed and we were headed in buy 2:00 with our limit of 30 whitefish, happy bunch of fishermen.

2/2/1012
WATER ON THE ICE
Steve, Willy and I headed back down to the Green Bay again. The temperature was hovering around 40 degrees and expected to remain there for a few more days. That will do damage to the ice out on the bay. It is about 8 inches to a foot thick now and has been nice solid black ice.
When we got there you could see quite a few places where there was one to two inches of water laying on the ice. The tents were loaded onto the four wheeler and sleigh and we headed to where we fished last week. It is a reed about 3/4 miles out from the landing and we took a slow ride out there so Willy, who was riding on the sleigh, didn't take a bath from all the water being thrown up from the wheels of the four wheeler. A GPS course was laid in to where we fished last week. Of course "you can't catch last weeks fish" and there were not a lot of fish there. We tried all kinds of old holes in the area without much success. A big move was made and we started to do better. Willy the wanderlust, took his sleigh and was moving all over the ice. The radio worked this week and he was catching a few but so were Steve and I so we stayed put. Our total catch was 21 keepers and a few toss backs. As you can see from the blood there were a few fish in the bag when we headed in after another successful day on the ice.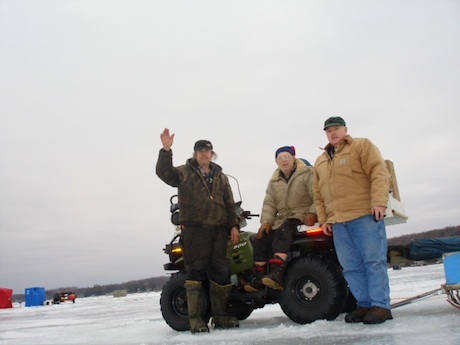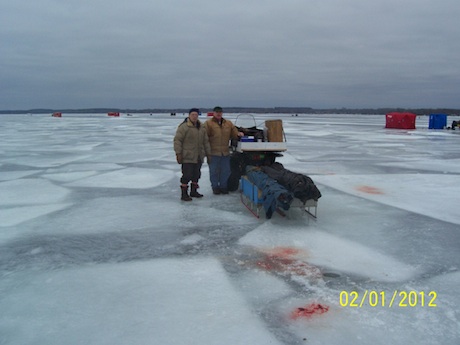 February 4, 2012
TRIP TO THE ARTIC
The day dawned warm and sunny and I couldn't stand it, I had to go fishing. Since I had some whitefish fillets to deliver I swung by Joe's in Niagara to deliver some fish. While there I asked Joe to come out fishing and he said "why not" so off we go to Oconto. Willy was already fishing there and had 5 fish but they had quit coming by. Joe and I went exploring, looking for another place that we fish last year but the ice was not thick enough there. It looked like the arctic.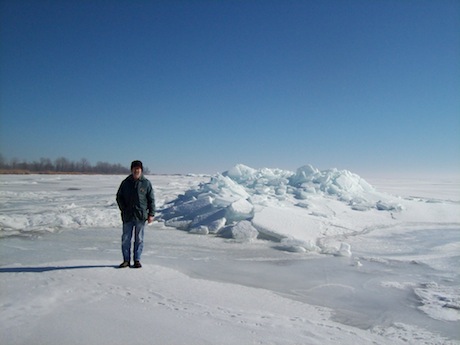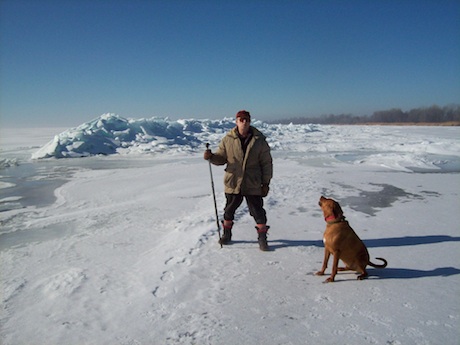 We headed back to Oconto and fished there for a couple of hours and never caught a fish. I knew better but I let Joe take a banana on this trip, evidently a banana is bad luck for ice fishing just as it is when fishing from a boat. I will not allow one on my boat and it looks like I should ban them from my car. NO BANANAS ALLOWED! This was my first trip that I was skunked this year but it was on of the nicest, a beautiful sunny day and warm enough to sit outside and enjoy it.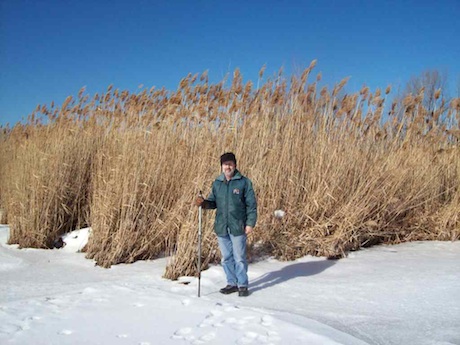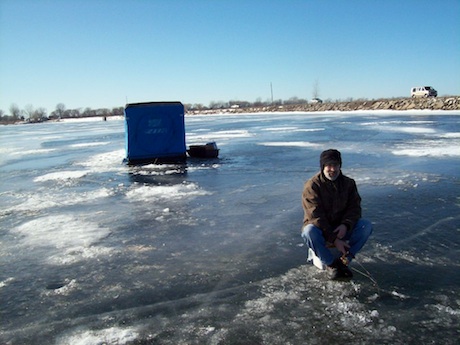 2/09/2012
THE CURSE OF THE BANANA
I went outside in the morning and that was a mistake, the sun was shining, little wind, and just a nice day. The ice has been holding at Escanaba so I decided to check it out over there. I started fishing in 34 feet around 11:00 and there were fish under me right away but they would not bite. I tried a few more holes and them went back to where I started and set up my tent. As soon as I set up the tent the fish quit coming by. I did manage to roll one fish but landed none and none bit. I think it is a hold over from the banana that Joe brought last trip. I made a mistake and used the same pole and lure that he fished with after he ate the banana. It looks like I will have to wash off all my lures and poles in Ivory dish soap to get the banana smell off. Pictures are off Escanaba and of the Ice at the Terrace.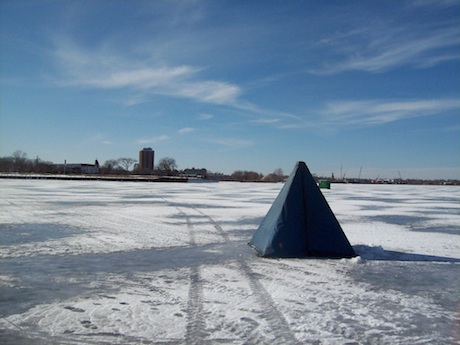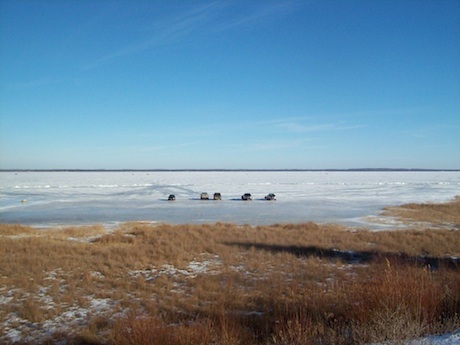 2/172012
Fishing Without Willy
Tow Dog Rowdy - Going, Going, Gone
There is a fishermen's saying "Never leave fish to find fish", there should also be the opposite saying, "Don't look for fish where there were no fish".
I did just that when I returned to the scene of last weeks skunk trip to Little Bay De Noc. Rowdy the hound and I went over and walked out from by the lighthouse at Escanaba. The temperature was just about freezing with a light breeze blowing so I could fish outside of the tent. The first holes were cut in 38 feet of water, there were a few fish around but not many, I was looking for whitefish so I decided to try put deeper. Holes were cut and tried till I ended up in 54 feet. There were less fish showing up in the deeper water so Rowdy and I moved back to 34 feet of water. Few fish came by and one even bit but got away on the way up. The weather warmed up, the sun got higher in the sky. We had some visitors from Ohio and Tennessee who had never seen any one ice fish before. They were on the way up to Marquette for the dog sled race. We socialized with all the other fishermen out on the bay, ate some lunch, and watched some seagulls fly by. As you can tell the fish were not bitting or not there. At two o-clock I loaded the tent up and since I didn't want to take the leash of of Rowdy so I tied him to the sleigh and he was off for shore. I never expected him to pull the sleigh but he was off like a husky heading for shore with me trotting after. He finally stopped about a quarter mile ahead of me and waited for me. See the series of pictures I took as I watched my sleigh head for shore. No fish to clean tonight.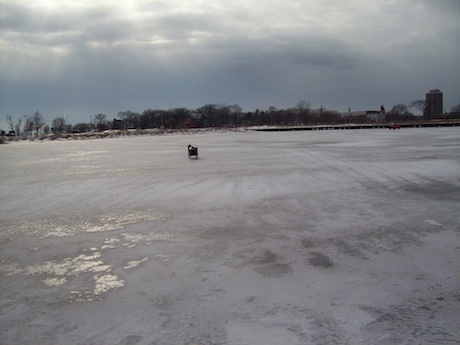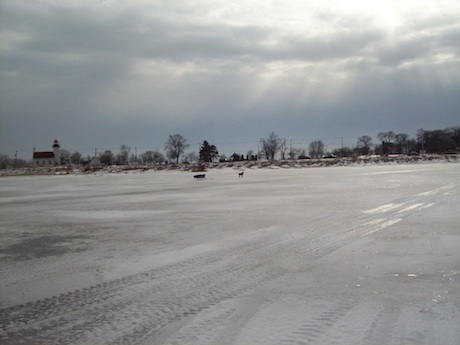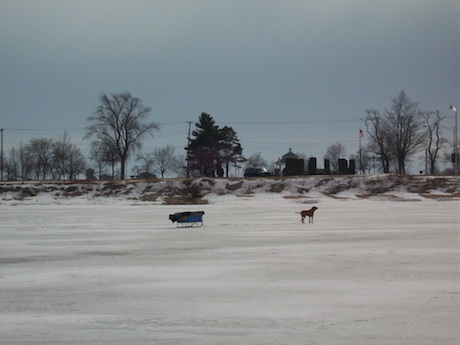 2/22 2012
Hit the Bay Again
The three of us headed out to Green Bay again. It is a long ride but at least we catch fish. Willy was the guide, Steve the driver, and I went along for the ride. We set up in 18 feet of water and it wasn't long that a few fish were showing up on the sonar. The wind was blowing but the temperature was in the low 30's so you could fish outside of a tent. Fishing was a little slow but soon there were a few fish on the ice. Steve and I stayed in one place but Willy went wandering all over looking for the mother lode. It seemed like there were a few fish everywhere but not hot spot. There was a morning bite and later a two o'clock bite. The lines came out of the water at 3:00. Our total fish was 24, six short of our limit.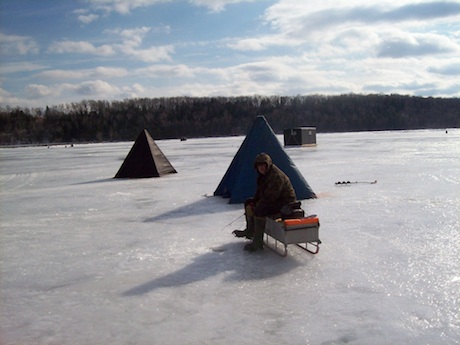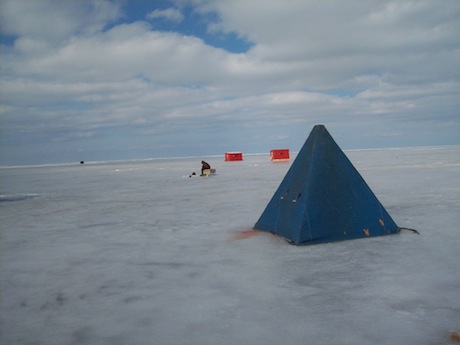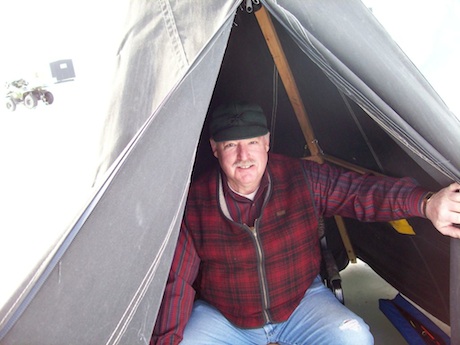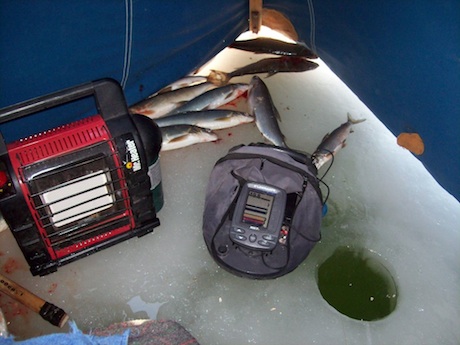 2/25 2012
A New Spot
Saturday and it was between weather fronts. Steve was busy and Willy was fishing with Mark in a spot that they did good last week. (You can't catch last weeks fish) I was being a scout and checking out a new spot. For me it was an early start and I was on the road by 6:00 AM, coffee in hand and my tent, old blue, ice auger, and ice pick all crowded into a Toyota RAV4. There wasn't enough room for Rowdy my sleigh pulling dog. I heard that you could walk out in this spot and that sounded good to me and with the rise in gas prices I could take the small vehicle. The holes were cut through about 20 inches of ice and out came the equipment. The first thing was the fish finder and that seemed to have a dead battery. I had just charged it but maybe I left it on overnight in the house. I dropped a line down and it wasn't very deep. The water was clear and when the tent windows were darkened you could see bottom. One fish came right away but got off in the hole. It was nice being able to see the bottom but in an hour only one more fish came by and I caught him. Time to move, the tent came down, sleigh was loaded and out to deeper water we go. I was fishing blind without my fish finder so the cover came off that. I was trying to figure out how to take it back to the car and charge the battery when I found a broken wire. The wire was splice and I was back in business, it worked and showed that the water depth was 20 feet, perfect.
Soon fish started coming by and some of them were interested in the bait. They were aggressive (for whitefish) but they would not bite hard enough to hook them. I lined up six different baits and when a fish would ignore a bait I would change the color or or size of the bait. I found the combination and had fish flopping all over the ice. It took me till 2:00 to catch my limit of 10 fish so lines came up and I headed for home. Did you know that the train is allowed to block the highway at Crivitz for 20 minutes? It seems like an hour while you watch the train move back and forth one car at a time. Good thing I had my toys with me. I was listening to ham radio operators on the ham radio and playing with my iPad.
Another nice day on the ice at Green Bay. It looks like the ice is a goner for this year so the next trips will be out in a small boat once the weather breaks.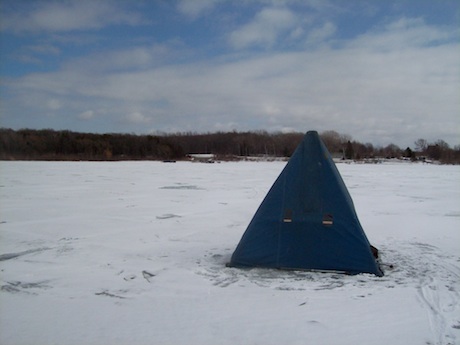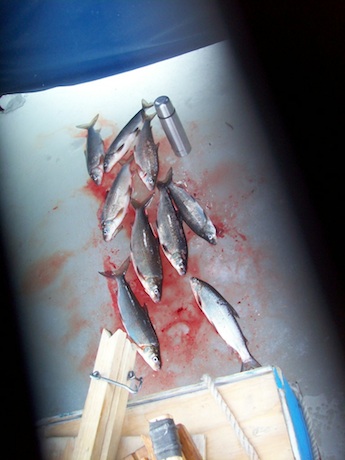 March 31, 2012
Fishing With Steve
Buy the best equipment and you will not have any trouble, right? Wrong!!
Willy and I met up with Steve at 7:00, Menominee was our destination. It was a shakedown cruise for Steve's smaller boat. When we arrived at Menominee there were walleye fishermen everywhere.
We launched out of the city marina, Steve's Mercury 225 horsepower, 4 cycle, 6 cylinder looked impressive on his Lund Boat. It is virtually brand new with only 80 hours on it. The big beast quietly sprang to life and we idled out to the end of the break-wall. He gave it some gas and said "What was that?". The big motor had quit, it would start but had a rough idle and would not go. We kept trying to get it going but no luck. In the meantime we were drifting farther and farther down the shore. No worry, we have a brad new 4 cycle, 9 horse power kicker to get us back. It even has electric start. Well it started and ran in neutral but would stall every time we put it in gear. One guy would lay on the floor and fiddle with the choke while the other guy moved the gear shift to put the motor in gear, it went into gear and a big sigh of relief came up from the crew. The boat was motored back to the dock using the small motor from there it was loaded back on to the trailer and trailered over to Four Seasons Marina, a Mercury motor distributer. They came out and took a quick look at it and said that they could get it in for repair around MID JUNE! Some days it doesn't pay to get out of bed.
Sunday, April 1, 2012
Fishing with Willy
The weather looked good so Willy and I decided to go up and try Baraga. Steve was staying home to look after his sick boat. It was dead calm as we rounded the bend of Keweenaw Bay just outside of L'Anse. There were fishermen trolling for salmon all over the bay. We launched out of Baraga and went out to the jigging grounds, it was so calm you could see cohos surfacing around us.
Soon Willy caught a Lake Trout, then he caught a Burbot, then he caught a Whitefish. I finally did catch a Burbot and lost 7 other fish. Some days you just can't keep the fish on the line. Willy didn't have any trouble but that is Willy.
The trout was cooked like a steak over a hot charcoal fire. It was rubbed with a little Paul Prudomes Veal and Pork Magic, basted with olive oil and put directly on the grill for 8 minutes. It was a fantastic meal and got me my first "Lake Trout" fix for this year.