Link to HOME FISHING WITH WILLY 2011 FISHING WITH WILLY 2012 FISHING WITH WILLY 2013FISHING WITH WILLY 2014 FISHING WITH WILLY 2015 FISHING WITH WILLY 2016
Thursday, February 23, 2017
Last ice
Willy, Dave, and I thought we could still get out on Green Bay. We had just gone through a four day warm spell. I hadn't even made it down to Menominee when Dave called and said that the ice at the river mouth was bad. They were going to check out another spot where there was thick ice up against the shore. When they got there, the ice went out about 1/4 mile and then there was a large crack. We decided to try it anyway. The jumbled up ice we were on turned out to be three foot thick and punky. The water depth was about 10 feet, deep enough so we decided to try it.
I marked a couple of fish, Dave lost one and Willy lost something that was smaller then a whitefish. We fished till just after lunch and headed in with nothing but a sunburn to show for our last day on the ice for spring of 2017. Not a good year for whitefish fishermen.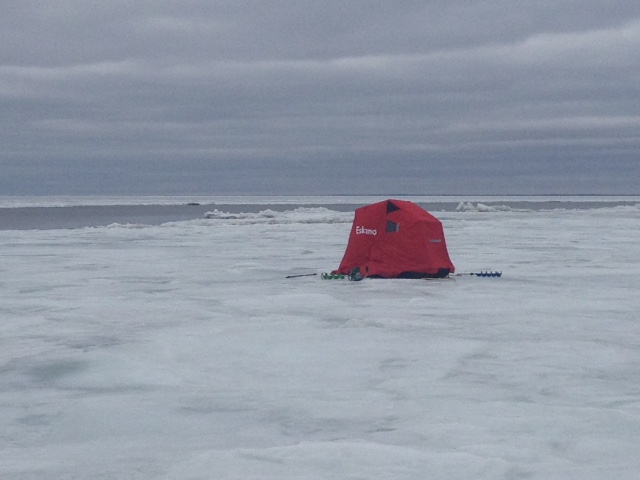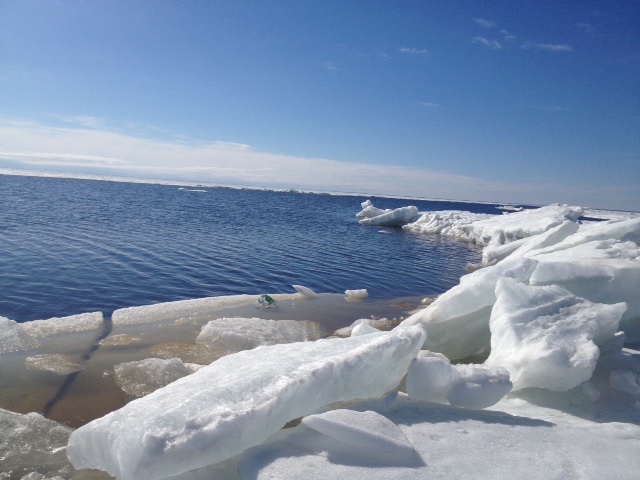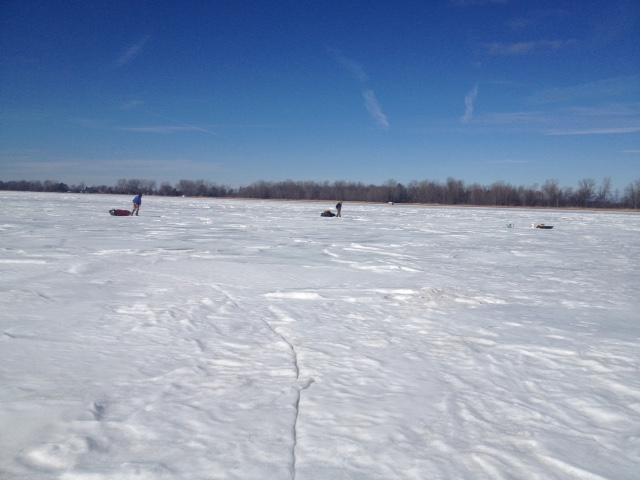 The last trip on the ice this year.
Thursday, February 16, 2017
Secret Spot
The weather is warming up and the ice is not too think so we planned a trip out to an offshore reef. There were five of us and we hoped to find enough fish to fill our limits. Well the fish had other ideas.
We had to pick our way around some jumble ice and then across the shore crack. Once across the crack the ice smoothed out and travel was easy to our "secret spot". When we got out there it was obvious that it was no longer secret. There were 8 shelters out there scattered over a mile area.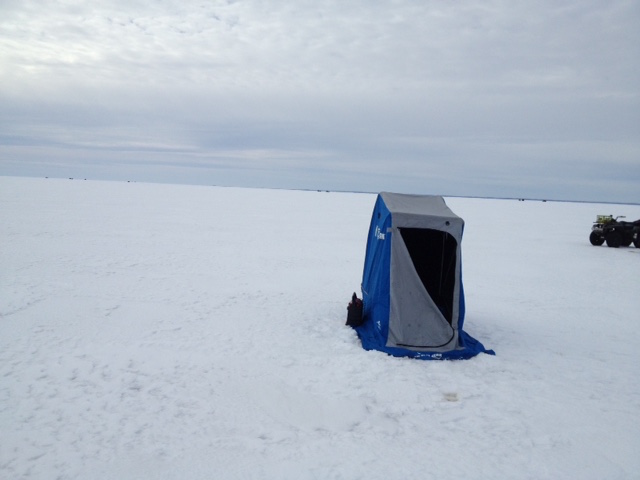 We set up on a drop off and cut holes in water from 25 feet to 50 feet. Fish were showing up right away but getting them to bite was another story. I had to revert to a slider and I usually don't use sliders. Steve List had a nice setup. He had a camera and was able to watch the fish. He figured out something that worked and ended up with 7 fish. The rest of us caught 7 between us. The fish are there, we just need to change our tactics to catch them. Maybe we need to go back to salmon eggs?
Friday, February 3, 2017
We had a big crew today. Steve, Doug, Dave, Tony and I went off Door County to try for whitefish. It was windy and cold, the truck thermometer showed a balmy -2 degrees when we left Norway. It is a two and a half hour drive to where we launched. There was a little jumble ice to go around but we made it put to an old weigh point that was on my GPS. It was cold so we set up,our shelters, then I checked the depth. We were at the wrong weigh point! I did see a couple of fish go through on the depth finder so we started fishing.
The fish that did come through we're not very hungry. You had to fiddle with them to get a bite. The catch wasn't as good as we expected but we did have 13 fish when we left the ice. When the fish were cleaned the stomachs were empty, another indicator of a poor bite. Still, we had plenty of fish for a good fish fry and some pickled fish.
Tuesday, January 24, 2017
Willy's report
Three in the bag.
Pretty scarce out there.
Did find a new place on the other side.
They just weren't active, the water was muddy and fast?
Should have been muskrat trapping.
One came up in the hole next to me.
Good day anyway nice warm no wind.
The ice needs some wx to set it back up, man we lost 10 inches.
Here are some pictures. The dark spots are muskrats.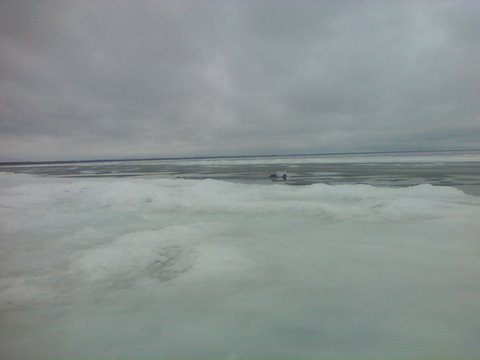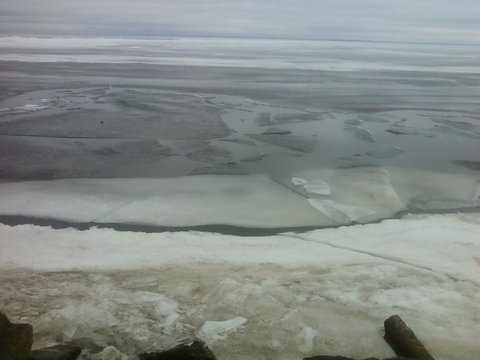 Thursday, January 19, 2017
Fishing in the fog
Willy asked me who the guide was going to be for this trip. Will and Steve couldn't make it so it was just Dave and me. I told him our guide was "dumb luck". Well dumb showed up but luck was not with us. We need Whitefish Willy to find the fish.
It was foggy when we unloaded our equipment but it was forcast to burn off. Visibilty was 1/8 mile or less so we put weigh points in our GPS units so we could find our way back. A large field of jumble ice covered the spot we wanted to fish so we had to go off into unknown territory. Our first try was off a dropoff in 30 feet of water. We did see a couple of fish on the fish finder and Dave caught one. They were pretty scarce so I moved out to deeper water. I did manage to hook and loose a fish but that was all. Then we moved out to 50 feet of water and that was worse, no fish out there. Our first holes looked to be the best so we backtracked, using our GPS units and found our first holes. A couple of fish came by but no biters.
We headed back in, again using our GPSunits to find our way in the fog. We had a close incounter with a crack that had opened up but other then that the trip was uneventful. There was a more water on the ice on the way in then there was on the way out. This does not look good for the ice on Green Bay.
We will need the expert, Whitefish Willy, to be our guide on the next trip.
Here is a picture of the fog.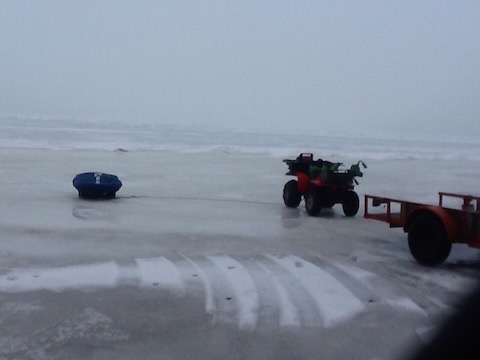 Monday, January 17, 2017
Willy does it again, and again
Doug joined Dave, Willy and Me for another try at the whitefish. The ice where we fished last week had moved. Where last weeks ice used to be was a patch of 4 inch black ice. The bay was restless and the ice was moving. We did not even consider going out on the black ice.
There were a few fish showing up but most of them were not biters. Willy had two on the ice before I finally found one dumb enough to bite. Doug caught one and Willy caught one more. That gave us 5 for the day. We quit at 12:30 and headed for home. It won't take long to clean the fish tonight.
Monday, January 9, 2017
Willy does it again
I called Willy on the ham radio before I got to the breakwall. He already had two fish on the ice, it might be a good day. It didn't take me long to get a couple of holes drilled through the ice. I ended up on top of the drop off, too shallow I thought. However, I did catch two fish that came through, then it slowed down a little and I got restless. I moved out to deeper water and had a dry hole, then I moved out to the shore crack and caught nothing there. While I was busy moving around willy caught 5 more fish right next to my original hole. That did it, I moved back to the first holes and set up there. Not long after that the "ICE QUAKE" arrived. With a sonic boom and a crack the ice shook violently. It shook hard enough to trip my Buddy Heater off. Everyone was out of their tents and looking at the large cracks. They were not there a minute ago. It was exciting. Some of the guys packed up and left the ice but not Willy and me, we toughed it out and went back to fishing. Willy ended up with his usual limit of 10 fish, I ended up with 5.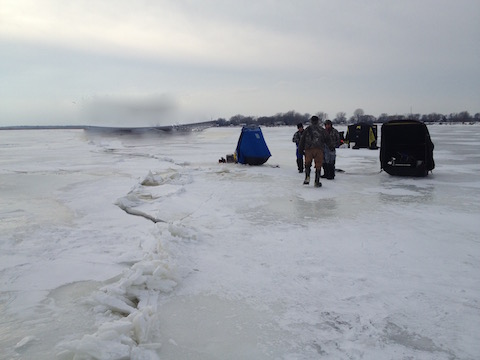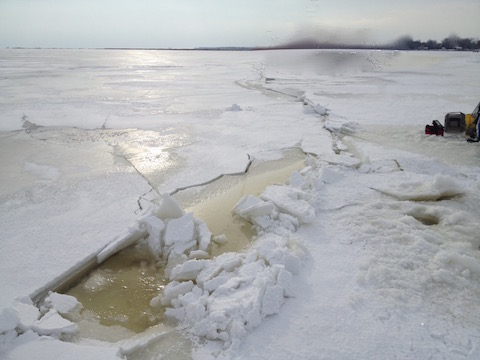 One of our Willy theories fell today. Normally we fish up wind of Willy. The smell of dead fish and other odors emanating from him and his tent has been known to cause a seagull to gag. Now he has a new sauna and a very large bar of Bad Ass soap called "productivity". He took a sauna yesterday so he was the cleanest and best smelling fisherman on the lake. We always thought that Willy smelling like a dead fish was his secret weapon. I guess we will have to come up with another theory for why he out-fishes us every trip.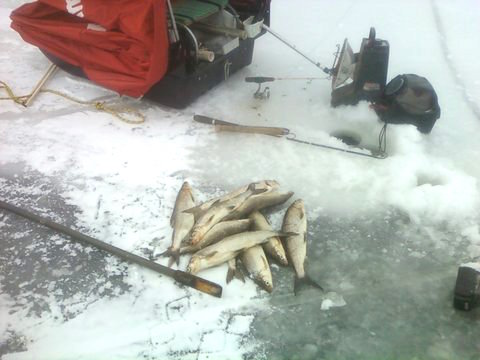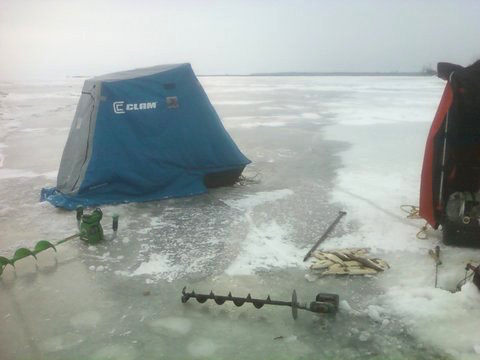 Sunday, January 1
First Trip for 2017
It was a good chance to start the new year out right by going fishing. The ice isn't very good down by Green Bay yet so I had to go to Oconto. I set up at 10:00 and called Willy on the cell phone to see if he was coming down. Just after he answered the phone a fish showed up on the fish finder. I had the phone in one hand and the rod in the other. The fish hit and I had to put the phone down and give Willy a play by play description of catching my first fish for the season. That took all of five minutes. A few more fish came by and looked at the bait but they didn't hit. I changed baits and started to catch some more fish. I ended up with four fish by 11:30, then they shut off and wouldn't bite any more. I fished till 2:00 and pulled the pin with four nice whitefish. A good start for the 2017 season.