Link to HOME FISHING WITH WILLY 2011 FISHING WITH WILLY 2012
December 23, 2010
There will be a new section, or blog called. "Fishing With Willy"
Chapter 1
Meet up in Pembine and load up Willy's new well-used four wheeler and head for Bayshore Landing by Green Bay. Load all our stuff on 2 sleighs till we look like arctic explorers. Then we go bursting through a snowbank and into a 4 foot drift. The 4 wheeler wheels go a spinning, snow flies and we are stuck. Shovel the 4 wheeler out, pull the sleighs through the drift and off we go down the steep hill, Willy at the throttle and Bob riding the trailing sleigh dragging my feet to keep the sleighs from catching up to the speeding machine. After a couple of delicate maneuvers while negotiating the hair pin turn to the left we emerged into a 2 foot drift. Willy gunned the throttle and the snow flew again covering up me on the trailing sled. Down the boat ramp and onto a field of jumbled ice pack. We could have been in the arctic, ice heaves everywhere. Well there goes plan one, no 4 wheeler to pull our load and not a husky in site. Our only choice is to grab a rope and start pulling, it is only 1/4 mile out to the whitefish grounds over stove up ice with 8 inches of fluffy snow on it. What is wrong with that? One half hour later we are almost to his GPS point from a hot hole last year. Out comes the auger and after digging through 4 foot of ice/slush we bottom out the auger but there is still an ice pack that we can't get through. Another 10 minute pull, out comes the auger and this time we manage to get enough slush out of the hole that Willy gets a line down to the bottom. I keep on trekking till I get out of the jumbled ice field. I have to auger through four foot of frozen water/slush before I can set up my tent.
Willy and I are communicating on our hand held radios, (part of out light load), looking at our fish finders, and complaining about no fish. I caught the first whitefish and then Willy went to work. Got one, got another one, lost one, there are two under me now. I sit and look at an empty screen on my fish finder. Well at the end of the day Willy has his limit and I am working on half a limit and a couple of scrawny perch.
Time to go and now we have to climb the hill. We hook the sleds to the 4 wheeler, ( found that there was another way out to where we had worked so hard to get to) and started back. The only problem was the 2 foot concrete barrier at the bottom of the hill. That was not a problem for Willy and the four wheeler, if you go fast enough you can jump anything. He and the 4 wheeler made it, now the sleighs were another matter. Sleigh one only went up a foot but the second sleigh with me on top took a higher rout. I went one way, the sleigh the other spilling a half eaten pasty, hooks, lures, salmon eggs, thermos, and all the other contents of my lunch box into the snow. Now the 4 wheeler was stuck again and a good push was required to get it going, no ride up the hill for me, just a long walk. Willy and sleighs made it up without further incident.
It was another great day on the ice and another adventure with Willy. I wouldn't miss them for the world.
December 30, 2010
Chapter 2, The Non Event
We caught fish at Bay Shore so do we go back there? No way. We have a better idea and head for Oconto, somebody caught a whitefish there last year. I meet up with Whitefish Willy at the gas station in Pembine where I lost my best fishing hat last trip. When I get there Willy is scouring the parking lot looking for my lost hat. We load up the truck with the two arctic explorer sleighs and off we go to Oconto. We drive out to the end of the break-wall and join 6 other trucks out there. Willy unloads his sleigh and launches down the stove break wall and out onto the ice. He then carries down his tent and auger. I strap down my auger and tent to the top of my sleigh and carefully guide my sleigh over the rocks down to the ice. The ice looks like it has been attacked by giant woodpeckers as there are old holes everywhere. We check all the old holes looking for blood on the ice. Only one hole has blood by it so Willy sets up there and I go out near some tents that are already set up. Our friends Dave and Steve arrive and set up near us. Well after an hour of fishing Willy caught a 3 inch perch, Dave and Steve each had a bite and I had nothing and a blank screen on the fish finder. We move around, cut more holes, move some more and no fish show up. It looks like we should have listened to the old adage, "Don't leave fish to find fish" and gone back to Bay Shore.
We made it back with the only repair being replacing two windshield wipers on Willy's old Toyota pickup. I guess we well call this trip a Non Event.
January 11, 2011
After much persuasion I agreed to meet Willy in Florence at 6:00 AM. This means that I need to leave Waucedah at 5:15 which means that this old man must get up at the unheard of (at least for an old retired guy) hour of 4:45. I accomplished this feat only to find that Willy was not waiting for me at our designated meeting spot. I actually could have slept in 15 minutes longer. Maybe I should mention that in preparation for getting up at this early hour I had the dumb idea of going to bed at 9:00 instead of the 10:30 - 11:00 usual bed time. Well I managed to sleep till about 10:00. My body thought, gee, you must have had a good nap and now you are ready to do something. Well I was wide awake and heard the ships clock chime 8 bells (12 o'clock), 1 bell and then 2 bells (1 o'clock). The next thing I new the alarm went off and I had to pull a fireman's drill and jump into the ice fishing clothes that I had set out the night before.
We loaded my arctic explorer sleigh and tent into Willy's old Toyota pickup with only 208,000 miles and off we go, Willy driving and me in the copilots seat trying to see out the windshield. This side of the car is usually reserved for Jasmine, Willy's faithful dog. Jasmine has been placing her nose on the window for years and now it is nothing but a mass of "nose tracks". It is like looking through a lace curtain. Since it is snowing I try to fasten my seat belt. I can't find the part that you clip your seat belt into. Willy says, don't worry, Jasmine doesn't wear a seat belt. I find that there is one over on Willy's side since he is not wearing his belt.
We get to L'anse and see that the bay has waves, not a good sign if you are planning on ice fishing. Well we are not fishing at Baraga, Huron Bay is our destination. The hill down to the launch at was well traveled, a good sign. The bad news was that there was no ice, just open water where we planned to fish. Some guys were out on the ice farther up the bay so that turned into our destination. Willy parked on top of the hill and unloaded the snowmobile and took it for a warm up run while I got the arctic sleighs ready. He came back and said that there was 8 inches of ice, that was the good news, the bad news was that "only one guy fell through yesterday". That doesn't stop us, we load up and out onto the ice we go. Willy driving the snowmobile and me applying the breaks while sitting on the second sleigh. Hurray, no dumps, no spills and our little convoy makes it out to near the middle of Huron Bay.
All of our early rising so we could catch the "morning bite" really paid off because we had 2 lawyers (burbot) on the ice by 12:00. Oh well, the best laid plans of fishermen sometimes, never, well hardly ever, turn out. There was a little bite in the afternoon and our catch was 4 burbot, 1 splake, 1 lake trout, and 1 whitefish caught while Willy was packing up to go.
Old man Bob (dat be me) had a hard time riding the sleigh up the hill to the truck. It seems that there was one job he didn't do before he left home. The usual routine is to get up, have a cup of coffee and then go to the reading room. Well the reading room was not visited and pressure was building. The old man asked Willy for some TP and off into the snowy wood he went. He emerged a short time later a "changed man" with spring back into his step. No more early morning road trips for this old man, well maybe a few.
JANUARY 25, 2011
Well it finally warmed up. Willy arrived at our place in Wauceeda just after 7:00. Our destination today was Escanaba off Ludington Park. We were hoping that there was ice there because it blew out about a week ago taking 4 ice shacks with it. The weather has been cold since then and hopefully the ice that formed would be thick enough to hold us and our arctic sleighs.
When we got there the place was deserted. Not a shack or tent to be seen in the whitefish hole. That doesn't deter a couple of determined ice fishermen. Over the snowbank and across the concrete rubble and down onto the ice we go. The shore crack was only about 18 inches wide so it was easy to jump the crack and pull your sleigh across the open water. The ice that blew back in was about 8 inches thick and the wind was blowing into the bay so we were confident it would stay. Willy had some points on his GPS so we went out there. I set up in 65 feet and Willy headed out farther into 75 feet of water. With all of our sleighs full of stuff we still didn't have our RF radios so communication between the shacks was a two tents of a mile walk across slippery black ice. By 10:00 I had a couple of bites, lost one fish, and had none on the ice. I walked out to Willy and he had SEVEN on the ice. I peeked into his tent and he did have seven fish, they were smelt, not whitefish.
By the end of the day Willy had over 30 smelt and I had one whitefish. There were lots of marks on the fish finder but how many were whitefish and how many were smelt we didn't know. It was a good day on the ice with each of us having a meal of fish
JANUARY 27, 2011
Boy it stinks in here and it is not Willy's fishing clothes or pickup truck. They stink too but that is another story. He left his coat in my car after one of our trips and when I hung it in the hall, Rowdy could not go out that door without sniffing the coat. It is covered with fish scales and an accumulation of squashed salmon eggs that have been deposited on the coat over the years.
Escanaba was our destination today. I tried my old hole for whitefish and Willy went after smelt. He had a good smelt fry from the last trip out there and wanted to do it again.

By noon I gave up on the whitefish and moved out to where Willy had moved to. We were out in 80 feet and fishing near the bottom. No easy task when after smelt. Willy as usual had the touch, and I just could not hook any. By the end of the day Willy had 13 and I was skunked. I never had a fish hooked all day although I did have some bites from smelt when I moved out to the smelt hole. Maybe that is what it was, Willy's hole smelled like dead fish and my hole just smelt.
Boy it stinks in here and it is not Willy's fishing clothes or pickup truck. They stink too but that is another story. He left his coat in my car after one of our trips and when I hung it in the hall, Rowdy could not go out that door without sniffing the coat. It is covered with fish scales and an accumulation of squashed salmon eggs that have been deposited on the coat over the years.
Escanaba was our destination today. I tried my old hole for whitefish and Willy went after smelt. He had a good smelt fry from the last trip out there and wanted to do it again.

By noon I gave up on the whitefish and moved out to where Willy had moved to. We were out in 80 feet and fishing near the bottom. No easy task when after smelt. Willy as usual had the touch, and I just could not hook any. By the end of the day Willy had 13 and I was skunked. I never had a fish hooked all day although I did have some bites from smelt when I moved out to the smelt hole. Maybe that is what it was, Willy's hole smelled like dead fish and my hole just smelt.
Bob
JANUARY 31, 2011
The negotiation started on Sunday evening, leave at 5:30, no 8:00, how about 6:00. The final departure time was 7:00 in Florence. Baraga was our destination because we heard that "they were bitting", they being the elusive Lake Superior Whitefish, prized world wide for it succulent white flesh. (Yup, I have been watching too many cooking shows) It was a 1/2 mile walk from the parking place to "the spot". My GPS that had the super spot from last year had died over the summer so I did not have any of my old marks. Willy had a couple on his GPS and we were part way out when Willy discovered that his GPS was back in the truck so he had to head back to get it. I continued on and then had to wait for him to catch up. I think that is the first time I ever got to the fishing grounds before Willy, last week at Escanaba he was out and cutting holes before I got my ice creepers on.
There were 6 tents out in the white fish area and we set up near some of them. I got my chum (old salmon eggs) dumped and my egg rod down. Next came the jigging rod with a Swedish pimple on it. I didn't even get it to the bottom when the fish finder showed a streak came up from the bottom, wam there was a hit on the pimple. Well my rods are stored with the reel handles folded in so you know what happened next. I reached for the handle and it wasn't there. I had to hand over hand the four pound lake trout to the surface.
That was the excitement for the day. A few white fish showed up on the fish finder, Willy had very few marks. We both shifted locations a few times without any luck. At the end of the day we talked to Chris, THEE local expert and he and his fishing partner had 12 whitefish. We were about 200 feet from them and in shallower water, Oh well, now I have the spot on my GPS now and next time we will just kill them

February 7, 2011
We went through the usual negotiations about what time to go. The time was set to meet up in Pembine at 6:00 AM, that means that this old man who likes to sleep in had to get up at O-five thirty. I made it and was waiting there when the Willy-mobile showed up with the snowmobile in tow. He immediately pulled into the parking lot and opened his hood. I thought, here we go again, some kind of bad luck trip starting out with a broken truck. It turned out to only be a worn belt on the alternator so no big deal. We transferred all of the stuff to my truck and off we go to Oconto.
We were heading to a pace we fished from the boat last spring. Things look a lot different when you clear the breakwaters and head out into the real frozen tundra of Green Bay. Ice as far as you can see and a few larger ice heaves out there too. A truck passed us up while we were loading and was about 2 miles out by the time our arctic expedition was ready to roll. Willy was driving and he drives a snowmobile like he walks, there is no such thing as a straight line. He has the points in the GPS but you would think that he was following a snake trail instead of the straight line the GPS wanted him to follow. We dumped one of the sleighs twice on the rough snow drifted ice and had to rearrange the sleigh hookups. This modified towing arrangement worked better and we made it to our "hot spot". Willy then checked the gas tank and says "gee, I should have put gas in before we left, I hope we make it back".
As usual, Willy was set up first while the old man was busy banking his tent and making it nice and comfortable inside. Before I got my line in the water he yelled, "no skunk today" as he had the first whitefish on the ice. I had two bites in that spot, of course I lost the first fish because my spring bobber was goofed up, but Willy said that there were not enough fish there so he moved out a little deeper to 32 feet of water. It didn't take long and he called on our RF radios saying to come out. He had two more. That did it. I threw all the stuff in my sleigh and headed out to where he was. By the time I got out there he had seven on the ice. He had found a good spot and my fish finder started to show fish under me. When I moved I had the rod sitting outside the tent while I set up the tent and it was froze up. The largest fish I had on for the day hit and the reel would not back reel. You can't rely on the drag because to the tender mouth that WF have, so of course I lost it. It took a little experimenting with different baits and jigging techniques but soon the fish started to come out of my hole too. We had our limit of 20 whitefish by 11:30 and we headed back to port. It was a great day on the ice, one that we will both remember for a long time, not so much that we caught a lot of fish but that one of our wild schemes actually worked.
PICTURES OF OUR CATCH
Whitefish on snow, Bob, Rowdy and whitefish Picture of our Caravan
February 16, 2011
Honey Hole vs Skunkmasters
Even the Skunkmasters, Dave and Steve, could not stop the fish from biting. I was tempting fate by fishing with a "new" bright red fishing hat that my bride presented me with on Valentines Day. The crew met at Pembine and caravans to our launching site. The temperature was near 40 degrees and our two four wheelers had to struggle with the soft snow conditions. Willy's new hook up method worked like most of his ideas. The sleigh tipped over and also unhooked from the four wheeler twice in the first five minutes. We tried to follow our old tracks but that proved to be difficult in the wet snow. Dave and Steve hit a slush pocket and there they sat. The four wheeler was throwing a 20 foot rooster tail of slush and water but it would not budge. It was a good thing that Steve had a winch on his four wheeler because that is how we got it out of the slush hole. The rest of the trip was uneventful and we used the GPS to find our old holes. Land was nowhere to be seen as it was quite hazy on the lake.
As usual Willy caught the first fish, Steve was next, Dave was third while the captain was saying "gosh darn it", "those dad burn fish". "son of a gun, missed another one" and a few more choice words as the fish would hit and fall off just under the ice or right in the hole. I even had my hands on a couple that got away. Well the jinx was broken and Dave and Steve started to catch fish while I was just losing a few more. Willy also had a bunch by then. Finally I caught one and from then on things went better. I think it was the bath that my new hat took while I was diving into my hole (trying to catch a fish that got off right in the hole) that changed my luck.
The fish would show up on our fish finders and just as quick be gone. It was not a day when they bit well. We had to work for every fish we caught. By early afternoon we took a fish count and found that we were at our limit so the crew loaded up and made the dash through the slush and wet snow back to the trucks. 40 whitefish in the bag, now that is a good day on the ice and more important, Willy and I are not afraid to have Steve and Dave fish with us anymore.
February 11, 2011
Honey Hole Revisited
I arrived in Pembine a little before 6. Willy arrived shortly after and we transferred the snowmobile and our sleighs to "Big Red", my GMC Truck. Our destination was once again the Bay of Green Bay off Oconto. Instead of bouncing down the rough ice of the Oconto River to get out in the bay we chose to go out at County Line Park, about 4 miles north of Oconto. When we arrived there was one truck in the parking lot at the boat launch. The ice looked good but to be safe Willy walked out and I drove the truck onto the ice. I kept the windows open so I could make a hasty exit if the truck decided that it wanted to swim with the fishes. Will could always throw me a rope. The ice was thick enough for us to get a little ways offshore and that made for easy unloading of the snowmobile and hooking up of our sleighs.
Off we go, but where do you go when it is foggy and you can't see the other shore. It is like driving blindfolded. Our GPS told us where to go but getting there was another thing. There was one cloud that could be used as a reference so we headed in that direction. The only problem was that by heading for the cloud we were not on our course. It took many zig zags to get back on course and keep heading for the fishing grounds. We got there and unbelievably found where Willy had fished last week. I took a walk with my GPS and actually found my old hole. Those new-fangled machines really are something.
As usual, Whitefish Willy went to work and had a fish on the ice in the first 5 minutes. He soon had 5 on the ice and I had none. My new foolproof method of catching whitefish was making a fool out of me. I had to revise my method and soon I had a fish on the ice. Jigging was the preferred method but some came on eggs. They kept hitting and we both had our limit by 12:30. Old Number 650, Willy's trusty snowmobile was fired up and back to shore we head. The trail wasn't bad, only a few drifts and some jumble ice to cross. About 1 mile from the truck Old Number 650 started to act up. By carefully feathering the throttle the machine would keep going, give it too much gas and it would bog down. The old arctic cat made it and we were soon at the truck. The temperature was up to 44 degrees as we headed home. It was another great day on the ice.
February 20,2011
Willy arrived at my house at 7:00 AM. The skunk hole of Escanaba was the destination. Marge and I had talked to a guy coming off the ice the day before and he had 6 whitefish so we knew there were some there. There was a trail down onto the ice just past the boat launch that the city has been so nice to block with the docks so the ice fishermen have to find another place to drive onto the ice. We drove out towards the shore crack but stopped way short of the crack to unload our sleighs. The ice was slick and ice creepers were necessary to keep from slipping. I will take a picture of Willy's home grown ice creepers. The line men for the Green Bay packers would love them for playing on the frozen tundra. The only problem is that they look more like the spikes on a medieval knights club. They could be a deadly weapon if you ever got "spiked" by them. Well we walked out to the crack and there were two planks across the crack and we used them to pull our sleighs across to the fishing grounds. Willy went to the 80 foot depth and I crossed the ice heave and went over to the 60 foot area. I had to cut my holes by hand as Willy had the power auger. The depth finder showed schools of smelt right away. Some were high in the water column but most were near the bottom. The current was strong and most of the time you could not see your jig. It is nice to see your jig so you can watch the fish come off the bottom following your bait. Lots of the followers are active fish and Willy says that they bite better, well at Escanaba they didn't. I caught one whitefish on a salmon egg, Willy lost a couple of whitefish on the jig and we ended up with the one whitefish, one perch, and four smelt for the day. It was a nice day on the lake if you ignore the ice quakes that were going on all morning. We quit at noon do the "old man" could get his nap before playing hockey with the old timers on Sunday night.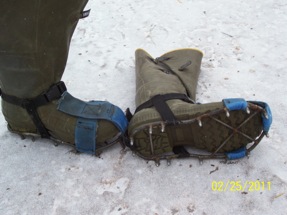 February 23,2011
The wreck of "Old Blue"
A 6:00 AM rendezvous again in Pembine and off to Green Bay we went. Willy had a new design for towing the two arctic sleighs. My sleigh is bright blue and is nicknamed "Old Blue". This new arrangement would have the two sleighs tied together side by side and held there with bungee cords. The old traditional arrangement would be to hook one sleigh to the back of the sleigh ahead and the sleighs would hopefully follow the towing machine out to the fishing hole. Well the new arrangement also had a new tow bar that hooked to the center two runners of the side by side sleighs on one end and then hooked to the snow machine with a 4 foot bar. As soon as we headed out it was obvious that at higher speeds, faster than a slow walk, the sleighs would go unstable and weave back and forth behind the machine. I yelled to Willy over the roar of the snow machine to "slow down", Willy replied, "there is no slow". We made it out about one mile and and then we stopped, the sleighs were there but the side to side motion had dumped Willy's tent off onto the ice. Back we went and there it was, about 300 feet from the car, right where the channel enters the lake. A few more bungees and the tent was bound to the sleigh like an Egyptian mummy, now we will make it, ya right. Well we made it a little past where we were when we noticed the tent was no longer with us and then our two tandem sleigh convoy dumped. There were lures, stoves, ice skimmers, tents, ice picks, lunches, and many other essential items that we take out with us strewn all over the ice. We picked up as many of our valuables as we could find, lashed our sleighs together again and off we go again. Two more miles out the "Wreck of Old Blue" occurred. The starboard side runner was sheared off, the port one bent. Old Blue was not going to be towed any further, we abandoned her right there. A quick sort of what we needed and we loaded up Willy's sleigh and off we go again. This time we made it to our "secret" spot and set up so both of us could fish from one tent, Willy has a dandy, it is a large TP and has lots of room.
The fishing proved to be slow, in an hour of fishing we saw 5 whitefish on the fish finder and one fish on the ice. Willy started boring holes and I took my fish finder for a walk and checked water depths by wetting the transducer and shooting a sonar signal through the 2 foot of black ice in the area. It was 10 foot deeper about 50 foot from where we set up so we moved. Immediately we started to see fish, some in groups of 3 or more. Willy went to work, as he always does, and soon his side of the tent has fish flopping all over. I managed to snake a small one and kept trying to find a lure that the fish liked. In the middle of changing lures I had my tackle box open and on my seat that was on top of Willy's sleigh. Willy's sleigh is about 1/2 inch wider than my sleigh so the seat suddenly fell into his sleigh. Of course my open tackle box followed and completely emptied its contents into Willy's sleigh. Hooks, jigs, pimples, swivels, tear drops, clippers, and sinkers were all in the bottom of his sleigh. Of course this is when the biggest bunch of fish for the day showed up and Willy was busy hauling them on to our side of the ice while I was busy looking for all of my scattered fishing lures. The fishing picked up a little and our final tally was 16 fish. Not too bad considering all of our adventures.
The trip home was quite uneventful, Old Blue was loaded on top of Willy's sleigh and the tents were strapped to the snow machine. Everything held together for the trip back to the truck. Oh, if anyone finds a tow bar for a sled out on the ice of Green Bay it is ours.
Pictures of wreck
Wreck of Old Blue, Wreck of Old Blue again, Wreck of Old Blue three, Our catch
February 28, 2011
Well today the unexpected happened. Our days started out a little different in that I drove over to Steve's and we loaded all my fishing gear that used to be in Old Blue into Steve's truck. Old Blue was back in shape better than ever after a day or two in Willy's sled hospital. The runners were fixed and a new towing arrangement in place. This towing arrangement was designed and fabricated by Willy. I think he got the inspiration after watching a Budwiser Beer commercial featuring the Clydesdales pulling the beer wagon. I think it was strong enough to pull the beer wagon.
At Pembine Willy's snowmobile and gear was loaded into Steve's truck and snowmobile trailer for the ride down to Green Bay. The "honey hole" was our destination. When we got to the launch point there was not a vehicle in the parking lot, the sun was up, and there was about 3 inches of new snow on the ice, just right to cushion the bumps and make for a nice ride. The two snowmobiles were unloaded and all the gear attached, Steve to his snowmobile and our gear to Willy's. The new towing arrangement was ready for the test. I hopped on behind Willy, down went the throttle, #685 roared to life and we were off. I had to hang on with two hands and try to look behind to see what was happening to our tow. This is difficult when your butt is usually off the seat as we flew over the rough ice. Snowmobile #685 was flying now after Willy removed the rodent nest from the carburetor. Steve was following so we didn't worry about loosing anything. Everything held together and we made it out to the honey hole in record time.
Holes were drilled, tents were put up and Willy went to work. I didn't even have a line in the water yet and Willy had a fish on the ice. This old retired guy has to have his stuff. There is a place for your coffee cup, bait goes over here, rod holders there, ice must be skimmed from the hole, and your workspace prepared for action. Willy was 20 feet away and Steve 30. It didn't take long and I had a fish on the ice, Willy caught a couple more, Steve, nothing, not a bite. Something was wrong as there were lots of fish around. Both Willy and I started to give Steve tips on how to catch a whitefish as they are not normal fish. They are about as finicky as they come, (I wonder if that is where the word finicky comes from). Both Willy and I took a couple of trips over to Steve's tent to show him what we were doing, soon he had a bite, then a fish on the ice. Steve's comment was, "boy, this is a lot more fun when you are catching fish". He learns fast and soon his tent had fish flopping all over.
At 1:28 fish number 30 came up through the hole and we all had our limit. Oh, the unexpected thing that happened, That was that it was a beautiful day, the fish bit, nothing broke, and we had a great day on the water. That does not happen very often.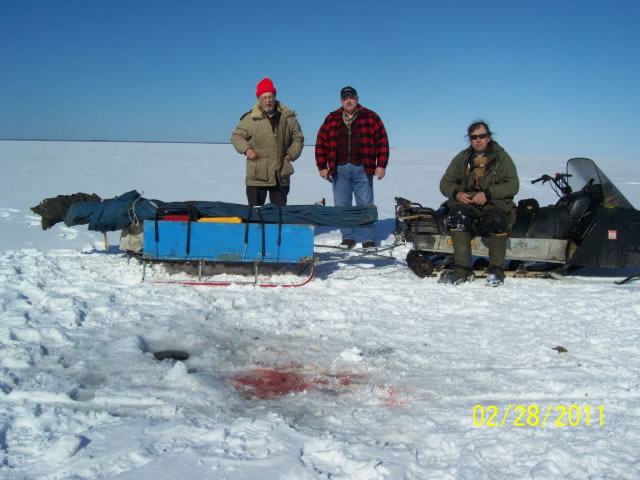 March 5, 2011
We should have left good enough alone!
The temperature was 27 at 5:00 AM but the Beaufort Index was 3, and the wind chill was 10.5. Not a good start considering it was in the high 30's the day before with no wind at all. I had checked the ice conditions at Escanaba where I went to get some more "secret weapons" from Bay De Noc lure company. These were going to just kill the whitefish.
Steve drove and we met up with Whitefish Willy and down to Green Bay we go. Another fantastic trip was planned out to the "honey hole". The sleighs were loaded and hooked to the snow machines. There was a a new pressure crack at the shore and Willy picked a place where he could jump the snow machine across and off we go. The only problem was that on the other side of the crack the ice had pushed under and there was about 6 inches of water on the ice. We didn't see the water on the floating slab till the last second and then it was too late to turn back. He gunned the machine, we launched off the ice slab into the water. I was sitting in the back and my feet were getting wet, I looked down and saw that the snow machine was causing the floating slab to sink and now there was 1 foot of water under the machine. The machine and sleigh made it across although my feet were wet from that experience. Steve was behind us and turned back before he got to the crack. There was a safer and drier place to cross a little way down the shore and he took that easy way across. I don't know if he is smarter or just doesn't like adventure as much as Willy.
The ice was rough and the drifts were hard so everything was bouncing as we headed out. A quarter mile out we noticed that Steve's tent was bouncing on his sleigh. He was flagged down and two bungees had come off and were on the ice somewhere behind us. His load was refastened with a couple of spare bungees and off we go again. Steve's machine is capable of 100 MPH but he was falling behind, what is going on now? Well his machine needs loose snow to cool off the heat exchanger that is located over the track. No loose snow, your engine overheats. To help cool the machine down he was trying to spin the track in some of the hard packed drifts out there. That worked fine except for the fact that the sudden acceleration caused the load to shift in his sleigh and it came loose and was scattered over 20 yards of ice. He didn't know this and was still trying to cool his machine down when he passed us doing 60. We could see that he had an empty sleigh, minus a couple of parts, that was upside down and was flapping in the breeze behind him. After he passed us he looked around and saw the wrecked empty sleigh. I am glad were were out of earshot.
All the stuff was gathered and reloaded and we made a slower ride out to the honey hole. Steve had to stop occasionally to let his machine cool down. The wind was NE and strong, It took three guys to get a tent set up, two would hold the tent down and the other guy would set the poles. Steve now noticed that his ice pick was among the missing, oh well, we could find it on the way back. As usual, once the tents were set up Whitefish Willy went to work. Soon he had 5 flopping on the ice, Steve and me zero. It kind of went that way all day with Willy catching fish and us two an occasional fish. My excuse is that my depth finder was not working after the wreck on the way out.
The Wisconsin DNR stopped by for a visit, they checked out licenses and counted our fish, even the sucker that Willy slipped inside of my tent without my knowledge. Everything was in order and they went on their way. Our final catch for the day was 24 fish with Willy getting the most. Tents were packed up at 2: 30. Steve found his missing ice pick and the two bungees on the way back. The ice crack, that was now bigger than it was on the way out, was crossed without incident and we headed for home. By the looks of the ice this will be the last trip out there. It was all the adventure that my heart can stand.
Bob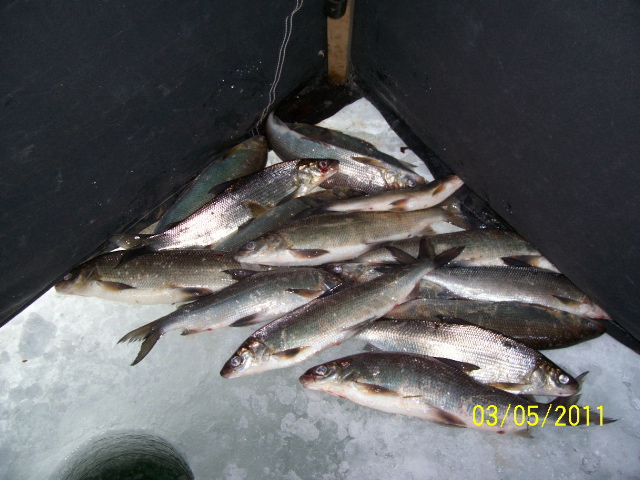 Some of our catch
March 16, 2011
The weather was nice so Willy and I went over to Escanaba to see if there were some whitefish to be caught. We pulled out sleighs over the cliff and found a place that the shore crack was not to wide. There were some ice pushes that were about 5 foot high so you had to be careful not to slide on your butt while you hauled your sleigh over the pile of jumbled ice. There were three other guys out in the fishing spot towards the light house so that where we started. They had some white fish on the ice that they caught earlier in the day so we knew that there were some around. Our new sure fire, killer, never fail, method for catching whitefish was going to get them at Escanaba, right? You got it, IT DIDN'T WORK. After a few hours of trying with many lure changes, I had no bites and Willy had one hooked that he lost. I put a set line out with eggs on it and turned to smelt fishing. The fish finder was showing schools of smelt down there. It didn't take long and we started to catch smelt, Willy out fishing me by two to one of course. I did manage one small whitefish on the set line and ended up with the whitefish and 10 smelt. Willy caught 29 smelt and came home with 28 because the seagulls got one of them when he turned his back. You got to watch those bait stealers. I have attached a short movie of Willy catching a smelt. This is the end of the ice as the shore crack is opening up and that signals the end of ice at Escanaba.
March 30, 2011
Willy and I met up at Kelley's in Florence. Our plan was to fish Baraga on our way up to camp so we met up early in the morning. Stuff was loaded from Willy's "fish-mobile" to my big red truck and off we go. The plan was to meet up with Chris, the expert who catches whitefish at Baraga. We followed him over to Squaw Bay, where we went on the ice. Rowdy, the hound, was smarter than the rest of us and didn't like going over the black ice. It took a little coaxing to get him to jump the crack out onto the slippery black ice. Chris and Willy practically ran out to the fishing hole with me bringing up the rear. I kind of wish I had my skates because it would have been fun having a whole bay to skate over. Chris tested the pressure crack and we wisely decided to fish on the shore side of the crack. It didn't look very nice, the push ups were 3 feet high and there were 10 feet long of floating slabs on either side. The ice we fished on was about 15 inches thick and was solid. Holes were cut and soon Chris had one whitefish on the ice. I actually hooked a nice fish that I got right to the surface only to lose it in the hole; ever try to hold onto the tail of a slippery whitefish? Soon Willy had fish flopping, I landed one, Chris kept pulling them up and Willy a few more. Willy and I had 4 and Chris had 10. What is going on? We checked out his equipment and decided that we needed to retool for the next trip. At noon the lines came up and we headed for Fish Camp. Even Rowdy didn't like crossing the shore ice. The sun had softened up the shore ice while we were out and now there was some open areas to skirt on our way to shore. So much for going on the ice in this spot.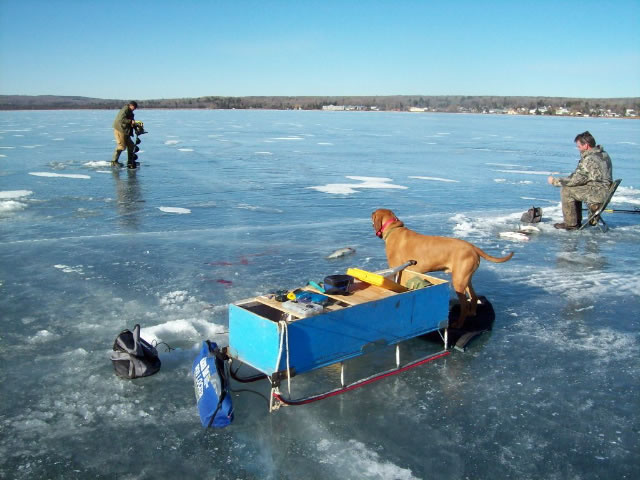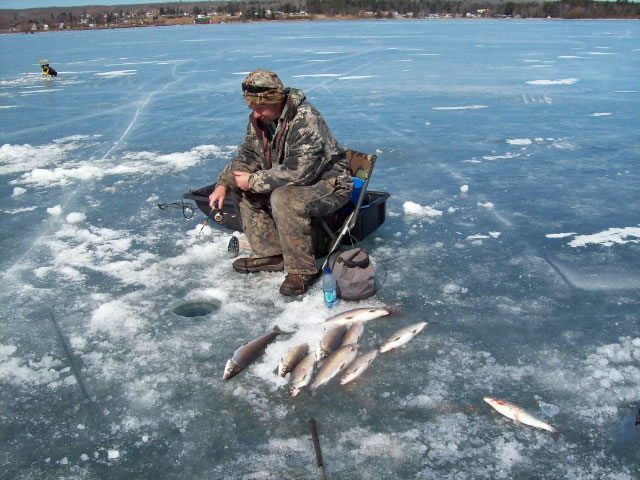 March 31, 2011
Willy's Birthday
Willy of course is up early and has me get my old bones out of bed. "The snow is froze, lets get the trees cut" was Willy's mission this morning. The Huskavarna was fired up and down came some winter damaged spruce trees and a few others that are close to the parking area. He was right and it was very easy to skid a spruce top over the hard crusted snow to a burn pile. The dock deicer was our next project. It had been running all night and opened up a hole by the dock. I was sure that Willy was going to try swimming in the open water but surprisingly enough the thin crust of ice held him up. I think he has no fear or lots of SISU. We broke the ice up as best we could and a good meal of homemade bacon and farm fresh eggs was next. Fresh whitefish was also part of the breakfast. It sure filled the belly. The old man had to have his nap and since Willy is in retirement mode he also crashed. Later, the sun was shining and the temperature was in the 40's so what can you do but go fishing. Lac La Belle was frozen with perfect ice for walking on and we went across to the mouth of the Little Gratiot. Holes were cut and it wasn't long till some fish started biting. Our catch consisted mainly of perch, a couple of smelt, a green slimy walleye, and Willy caught a mystery fish (round nosed trout).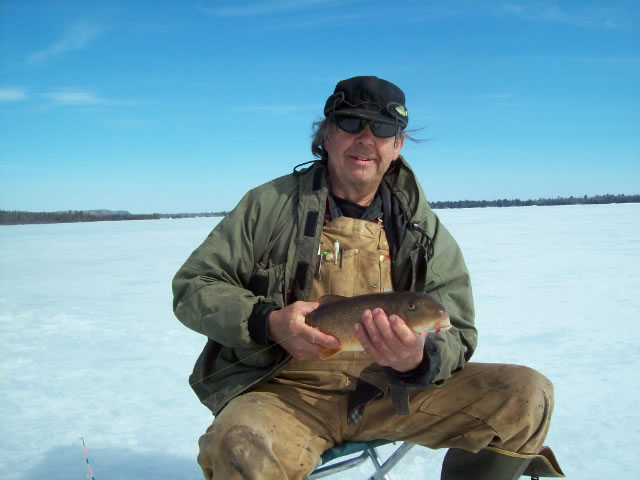 April 1, 2011
History was made today!
With Willy around, we headed to Baraga at daylight. Our sleighs were loaded with all our "new secret weapons". After watching Chris catch fish after fish we thought we figured out what he was doing, (whitefish fishing theory one thousand and twelve). There were new reels on our jigging rods. The leaders were changed, swivels were added, and hooks were changed on the lures. This was bound to work. Willy's lines went to the bottom first. I was busy fiddling with my stuff and finally got my line to the bottom. I went to lift it up off the bottom and there was weight. I set the hook and was on to the first whitefish of the day. After I fiddled with the fish finder it showed schools of whitefish. A few more jigs and I hooked another one. Soon I had a few more flopping on the ice. I called Chris on the cell phone and he and his son were fishing the other side of the bay without much luck. They came over and started fishing by us. Soon Chris's son had fish flopping, then Chris..........Willy none. Willy hooked one and it broke off, @%#$#@. He had a few more strikes but couldn't hook one. This was the day "History was made". The score was Bob 8, Chris 2, his son 3, and Willy zero. That never happened before and probably will never happen again. Willy used Steve's quote "Boy it sure would be a lot fun if you could catch a fish"
April 7, 2011
Trip to the Arctic
Some plans work and some do not. The "plan" this trip was to take Willy's small boat down to Oconto, sneak out just past the end of the break-wall, and catch our limit of whitefish. Everything went well, the roads were good, the launch was open, there was a good sized hole in the ice and we were able to get out to where we wanted to fish. The only thing missing was the fish. We tried out of the current, in the current, drifting with the current, and with the boat up against the ice. In one place, there was a small hole in the ice and Willy dropped his bait through the hole and sure enough he hooked a fish that got stuck on the ice and wouldn't come through the small hole, of course he lost it before we could see what it was. I had two bites that I failed to hook and Willy caught a spawner walleye that we threw back. We did get a lot of sun and had fun on the water. Will we do this again next year? This one will probably be chocked up to experience as we did the same thing last year with similar results.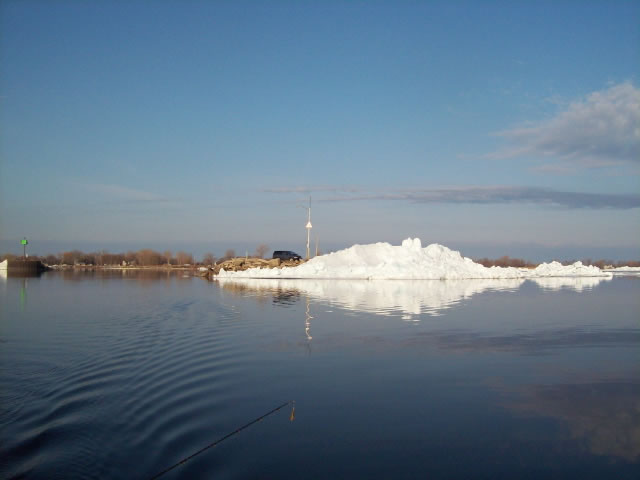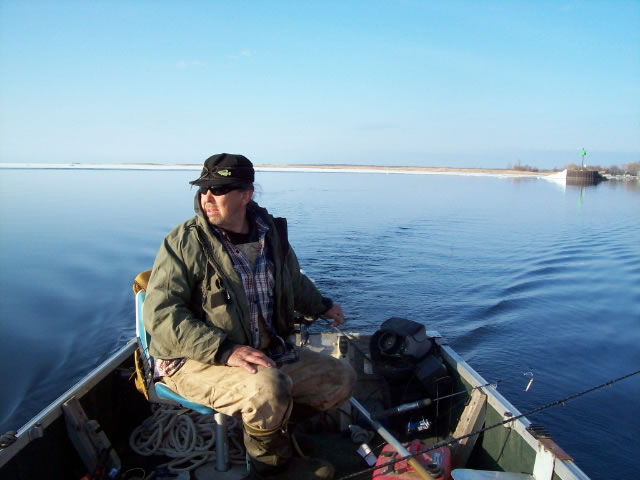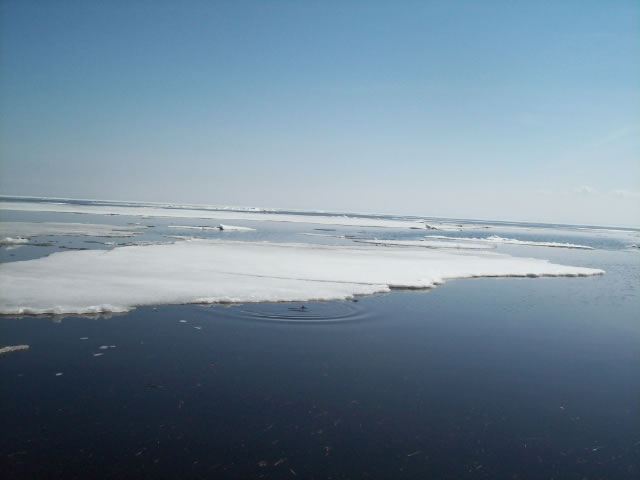 Maybe we will be back there next year with a new plan that "will" work. Different bait? Worse weather? You sure could not beat the scenery.
April 21, 2011 SOFT WATER
It's been a stretch of bad weather so Willy and I have been checking on conditions for a week. Thursday looked like the day, the only problem was my doctors appointment in the morning. The plan was to meet in Pembine at 11:00. I was at the doctors office at 9:00 and found out that because of medicare and the required paperwork I would have to reschedule the appointment. Hurray, the sun was out and we could get fishing. I was out of that office in a flash and called Willy on the cell phone. "I'm ready, are you" I asked. He said "Let me choke down this egg and we are off" I imagine he swallowed it in one gulp.
The plan was to try out a different boat launch and look for some different spots for whitefish near that launch. The launch is a little shallow so we got his I/O stuck in the mud right away. It was tilted up and the trolling motor started, stuck again. We had no oars or push poles so we used the net handle and rocked the boat from side to side and soon we slid over the sand bar and out into the river current. It was deep enough there to run the big motor and off we go towards the lake. It didn't take long and we found the sand bar at the mouth of the river. The I/O hit and it had to be raised so we could cross that sand bar. Finally the boat crossed out into deep water and we could head for a new spot. The lake had about 1 to 2 footers and it was a little slow going. About a thousand ducks flushed off the water in front of us. Most were blue bills but there were some eiders and loons in the mix. The sun was out and it made for a nice ride.
A short search was done along the bank until some marks showed up on the fish finder. The anchor went down and we fished there for about an hour with no bites. We couldn't stand it because we were close to our "honey hole" that we found last winter. Up came the anchor and to the secret spot we went. A short search along the bank showed a couple of fish down there so the anchor was dropped and another hour went by without a hit. A couple more moves and we saw a nice school of fish on the finder. While we were setting anchor there were some others showing up, this looks promising. The lines flew to the bottom and soon I was on to a nice fish. When it came to the surface it was not a whitefish but a green slime stinken walleye. Not what we were after. Soon Willy goes to work, a nice whitefish comes up on his line, Then I finally get a whitefish. Willy keeps putting fish in the cooler while I was losing them. Finally I put a few more in the box and asked Willy how many we had. He said he didn't know. It was getting late but the fish were really hitting now. I sent out a SPOT report to let the people on shore know that we were still fishing. We put off leaving another half an hour. Finally I said that when I land this fish, this is the last one.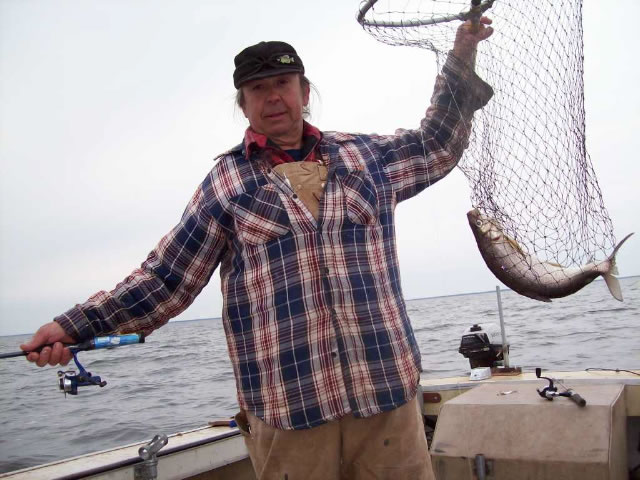 The fish was in and I knew I had five. If I have five, Willy has twice that many so Willy has 10. That makes 15 in the box. A nice days catch.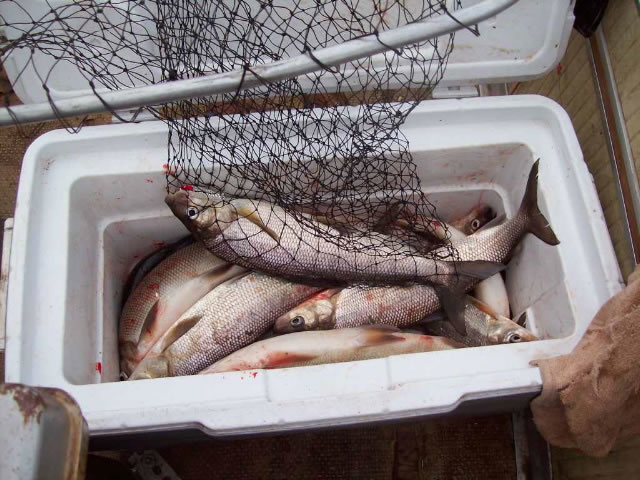 I learned a couple of Willy tricks on this trip. The first one is not the "hat trick" like hockey but the "net trick". I brought my own net so I could net my fish and Willy would have his own net to net his fish. He said, "too much junk in the boat, leave it in the truck". That means that I have to net his fish so I am standing there with the net in my hand instead of a fish pole.
The second trick is to use a lighter pole and line. A fish is hooked and it takes a long time for the fish to come up to surface. All the while I am standing there watching Willy play with the fish and I am not fishing. It takes a while but I am slowly figuring out the sly old dogs tricks.
The anchors were pulled and the "Geppu" headed for shore with two happy fishermen on board. The SPOT devise was falling off the dash so I put it into my pocket. The SPOT has four buttons on it and is programmed to send messages up to a satellite when the buttons are pushed. The buttons are ON/OFF, OK, HELP, and 911. When the OK button is pushed it sends out an "I am OK" message along with the GPS coordinates to shore people. The HELP and 911 buttons are to be used for emergencies. Well when I put SPOT in my pocket I must have activated the HELP button. I noticed that it was blinking when we were at the boat launch. I hurried up and cancelled it but it was too late. Marge was at home and getting calls from our friends in North Carolina who had received my help message and they thought I was in trouble. Marge called my cell phone but of course we were out of range. She called Willy's wife Debbie and Debbie wasn't concerned because the boat has 2 motors and an marine radio on it. Then Marge saw my OK message come in and knew we were all right. That isn't the end of it because our friends in Texas also called her when they saw my HELP message. I guess the thing works.
It was a great day on the water and I learned two new tricks, the "Net Trick" and the "Light Rod Trick". I may have to use them on Willy next time, the only problem is that you have to actually hook onto a fish for the trick to work and Willy is much better at putting fish on the end of his line than I am.
May 7, 2011 The Honey Hole, NOT!
Willy and I made it to the launch at about 7:30. The launch was packed with boats because it was the opening day of the Wisconsin Walleye (green slime) opener. Willy had made some push poles so we could get out of the shallow water by the launch and we poled our way out without incident and got into the deeper water where the outdrive could be used. We headed for the lake and some discussion was about whether to go left or right of the pilings, and we couldn't decide which was the best way out. Willy listened to the captain and went left. Soon there were logs from the old cribbings showing up and worse yet, they were full of rocks. You can't steer very well with the stern drive raised and the current soon had us in the rocks. With a large, clunk, we were fast aground on the rocks. It was a good thing we had the push poles with us. They allowed us to get off the rocks and onto the side of the pilings that Willy wanted to go down in the first place. I told him "see you never should have listened to the captain".
It was smooth going once we cleared the rocks and got out into Green Bay, the sun was out and the water lay like a sheet of glass. Boats were everywhere and there was a lot of chatter on the marine radio. It looked to be the start of a great day on the water. The Geppo was pointed at the honey hole and off we go. We got to the reef and expected to see lots of schools of whitefish on our fish finder. That was the plan anyway. We looked on the top, side and bottom of the reef, no fish. We went along the reef, up the reef, down the reef, over the reef all with the same result. No fish on the fish finder. We finally spotted a few small marks and decided to try. All we got was a few Quagga muscles. Up came the anchors and we moved again, still no fish so we moved again. It really would have been nice to get a bite. Finally about 2:00 in the afternoon I caught a small whitefish. We quit at 4:00 with the one small fish and a good sun burn to show for our efforts.
We went back in using Willy's route and made it back to the launch without hitting the rocks or grounding the boat. I guess he was right this time. (Darn I hate when that happens.) When we lifted the boat out there was a nice ding in one of the blades of his prop. "Another thing to fix" were Willy's words.
Our discussion on the way home was "where did they go". Willy's comment about whitefish was "when you think you know something about whitefish, your wrong, and that's right".