Link to HOME FISHING WITH WILLY 2011 FISHING WITH WILLY 2012
April 1, 2013 One more trip
The weather was nice and I couldn't stand it. I loaded a sleigh and Rowdy into the truck and we were off to the Bay. It was a walking trip because we didn't trust the pressue crack. It can move when it wants to this time of year. It had been cold and the surface of the ice was froze when we got there. Rowdy was hooked to the sleigh and he was off, of course where he wanted to go was not where I wanted to go. I got him to stop and he was disconnected from the sleigh and I took up the position as lead dog and pulled the sleigh out. I cut the first hole out about 1/2 mile, the depth was 28 feet, just like the GPS said. A fish came through right after the bait was lowered but it didn't hit. Nothing came by for the next 10 minutes and I was off looking for the right spot. I tried two more spots and finally landed a whitefish. I missed a couple and then it slowed down. Well the wander lust hit me again and I was leaving fish to find fish, never a good idea. I was headed for a couple of places that produced fish a month ago. Those spots turned out to be duds with no fish even showing up on the depth finder. It was getting time to settle down and catch some fish so we headed back to the hole where I caught the fish. It proved to be a good move and soon I had a few nice whitefish flopping on the ice. I was curious so three more holes were cut in that area. They all proved to have some fish. My total catch for the day was 6 fish, most of them came from 25 to 28 feet of water near some kind of a reef. The weather was so nice I never even had a jacket on. The sun and heat deteriorated the ice quite a bit and the tow back in was a bit of work for the hound and me. For sure this will be the last trip on the big water.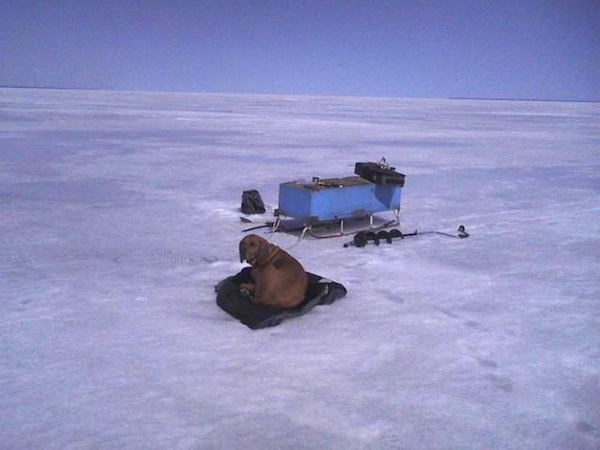 March 24, The last trip
Since there was still ice, Steve and I headed out again for one last trip. I met up with Steve at seven. Our hopes were high as we headed for the bay, the only concerns being the ice breaker and the shore cracks. The shore crack wasn't too bad and we crossed it without incident. We fished the same holes that I used the day before. My flipover shelter didn't take any time to set up and the first fish was on the ice before Steve had his tent set. We both started to catch fish, they hit good at first but soon slowed down, they were there but not hitting. We both started to change baits and whether it was the bait changes or just that they started feeding, they started to hit and we had our limit by 11:00. A fitting way to end the ice fishing season. Don't forget to get your new fishing license for 2013. They expire the end of the month.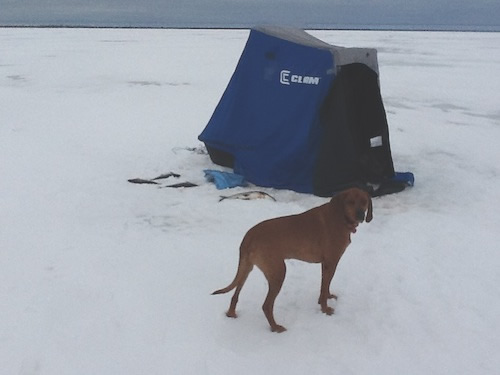 March 23, Me and Rowdy
It was a nice day and since Marge was getting better I could fly the coop and head out fishing. After a nice breakfast I loaded the four wheeler on to the truck, Rowdy jumped in, and off we go to the bay. The pressure crack was not looking too good but we crossed it and headed out to the fishing grounds. I fished one spot and it was hot at first but soon went flat. The second pressure crack didn't look bad so I crossed it. Then I noticed the Coast Guard ice breaker out on the horizon and heading my way. Everything was loaded into the sled and the rope hooked to the four wheeler just in case the cutter came to close. I didn't want to end up on the wrong side of the ship canal and have to take the long way home. The cutter turned and went back along his track. That off my mind I was able to get back to fishing. The new hole proved to be more productive and I caught my limit of 10 whitefish and threw a few smaller ones back. Rowdy liked the run back and kept well ahead of the four wheeler all the way back to the truck.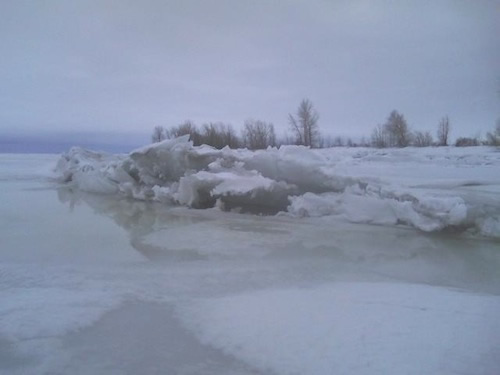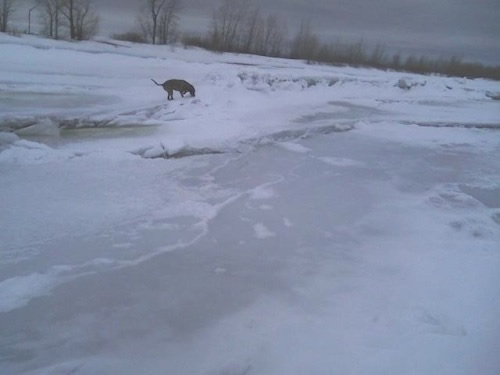 March 16, 2013, Willy and Mike
Another nice day so Willy and Mike headed out again. It took a while but they found the fish. Here are some pictures from their trip.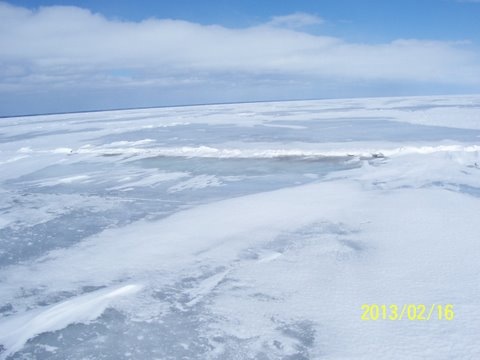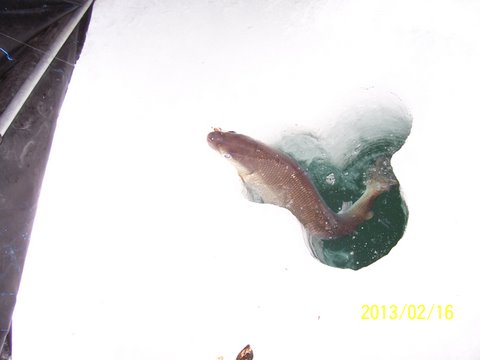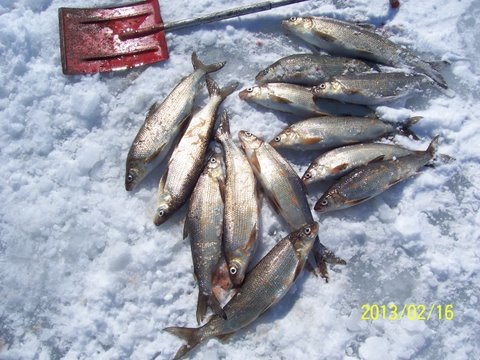 March 14, 2013, The lake is calling and I must go
The weather was sunny and warm. I have a new tent that needed testing so I threw it into the back of the truck, loaded up the dog and headed for the bay. The ice was snow free and the four wheeler did fine except that you couldn't steer very well on the slick ice. The dog had fun running with the four wheeler to the first spot I tried. That spot was a dud so I coaxed the dog into riding on the back of the four wheeler out another mile to a spot that was on my GPS. I couldn't get there because of a large pressure crack. The first pressure crack was bad but this one had a lot of open water and floating slabs, no place to get close too. I picked a spot and when the fish finder was lowered into the water it showed fish below me. My line hit the bottom and up came the first fish. It didn't take long and I had my limit.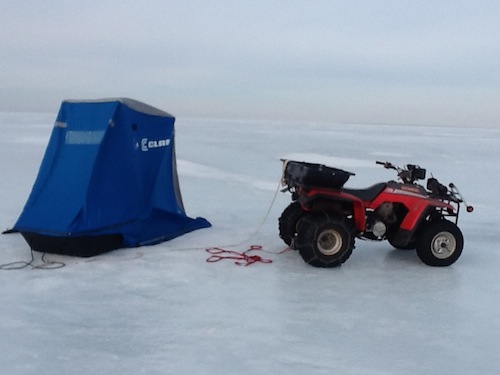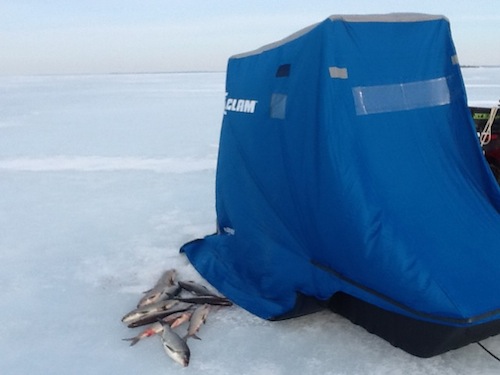 Rowdy the hound dog was restless out there on the ice and as soon as the sleigh was hooked to the four wheeler and the motor started he was off, heading back to the truck. There was no way he was going to ride back on the four wheeler. He kept a safe 1/4 mile distance ahead of me and ran 3 miles back to the truck only stopping now and then to let me catch up. When we met up at the truck he wasn't even breathing hard. Must be nice to be in shape.
March 13, 2013, Just have to fish
It was windy but Willy couldn't stand it and headed out to Green Bay. He started fishing at 8:00 AM and had his limit by 10:00. It has been really good fishing this year. Now he needs to fire up his smoker.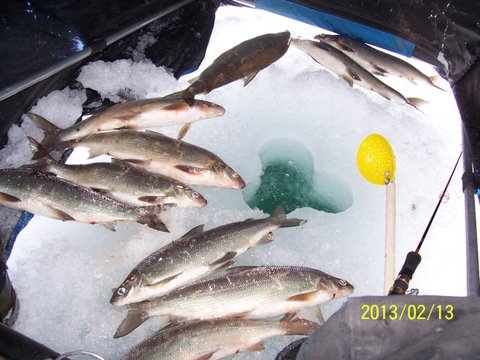 February 8-10, 2013, Shoveling the Snow
Willy and I headed up to camp to shovel the roof. Of course we couldn't just drive up there but had to stop at Baraga to try some fishing. It was nice weather so we just walked out and sat in the sun. The dogs had fun running around and begging for food from a couple of other fishermen that were out there. We caught one Burbot and had one other touch of a fish. We quit just after noon and headed for camp. Rowdy towed the sleigh back to shore for us.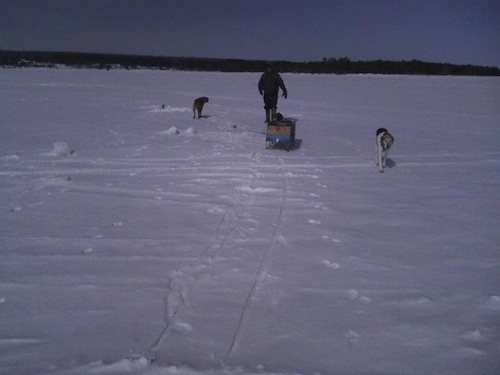 There was quite a bit of snow on the roof and it took a a while to get it off.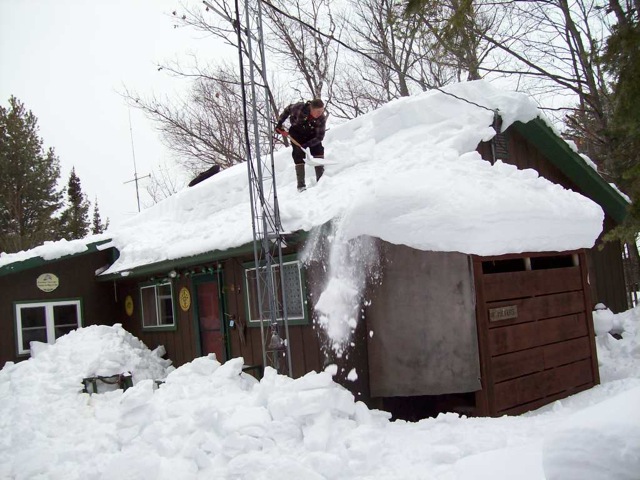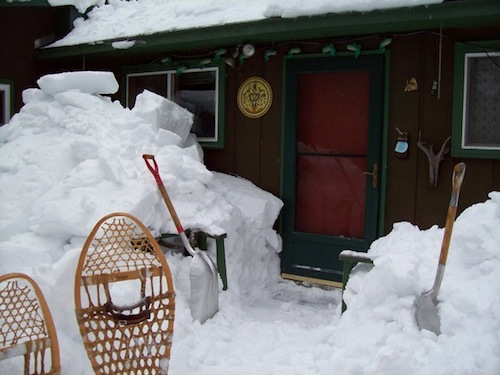 On Sunday we tried the bay again and marked more fish but never got a bite. It looks like getting the large whitefish from the bay at Baraga is not going to happen this year.

MARCH 6, 2013 Sore Butt
I rode down with Steve and Jim. We met up with Willy at the boat launch. The weather was nice and the wind was down for a change. The sleighs were loaded and hooked to the back of the snowmobiles. Jim rode on Steve's and I was on the back of Willy's. BIG MISTAKE! My butt no sooner hit the seat and Willy hit the throttle. The sled surged forward and launched itself into the air, over the bank, through a drift, and out onto the ice. My stomach was still on the bank and my butt was in the air. Slam, down onto the seat I go and we were off, heading to the fishing grounds. Green Bay was full of drifts and the background was so white that you couldn't see them. If you think that would slow Willy down, you are mistaken. We hit drift after drift, my butt was airborne more then it was on the seat. We pounded our way out to the fishing hole. Willy slowed down and I abandoned ship. Willy said "Get back on, we still got a half a mile to go." Well, we made it.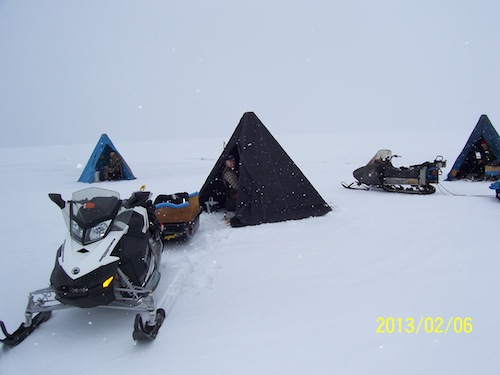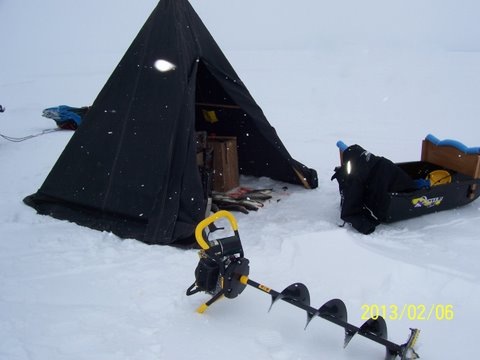 Soon Steve and Jim arrived. Steve's new propane auger started with one pull. They sure are an improvement over the old two cycles. Holes were cut and we started fishing. Willy fished with us for five minutes and headed for new territory. It didn't take long and Steve had a fish on the ice; then I got one. The rookie, Jim, was straining water. There were lots of fish and soon we had fish flopping everywhere. It took a while for Jim to get with it but soon he had fish flopping on the ice.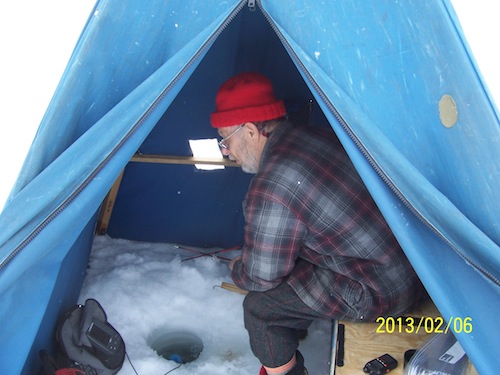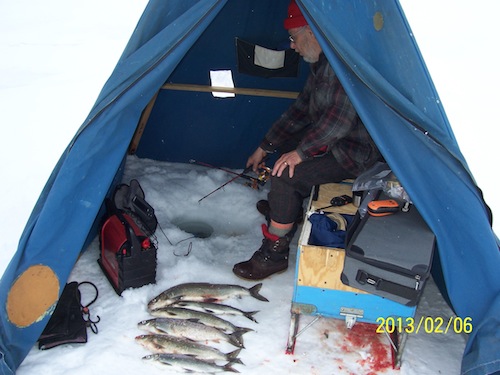 We were all limited out by 1:30 and headed off the ice. The ride back was a lot slower as Willy drives slower coming back than when he is heading for the fishing hole. I think that Willy needs to put a rodeo saddle on the back of his snow machine, stirrups wouldn't hurt either.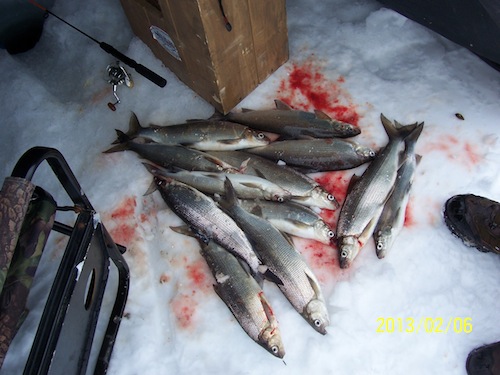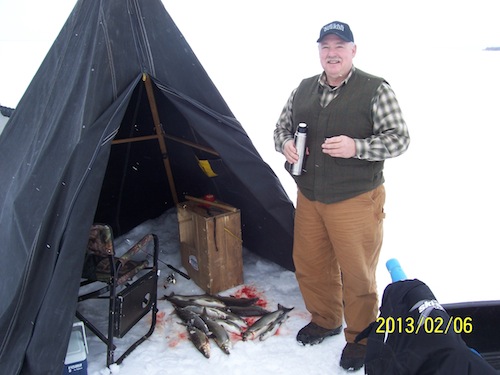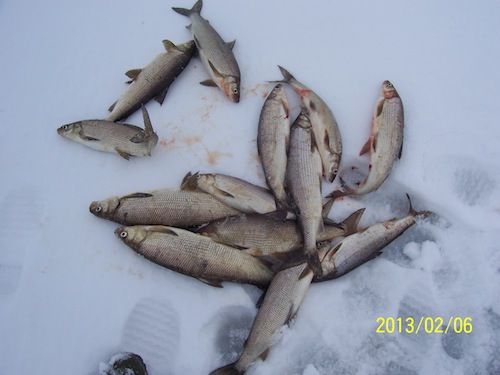 March 1, 2013 Windy
The winds were blowing 10 to 15 from the NE gusting 25. It was too windy for good fishing but Steve, Willy, Roger, and I couldn't stand it. We had to go fishing. Steve and I met Willy and Roger at the launch. It was a snowmobile day as the wind had been blowing hard for two days with snow packing into hard drifts. The crew headed out. I sat backwards on the snowmobile to watch the sleighs for any signs of trouble as they bounced over the rough snow. This was a good plan except for the fine dust of snow being kicked up from the track on the snowmobile. I was making like the back window of your car when you drive down a snow covered road. Soon I was a snow man as I had a quarter of an inch of snow covering me and my glasses. The sleighs, they had to fend for themselves as I could not see. My glasses do not come equipped with wiper blades. We made it out to our fishing spot. Steve and I set our tents up there. Willy and Roger went exploring looking for bigger fish. A commercial fisherman had told Willy that there were 5 pounders in water deeper then 80 feet. They soon disappeared in the distance. They reappeared two hours later with reports of fish in just about every hole they drilled but no whopper fish.
Fishing was slow with a few small fish showing up. I caught a few and threw them back. Steve caught a Burbot. That will be good in the pot. The wind kept blowing and drifting around our tents. It was not a nice day to be without shelter.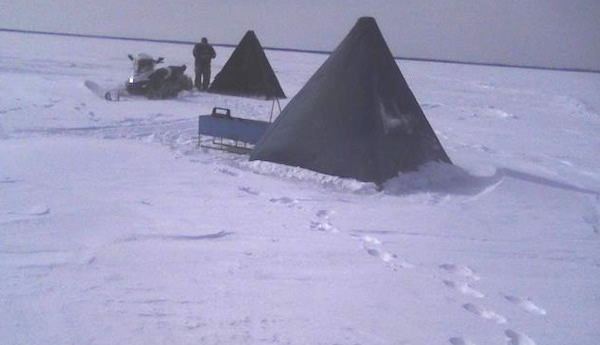 The fish started to hit later in the morning and we ended up with our limit of whitefish by noon. The trip back was uneventful and we were home in time for a fish fry with bags full of fresh whitefish.
February 26, 2013 Don't Forget to Look Back
Jim and I were going to meet up with Willy at the boat launch but he was there about a half an hour earlier then us. He called us on the cell phone and said that he was going to head out and we could follow his tracks. "Look for my ice pick on the way out", he said. We found that in the parking lot. He had the snowmobile and we had a four wheeler. The four wheeler was not a good choice because there was 4 inches of fluffy snow and a few deeper drifts out there on the ice. The sleigh was loaded and off we go following Willy's tracks. The going was tough for my little four wheeler. The crossing of the pressure crack was uneventful so we put the hammer down and were headed for the little dots in the distance that we hoped was Willy. When we pulled up he had a fresh caught whitefish in his hand, a good sign. Jim got off the machine and I looked back and there was no sleigh filled with tents, rods, and other stuff behind us. The towing hitch had come open somewhere on the way out. I hopped on Willy's snow machine and headed back along our trail. About one mile back I found the sleigh. It was looking rather forlorn out there surrounded by a mile of nothing but cold white snow. It was the only thing that had any color for miles. The lost sleigh was attached to the snow machine and off we went. About one quarter of the way out the snow machine was pulling hard. I looked around and the sleigh had tipped over onto its side and was making like a snow plow. It was righted and off we went again. The sleigh and I were about four hundred yards from Jim and Willy when it dumped again. I had to right the sleigh. This time I made it. Willy had eight fish. Jim and I set up our tents and started fishing. Willy had ten fish. He spent some time teaching Jim how to catch whitefish and I was busy learning how to lose fish at the ice. Well, things went better for us after that and we ended up with our limit of fish by noon. We headed back just after the wind came up. I forgot to mention about Willy's custom made blue tarp that covers his sleigh. Someone down by Green Bay reported it as a UFO when it blew by them. We never saw it go but it was gone, gone, gone.
I sat on the back of the snowmobile and watched the sleighs on the way back. We only had to stop twice because Willy's sleigh caught the wind and acted like a big sail. It tipped over sending stuff onto the ice. After one of the dumps Willy thought he had lost a bag of fish so he unhooked and ran back along his track looking for it. Jim and I found it in the folds of his tent. There was no way to reach him and we watched him turn into a dot and disappear into the distance. He returned shortly and we made shore without further incident.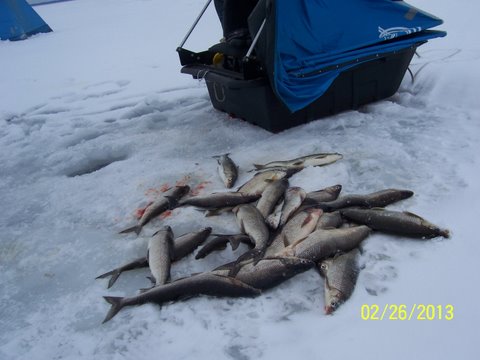 February 21, 2013 Fishing Without Willy
Willy could not make it so it was up to Steve, Jim and me to catch our fish. We went out to a spot that was our secret till Willy talked to a local fisherman. The spot was easy to find because there were three permanent shacks smack on our old holes. No one was fishing in the shacks so we cut holes right where we had fished. Jim was new to catching whitefish and was having some trouble getting bites. Steve started out great but then they slowed down for him. I started out slow but through trial and error found out that today they liked the bait laying on the bottom. It is different every time you go out. Sometimes they like an active bait, some days slow, some days not at all. We fished till afternoon an ended up with 16 fish between us. That means that if Willy was along we would have ended up with around 38 fish. The good thing is that I don't have to spend all night cleaning fish.
February 16, 2013 Don't Fish on Saturday
We ended up fishing on Saturday in Green Bay. Doug met Steve, Jim Ritzenheim and me at the boat launch. The bay was full of trucks. We drove the truck out to the shanty town that has grown up since our last trip down to Sugar Creek. There were permanent shacks, tents and fishermen sitting on buckets everywhere. We couldn't get to our old holes because there were two red tents smack on our spot. We set up 200 feet away and started fishing.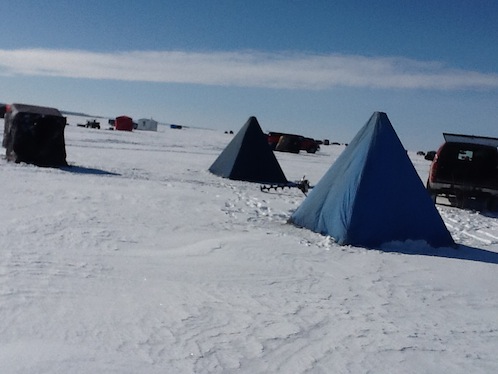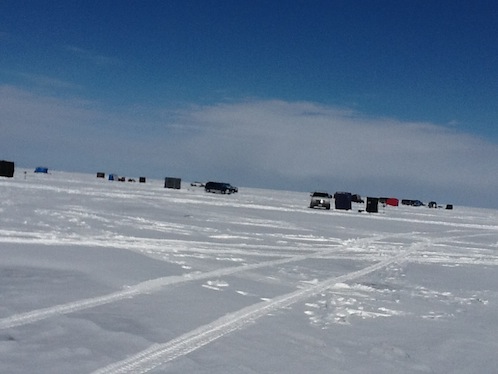 The depth finder showed fish under us as soon as the transducer was dropped into the hole. I snuck my line through the slush and down to the bottom without cleaning the hole. A fish hit and up he came, right into the slush and there he was stuck in the hole. A quick flip, the hook came out, and he was gone. I guess I better clean my hole next time. A second fish came up and this one caught a hook into the ice at the bottom of the hole and he was gone, not a good start. Steve was having better luck, he had four on the ice by then. It looks like it is his day.
Jim however was not having much luck. It was his first time out for whitefish and they are a different kind of fish to catch. He was using tackle more suited to perch fishing and it was not working. Jim didn't care, he was out fishing, the sun was shining and it wasn't cold in the tent; he was having a good time. He did manage to hook and lose a couple of fish by the end of the day. Doug was having a good time hooking and losing fish at the hole.
Almost all of the fish were caught before 10 A.M. There were not many fish showing up on sonar. Where do they go? Was it because of all the truck, four wheeler, and snowmobile traffic on the ice? Who knows. We just know that they were gone and the few that were left would not bite. It still made for a pleasant day on the ice.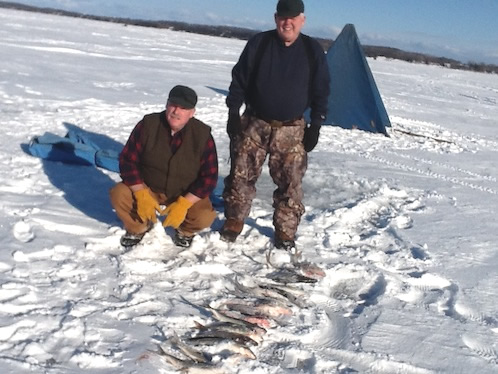 February 13, 2012 Slick Ice
On our last trip we didn't have the snowmobile and just about had a heart attack pulling the sleighs through the deep snow. That wasn't going to happen again so Willy brought his snowmobile over to my house. The snomobile trailer was hooked up and we headed for the bay at seven. The ice was slick as glass, we had the wrong tow vehicle again. A four wheeler should have been the choice today .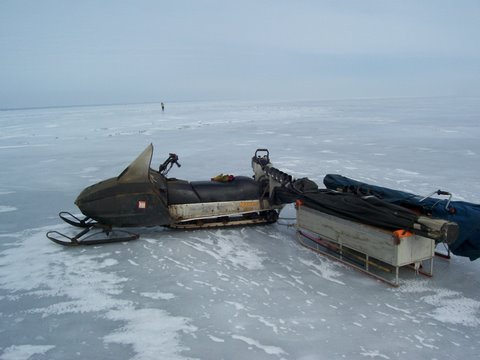 The sleighs were loaded and out we went trying to find our old holes. My iPad had iNavx navigation program running. A "go to a waypoint" was set up and it led us right to where we fished on our last trip. A little walking around and we even found Willy's old hole. New holes were bored through 20 inches of ice, tents set up and we started fishing. As usual Willy caught the first fish, then the second fish, then the third fish while I just stared at an empty fish finder and had no bites. Finally a fish swam by and I landed one. The bite lasted a few hours and Willy was catching twice as many as I was. (So what else is new?)
The bite slowed down and we started exploring. I walked ahead and tested the ice in a couple of places.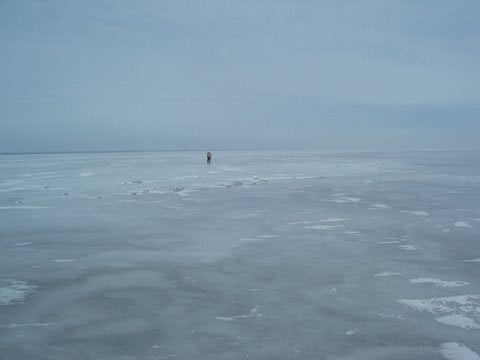 The ice was firm and just looked a little shaky. A couple of other spots were checked. We caught a few fish in most places and I caught a couple of real nice suckers: too bad I didn't need cut bait.
Willy didn't want his fish saying that Debbie is getting tired of eating it so I ended up cleaning 22. That is too many fish. We really need to quit earlier next time.
February 10, 2013, THE PULL
A fishing trip was scheduled to Menominee and Willy arrived at 8:00. I didn't want to do the usual 6:00 in the morning trip. This was an experimental trip so caution on the ice was in order. We drove the shore line looking for an easy access to the ice, There was only one ice fishing shack out on the ice so there were no clues as to where they were getting on the ice. We found the spot after cruising all the back roads in Menominee and Marinette. The ice had been clear of snow and it was easy to pull the equipment out but when we got to the launch there was a foot of snow at the access and two to 4 inches on the ice making for tough sledding. That didn't deter the determined duo of fishermen. We loaded up the sleighs and started out saying over and over again, "Why didn't we take a snow mobile?" Willy said that it was loaded up on a trailer in his yard and ready to roll. What would have been a five minute snowmobile ride turned into a hour long slog through the snow.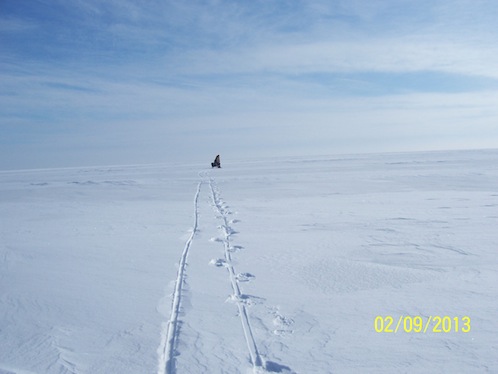 We had used a navigation program on an Ipad to pick a spot. About half way out, on one of our numerous rest stops, Willy asked, how far do we have to go? The navigation program told us how far. Willy figured out how many steps. As we trudged he counted them down, 400 steps left, 300, 200, 100, we made it. Holes were cut and fishing was meager. If the snowmobile was with us we would have been out of there, it wasn't, so Willy started to cut holes all over the ice. I caught a couple of fish while he was looking, so I stayed put.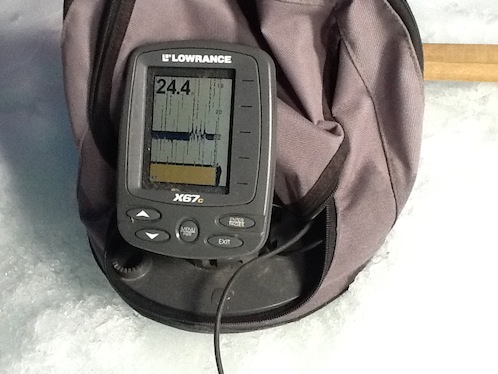 No fish on my fishfinder. Soon Willy was marking fish and started to do his thing. In a hour or so he had a bunch of fish on the ice. It looks like I have to revise my formula. I would count the number of fish I have on the ice, multiply by three, and that would be what Willy has. The current formula is to count the number of fish that I have, multiply by six and that is what Will has.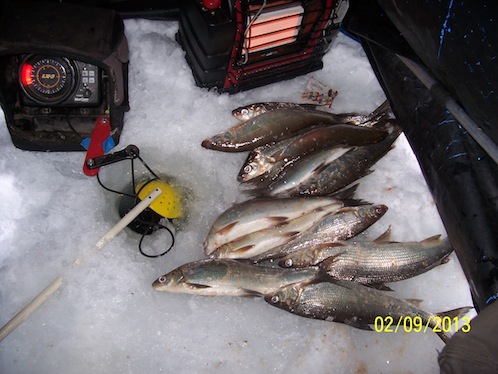 We made the long slog back to the car with a number of rest stops along the way and vowed never to leave the snowmobile at home again.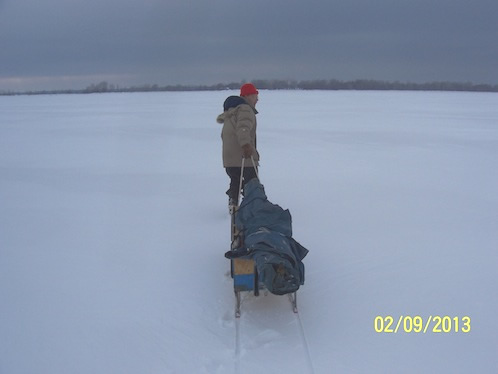 Februare 4, 2013, ANOTHER HONEY HOLE

It was 17 below when I headed for Steve's house at 5:30 in the morning. It was a still morning with a million stars, it should be a nice day on the lake with sun shining and no wind. We picked up Willy at Pembine, loaded our gear and headed for Green Bay. Doug was already at the boat launch when we arrived. Last week we caught fish in close to shore so we started fishing in 19 feet of water. After an hour we only had 2 fish on the ice so we started to move around. It was a little cold for fishing outside of the tent so moving involved taking down the tent, loading all the junk on or in the sleigh, and heading for a new hot spot. The ice was 18 inches thick but cutting through with a sharp hand auger wasn't too bad. Willy was turning the ice into swiss cheese, Doug moved, and Steve kept trying an unproductive hole. I kept looking off into the distance at some dots near the horizon.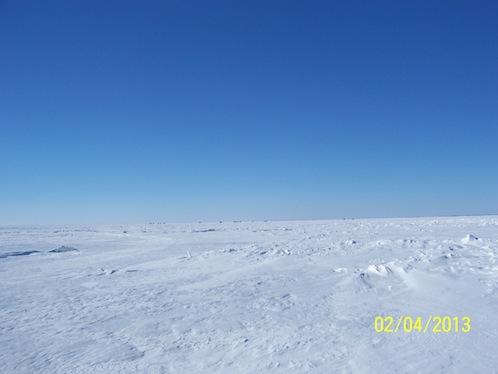 There was a group of fishermen out there, what were they doing out there? I looked at my Ipad and there was an off shore reef there. I couldn't stand it and off I went like Bilbo on an "adventure". Pulling a sleigh loaded with a tent, stove, fish finder, ice pick, auger and other assorted gear over rough ice and snow was tougher than it looked. I took a break about half way out there and sat down to ponder my decision, go or turn back? Why just sit there, I cut a hole and caught another fish. I looked both ways and decided I could make it out to the dots on the horizion. They were closer now. When I was close enough the dots turned into permanent shacks, full sized pickup trucks, and fishermen. I made it!
As soon as the fish finder was set up it showed fish on the bottom, even before the bait was there. This is a good sign. The line no sooner hit the bottom and I was fast to a nice fish. One on the ice, drop the line down, two in the ice, then three on the ice. This is the "honey hole" we were looking for. I got on the cell phone and called Willy and Doug to let them know that there were fish on the reef. They said it was too far to walk but when 4 pickups left from where I was and drove right past them they couldn't stand it and they piled into Steve's new truck and out they came.
The fishing in the honey hole was great. Everybody caught fish and we ended up with our limit of 40 white fish.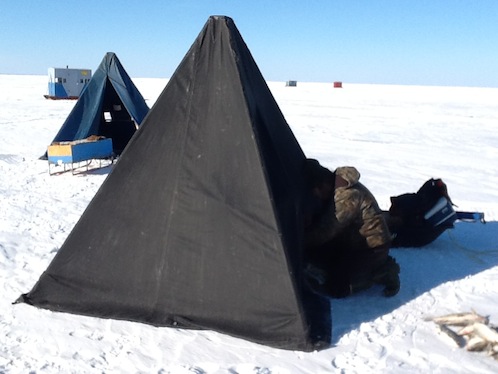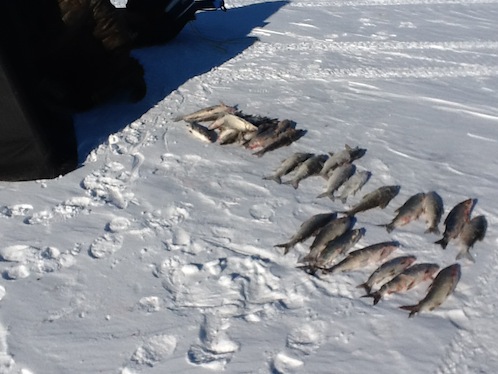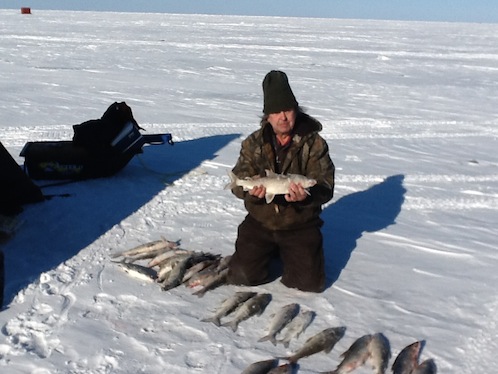 Willy can't even hold a fish when it is out of water.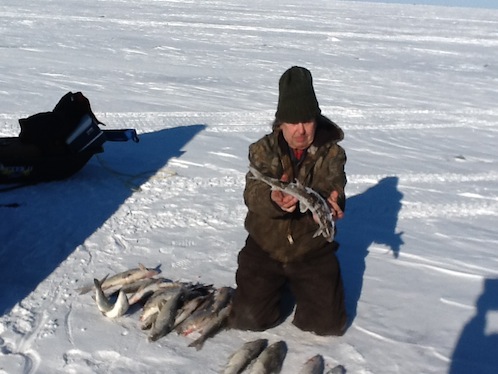 January 24, 2013, CRUSHED ICE
Five below when the three stooges decide to go out fishing. Willy and I were getting cabin fever and Doug wanted some fresh fish too. We met at Bayshore Park and headed to our fishing hole from there. We were able to park on the lake but there was a lot of jumble ice where we wanted to fish.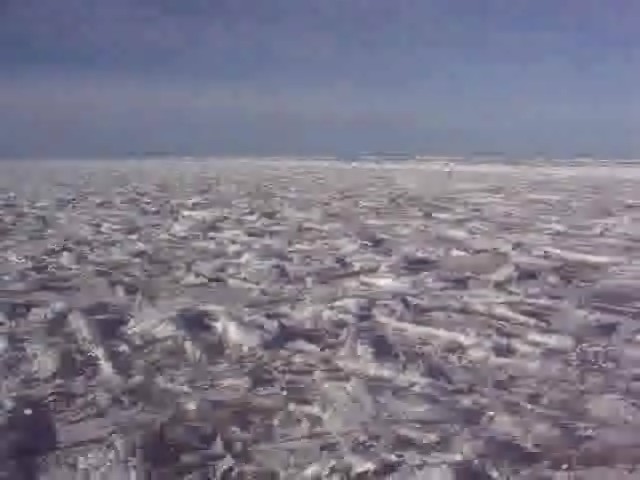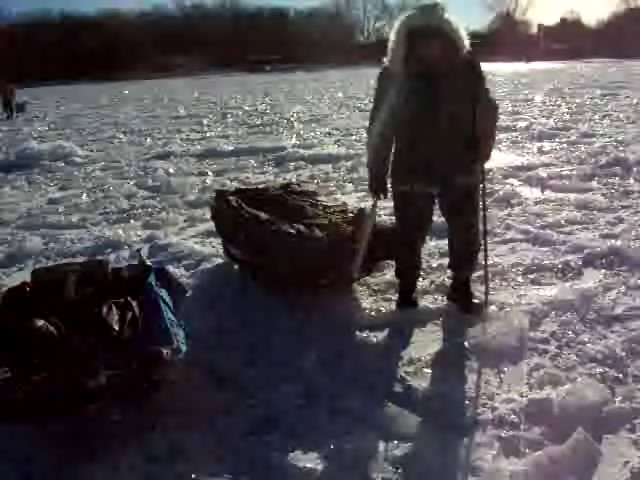 Willy, Doug and I towed our sleighs over the rough ice and found some smoother ice to set up on. The temperatures were around 5 degrees and the ice was expanding. There were constant "booms" and "cracks" as the lake was very restless. Some cracks had open water bouncing between the layers of slab ice. It makes for an interesting day on the lake. Once the tents were set up it was very pleasant. The sun was shining and it was very comfortable, the only problem was the fish, they were not there and those that were, were not biting. By noon our catch was Willy 3, Doug 1 and Bob 1. Doug moved shallower, Willy and I went deeper. Doug called on his cell phone saying that he had fish under him. It didn't take me long to head over by him, he was right as I caught 4 fast fish in less than 1/2 an hour. Doug and I had fun hooking, landing and losing fish. Willy was off by himself but not moving so we figured he was on fish too. His cell phone was not working so we couldn't check on him. We ended the day with a limit of 30 whitefish if we count the little squeaker that Doug threw back.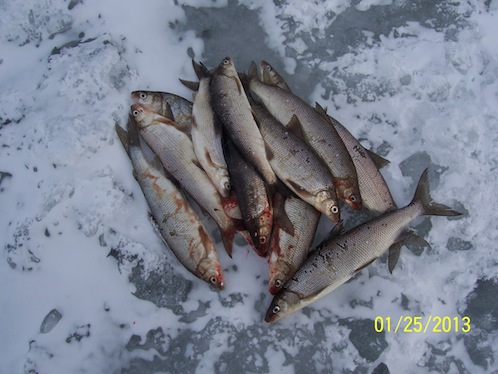 Ohh, if anybody finds a small plastic tackle box full of whitefish lures contact Doug. It is on the bottom in 18 foot of water.
JANUARY 7, 2013 COAST GUARD TO THE RESCUE
Whitefish Willy and Rodger Dodger went down to Green Bay on Monday. The forecast was for warmer weather and a strong south wind, not a good combination for the south end of Green Bay. The warmer weather does not hold the ice fast to shore and it is prone to move a little. They were fishing and soon out came the Coast Guard in an air boat. They scared the fish away and then they kicked Willy and Rodger off the ice.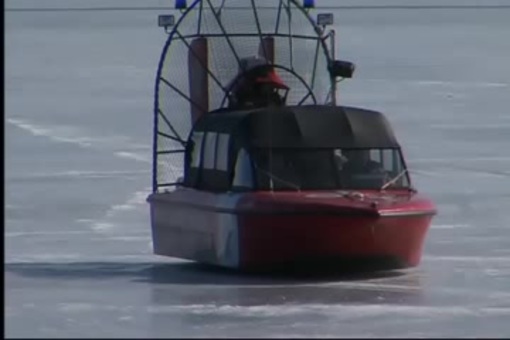 Ten people went for a ride on the ice that day and were rescued by the coast guard or Door County Rescue. Willy and Roger caught five whitefish and one perch but they got off the ice warm and dry. I guess that qualifies as a successful trip.
JANUARY 4, 2013 FIRST ICE
This was the first ice fishing trip for the year. I had checked with Whitefish Willy but he was tied up and couldn't go. I met Doug in the parking lot at Bay Shore Park. His four wheeler was unloaded and our sleighs hooked up to it. The hill was easy to navigate this year with about 3 inches of hard packed snow on it. Many people had been using the hill this year and we got down to the water without a mishap. The weather was windy and it took the two of us to set the tent up in 12 feet of water. I would have preferred to go deeper but the ice out there did not look very good.
This was Dougs first time out fishing for white fish and I was going to show him how to do it, right. The first four fish hit on Dougs line and all four of them managed to fall off before they came to our side of the ice. Finally a fish hit on my line and I eased him off the bottom and slowly got him up into the hole and onto the ice. Doug learns quick and he caught the next two fish. We ended up catching 7 but one did a back flip and fell into the hole and "there he was, gone". Not a bad way to start up the 2013 ice fishing season.