Link to HOME FISHING WITH WILLY 2011 FISHING WITH WILLY 2012 FISHING WITH WILLY 2013FISHING WITH WILLY 2014 FISHING WITH WILLY 2015 FISHING WITH WILLY 2016 FISHING WITH WILLY 2017

Thursday, March 22, 2018
Last trip for the winter?
Dave, Steve List, and I decided to make one final trip out to the off shore reef. There is still snow on the ice. The ice is perfect for travel and about 30 inches thick. It hasn't started to deteriorate. The crack hasn't moved at all and crossing the crack was easy. We had two snow machines so we didn't even have to break out the planks.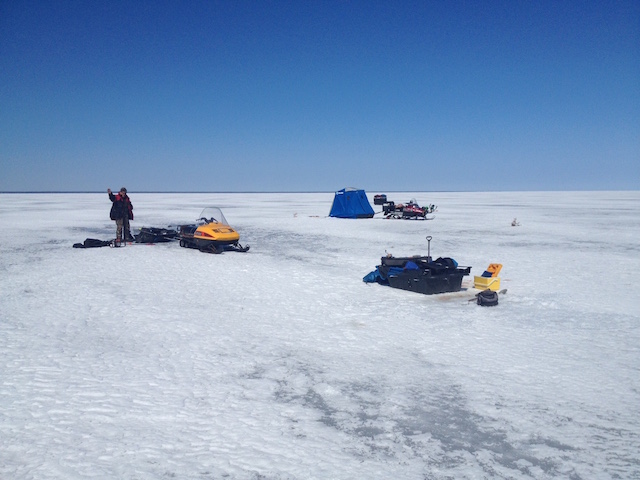 Holes were drilled and I started with Willy's new secret weapon bait. (It is secret so I can't tell you what it is). I had a couple of light hits on it and no fish so I went back to our standard gold pimple. It didn't take long and a fish hit and ended up flopping on the right side of the ice. Steve and Dave started to have hits and catch some fish. After I had a couple of fish on the ice I went back to the New Willy Secret Weapon. Holly Whuh, it worked! I did start catching fish on it. Steve and Dave started using it and fish were ending up on the sunny side of the ice.
After a couple of modifications to the secret weapon it really started to work. We quit fishing at 1:00 with full bags of fish.
The sun was shining. There was a beautiful blue sky with no wind blowing. The ice was good. The bags were full of fish and we had a super final day on the ice.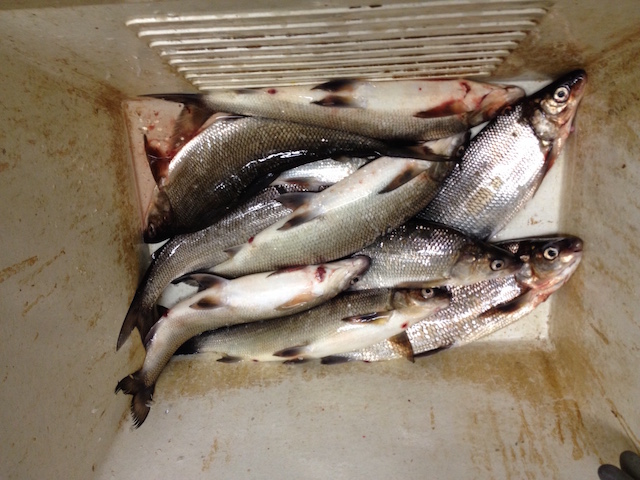 A pile of fish to clean.
Sunday, March 11, 2018
Too nice to stay home
The weather was beautiful but the whole crew was tied up doing things so I hooked up the four wheeler and headed for the lake. The sun was shining and there was no wind. I wanted to fish a few more shallow water spots. Holes were fished in 20 feet, 24 feet and all the way out to 35 feet with no success. I would cut a hole, fish for a half an hour and then move. Only three fish showed up on the fish finder in two hour, not good. I knew that there were fish waiting for me in one of our deeper water spots and since it was a beautiful calm day I headed out.
Holes were cut through the 30 inches of ice and the fish finder turned on. While I was rigging up my rod, I could see fish showing up. That was a real good sign. My line went down and I had a fish on within five minutes. It took less then two hours to catch a limit of white fish and one burbot. I packed up the sleigh and headed for shore by 2:30. Now I have to clean all those fish. Someday I will learn not to catch so many.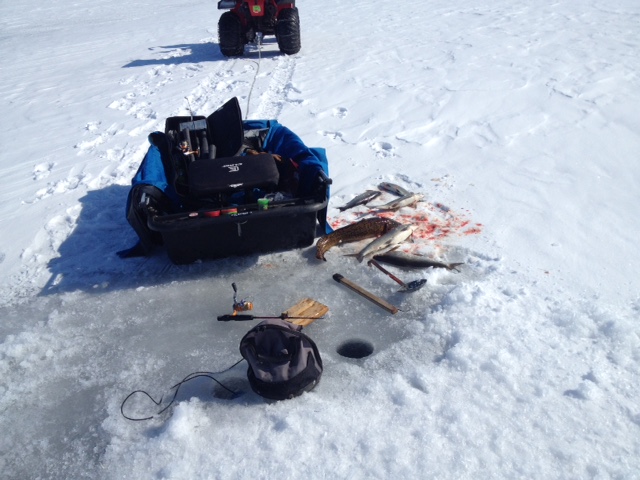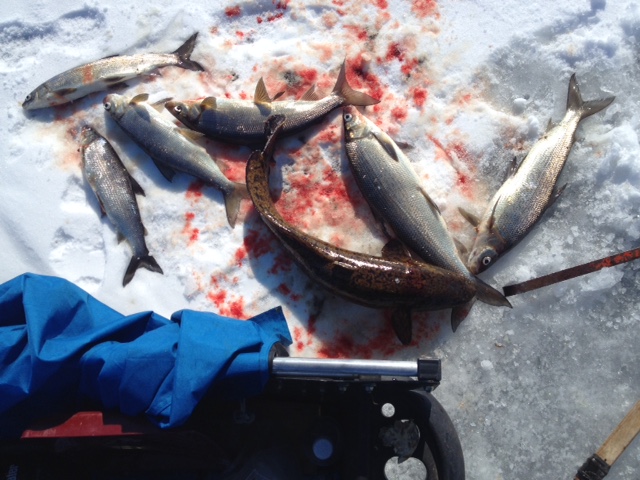 Friday, March 9, 2018
Shallow water again
We did so good in the 20 to 30 for water that we decided to try it again. The crack was snow covered so we had to probe it with an ice pick.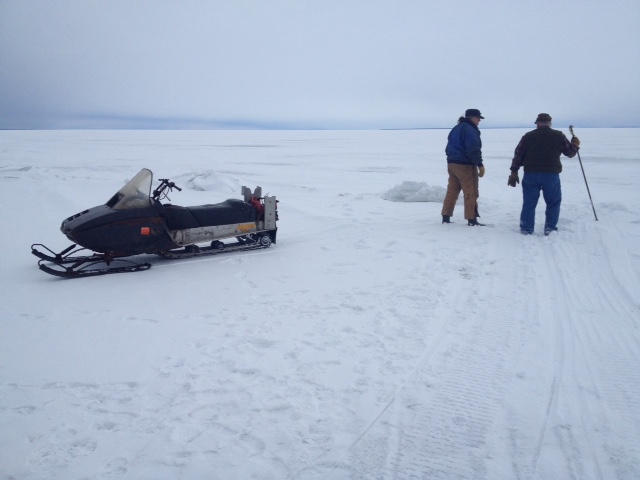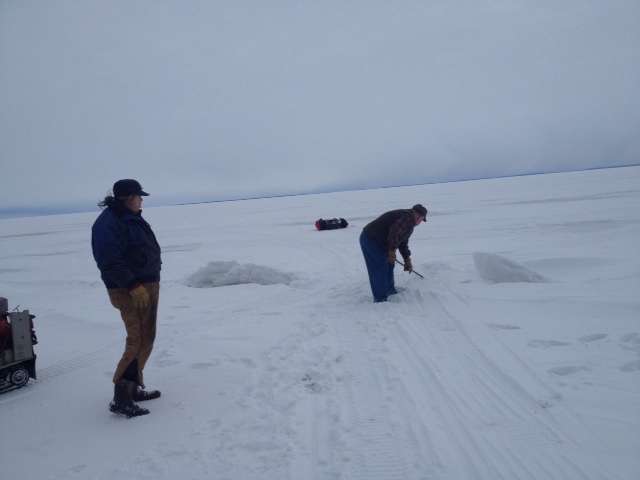 A crossing spot was found, the planks went down and we had no problem crossing it. The crew was Dave, Daves friend Larry,Steve, Willy and me. There were a few fish around but not like last week. We did catch a few fish as soon as we set up and then the action died. Willy took off looking for greener water but never did find a honey hole. He did manage to catch five fish while the rest of us caught 6 combined.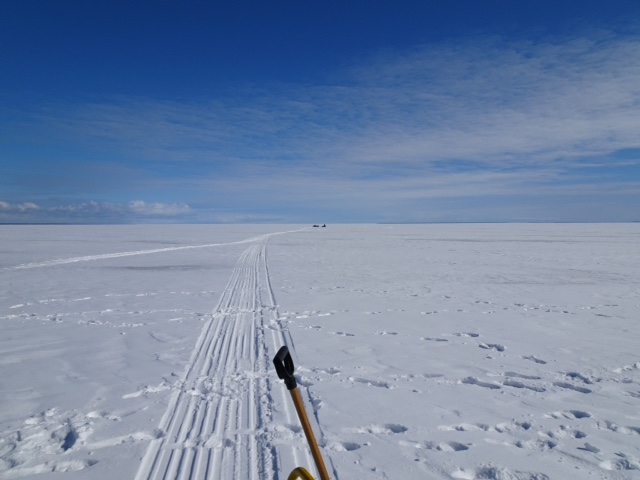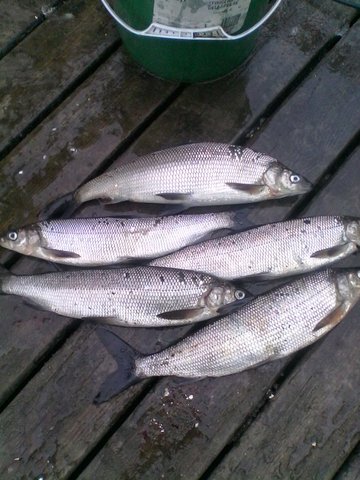 The crack hadn't moved so we crossed back in the same spot. All went well till the four wheeler got to the land side of the crack. There was some hidden slush under the snow and the wheels went into the slush and we were stuck. It wasn't bad as with some rocking and a push from me and Willy the four wheeler came right out and we were on our way home after a nice but not highly productive day on the lake.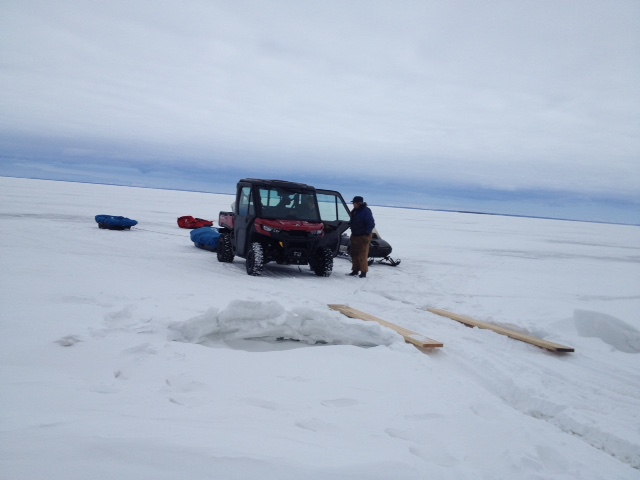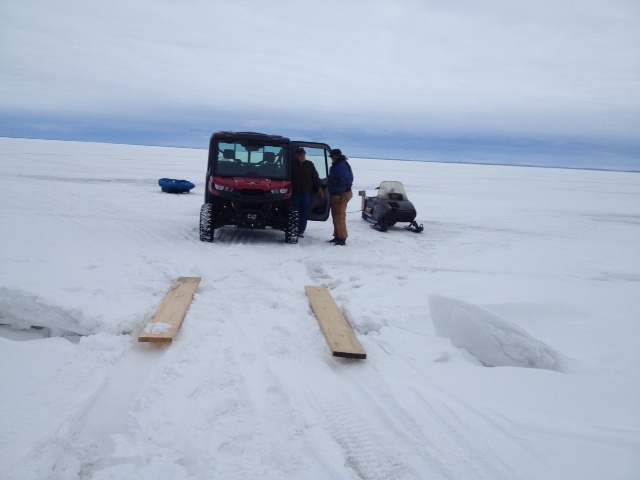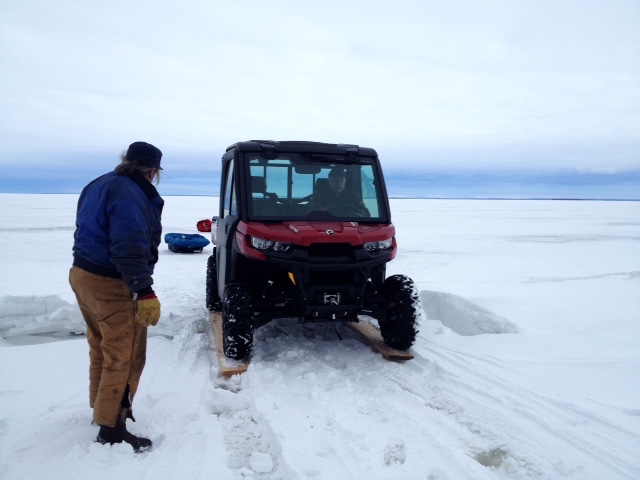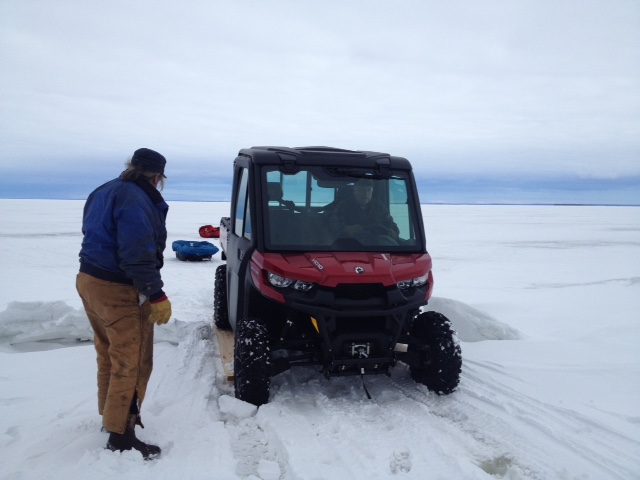 Wednesday, February 28, 2018
Close in trip
Willy had to go to the senior center for pasty day so he couldn't make it. He had fished the day before and caught a bunch of fish anyway. Todays crew was Dave, Steve List and me. The plan was to walk out and fish some shallower water because the thought of crossing the pressure crack on our last trip was still fresh in our mind.
I brought my four wheller just in case we could use it. The ice didn't look bad so we decided to take it out to the pressure crack. Steve was already out by the pressure crack. When we got to the crack it did not look bad so we crossed it and went out another quarter mile and set up in 24 feet of water. Fish showed up right away on the fish finder and it wasn't long till we had one on our side of the ice. They were stubborn though and it took a while to get a bunch. We ended up with 25 nice sized whitefish when we quit at 3:30. The weather was nice it was a good day on the ice.
Ohh, Steve has a hard time getting them to bite. When we left we discovered that he has a BANANA with him on the ice, proof that you should NEVER take a banana fishing.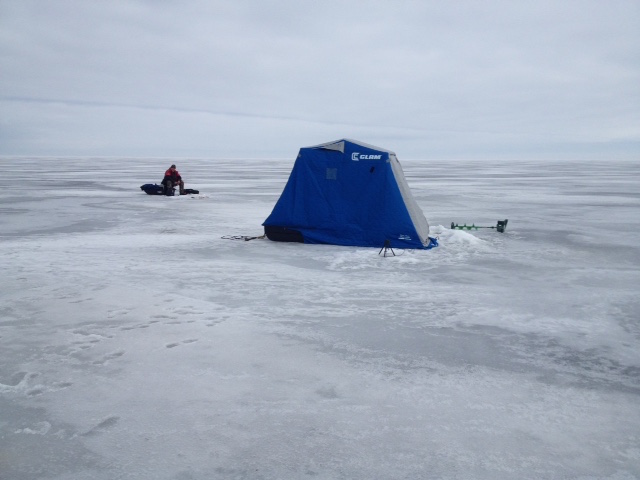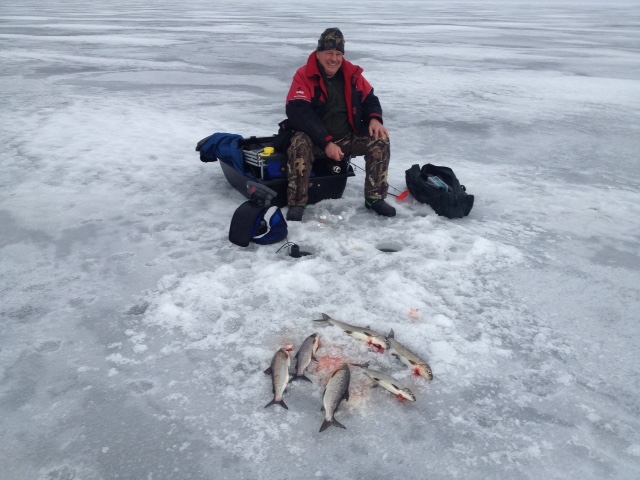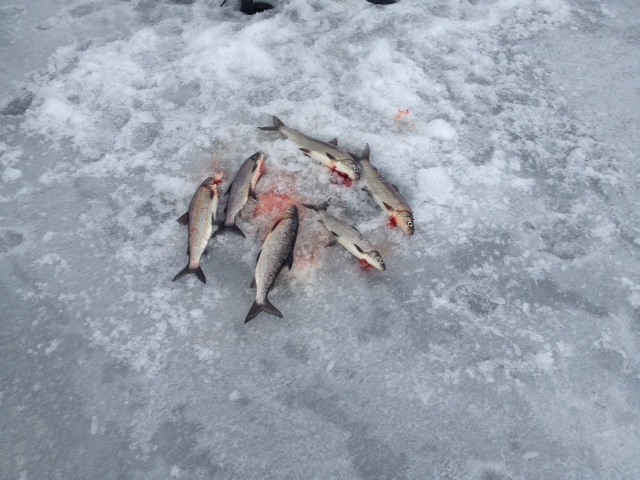 Thursday , Feb 15, 2018
Never make a prediction
The plan was to head out to deep water and catch our limit of 40 fish by noon. The crew was Dave, Steve H, Steve List, and myself.
We left from the launch site near 8:30. There was a shore crack showing up when we looked out over the bay. When we got near it it was ugly. The bay ice had shoved hard against the shore ice and pushed under it in some places and over it in others. Frank the local commercial fisherman said that it caused a little earthquake when the push occurred the day before. There was lots of water on the ice and in some places two foot thick pieces of ice were shoved up four feet.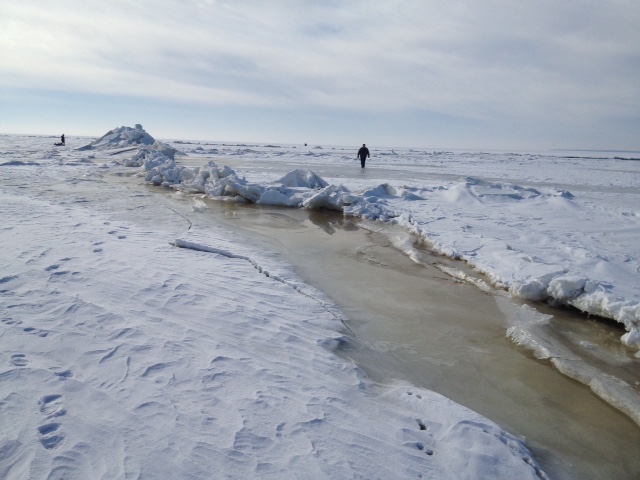 Bad crack, Dave looking for a place to cross
We went out to the crack and looked for a place to cross. We spent about an hour looking for a good place to cross. Everywhere we looked there were floating chunks of ice that were not big enough to support a four wheeler, we needed an alternative plan. There was another ice access site about a mile farther down the shore so we headed there. The crack was still ugly but we did find a place where we could chop the bulging ice down low enough to put down planks so the four wheelers could cross. That worked and out to the fishing grounds we went, now the question was, could we get back across on the way home.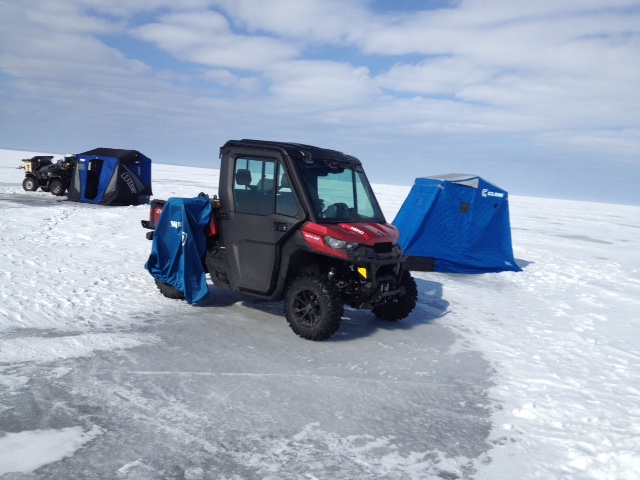 Snow on ice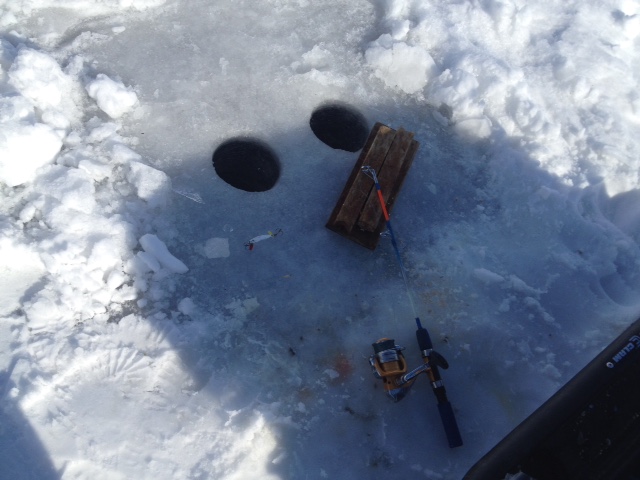 Rod used to catch whitefish
After all the excitement the fishing was just kind of anticlimactic. We all were catching fish and we did manage our limit by 1:00, not too far off our original plan. The fish ran a little smaller but there were some 19 to 20 inchers.
The ride back in went smoothly until we got back to the CRACK. Of course it had moved and our crossing was not usable. We found another place, out came the ice chisels and we cut a new hole. The crack crossing planks were layed down and we made it across to the shore ice with 40 fresh whitefish headed for the dinner table.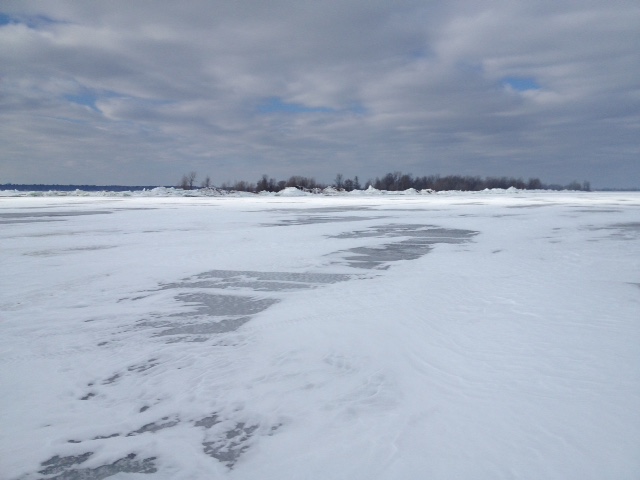 Shore ice pushup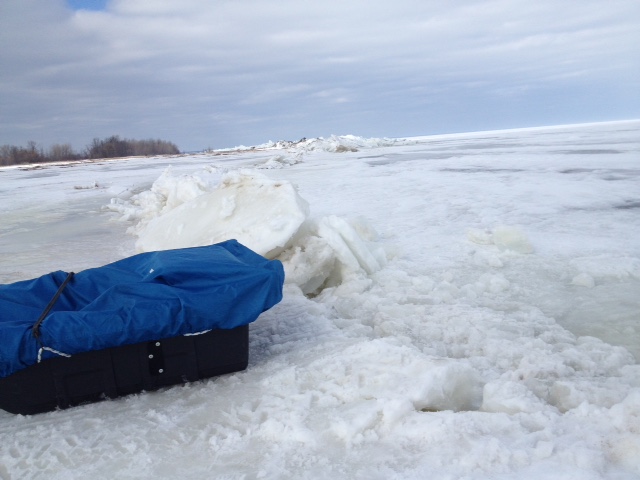 Chisseled down crack
Wednesday, February 7, 2018
No Willy, no adventures
I met Steve List, Dave, and Doug at the boat launch. The temperature was three below zero when we loaded up to head out to a deep water whitefish hole. The chosen depth was going to be between 75 and 80 feet.
The ride out was very cold, even with choppers on you could feel the cold creeping in. When our holes were cut, we ended up in around 80 feet of water. The depth finders showed fish right away. It didn't take long and Doug had a fish on the ice. I landed the next one. It took Steve and Dave a little longer but soon they had fish on the ice. The fishing was good and we had our 40 fish limit by 12:15, and we packed up and headed for shore. A very successful day on the hard water.
We had no adventures to report as Willy didn't make it, he had to go to the senior center and entertain the senior citizens.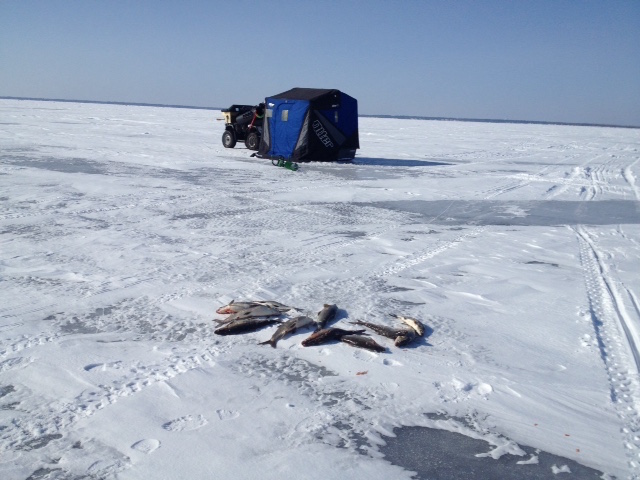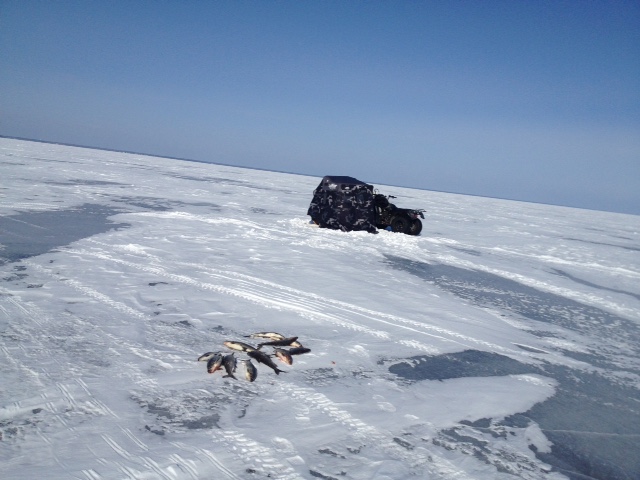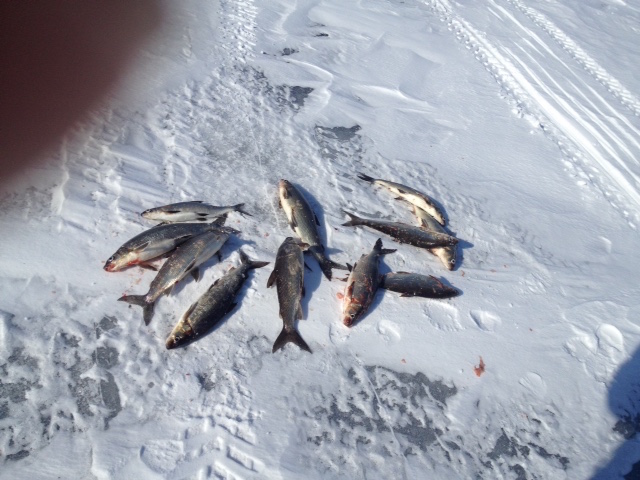 Wednesday, January 24,2018
Friends from Minnesota
John and Robin from Minnesota were here. We had a whitefish, bacon, and egg breakfast and that set us back a little so we didn't get on the ice early. It was probably about 10:30 when we set up out over deep water. There were lots of fish there and it didn't take long to catch the first fish. John was a rookie and he wasn't getting bit. His rod was to limp and baits too small for the deep water. After some tackle changes, he started catching fish. We ended up with 16 whitefish so it ended up being a good day.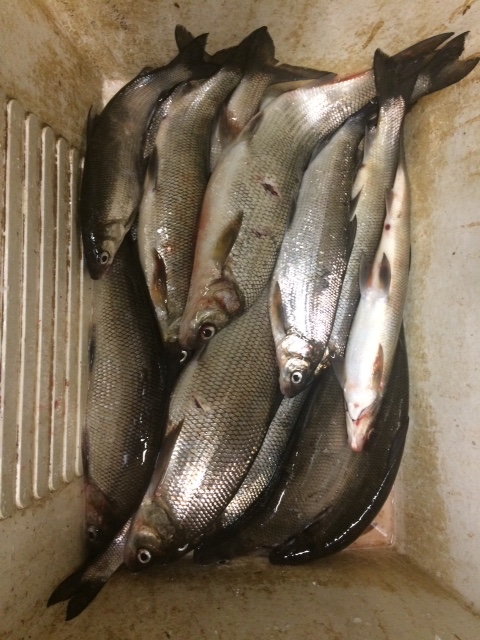 The pressure crack wasn't too bad. There was a little water on the ice so you had to carefully pick your spot to cross. Once across the crack the travel was very easy. The snow that was on the ice had been rained on and was froze solid. You hardly left a track as the four wheeler just skimmed across the river. The ice has shifted with the high wind so there are some open water cracks. Caution is advised when out over the big water.
The only problem we had was when the tow rope wrapped around the wheel of the four wheeler. It was a good thing we spotted it before it really damaged something.
All in all it was a good day out there but be cautious.
Thurday, January 18, 2018
Deep Water

I rode down with Steve. We met up with Whitefish Willy, Dave and Doug. There was a pressure crack about 1/4 mile out. I walked across it and checked it for thickness with my ice pick. It seemed ok so I motioned for Steve to bring the side by side across. He did and when he crossed the crack, the skim ice on the outside of the crack broke and Steve had to gun the machine through some water. Doug crossed next with no problem. Dave came next with his snow machine with Willy bringing up the rear. Here came Willy with just one problem. His sleigh with all his equipment wasn't behind his snow machine. His tow rope broke and the sleigh was half way back to shore. After some frantic waving, we got his attention and he noticed that he did not have a sleigh and he went back to retrieve it.
There was about 18 inches of smooth black ice with some snow drifts that were about 4 to 6 inches deep so travel was pretty easy. We ran out to a reef that we had fish two years ago. I set a "go to" course on my iPad and we soon arrived at our destination. Willy went out past us and set up at one of his waypoints. After half an hour my ham radio came to life with a call from Dave; he didn't have any fish yet. I had marked some but had none on the ice. Willy had two. We checked with each other in another half an hour, I had two, Dave none, and Willy eight.
It was cold and windy, (the weather service had predicted calm winds), but we decided to move over near Willy. Our shelters went up and we started fishing with much better results. I put my pasty on my heater to warm it up. The fish must have been watching because they didn't start biting until I was trying to eat my pasty. Every time I took a bite a fish would hit. I then had to put the pasty down without dropping it. My hand would slip off the reel handle because of the grease. The rod would hit the top of the tent and the line would get slack and the fish fall off. %*\#*+. I did manage to land a few while eating my pasty. The early afternoon bite was pretty good and soon we had lots of fish on the ice. Between the five of us we ended up with 50 whitefish. A very good day out on the ice.
Tuesday, January 8, 2018
First ice, Every dog has his day
We have had a cold spell at Christmas 2017. The ice is finally formed and we headed out on the ice of Green Bay. Since this was our first trip we went past Green Bay and headed up the Door County side of Green Bay. The crew was Steve Hadden, Steve List, Whitefish Willy and Dave Rittenhouse. It was 20 degrees, cloudy, and no wind. The parking lot was full when we got there. Our spot was about a mile off shore in 28 feet of water. The ride out was nice as Steve has a new side by side with a heated cabin, neat.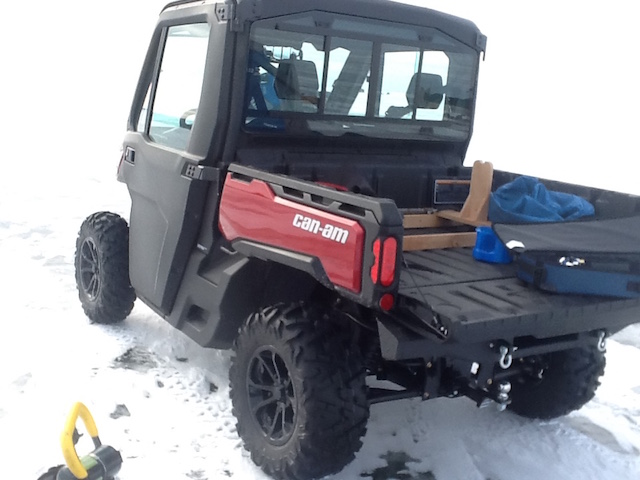 There was about 18 inches of solid black ice where we set up and fish showed up on the finder as soon as I turned it on. It wasn't long and Steve said, "there will be no skunk today." as he had a whitefish on the ice. Soon Willy went into action and started to catch fish. I was just sitting there looking at a blank fish finder. Dave got restless and went after last years fish a little further down the bay. Willy went over by him and Steve List set up a little way from Steve and me. Steve continued to haul fish while I was struggling. He has 5 and I had 2. He kept it up and soon had his limit, I was a little short of my limit and had to keep fishing. The best bite was from noon to 2 o'clock. We picked up lines at 2:30 with 41 fish on the ice between the 5 of us. Not bad for a shakedown cruise and we don't want to hear any more whining from Steve about the fish not bitting for him. That "Old Dog" outfished us all.