Link to HOME FISHING WITH WILLY 2011 FISHING WITH WILLY 2012 FISHING WITH WILLY 2013FISHING WITH WILLY 2014 FISHING WITH WILLY 2015 FISHING WITH WILLY 2016 FISHING WITH WILLY 2017 FISHING WITH WILLY 2018
Friday March 29. 2019
Final final trip
Steve List and I met up at the launch. The pull sleigh was my choice today. It is a tall narrow sleigh designed by Whitefish Willy. The runners are bent conduit welded to a frame with a plywood box, painted blue attached. The runners have some red nonstick plastic on the bottom and that make the sleigh tow effortless across the snow. The conditions were great going out as the temperature was hovering around 20 degrees. There wasn't a cloud in the sky as we headed out to the same holes where we fished earlier in the week.
It was warming up so we were able to sit outside in the sunshine. There were fish marks as soon as we put the fish finder on. The lines went down and I caught a whitefish in the first 10 minutes. Soon Steve caught one. Then the whitefish left and there were other fish marks, they would follow your lures, come up to the swivel but they would not bite. I had taken all my light rods and lures out of my sleigh so I had to borrow a small lure from Steve. I settled on a #3 pimple and baited it with a wax worm. It didn't take long and up came a smelt. The mystery was solved. There was s large school of smelt under us.
We both had things to do on Friday night so we quit at 1:00. The ice had softened up on top and now you had to pick your path through the pockets of slush. You could stay on top for ten steps and then you would break through the night ice layer into the 4 inches of water that was under it. It made for a slower pull in. This will be our last trip out as the ice is deteriorating fast and the water and slush will be working on softening the ice below. We left the ice with 3 whitefish and 4 smelt in the fish bag. Time to get the boats ready.

Tuesday, March 26, 2019
Return of The Master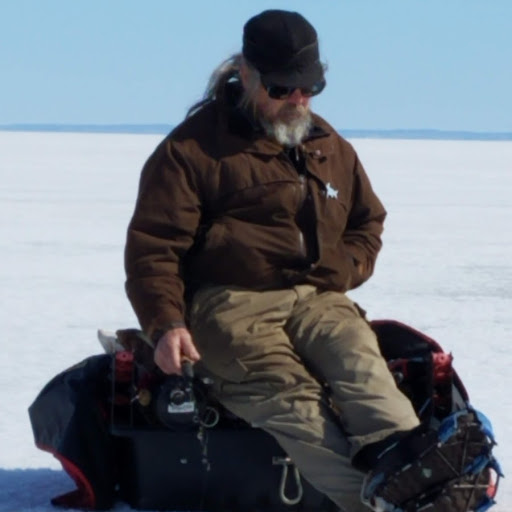 THE MASTER
We did a walk out trip. The crew was Dave, Joe, Steve L, Whitefish Willy, his dog Abby, and me. Steve and I fished in 25 feet by a hole that we had marked with a spruce branch. Dave and Willy started in shallower. It didn't take long and Steve and I both had fish on the ice. Eagle eye Willy spotted the fish flopping on the ice and they soon joined us. Willy fished with us for a while but the lure of finding a better hole was too much for him. Off he went, and soon he found a better spot. We all picked up and went out to join him. Willy, the master, ended up with 6, I ended up with 2. The formula still works, I take the number of fish that I have, multiply by 3, and that is how many fish Willy has. We ended up with 10 fish, our rookie, Joe had two on but has yet to land one. He pointed out that Willy came back from his wandering and fish in s hole that He had fished in all day and not caught anything in that hole. Willy pulled three fish from that hole in an hour.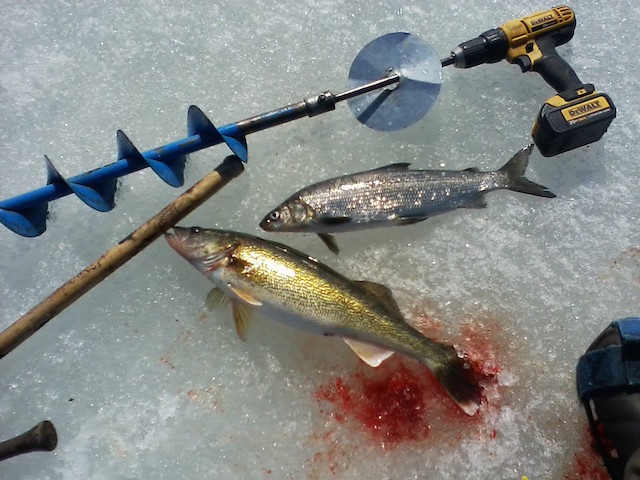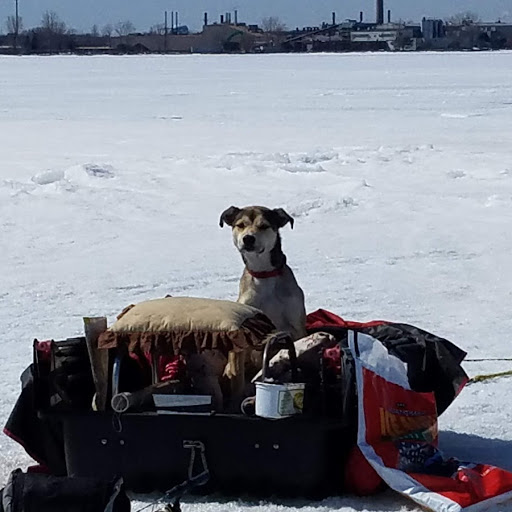 Abby in Willy's sleigh.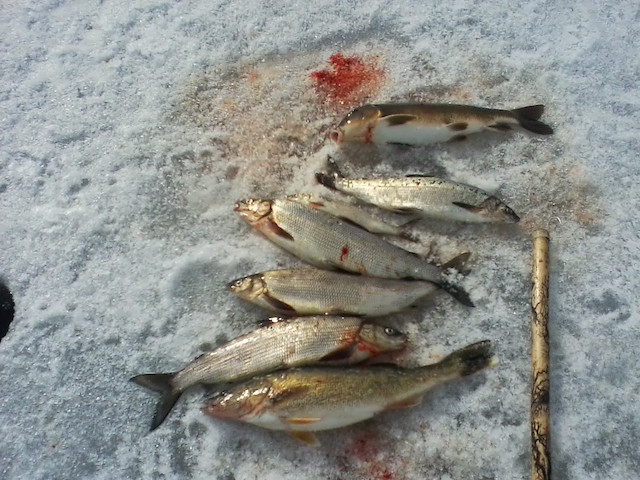 The masters catch on the ice.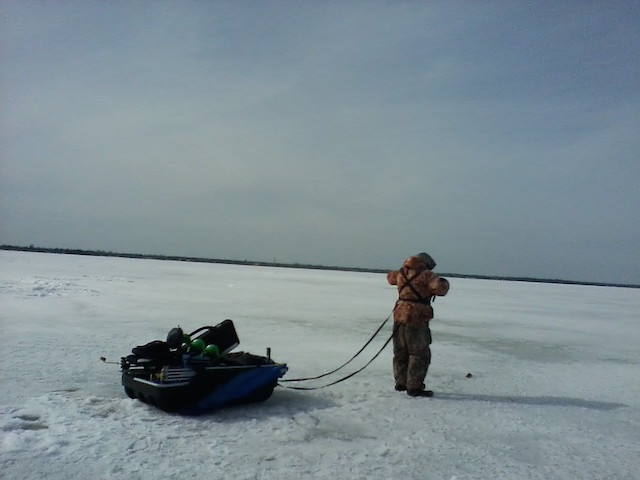 Steve in his towing setup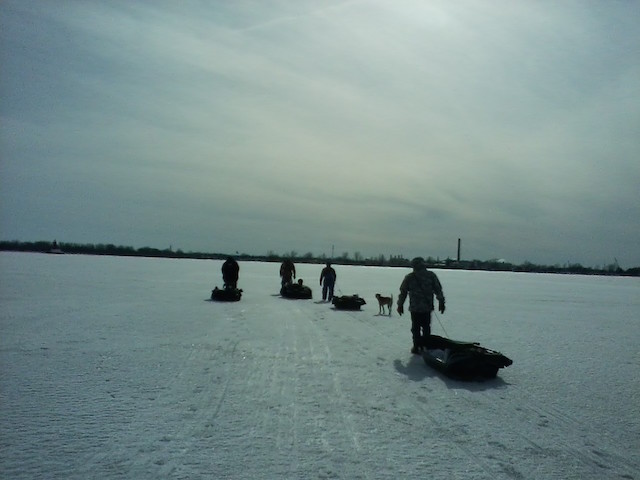 Heading home, last trip?
We headed in at 3:30 after another day out on the big water. The ice surface had softened up a little with the warmer weather and that made the pull in a lot harder then the trip out. This could be our last trip.
Wednesday, May 20, 2019
Close in try
Still nice weather and hard water. Steve, Joe (the rookie) and I decided to fish the shallows again. It had been cold that night so the surface of the ice had set up to a solid surface. That made for easy travel for our snow machines.
When we got to our launch site there were four other tents set up out on the ice. This was the first time this year that we saw other fishermen trying their luck. Steve went out first and was out on the other side of the pressure crack waiting for us. Joe and I made a detour out to the other fishermen to see what they were catching. The reports were not good as they didn't have any fish on the ice so that wasn't a very encouraging sign. Not to be discouraged we headed out to another area that had held fish two years ago. Steve, Joe and I spread out on a reef to see if anything was around. My fish finder showed a few small fish cruising by and then came a larger mark that looked like a whitefish. He hit but I lost him fit at the hole. It was a large whitefish, an encouraging sign. Soon a couple more came by and I finally got one on the right side of the ice. Steve and Joe moved over to get into the fish. We ended up with 6 fish for the day. Steve had one that measured 22 inches, his largest for the year.
We hope the ice holds so we can come back next week.
Monday, March 18, 2019
Good ice
The ice conditions were excellent as Dave, Steve and I left the shore. The overnight temperatures of 15 degrees froze the pooled water and soft snow that was on the ice. Ice creepers were a necessity as glare ice was prevalent. The snow machine had trouble steering across the sheet ice but was good once you hit the patches of snow.
After a short ride we found our old holes and set up. For a short time we were able to sit outside in the sunshine. Dave and I are working on our contractor tans, dark tan on hands and face, all other parts white. It didn't take long and we started to catch some whitefish. A pattern seems to be emerging, slow in the morning but it improves over time. Our new theory (every theory that we have ever had has not held true) is that catching fish gets them excited and other fish move in to see what is going on. They in turn bite and that attracts more fish in. We will see over time if this theory holds true.
We limited out at about 2:30 and headed back to shore a couple of happy fishermen.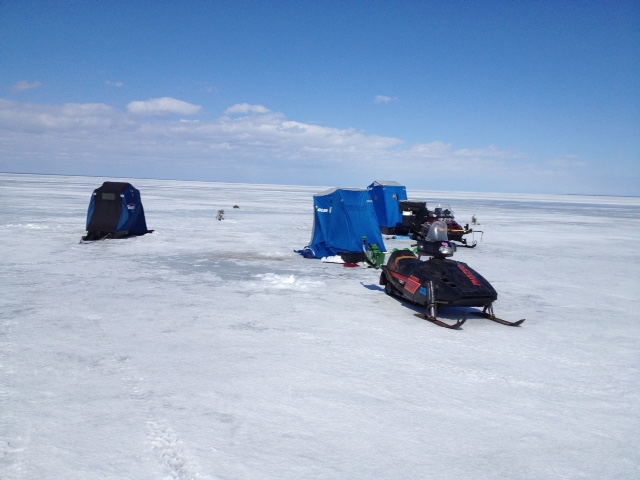 All that water and we fish one spot.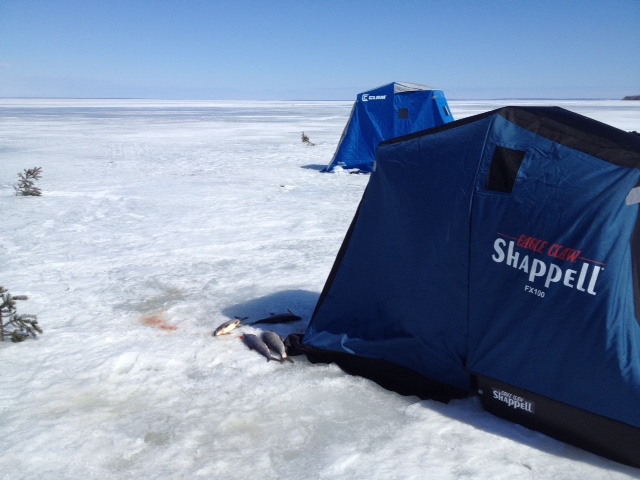 Dave's tent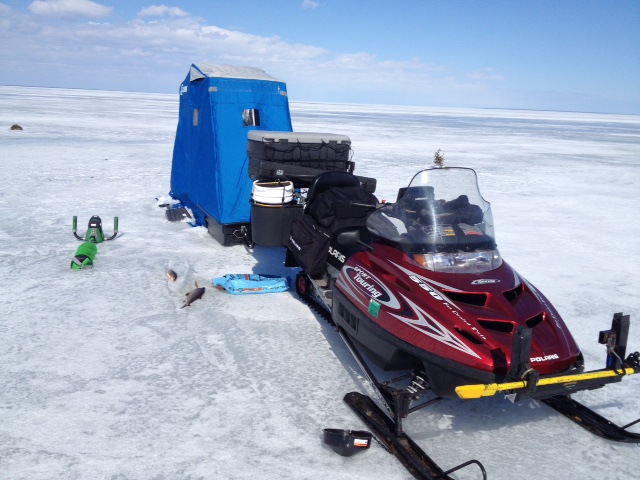 Steve's tent and snowmobile.
Tuesday, March 12, 2019
Still good ice
A high pressure system was moving in and the temperatures were forecast to get into the 40's. Dave, Steve List and I took the opportunity to head for an offshore reef in Green Bay. There had been one day in the 30's and then the temperature dropped to 5 degrees so there was a nice crust on top of the snow. Our snow machines made easy work of towing our sleds out to the fishing hole. We set up in 80 feet of water and down went our lines. We each caught a fish in the first ten minutes. That was a good sign. The action came in spurts. Dave had the hot hand and could do nothing wrong. Steve and I had to work at it and soon the fish bags started to fill up. We filled up with our limit of 30 fish by 2:00 and headed for home.
The trip in was uneventful with Dave and Steve leading the way. The skimmed across the pressure crack with no trouble. A little slush showed in their tracks and me, the inexperienced snowmobile driver, slowed down so the machine wouldn't throw slush up onto my sleigh, bad idea. I bogged down into the second slush pocket, there I sat. I called Dave on the phone and he came out and pulled my snowmobile out of the slush. Lesson learned, never slow down for a slush pocket. Rain is predicted, we hope this doesn't wreck the ice.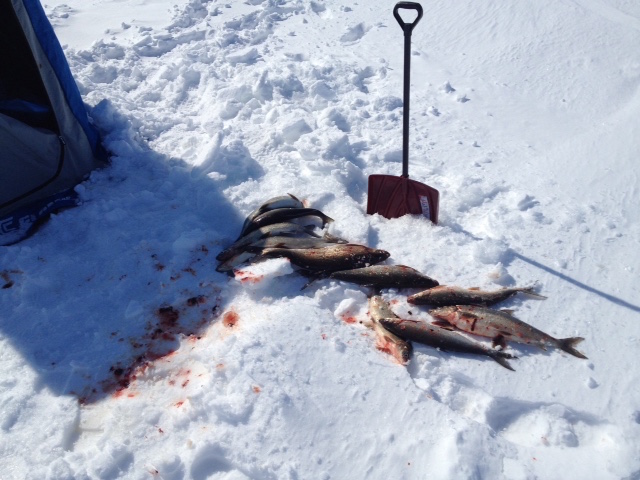 10 fish on the ice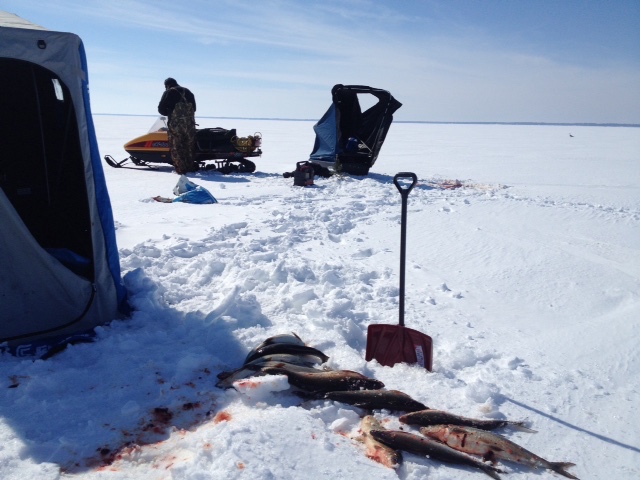 Dave's tent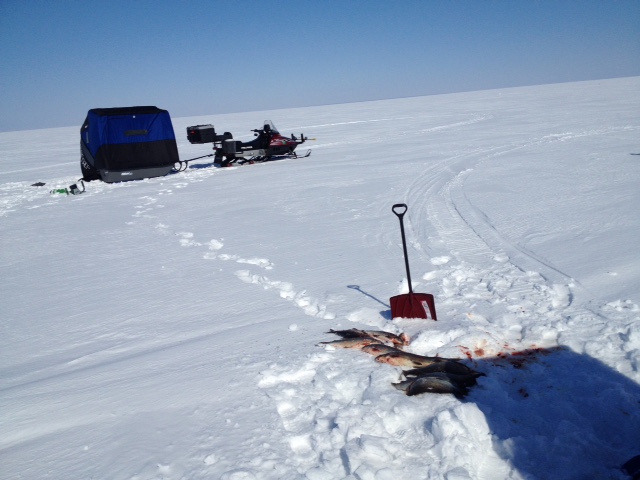 Steve's tent and snowmobile.
Thursday, March 7, 2019
Skunk, almost
With only two snowmobies, Steve List and I decided to try the shallow water. We were not to sure about the ice conditions and didn't want to venture out to our honey hole. The ice was fine however with about an inch of snow over 3 inches of ice, an inch of slush under that, and close to two feet of solid ice under that. Our first holes were in 27 feet of water, after an hour nobody had a hit so we moved to the top of a reef and tried there. Steve caught one "green slime" walleye off the reef and I had one hit. We didn't see any whitefish on the fish finders so we moved off of the reef to 30 feet. There were a few whitefish marks but they were scarse. Joe had one fish on, Steve and I never hooked a fish. We bunched it at 1:30 and decided that next trip will be out to deeper water. Even without catching fish it was a nece day on the ice. I sat for a couple of hours in the sunshine just soaking up the sun. Watch out fish, we will return.
Thursday, February 28, 2019
Same Hole, Different fish
The crew was Dave, Steve List, and me. Steve H would join us later. We headed out to the same holes that we fished the last week. There were spruce tree branches marking the spot so it was easy to find them. The travel conditions were not bad, about 10 inches of snow and it had set up some from last week and that made pulling a sleigh easier. There were a couple of slush pockets that I skimmed right over but the heavier snow machines sank in a little.
When I cut my hole I found out that there was close to two foot of ice and with the snow cover my auger just barely made it through. (Note to myself, pack the auger extension for the next trip). I got my tent set up and dropped my line to the bottom. I jogged it three times and hooked a fish. It turned out to be on the small side, about 17 inches long. A week ago the smallest fish was around 18 inches. Dave soon and a fish on the ice. We thought this was going to be easy, well guess again, the fish were there but not biting good. We would feel fish but they wouldn't stick on the hook. It was just like last week with the morning a slow bite but then in the afternoon they started hitting. Dave couldn't do anything wrong and the fish just kept hitting for him.
We fished till 2:30 and tossed a couple back because everybody had all the fish they wanted. The total for the four of us was around 35 fish. It is hard to keep an accurate count once you start throwing some back.
The slush pockets seemed to be a little worse on the way back so that could be a concern on future trips. We will find out some time next week after it warms up a little.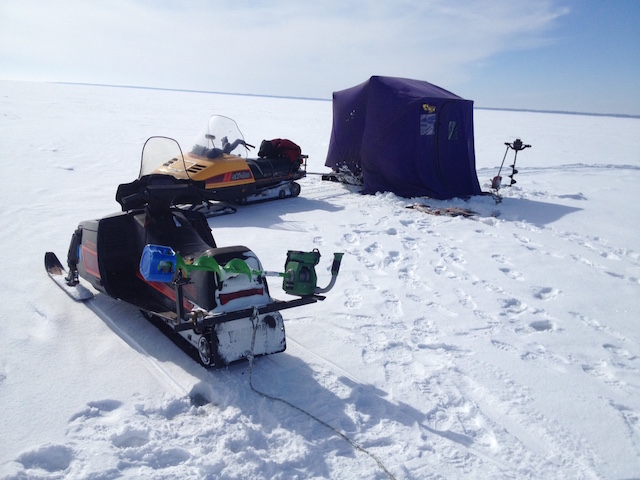 Note the pile of fish on the ice by Daves tent.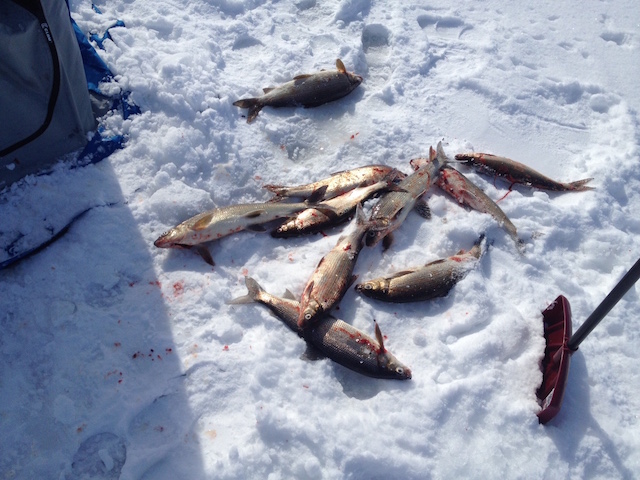 fish on the ice by my tent.
Friday, February 22, 2019
Big Water
Finally a nice day after lots of snow and cold weather. It was a good day to try out my new $300 snowmobile. We hit the boat launch about 9:00. Today's crew was Steve, Dave, Tony (the rookie), and me. There were four snowmobiles so we decided to hit an offshore reef that is about three miles offshore. There was about 6 inches of snow on the ice so the traveling was easy. There were a couple of slush pockets but the snowmobiles went right over it.
Holes were cut and the water came up about 2 inches onto the ice. There was plenty of snow to bank your tent. Action was slow most of the morning. Just after noon it picked up. I was doing good and gave Steve a new bait to try. It wasn't working for him so I took a walk over to his tent to see what was going on. The new bait requires a different jiggling technique so he gave me his rod. I said "you have to do it this way". A fish hit within three seconds, a good demo. He learned quick and started to catch fish. Our rookie, Tony, was having fun fishing but not catching. It took him a while but he finally caught fish. Dave said that "he is a virgin no more"
We wrapped it up and headed for shore around 2:30 with 37 fish between us.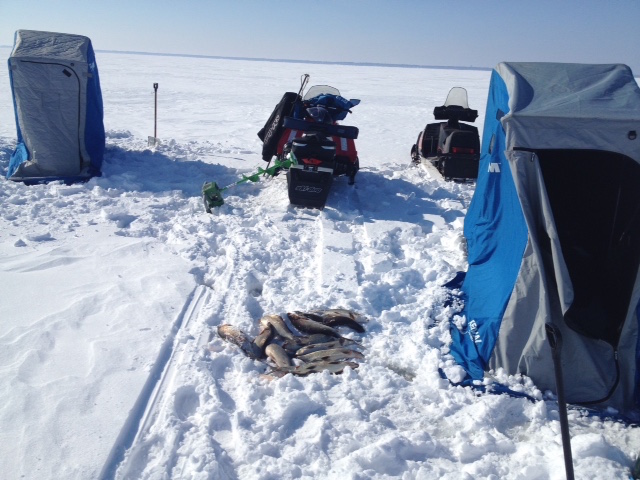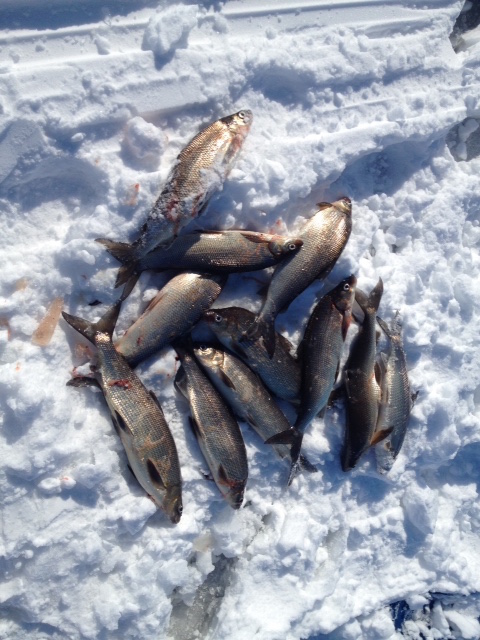 Monday, February 17, 2019
Finally on the ice after a stretch terrible weather
I called Whitefish Willy and found out that he was out on the ice fishing. He had 4 on the ice. I had just come in from shoveling off the roof and knew that the weather was nice. That did it, I loaded up the fishing gear and headed for Green Bay. I was in Menominee at noon and on the ice soon after. My holes were cut in 12 foot of water, a few feet from Willy's and the rods were rigged, guess what I forgot my wax worms that I was going to use for bait. Time for plan B, rubber bait, otherwise know as Berkly Gulp. The line hit the bottom and it didn't take long and I had a fish on. I lost it. A couple of minutes later another fish hit and I lost that one too. How soon you forget how to ease the whitefish up from the bottom. Soon I landed one, Willy was catching them too and it was the middle of the day. You never know when they will bite. Willy ended up with 6 whitefish and I ended up with 4. Not bad for a short afternoon trip.
Monday, January 21, 2019
Back for another try
Dave, Steve List, and I headed down to Green Bay for another try at the elusive whitefish. The famous Whitefish Willy had fished the same holes that we fished on Monday and caught four nice whitefish so we knew they were there. Willy can catch them out of a toilet bowl so that was now surprise. It was -3 degrees when Dave picked me up. The temp had risen to a plus 6 when we got to our fishing spot. Steve was already there and set up on the ice. The two man tent was unloaded and towed out to the same holes that we used last Tuesday. The ice thickness was about 8 inches this week. With the below zero overnight temperatures and the sun on it in the morning, the ice was restless. You could hear it booming all day and one ice quake hit close to us and that caused the ice to bounce up and down in your hole. The crack about 50 feet from us had shifted and there was now 4 inches of water on top of the ice near the crack.
It took a while to see any fish on the fish finder and we were talking about moving. Then a couple of marks showed up and Dave hooked a whitefish. The fish kept coming by but they were not biting. Typical for whitefish. Then Dave caught another one. Then Steve caught one. I had a few bites but couldn't hook one. You have to learn how to hook whitefish all over every year it seems. Finally I caught one. We ended up with Dave 3, me 2, and Steve 1.
It turned out to be a very enjoyable day on the ice with temps near 20 with no wind and sun by the time we left the ice.

Tuesday, January 15, 2019
First trip for the winter.
Dave and I headed to fish on the early ice. We fished the mouth of a river in 10 feet of water. We marked quite a few fish but caught zero. I had three bites and Dave had one. We should have had the master, Whitefish Willy with us. He went on Thursday, fished the same holes and caught four fish. This is a typical start for the year, Willy catches fish and we have to learn all over how to catch them.