---
By Charlie at Pasty Central on Monday, February 3, 2003 - 12:07 pm:

<!-NOTE: Message edited by 'admin'-!> Jon,

Thanks for the report.

In our family we've been split over the appropriate condiment for the pasties: I live gravy, too, but my wife likes ketchup. That changed recently for both of us as we were introduced to Toivo and Eino's Really Secret Pasty Sauce. It is tomato based, looks like ketchup, but has a secret blend of seasonings which really brings out the flavor. I notice over on the contest page this month Pasty Central is giving away 2 bottles to some lucky winner.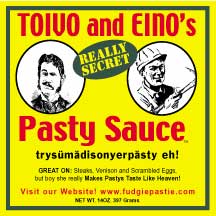 ---




Check out today's Pasty Cam.

<!-/Post: 16585-!> <!-End-!>