---
By Charlie at Pasty Central (Chopper) on Sunday, December 16, 2012 - 08:45 am:

Enthusiasm for our "Toast to 2012" has also brought out some new Shoebox Memories, this week from Daniel Young, a frequent visitor to the Keweenaw:
My name is Daniel Young, originally from Cincinnati and still living in Ohio. I check Pasty Central first thing every morning.

My first trip to the Keweenaw was 1961 at the age of 14. I was part of a group known as the Buckeye Boys and we stayed in the old mining boarding house out at Delaware, which we renamed as "Buckeye Barracks". (Here in) 1961 I was 14. We were celebrating Keweenaw's Centennial that Summer... Therefore the flag pennants:

I have been in love with the Keweenaw ever since, as have so many others. Have made in the neighborhood of 80 trips up there over the years. All but two trips were in warm weather - '92 and '93 . I have literally hundreds of Pics from these trips but have not taken the time to scan them and submit them to Pasty Central. Decided to make an exception for your winter pic request.
Thanks alot, Daniel, for a great U.P. Shoebox Memory, and entry into the drawing for Trenary Toast at the end of the year.

By the way, today may be the last day to order pasties, to try and get them delivered before Christmas. Also, it looks like the old pasty counter may turn over 700,000 today! Here's what it showed as I posted this note: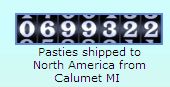 Have a good week :o) <!-/Post: 122662-!> <!-Post: 122663-!>