---
By Charlie at Pasty Central (Chopper) on Wednesday, November 26, 2008 - 05:45 am:

Stop the presses, Mary...

The third shot is even more recent (yesterday afternoon). For several years Mary Drew has been getting the pictures ready a day ahead, and I do the final publish each morning. Between early Monday and Tuesday afternoon the price at Holiday on US-41 dropped another 6 cents! Edie and I were impressed that the old Kauppi sign (which had looked so low this summer compared to $4+) now actually seems on the high side :o)

By the way - a little trivia - you can barely see Edie in our Ford Explorer next to the Holiday sign in the third photo above. It just so happens, Edie also appeared on the Pasty Cam 10 years ago today, when she and I took a snowless walk through the woods between Camp Gitche Gumee and the Lake Superior shore.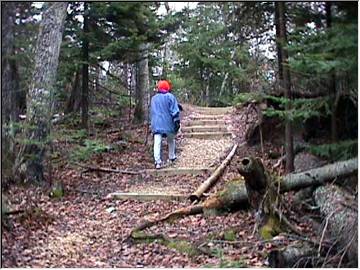 <!-/Post: 77097-!> <!-Post: 77099-!>