---
By Charlie at Pasty Central (Chopper) on Saturday, June 2, 2007 - 07:02 am:

<!-NOTE: Message edited by 'admin'-!> From yesterday's visit to the humble Phoenix Store, we jump eastward to revisit the luxurious Grand Hotel. The island is heating up with the arrival of flocks of visitors, many for their first time in the U.P. We hope they will have the opportunity to discover the rest of this enchanting peninsula, from St. Ignace to Ironwood, Marquette to Iron Mountain, the Soo to Escanaba. And of course, no visit to the U.P. would be complete without a stop in the Copper Country, where the Pasty Cam originates each morning.

Our discussion about lilacs on Thursday's What'sUP reminded me of the sea of color which surrounds the Grand Hotel this time of year. The whole U.P. undergoes such a radical transformation from April to June, and the again from September to November. Too bad the vast majority of short term visitors pass through Upper Michigan during the period between these amazing days of change, for the most part because of schedules dictated by the school year.

Our thanks to Daryl Laitila for her panorama of the Grand Hotel, and to Jon Jacobson of PictureMichigan.com for more scenes from the Straits.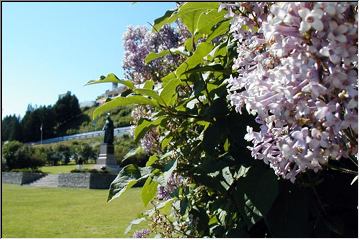 You might also remember my slideshow of Mackinaw Island at lilac time - Daryl <!-/Post: 53374-!> <!-Post: 53378-!>