---
By Charlie at Pasty Central (Chopper) on Friday, September 8, 2006 - 10:07 am:

Edie and I watched the moonrise here in Eagle River last night. It floated up over Crestview, the ridge back up behind the Eagle River Falls. It was a cloudless sky and a windless night, but this morning we awoke to the gales of November come early, and a landscape soaked in much-needed rain. We had several power failures overnight in the Keweenaw, which is why the dark webcams.

Thanks for everyone's patience in waiting for the re-opening of the Hut and Pasty Central Express. It has been a long and winding road in our effort to restore this acclaimed landmark. This week we received approval to begin baking in the new USDA inspected kitchen, the building behind the Hut, where the old motel used to be. This weekend the pasty delivery schedule will be posted, along with reactivation of the online order form.

Not much longer now :o)...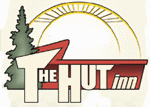 <!-/Post: 40638-!> <!-Post: 40643-!>