---
By Charlie at Pasty Central (Chopper) on Thursday, March 2, 2006 - 08:18 am:

Perhaps the fact that March 1, 1998 fell on a Sunday had something to do with giving birth to the Pasty Cam, being the start of a new month and a new week. After posting the snowmobile rescue photo (see yesterday's What'sUP), Jonathan brought me this shot of the Delaware Mine sign which used to be on the old Philipsville building. So for the second day of our brand new web project we published this image, taken right at the entry-way to Keweenaw County on US-41.

The most notable thing about our conversation 8 years ago today was our discussion about the name. What would we call this new daily feature? Back in those days there were very few live webcams, just beginning to appear on the 'net. The idea of a 'cam' seemed significant to us, having an 'almost live' picture update each day. And the fact that our website name was pasty.com suggested the 'Pasty Cam'. Perhaps the sign on the second day, advertising a Keweenaw attraction prompted us to add the word 'Keweenaw' in the title. Thus, on the second day of this feature, its official name became, "Keweenaw Pasty Cam".

As the years would come and go, and the scope of this daily feature grew to include other areas of the U.P., it would most often be referred to as simply "The Pasty Cam".

...to be continued.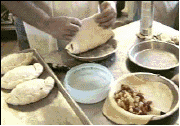 <!-/Post: 31483-!> <!-Post: 31485-!>