In 1994, after several years of negotiating with the owner, a group of local citizens raised the funds necessary for the Charter Township of Calumet to purchase the former St. Anne's Church. Calumet Township is the fiscal agent and insurance carrier for the building. The Township has delegated fund-raising, development and operation to the management board of the Keweenaw Heritage Center at St. Anne's.

The building is being adapted to serve as an educational and cultural center. It is available for the celebration of life events and for meetings and conferences.

As of 2011, approximately $1,100,000 has gone into the rescue and restoration of the building. More than half of that has come in donations from individuals or businesses. The stained glass windows were a major cost in the restoration. Some of the American Opalescent glass had been broken and the lead holding panes in place had deteriorated. In 1999, some were repaired on site; some were removed and sent away to be restored. The windows are a part of the beauty that has been a tradition in the heritage of the Copper Country.

The Center has also been fortunate in receiving generous support from foundations and arts associations. Without those gifts and the gift of time from hundreds of volunteers, the building would not have survived to become as asset to the community.

To promote long-term stability, the Keweenaw Heritage Center is working toward creating an endowment fund at the Keweenaw Community Foundation. Contributions to the endowment fund are tax-deductible as are contributions to the Keweenaw Heritage Center through Calumet Township. This is a building that can thank people who value heritage and work toward preserving it.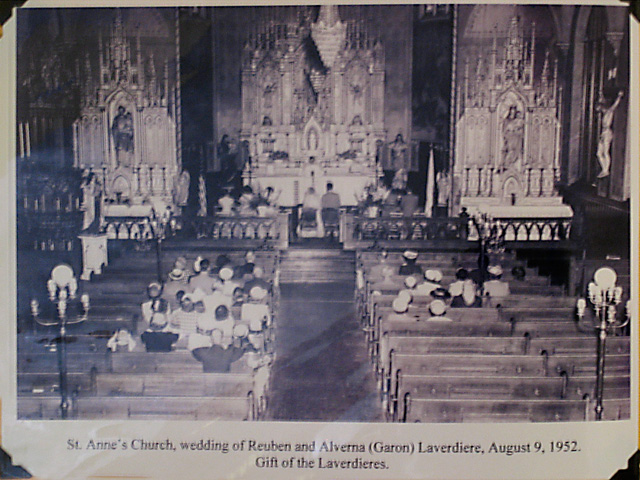 Photo showing the interior of St. Anne's as it appeared in 1952