Link to HOME, OLDER FISH REPORTS
Friday, July 29, 2022
A new boat
Our nephew's father in law, Mike Gatzow has a new boat and we headed out to get the floor bloody. The other guys were going golfing, they missed a good trip. We ran out and set lines at 85 feet. One downrigger didn't work right because Mike had replaced the cable with power pro. The old cable had been lost in an abandoned indian gill net. The problem with that is that a Cannon Downrigger requires a conductive cable for the auto up to work. We also had to play with the releases because they were not set up to trip on smaller trout. We hit the fish in 110 feet and we did drag a couple of fish. That didn't matter as we caught our 10 trout by noon. We needed them because we needed enough fish to feed the 17 people at fish camp. The boat ran good and we did manage to get the floor bloody. Everybody enjoyed the fish fry of fresh trout cooked on a charcoal grill too.
Tuesday, July 26, 2021
They moved

Lac La Belle was glassy calm so Lucy the dog and I hopped into the Namacush and headed out. The big lake wasn't bad when we cleared the breakwall but it changed by the time we got east of the green can. The farther out we got the rougher it got. I almost turned back after a couple of waves came up on the deck but we were almost to our starting place. The fish have been bunched up on some drop offs in 130 to 140 feet of water but they were gone. I trolled the entire reef and only caught one trout. Since the channel was down wind the boat was pointed towards home and we headed in. When we got into 120 foot of water and there they were. They have moved shallower and they were bitting. I had a couple of single line doubles and the box was full. Nice eaters, most about 20 to 21 inches long.
Wednesday, July 13, 2022
Class of 63
Gene Bach and Paul Mohar, two of my high school classmates came to fish today.
I called each of them last night and said that the boat leaves at 9:00. Both of them said, "Why so early ". I guess they are running on retirement time too.
The boat left the dock a little after 9:00 and we ran out to 135 feet and set lines. I wanted to get the lines down before we hit last weeks hot spot. We got one trout in the first half an hour. Then we got to the drop off and started to mark fish and catch them. We couldn't keep two lines in the water. We made one pass down the drop off, one trip back, turned around and we had our 15 fish in the box. It took a little under two hours to fill the box. The water was calm with nice sunshine to make for a beautiful day on the water.
Never leave fish to find fish. from Alaskan fishermen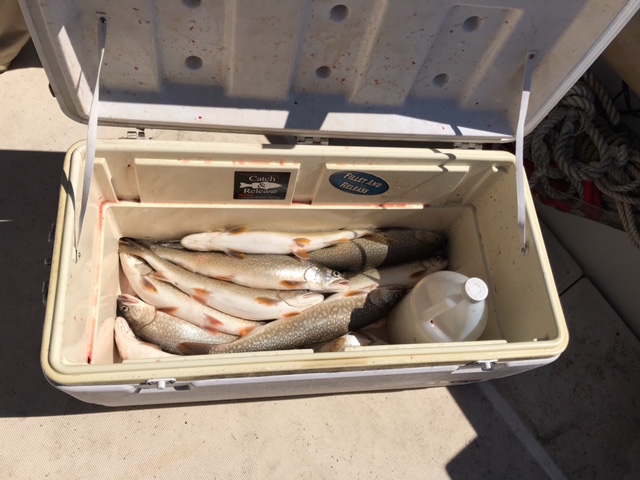 Tuesday, July 5, 2022
A Tangled Tale
Was a nice afternoon so I decided to take the Red Boat out to do some trolling. I mounted the downrigger on the boat at the dock just to save time when I got to the fishing grounds, good plan right? Lake Superior was a little choppy when I got a mile or so off shore so it was slow going. The GPS showed that we were in the right spot and I went to put the downrigger down. The cable had flipped off the spool and was tight around the shaft so I worked on that while the boat drifted. Finally the downrigger was ready to go and the cannon ball was on it. Next then leaders were stored on an old spool. They were also a tangled mess. By the time the leaders were ready the boat had drifted off the reef and was in deeper water and I had to troll upwind to get back to where I thought the fish were. I started trolling and soon caught a trout. Then the lock on the downrigger failed and came apart in my hand. A screwdriver through the spool functioned as a makeshift lock and I was back fishing. Fish number five soon came aboard so I headed back for supper to lick my wounds and repair equipment.
Wednesday, June 29, 2022
Red Boat out

Marge and I went berry picking. The wild strawberries are just getting ripe. They are smaller then usual this year as we haven't had much rain. We did get enough to have strawberry short cake while we watch tennis at Wimbledon.
The fog blew in about 2:00. The Red boat was fueled up and ready to go. I decided to head out and do some bobbing. I had to use the GPS to find the channel as visibility was about 200 feet. It was thicker on the big lake and it was a slow ride out to my bobbing spot. I did manage to catch one fish and then I couldn't get any more bites. My new depth finder was showing some red marks on the bottom and I was fishing for marks, don't do that. The bobbing line came up and the trolling line went down. I didn't troll five minutes and landed my next fish, then a single line double, one more double and I was limited out. Looks like trolling is a better way to catch fish then bobbing.
I did figure out what fish marks look like on the new depth finder. It's a keeper.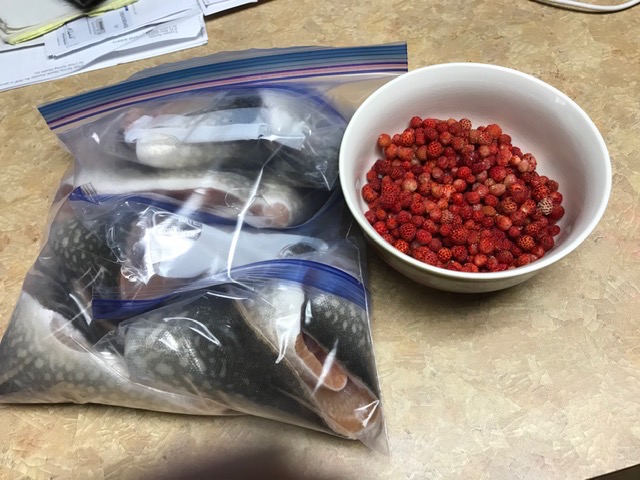 wild strawberries and fresh trout. Hard to beat.
Saturday, June 25, 2022
Out with Bruce
Bruce came over by boat and picked me up at the dock. We went out to the spot he fished yesterday and started trolling. After some retraining of the deckhand, me, we got both lines out. A line tripped right away and a nice five pound trout came to the net. It wasn't long and the second line tripped. We thought we would be off the lake in a hurry it then they slowed down. We marked lots of fish, some groups of 5 fish or more but they didn't bite real good. We did manage to get our ten fish limit in about two hours so it was a good day trolling. The fish were stacked up on the side of a reef in 120 to 150 feet of water. Another good day on the lake.
Friday, June 24, 2022
First trip in Red Boat
Bruce was already out on the lake jigging. I called him on the marine radio to check on the sea conditions and he said it was calm. He was drifting in 200 feet but didn't have any fish so far. I had fueled the Namaycush up the day before, run boat motors, and checked out the trolling motor so I was ready to head for the big pond. While I was in the channel I checked again with Bruce and he said that a little breeze had picked up from the south east. He gave up on bobbing and was going trolling.
When I cleared the breakwall I had to run out in one footers. I took it slow and enjoyed the ride out to my spot in 140 feet of water. Bruce called and said that he had two in the box, both caught trolling. He said, "I wasted two hours bobbing, could have been catching fish trolling." My new Furuno depth finder was somewhat working with the factory settings and it showed some junk on the bottom so I hit the "spot lock" on the trolling motor, one problem, I forgot to put the motor down. By the time I crawled up on the deck and put the motor down I had drifted away from the reef, at least the motor worked. More stuff soon showed up on the screen and I got the boat stopped. My line went down and to my surprise a fish latched onto my jig. The fish came to the surface but the captain didn't have his net ready. I did manage to get the net and land the fish. It was a nice 3 pound trout. Once the trout was landed, I looked around and didn't have my cooler. I managed to catch my five trout with the last one being in the 8 to 10 pound size. It will make a nice smoker. Bruce caught his five trout trolling. We both had a good day on the lake.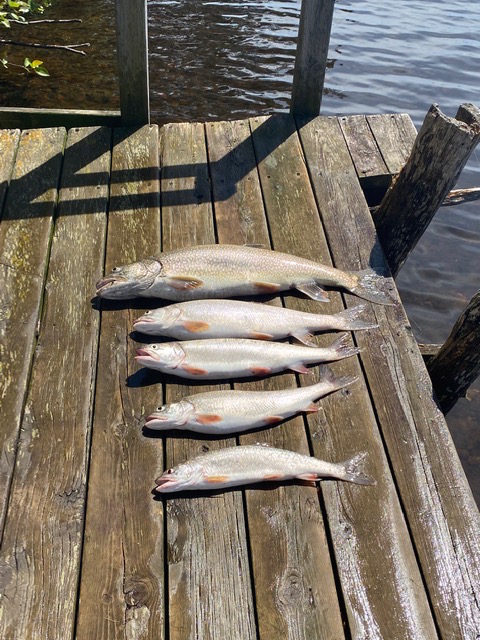 Caught bobbing in Red boat

Big one was 8 to 10 pounds
Fish Camp 2022
Wednesday, May 25, 2022
Open up camp
Wednesday, the guys arrived. The dock was put in, it was raining when the posts were jetted in. We headed up to camp for salads, Bloody Marys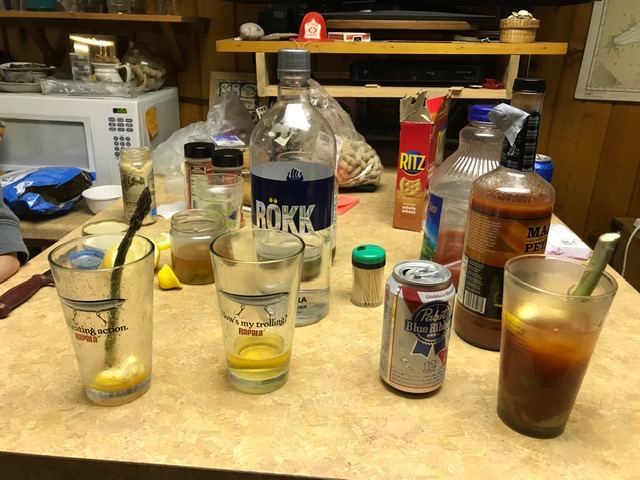 Salad Bar, been picked over
Thursday, May 26, 2022
Boat in
We put the boat in and took it over to the dock to Put Gas In. A year ago the captain forgot to put gas in the boat and headed out to the fishing grounds. When we got there the Low Gas light was blinking on so we had to head back in the fuel up. This year we remembered. Rods, bait and beer were loaded and we headed out. It was calm so we were able to drift and fish. The fish were kind of scattered but we did find some. We ended up with 14 fish.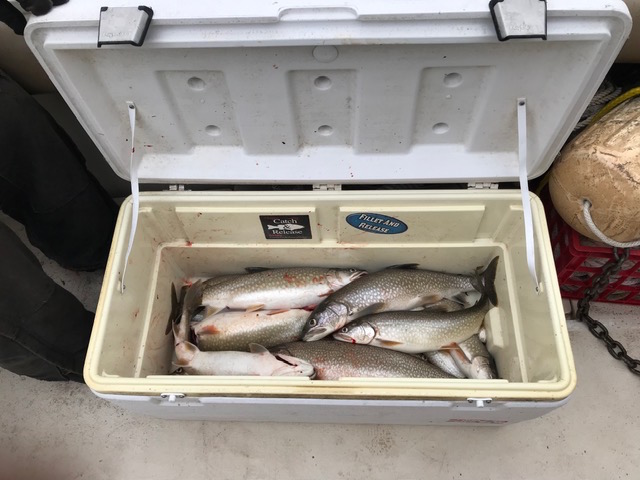 14 fish in the cooler
Friday, May 27, 2022
Still Calm
We had a good breakfast again and Bruce joined Fred, Frank, and Dave and me. We had an idea as to where to start fishing. Lines went down in 190 feet and the plan was to drift through the deeper hole and up onto a hump. As usual we didn't drift the way we thought. We did get a couple of fish and then we reset for another drift. The second drift went better. Frank got the hang of it and was having fun catching fish. The captain was not having as good of a day, a fish would hit, get hooked, and fall off half way up. This happened to fish after fish and the total fish lost by the captain was 14 fish lost and 2 in the box. The other crew members were doing their job and the Kala Moiakka ended up with 18 fish in the box by the time we quit and heading in to clean fish and have more "salads".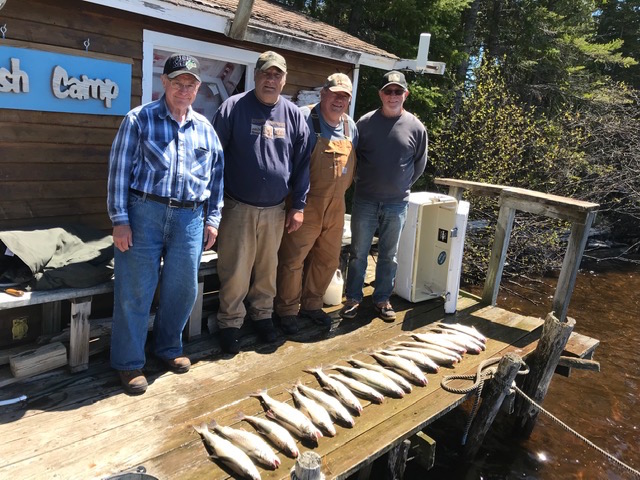 Bruce, Frank, Dave, Fred
Saturday, May 28, 2022
Holiday Weekend
It was memorial day weekend and other boats were out. There were four boats out by the time we got to the fishing grounds but our hot spot from Friday was available so we set up for a drift. We did hit a a couple of fish. Then four more boats came out and set up right in one of our holes so we moved to catch some "last years" fish. We picked away at them and after a big move we ended up with 8 fish. The captain did catch the last fish so maybe having sharp hooks helps.
We had a poor supper consisting of steak, lettuce, and a real salad with lettuce in it. A terrible day at fish camp.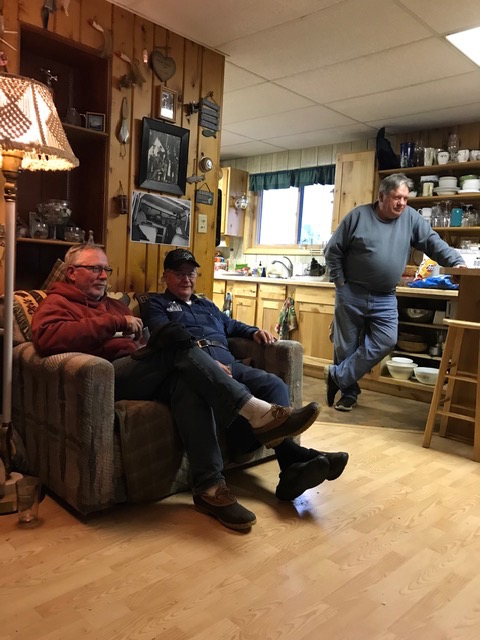 Relaxing after dinner, Fred, Bruce. and Dave
Sunday, May 29, 2022
Windy day
You could hear the surf three miles away when you walked outside, not a good sign. Frank and I took a ride and the surf was running. That made it a work day so we worked on some downed trees, put in the Sauna dock, and had some more salads. We finished the day with a good spaghetti dinner made with Becco's sausage.
We had quite a bit of relaxing outdoor time.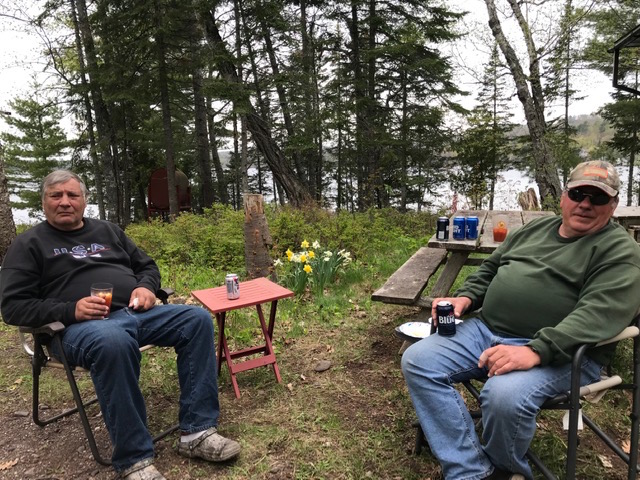 Frank and Dave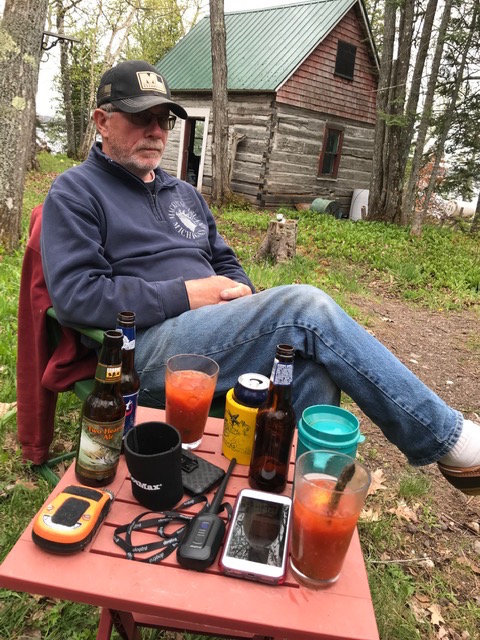 Outdoor salad bar with dog tracking GPS
Our total fish for the weekend was 40. There were less fish there this year and they were smaller. They did have quite a few large smelt in them. The strange thing is that they haven't spawned yet. Interesting it we don't have a clue what it means for the population of smelt in the lake.
Here is what Frank did with his fish.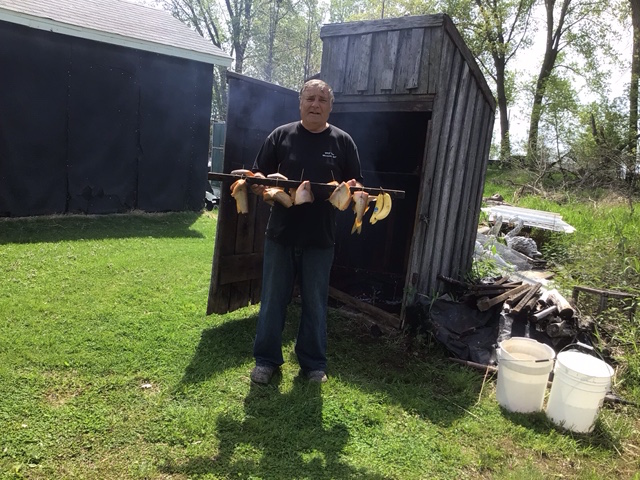 Fish fresh out of Frank's smokehouse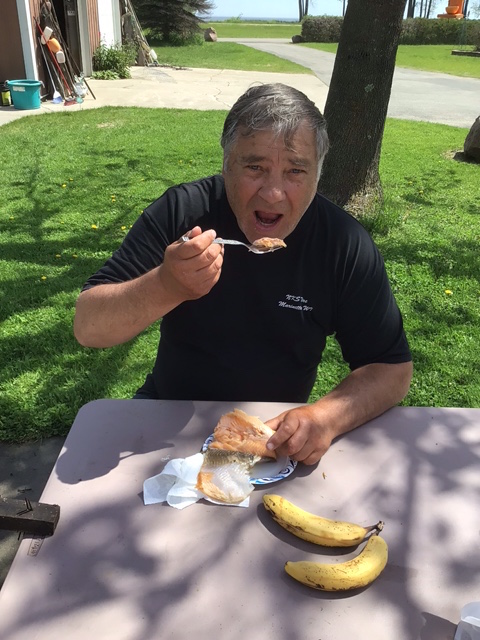 Looks like some good smoked fish, The bananas are for desert.
Thursday, May 5, 2022
We found them
I met Steve and Dave at the park and ride. We loaded our stuff into Steve's boat and headed down to Green Bay. It was 29 degrees so we were all dressed warm. Steve List and Frank were already at the boat launch when we got there. They were in the water so we headed out to where we fished last week.
The seas were running about one foot so our ride out took some time. The prediction was for 8 to 10 mph winds and it looked like it was right on. Just no calm seas this year. We each picked a spot and ended up about 100 yards from each other. The action was pretty steady till about noon. We had 10 in the boat and Steve and Frank had a dozen. The afternoon run never started for us but it started for Steve and Frank. We moved over by them and picked up a few more. We ended up with 13 in the boat and Steve List's boat ended up with 16. One lawyer made the mistake of grabbing a lure too.
We fished till 2:30 and headed in with calm seas. The bay finally settled down.
Now it is time to distribute fish and smoke a couple.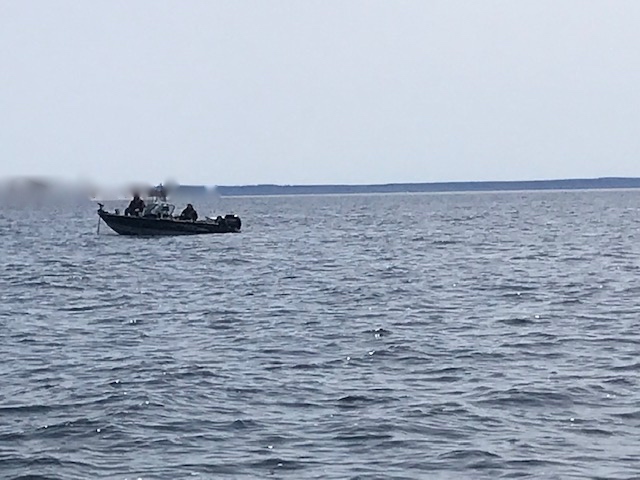 Steve and Frank in our starting spot

Dave and Steve in Steve's boat.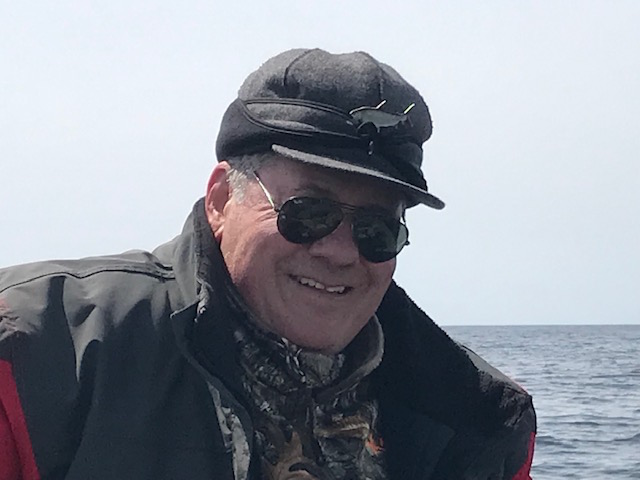 Happy fisherman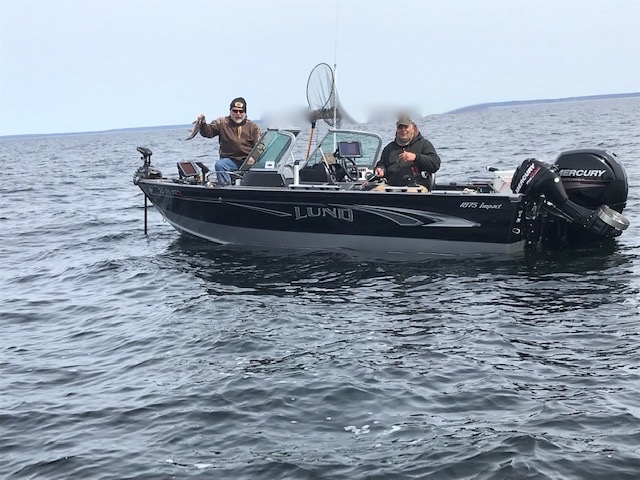 Steve holding up a whitefish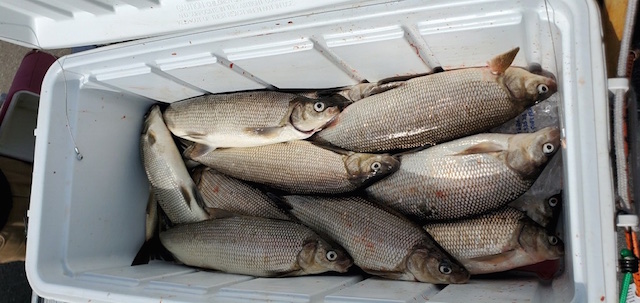 Steve List's cooler, 16 whiefish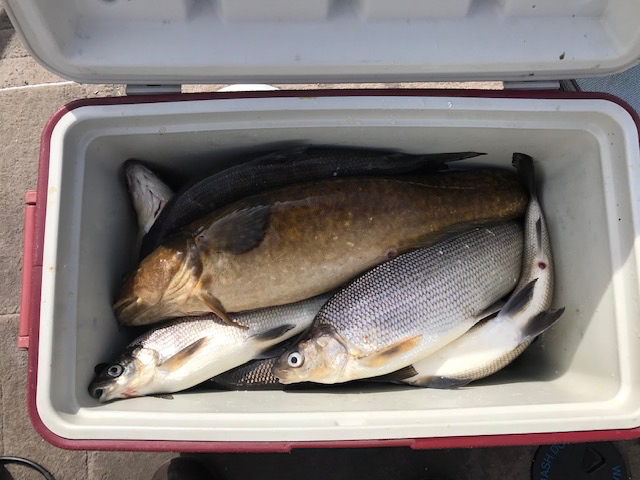 Steve Hadden's cooler, 13 whitefish, one burbot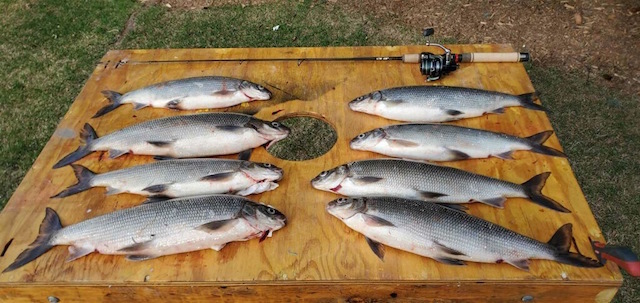 Fish cleaning board.
Friday, April 29, 2020
Fishing with Willy adventure
Dave and Willy went fishing up on Keweenaw Bay. They used Willy's 14 footer. The boat started and they headed out from the launch. It wasn't long till the motored stopped. Willy pulled and pulled but it wouldn't start. Then Willy remembered to open the gas valve on the tank. It started and out they go. Fishing started in 14 feet of water. Willy caught 2 whitefish, 2 coho, and 2 suckers, Dave zero. Why are we not surprised by this? Anyway, they decided to move and the pull cord came out of the motor and there they were, dead in the water. It was a good thin that they could just row back to shore. Another Fishing With Willy adventure.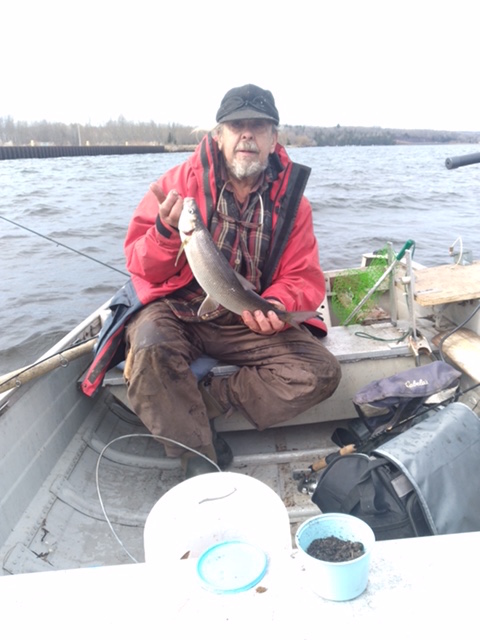 Willy with a whitefish
Thursday, April 28, 2022
First Boat trip
It's been windy, windy, windy. Finally we had a day we could get out. We headed out but it was not calm. The waves were about a foot and there were some whitecaps. We got the Spot Lock working and ended up in 72 feet of water. It took a little while to,get Steve's new fish finder working. With the waves bouncing the boat it was not easy to see if there were any fish around. It didn't take long and I hooked up with a nice whitefish. Then Steve List caught one. Steve Hadden lost one about half way up. The fish were around till noon. Then they just were gone.
This was a shakedown cruise and the only thing that didn't work on our boat was the remote for the trolling motor. After a little troubleshooting we got it working. The big motor worked good and everything seemed to go smoothly. This was not a typical shakedown cruise. The only thing that could have been better would have been more fish. We ended up with nine fish between the two boats. Everybody went home with some fresh whitefish. Not a bad shakedown cruise.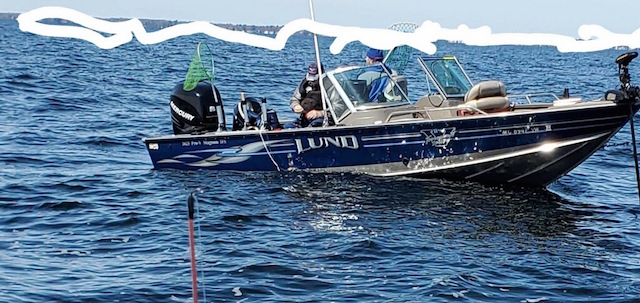 Steve Haddens boat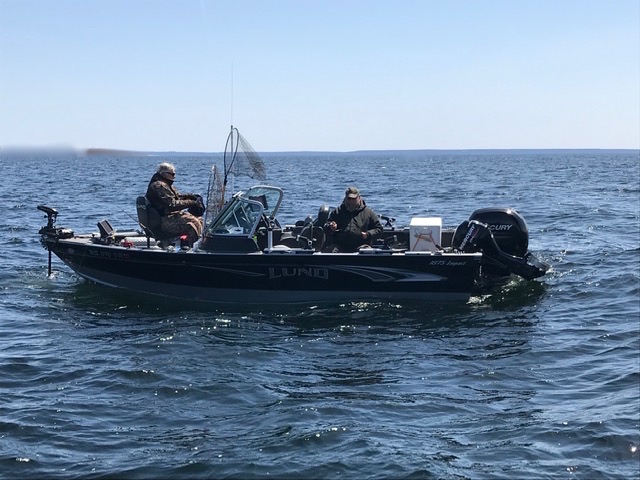 Steve List's boat, Steve in bow, Frank in stern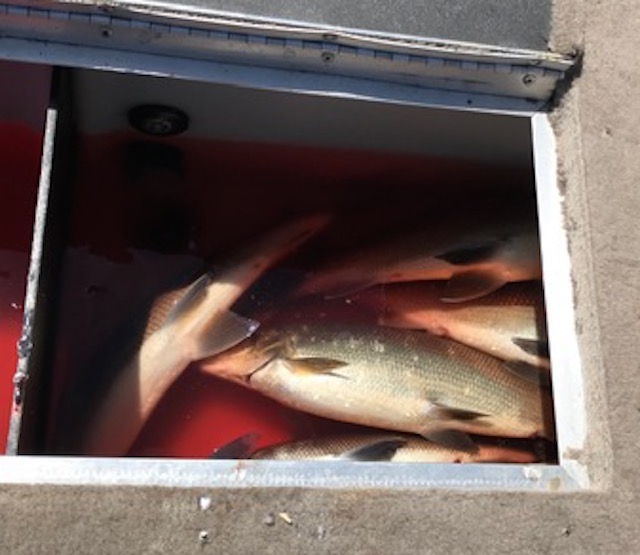 Six whitefish in live well
Friday, April 22, 2022
Fishing with Willy adventures
We haven't even put a boat in the water and the adventures have started. I was out working in the yard and I got a call from Deb, she said that she and Willy were stranded in Pembine. Their fan belt had broken. They called the local auto repair place and they had a replacement belt. I picked it up and drove down to Penbine with it and some assorted tools. Willy crawled under the vehicle and I was the topside man. The belt just wouldn't go on, I had vice grips on the tension pulley and Willy was trying to get the belt over the pullies, it just wouldn't go. After an hour of trying Willy figured out that the tensioner needed to move farther. He applied more force to the channel locks and it did move farther. That gave the belt enough slack to slide onto all the pullies. That did it, problem solved and Willy and Deb headed over to Rapid River to check out a spring fishing hole. It looks like the adventures have started.
Monday, April 18, 2022
The season has started, NOT!
We were going out of Menominee but the weather had other ideas. Steve List was to bring his boat up and we were going to fish Green Bay. Frank called and said that a small boat was bouncing pretty bad out on the bay. We decided to cancel and wait for calmer weather.