Link to HOME, OLDER FISH REPORTS
Thursday, September 9, 2021
Finally a calm day
Our friends from Minnesota, John and Robin, came over for their annual fall visit. Of course we had to fish. We went out on Tuesday with gale warnings posted for the lake but Lac La Belle was calm, how bad could it be? Well the waves were coming over the wall when we went through the channel, not a good sign. The swells were coming from the South East and we had a slow ride out to 110 foot drop. When we got there the swells were running about 5 foot but we set lines anyway. It didn't take line and we caught a fish. When we went to put the fish in the cooler the wind blew the cooler over.
Two more fish went into the cooler and Marge voted to head in. She was eating cookies so the affects of the swells and now a chop we're getting to her and the rest of the crew.
Wednesday the gale warnings were still posted on Wednesday and there were two freighters anchored in the bay. We elected to not fish this day.
Thursday was calm so we went out and set our lines at 110 feet again. The big schools of trout were gone and we were catching "phantom fish", ones that you catch without them showing up on the fish finder. Marge manned the helm, John hauled in the fish, and Robin set the lines on the downriggers. We made a couple of passes out and back on the side of the reef and then headed in with 12 trout in the box. John and Robin will have some good eating trout to take back to Minnesota.
Saturday, August 14
Out with Marge
After two days of high wind, the fishing in the bay has dried up. We headed out of the bay try deeper water. The depth finder showed the thermocline at 125 feet so we fished near where it hit a drop off. Bruce was out ahead of us and almost had his box full. He said that he was showing lots of fish on the fish finder. Our lines went down and it didn't take long to hook the first fish. I had set out two deep lines and two dipseys but when the boat was put in neutral to fight a larger fish it would go sideways and the lines wanted to go under the boat. The dipsey rods came in so we now were fishing with just two lines. That didn't matter because there were lots of fish. We trolled up the drop off and then back down the drop off and ended up with 6 fish in the box. We had two doubles that were exciting in the foot and a half chop with some swells running underneath them. That was enough fish in the box snd we headed in to clean fish and then relax in the sun.
Sunday, July 26, 2021
After the thunderstorm
We had some storms and wind blow through so we figured the fishing would be different. Bruce had a bunch of marks on his fish finder where he had caught some trout a few days ago. That is where we started and set lines in 45 feet of water. It didn't take to long and we caught a smaller trout. You could see that it had a full stomach even before we netted it. A couple of more trout from the same area and then it dried up. We started exploring and did pick up a couple of trout in 65 feet to fill our box. One surprising thing was to pick up two trout down 20 feet on a side downrigger. A friend said that the water temperature was 49 degrees down at 20 feet. Now we need to find where they went
Wednesday, July 21, 2021
Marge's Birthday

It was Marge's birthday. She went out to a lunch with her friend Sharon so what could I do but go fishing. Since we were going to go check out the blueberry patch so I didn't have much time. I jumped in the Namacush, (red boat), and went perch fishing in Lac La Belle. I was using a new seldom shown on TV high tech fishing method. First you dig up a couple of worms, then you tie a hook on the end of your line, put a sinker on and lower it to the bottom of the lake. It worked, the fish bit the worm and you catch them. The perch were in 20 feet of water and when they were under me they were biting as soon as the worm hit the bottom. Most of the fish I kept wee between 10 to 12 inches, nice eater perch. As a bonus a large pike bit my hook and it was a battle to land him. Another nice trip on the water.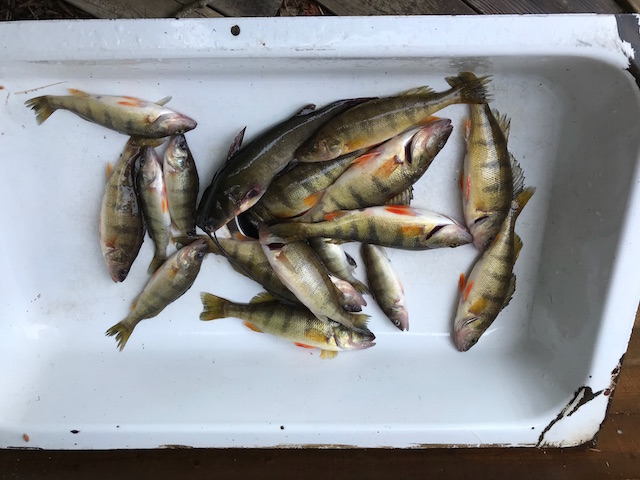 Nice catch of perch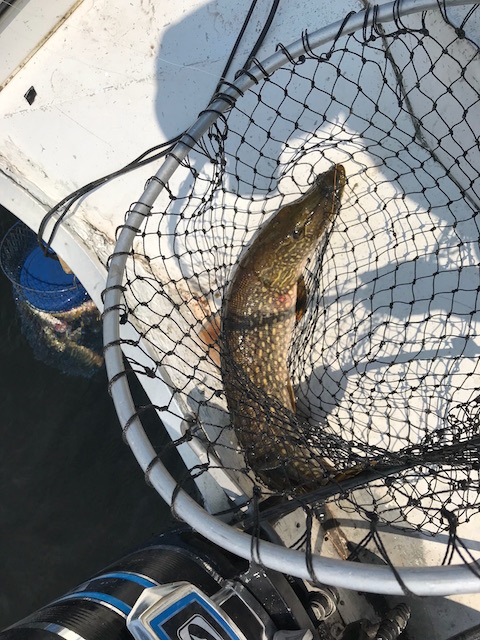 A pike on light line
Thursday, July 15, 2021
Fishing with Dyno and Wendy
Dyno and Wendy were up to do some work on his place. He hadn't been fishing so I asked him if he wanted to go. The answer was YES!. We headed out around 3:00, remember, fish don't bite in the afternoon. Well we set lines and headed for a spot that has been working for the last two weeks. I got all six limes out a d then the action started. We had trout hitting dipseys, lines at 30 feet and lines near the bottom. After a couple of triples and doubles we had 12 in the box so we headed over to Dyno's favorite salmon hole. We caught 2 more trout and lost a larger fish the we figured was a king because it was taking line. Now the work starts as we have 14 fish in the box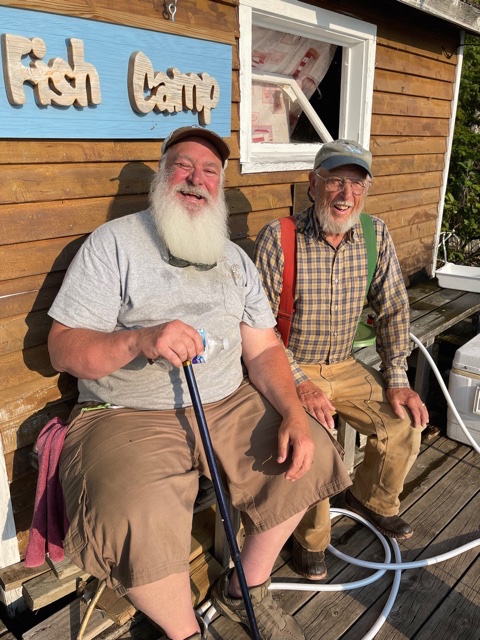 Dyno and Bob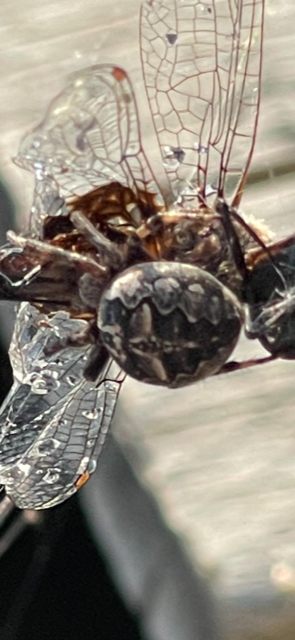 Wendie's spider feeding on a dragon fly
July fishing reports
I haven't been posting many fish reports. The fishing has been excellent for eating size trout. They have been Lake Trout around 20 inches long. All native trout that are very orange inside. Super good eating trout. Most trout have been caught in 35 to 50 feet of water and they have been hitting high in the water column. Dipsey divers have been working good. Some salmon have been hitting in 50 to 65 feet.
Saturday, June 19, 2021
Bring Hannah the Banana Fishing
Hannah, her husband Mutti, Barbara, and Mary Pat arrived to go fishing. The trip was a beer and pasty cruise because they had spent the morning on the golf course. Ignoring the "fish don't bite in the afternoon" rule we headed out about 4:30 in the afternoon. It was a beautiful evening with calm winds and blue skies. Marge was the captain and her job was to keep the boat on the fish while I set lines. It didn't take long and one of the lines tripped but we lost the fish on the way up. Before we could get that line reset the other line tripped and Mutti landed the first trout. It kept going that way for the next couple of hours. I got worn out setting lines and landing fish, a real good problem to have. We ended up with 14 fish and no pasties in the box. This was Mutti's first time fishing for lake trout, he thinks catching lake trout is easy. I think he will find out the truth some time. Ohh, we did catch fish with a banana aboard. I guess Hannah is good luck, not bad.
Monday, Tuesday June 14,15
Fish still there.
We went out and bobbed in 140 to 150 foot of water, we caught one fish and an abandoned net. Then we started trolling and went over another abandoned net which we avoided. We did fins some fish scattered over a pretty wide area. Ben, a friend of Freds had a sure fire lure to try. We put that on one side and our "usual" on the other. After the fifth fish came on the "usual" and only one on Ben's special lure Ben said, "do you have another on of those spoons?" The lure on his side of the boat was changed out and then he was able to keep up with Freds brother Ken. We ended up with 16 trout.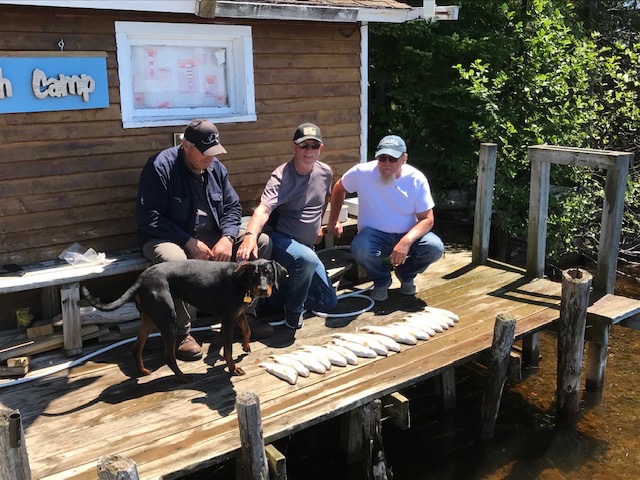 Ben, Fred, Ken, and Lucy
On Tuesday we tried the channel and only caught one fish there. We tried depths from 80 feet to 150 and only caught one trout.That was a waste of time so we came back into the bay and fished the 140 foot depth. We caught 12 on the second day of fishing.
Sunday, June 13, 2021
Remove the Hex
Bruce's last trip was a skunk. Wendell had brought a banana on board and Dave had put a hex on his geppu. Our job was to remove the hex and get fish smell on the floor of his boat. The weather broke and we headed out for a nice afternoon fish. Gene wanted some fish to take back to Waukegon so we could get rid of the fish. We went out bobbing and set lines in 140 feet. It didn't take long and we started to put fish in the boat. We ended up with 6 fish in a couple of hours. Gene was called on the way in and was told that if he wants fish he has to clean them. He met us at the dock with a cooler and beer. The hex and skunk was erased.
Tuesday, June 8, 2021
Red Boat In
The guys left an I put the Namaycush in. It was a nice morning so I headed out into,the big lake. I headed for where we had fished with the guys on Memorial Day weekend. The red boat has a trolling motor with spot lock on it so I didn't have to drop anchor. The lake was calm enough to drift so I drifted till I found the a fish. Then I would "spot lock" the spot and jig for a while with no results. The fish seemed scattered and drifting worked better. I landed a large trout and when I reached into the net it flipped and drove a hook all the way into the top of my left hand. I had to get my leatherman out and use it to cut the hook off the lure, the fish was still on the lures other hook. I had quite a time getting the hooks point out so the hook could be removed. I ended my day with 5 trout in the box and a couple of throwbacks.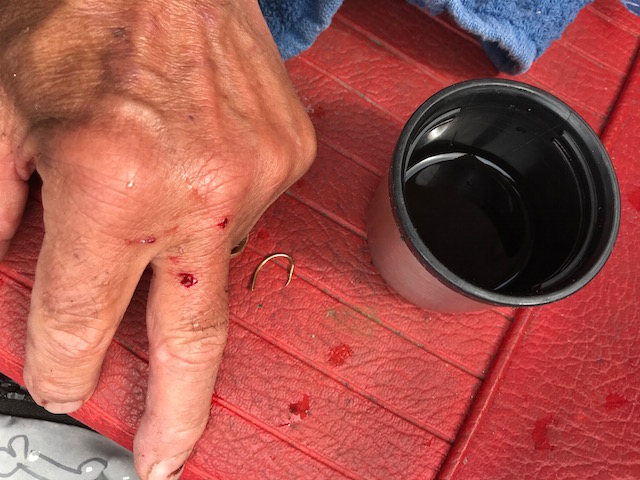 Saturday, June 12, 2021
Dave's curse and skunk smell erased
Gene wanted some trout to take back to Waukegon, We tried on Friday but we made it to the breakwater and turned back. Saturday afternoon looked to be clearing up so Bruce and I decided to try the afternoon bite. Wendell had brought a banana on Bruce's boat on the previous trip and they ended up skunked. The skunk had to be broken. We headed out to 150 feet of water and started bobbing. No sooner had our lines gone down and the calm water changed. The light South West wind changed to a North East breeze. After a couple of lure changes we put heavy enough lures on so we could still fish the bottom. It was tough going but we did manage to get rid of the skunk and Dave's curse by putting 6 fish in the boat. Gene came over to help clean fish so he could take some down to his friends.

Memorial Day 2021
Still fish but not as many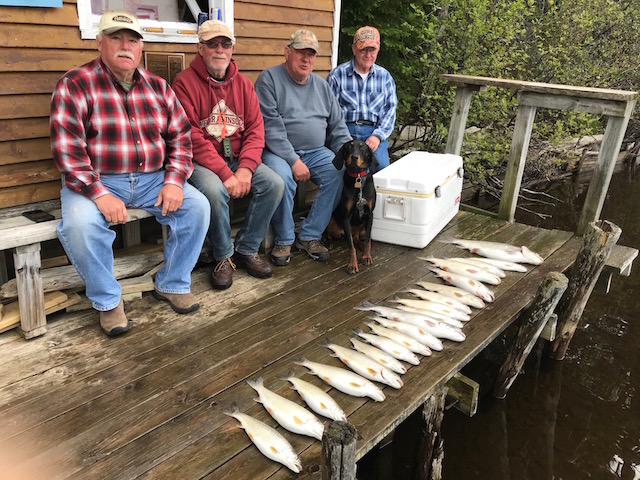 2021 Crew, Steve Hadden, Fred Sjoquist, Dave Rittenhouse, Bruce Simula, Steve Gruenberg not in picture.

Fred arrived on Wednesday but Steve and Dave couldn't make it till Thursday. I had the floating dock in but not jetted in yet. They arrived and we finished up the dock work. Then Steve's boat and the Kala Moiakka were launched. It was getting later in the day by then so we didn't even get out fishing. Steve Gruenberg and his dog Katie arrived later.
Friday didn't look good by looking at Lac La Belle. There were some waves coming from the East and we didn't know what we would find on the big pond. When we cleared the breakwall it wasn't bad. Both boats could cut through the one foot waves and it didn't take long to get out to one of our favorite bobbing holes. Steve could use his Spot Lock to hold his boat in place but we had to resort to the old anchor. The anchor held so we all started fishing. Steve caught the first fish so we knew they were there. at the end of the day there were 16 trout in the cooler.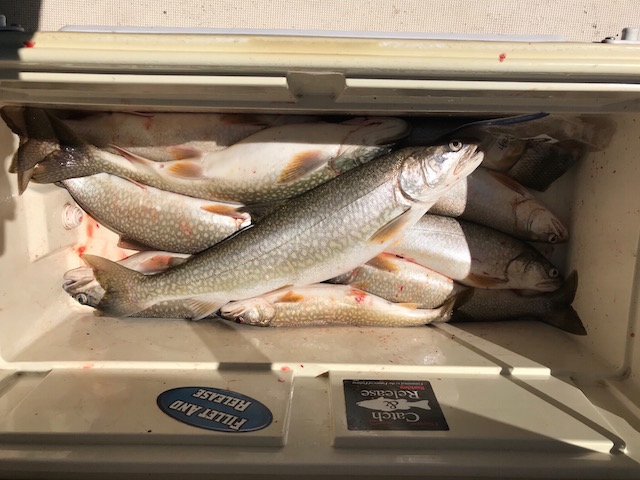 On day two we tried another spot. It was a lot calmer so we could drift and fish. Steve was able to spot lock right in a 200 foot hole. They made a good marker buoy as we drifted past them a number of times. About 1:00 three boats moved in on us so we quit and headed in for Daves famous Bloody Mary's. There were 14 fish in our coolers on day 2.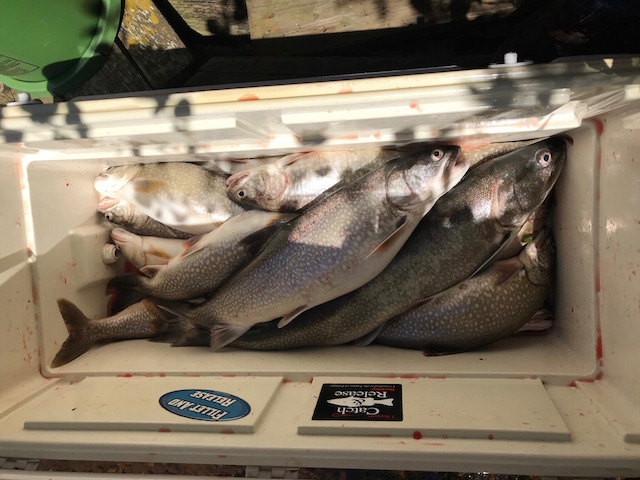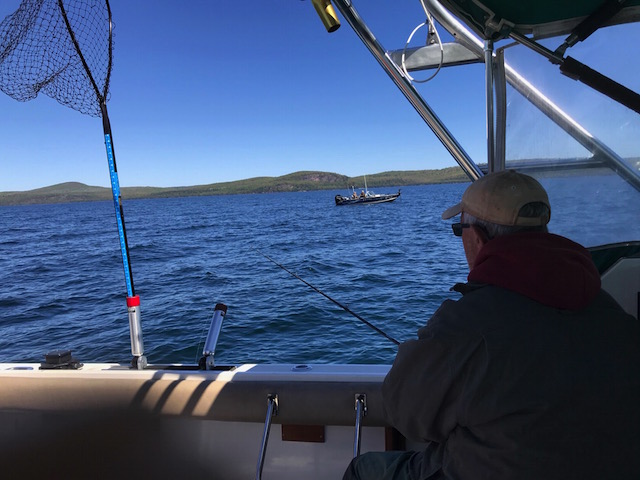 Fred looking at Steve's boat
Day three was calm so we went out two where we fished on Saturday. Of course "you can't catch yesterdays fish" and the fish were gone. We tried a few drifts with only two fish. Steve left and went to where we fished on the first day while we tried a couple of different drop offs. The third place we found heald some fish so Steve was called and he headed over. It was the best spot we found over the weekend and the coolers held 19 trout. our weekend total was 49 fish.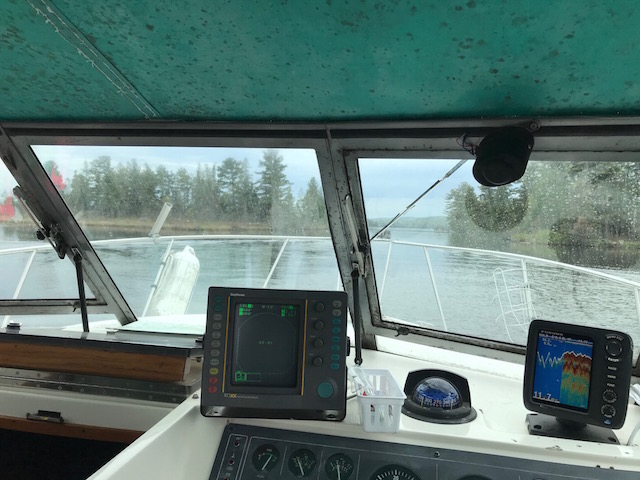 The channel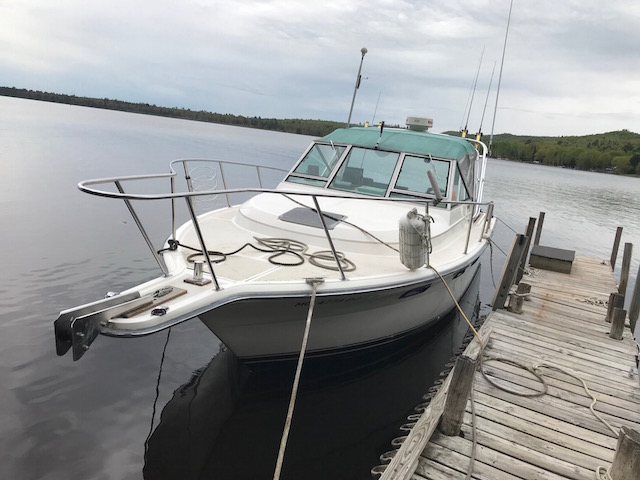 The Kala Moiakka

Steve's fishing machine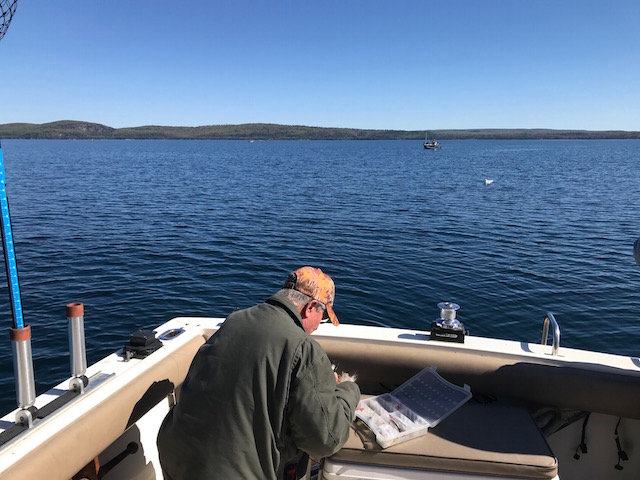 Bruce chainging bait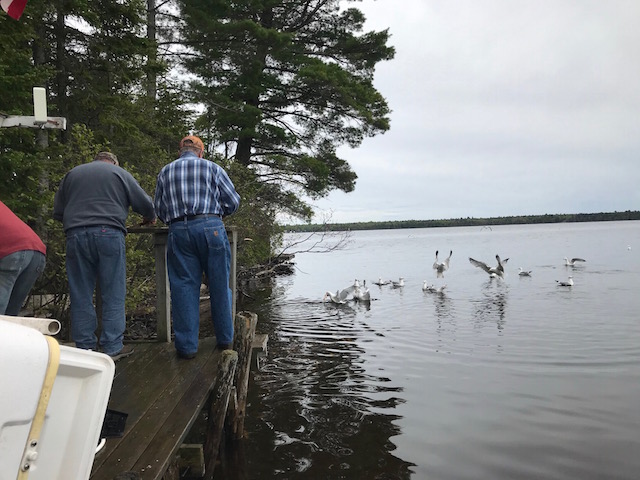 Gulls cleaning up scraps