Link to HOME, OLDER FISH REPORTS
Saturday, July 24, 2020
Still searching
Bruce and I headed out in his boat to look for the trout. We went South instead of East this trip. We haven't tried there yet this year. Lines went down in 140 feet and it took quite a while to catch the first fish. When we hit the drop from 140 to 160 we marked a few fish and started to catch some. We even had two doubles on. With the 2 foot seas, one guy had to steer while the other guy hauled in fish and reset the gear. It was a lot of work. I lost fish number 9 right by the boat and Bruce landed fish number 10. That gave us 9 fish in the cooler so we quit and headed in. We finally started to see suspended fish at 80 to 100 feet. It looks like we may have to run a suspended line now to catch some of them.
Thursday, July 23, 2020
The cannel
Marge, Ed and Gene were the crew as we headed out into Bete Greise Bay. It was calm so we decided to run to the channel. To our surprize there were 6 other boats out there. Usually we have it all to ourselves. We set in 140 feet and soon had a hit and landed it. Then another hit and we lost that one. These were "sucker fish" the sucker you into turning around before you really get to the good fishing hole. Of course we circled and didn't get another hit there. We finally got to last years hot spot and the fish were not there so we kept on trolling up the channel. Fish came on both ends of the channel and not much in the middle. We did end up with 7 nice sized trout so it was a good day on the water.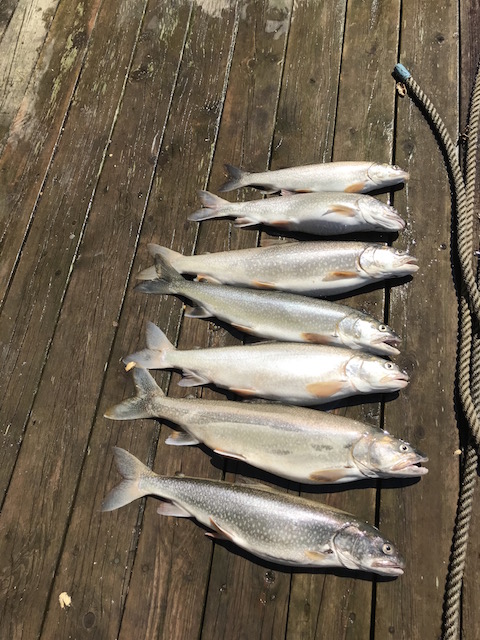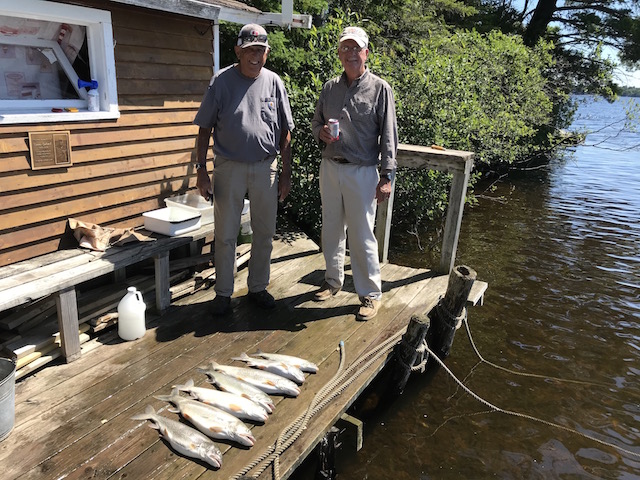 Wednesday, July 15, 2020
Boat Ride
I took Marge out for a boat ride yesterday, of course I had to put a line in the water.
We were just out past the break wall in 50 to 60 feet of water. I was setting the second line when the first line tripped, it was a large lake trout that we lost. Before I got the rest of the lines in we hooked another one. That did it. We circled the area with lines set from 10 foot the 40 feet and dipseys out too. We caught 4 and lost 4 all in the shallows. Who would have thought that the trout were in the shallows. The surface water temp was 67 degrees.
July 8
Camera Trip
Took the red boat out to look for whitefish. I put the camera down in many locations from 50 to 75 feet. I saw many piles of fish on the bottom but when I put the camera down all the "fish" turned out to be weed piles. It looks like my school of whitefish have gone.
Saturday, July 4, 2020
Where have all the trout gone
My cousins Ron and Erick were up working on their camp. We took a break from working on a 60 year old generator and went fishing. Bruce was down so he joined us. That meant that the boat was filled with four experienced fishermen. That should result in a full cooler, right? Wrong. We set up in 80 feet of water and put "the usual" down on the port side and the "black and white" down on the starboard side. We worked some rock piles and caught nothing. Then we worked the side of a reef and did pick up a trout. Another hot spot has been three humps in 160 feet of water, nothing there either. We trolled all the way over to Montreal Point and managed another trout. We ended up with 4 trout in the box, not the 20 we were expecting with four "expert" fishermen on board.
Thursday, July 2, 2020
Trolling has started
Two more down riggers were added to the Kala Moiakka. Marge and I headed out to try some trolling. Things started slow with the first fish coming on a side rod set at 40 feet. We went over a couple of fish without a hit so I checked a deep line. It was severely twisted. The last 50 feet of line was trash and that lure wasn't fishing. The lure on the other line didn't seem to be working so it was changed out. Tommy T's new secret weapon didn't work for us. After we got all all our lines fishing again we picked up a couple of trout and then we hooked a boat stopper. Marge had the rod and she said that it wasn't coming in. The boat was stopped and the other deep line was pulled and it took quite a while for the fish to come up. It would just stay under the boat and head for the bottom. Finally we landed it, a 18 pounder. It really made our day.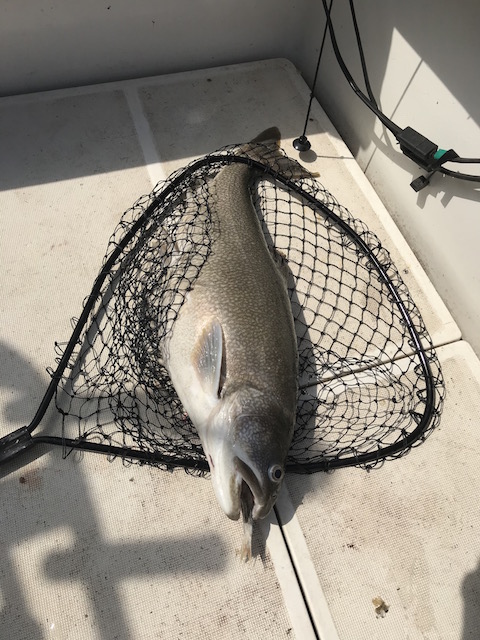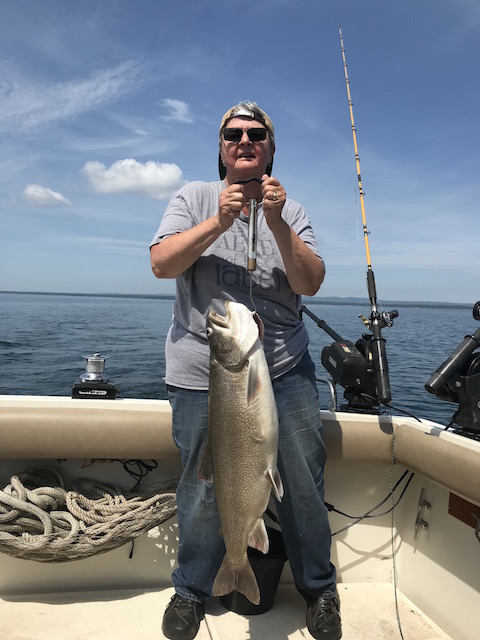 We ended up with 5 trout in the box. We never did find the schools of trout we were looking for. From what we saw the 80 to 110 foot looked to be better then the 150 to 170 foot depths. We will see the next time we hit the big pond.
Friday, June 17, 2020
Mixed bag
Marge was down on her way back up from Iron Mountain so it was me and the cats at Fish Camp. About 10:00 the lake looked flat and I couldn"t stand it so the Red Boat was fired up and I went jigging again. This time I took an underwater camera with me. The big pond was slicky calm when I reached the jigging hole. I put the camera down first and my smelt turned out to be whitefish. They were swiming by the camera one after another. That got me real excited as was rigging up my jigging rod. My line hit the bottom and I expected to get a hit, nothing. I tried a number of different baits and finally up came a whitefish. It was a menominee and not a lake whitefish. No wonder they were hard to catch. The next fish to hit was a large burbot. Looks like another fishboil is in our future. The last fish to hit was a good sized lake trout that strained my light fishing rod to the limit. Some good fish meals and also some good smoked fish in the future.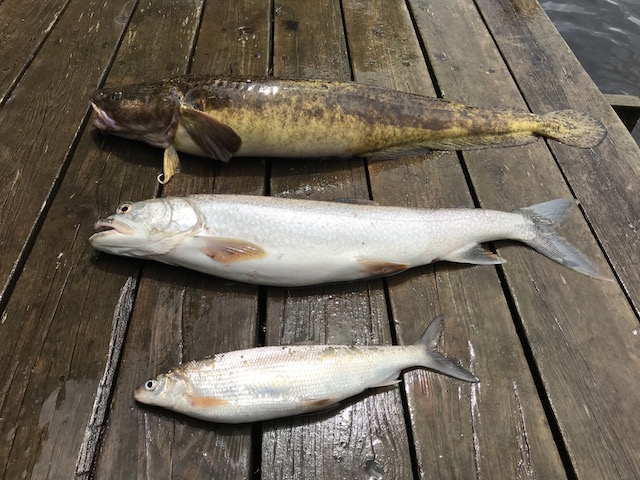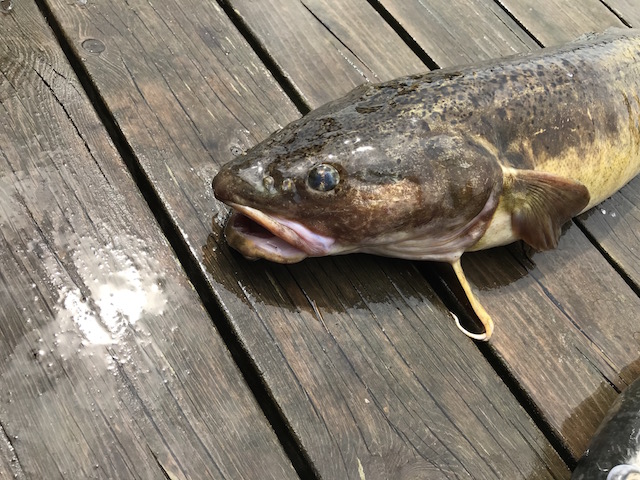 Thursday, June 18, 2020
Fishing with Tom
We took Tom's Grady White out. He got this boat last year and he is learning how to use all the electronics. It has modern radar and electronics. We tested the radar and also used the autopilot to run out to our fishing hole. Lines went down in 65 feet of water but our first hit didn't come till the bottom dropped to 80 feet. The first fish was a big trout but we didn't stop the boat, it got off. The second trout was on Tom's rod so that left me to run the boat. It was a large trout so I stopped the boat. I put the small boat in neutral bot didn't know that the autopilot would disengage. When the motor was put into gear the boat tried to turn a 360. Not a good plan when running two lead core lines along with the down riggers. We survived that RF and I got some instruction from Tom on how his boat is set up. We picked up four trout by the time we got to the troll we were planning. It worked and we caught another 6 trout to give us our limit of ten. The fished ranged from 3 pounds to ten pounds. Another good day on the lake.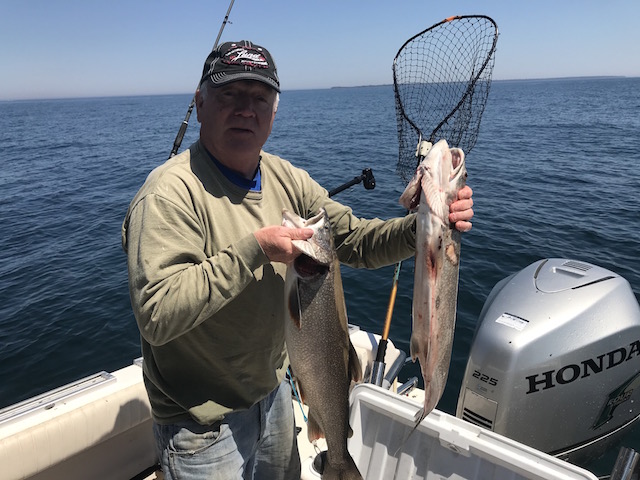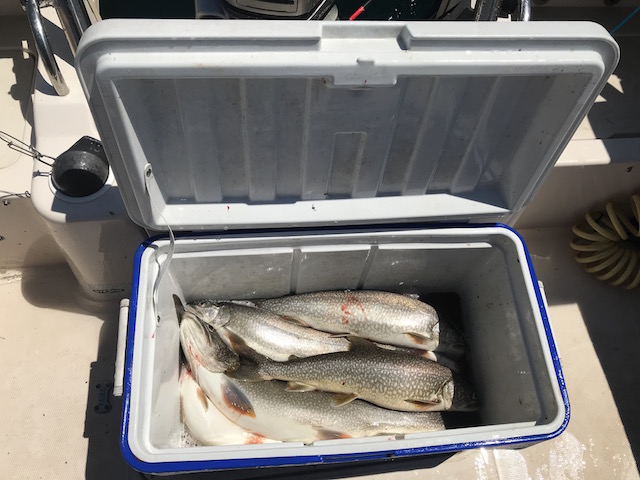 Wednesday, June 17, 2020
First Whitefish
It was calm so I went jigging just off the channel. I was still looking for the elusive whitefish. I saw some fish on the depthfinder that looked like smelt to me so I rigged up a light rod and tried to catch some smelt. The smelt turned out to be menominee whitefish and I caught one and lost one.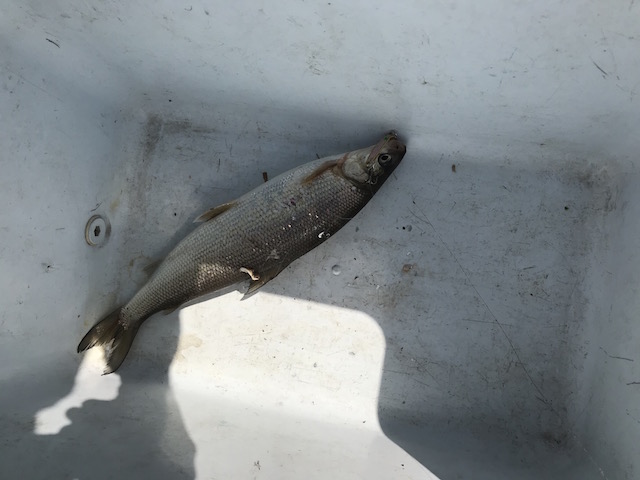 Saturday, June 13, 2020
Did they move
Emil, Bruce, Tom T, and I headed out into very calm seas. There were 8 boats visible when we cleared the breakwater, that is very unusual it then again, it is the weekend.
It was a short ride out to the 200 foot depths that we had fished last week.
It was calm so we drifted our same drift that was so productive a week ago but you all know the saying, "you can't catch yesterday's or last weeks fish." Tom caught the first fish, then his line went dead. We did manage three trout from the deep water. We tried two more spots with no luck so we made a big move and moved to some rock piles in 140 feet of water. We immediately started to catch trout. They were running small but they were still trout and the small ones taste better. We caught our 20 trout and headed in after a successful day on the water.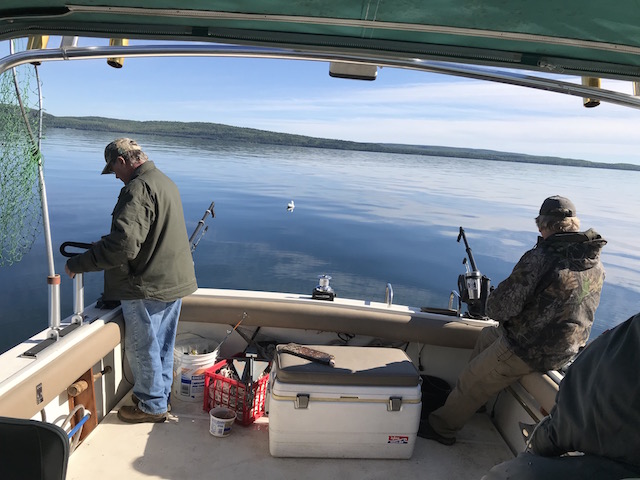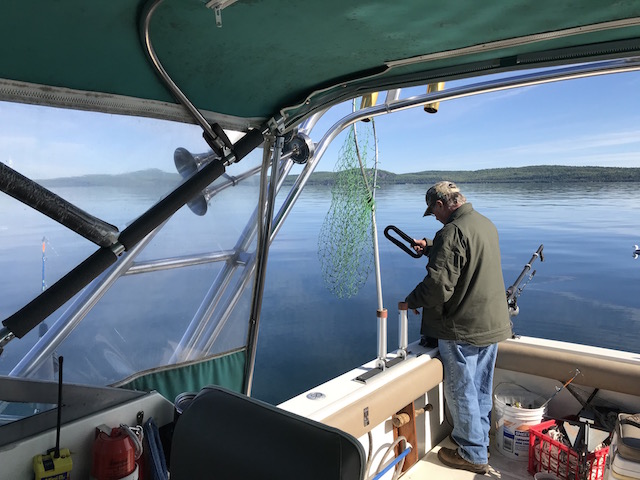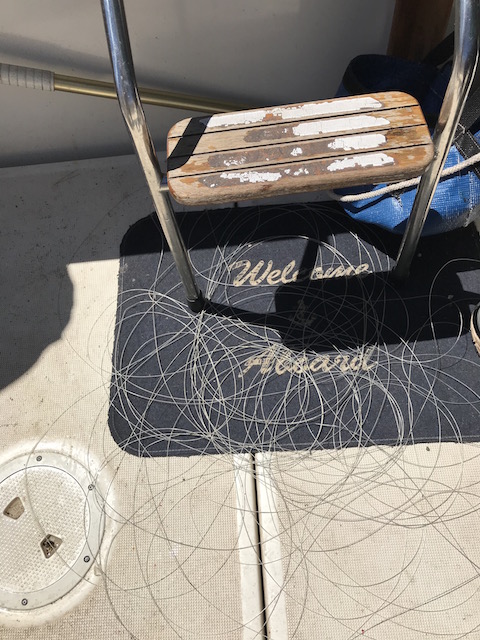 Don't drop your fish in your bobbing line.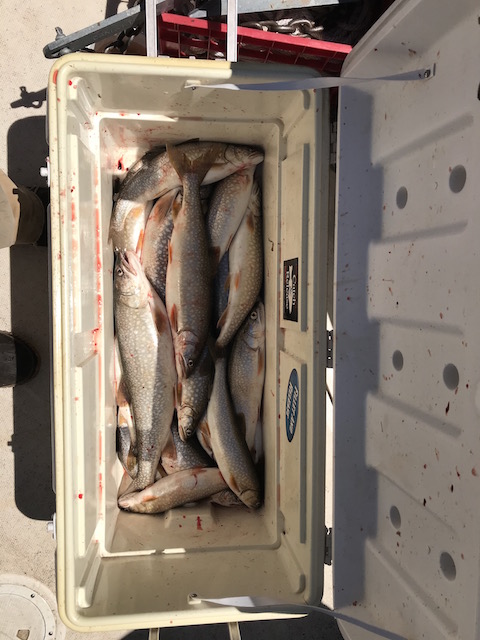 Monday, June 8, 2020
A Sad Day
We lost our trusty hound dog, Rowdy today. He suffered a stroke on Friday and never recovered. He will be greatly missed by all his friends.
Thursday, May 27, 2020
Day Three
It was windy and we had a bunch of fish in the freezer so we decided to try trolling. Troy had given us information as to where we might catch a king salmon. That sounded good to us so we decided to troll. Our lines went down right in front of the channel in 65 feet. We did see a few marks on the fish finder but no hits. Finally a dipsey rod went and we were fast to a big fish. It turned out to be a 26 inch speaker. As soon as we started to troll again the second dipsey rod had a hit. We lost that fish but it suckered us In to stay in that area. After a couple of loops through that area it was time to move. We trolled through another of last years hot spots and had no hits or marks on the fish finder. We kept trolling along the shore and finally there were some 30 to 40 foot high piles of bait fish. It didn't take long and we put a few trout in the box. The count for this day was 4 trout and one splake.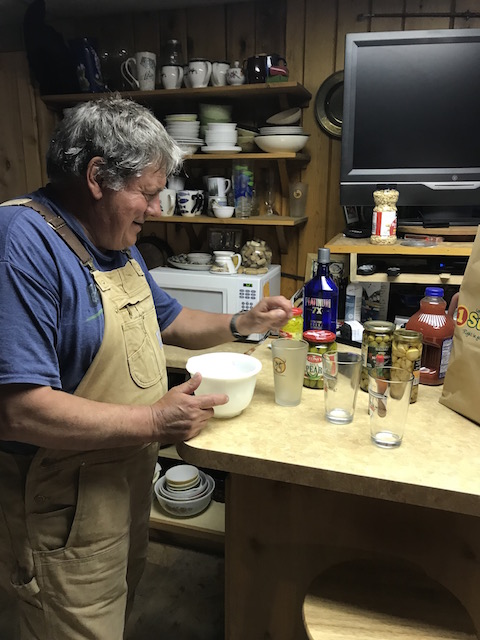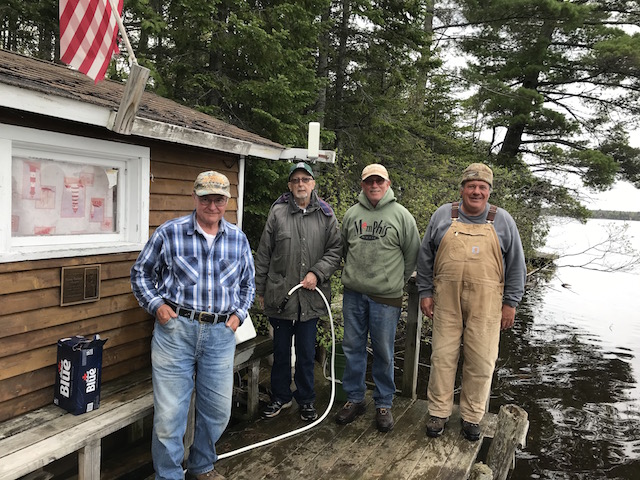 Wednesday, May 27, 2020
Fish Camp 2020, Day 2
After a good breakfast of fried potatoes and eggs we took the cover of the Kala Moiakka and this time the captain checked the fuel gauge. Emil and Bruce arrived and we spun up the radar and headed out into foggy and calm seas. It was a slow ride out to the drop off as visibility was about 200 feet. I watched the radar and Dave watched out in front of the boat looking for dead heads. When we reached the 200 foot mark we stopped the engines and started bobbing. It didn't take long and we started to catch trout. Bruce caught the first one on his geppu (Finnish bobbing stick). Then we all started to get hits and catch some hits. Emil usually tells us that one has hit his line and another one of us catches the fish, not this year. This year Emil was catching the fish.
The plan was to fish till 2:00 and head in. At 2:00 we had 21 fish in the box and only needed 4 more for out limit. A slight breeze had come up and we were swinging on the anchor so we thought we would limit out soon. I pulled out fish number 22, then the wind switched 180 degrees and the boat drifted right over the anchor line. Bruce thought he was caught in the propeller as his line went tight. Then Emil and Fred both hooked up and then we knew that it was the anchor line. Dave and I pulled up the anchor line and retrieved the three jigs that were snagged. We had enough fish in the box so the anchor was pulled the boat was headed west for another radar run back to Lac La Belle To clean fish and have some refreshments.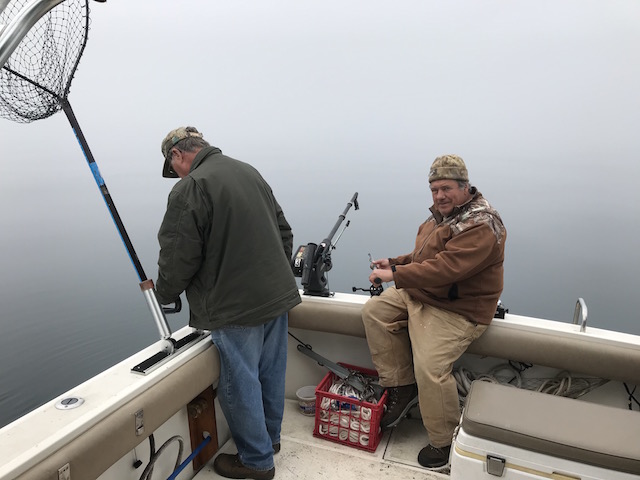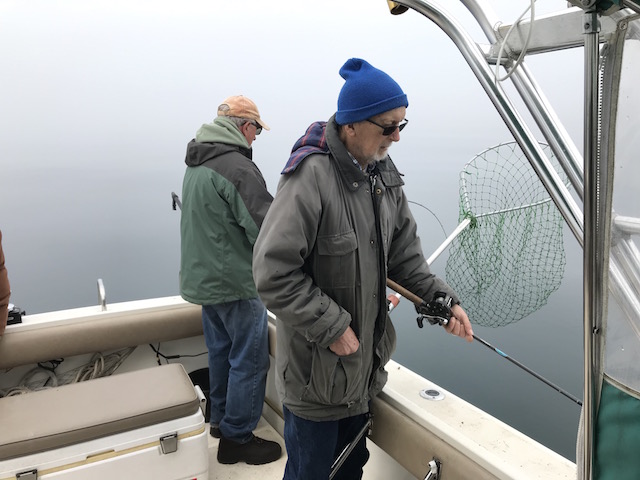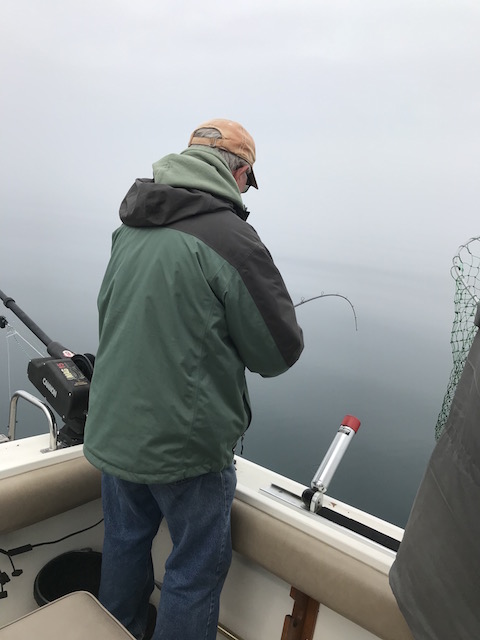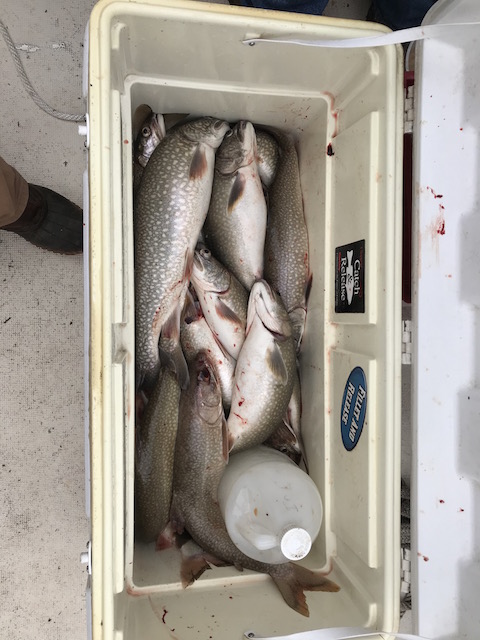 Tuesday, May 26
First trip
On Tuesday, Dave and Fred arrived and we launched the new floating dock. Bruce already had his boat in so he towed the floating dock over to the existing dock. It floated and by some miracle it matched up perfectly to the other dock. Of course I said, "just like I planned it." Some one might call it shit house luck.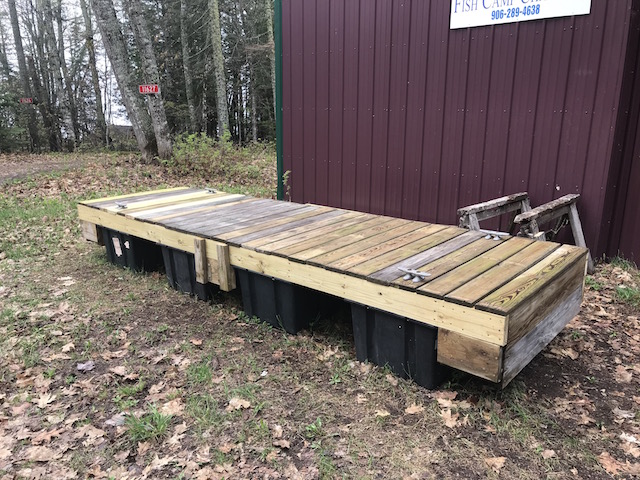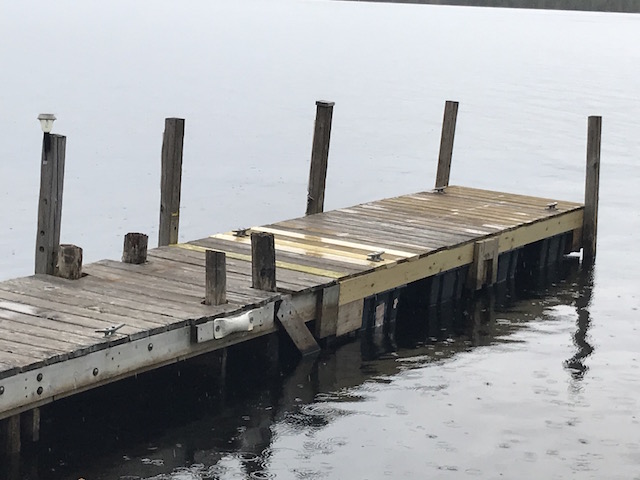 On Wednesday the Kala Moiakka and the Red Boat went in next. Bruce and Emil joined the crew and we headed out to do some jigging. The lake was calm and foggy when we did a radar and GPS run out to one of our bobbing holes. Just as the boat was slowing down the "low "fuel" light came on, crap. I didn't want to take any chances so we headed right back to fuel up. Bruce said that he noticed that the gas gauge was almost empty but he figured that the captain knew what he was doing, wrong assumption. It didn't take too long to fuel up and we headed right back out. It was still foggy but calm and we started drifting in 200 feet of water. We picked up four trout and decided to check out a spot that held trout last year. That turned out to be a bust so we headed in to try trolling. One large trout hit while trolling and we called it quits with 4 trout in the box.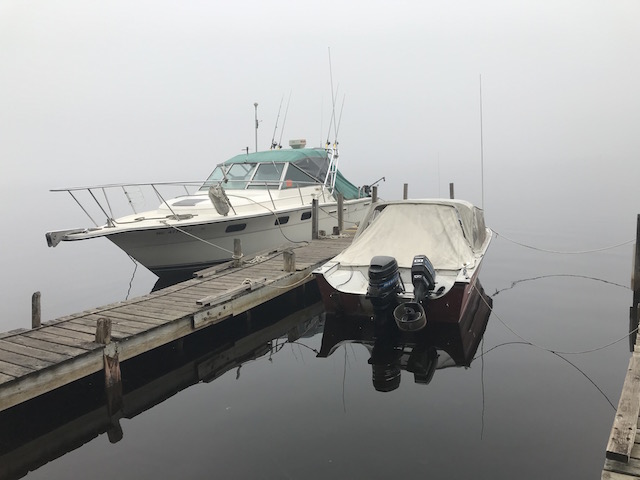 May 21, 2020
One fish
The weather took a turn for the better. It has been windy, windy, and windy. Two days ago the wind was gusting to fourty and this was the third day in a row. The water in Green Bay was pushed up a foot and a half due to the storm surge. Finally it calmed down and the temperature soared to 72 degrees. It was too hot to sit in the sun.
Steve and I headed out to the same spot we fished last time. The lake was slicky smooth and our expectaions were high. The fish finder was showing fish on the bottom, boy this is going to be a great day. We fished the first spot for two hours without a hit. Willy was a little way from us and he didn't have any better luck. We went to plan B, that didn't work either. Willy went deeper and then came over by us. We marked more fish in the first spot we fished so back we went. Still no luck, not even a bite. Then sometime in the afternoon I hooked a fish. It was a battle but he finally came to the surface. A burbot, the ugliest fish in the lake but also one of the tastiest. We fished till 1:30 and called it quits. Steve had on hit and I caught the one burbot. Willy and his friend never had a bite. Ohh well, it was a nice day on the lake.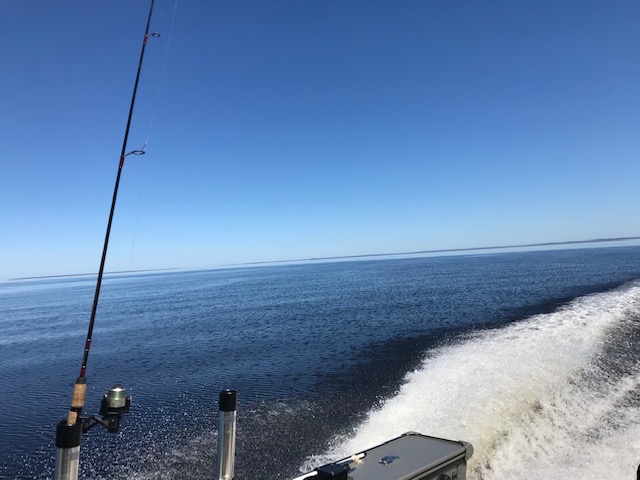 Calm seas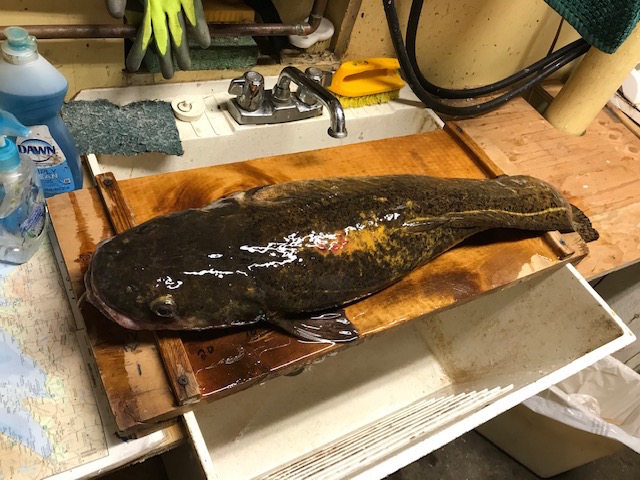 One ugly fish.
May 1, 2020
First Trip
A high pressure system was moving in so we decided to go fishing. It was a Friday so we figured the launches wouldn't be too busy. We got to the launch and Steve said, "Somebody is not having a good day". There was the bow of a boat sticking out of water and a couple of people trying to get a waterlogged boat onto a trailer. It didn't look good.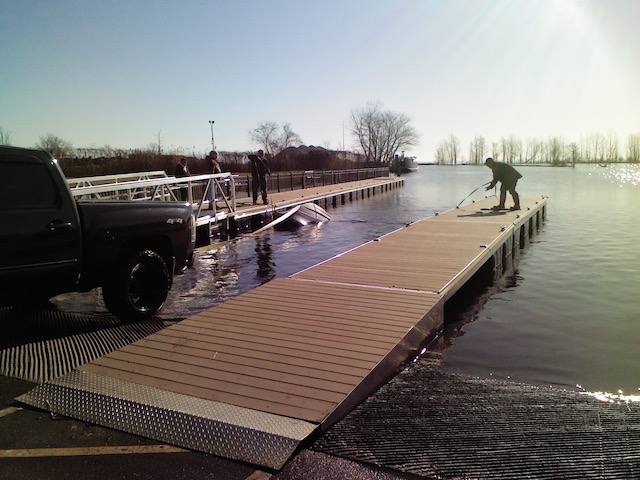 Willy and Dave had already launched and they were calibrating Willy's new trolling motor. Steve List was still on his way. We headed out about three miles to the same place we fished last year. Our first try was in 88 feet. Steve as usual caught the first fish. Then Dave an Willy went to work. Dave caught a lawyer, Steve List caught a fish and the Willy. Steve and I caught nothing and we sat there watching them catch fish. After a couple of hours we "left fish to find fish", something I know better then to do.
Meanwhile in Willy's boat, Willy was fishing with two rods. He hooked a fish with one rod and when he tried to put the other one down he missed the rod holder and the rod fell over. Willy said, "Ohh well, I only paid $3 for it at a rummage sale". A few fish later, Willy set the hook on a fish and fell backwards, chair and all, and broke the handle of his birds eye maple, custom made, fish net. The most valuable item on his boat. It is now fixed with black electrical tape. He fell over because all the chairs on his boat are not fastened to the floor. You can just put them wherever you want. Just hold on tight when a wave hits.
Steve and I made our move and soon were into fish. They were coming pretty good. I had a set line out and was watching it and saw a fish on it. I dropped my jigging rod and didn't close the bail on the reel. I missed the fish on the set line and when I got back to my jigging rod I noticed that most of the line was gone off the reel. It was all wound around the prop of the trolling motor. Just a little mess, good thing I had a spare rod all rigged up and ready to go.
At the end of the day Willy and Dave caught 12 whitefish and one burbot, Steve List caught 2 whitefish, and Steve and I caught 10 whitefish. That gave us a total of 24, pretty good for a first trip. Ohh, When Dave was pulling up his line to leave he felt something on it. He had caught the line of the rod that Willy had lost earlier. We figured that he put that rod down there just so it would mess up Daves fishing just so he could catch more fish then Dave.
Steves boat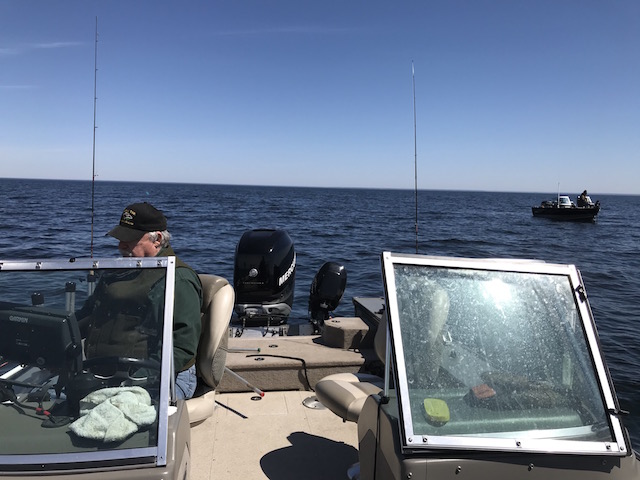 Willy's Boat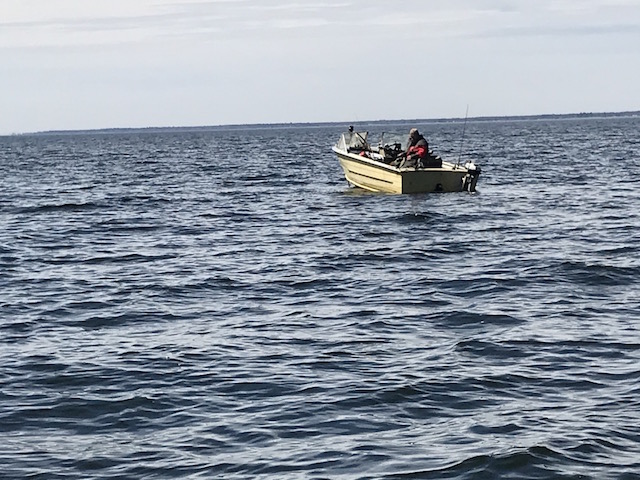 W
Willys cooler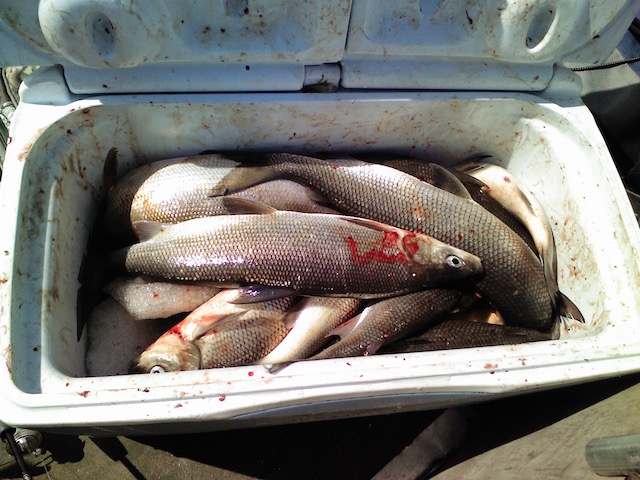 Our cooler, we bleed the fish and that is why the cooler is so full of blood.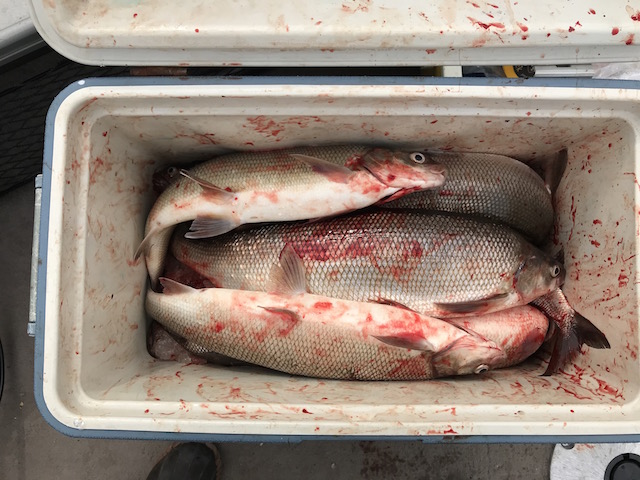 Willy's smoked fish