Link to HOME, OLDER FISH REPORTS
Monday, September 16, 2019
Last Trip
Nancy Oviatt and Marge were my crew today. It was foggy in Lac La Belle but the weather people said it would burn off by 9:30 so that was when we decided to head out. Well at 9:30 you still couldn't see across Lac La Belle. The radar was fired up and we cruised at low speed down the lake using radar and GPS. One target appeared ahead of us and heading at us at high speed. I stared into the fog and watched with relief as a duck flew past the boat. The fog cleared up some and we were able to find the channel. The big lake had visibility of 1/4 mile so our ride out to a 100 foot hole was not bad even with a one to two foot swell from the East.
The first line went down and I was setting down line two and we had a hit on line one. The fish was gone by the time I got to it. It was a sucker fish and it made me do a turn and see if there were other fish in the area, wrong. After a useless circle we headed out to some rock piles. The fish finder was showing us that there were not many fish around. We did manage to catch a couple of phantom fish on the way to the reef. We never did mark many fish but we did manage to catch 7 keeper trout and two dinks. We did loose two salmon and a couple of larger trout, a successful day on the lake.
We did have a small bird hitch a ride. He hopped around and ate a couple of flies before flying off into the fog.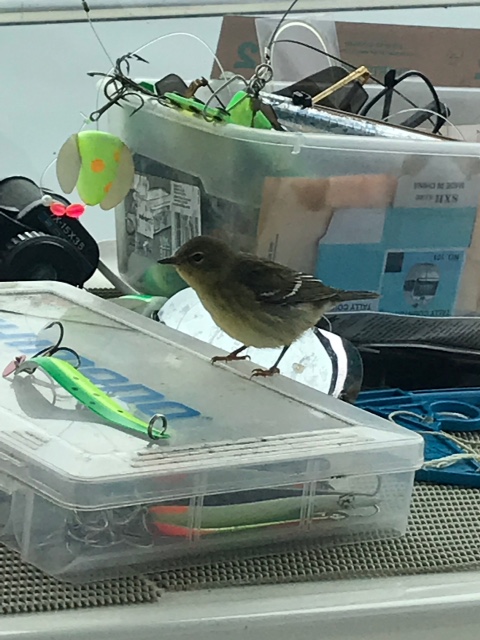 Bird on boat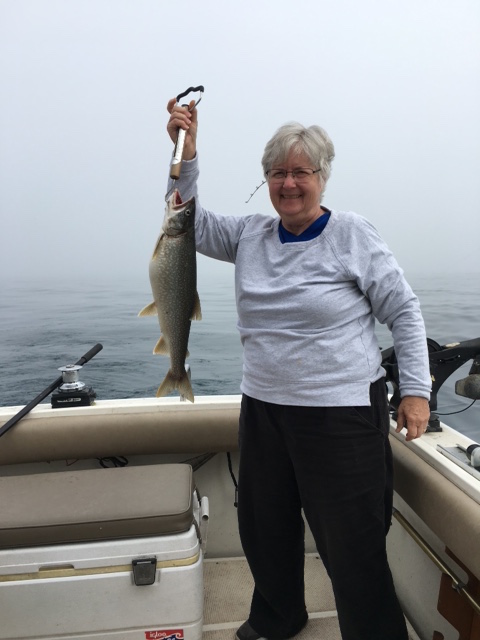 Nancy with a nice trout
Sunday, August 26
Whitefish?
Took the Namaycush out to look for whitefish. I have my underwater camera working and wanted to look around for fish. My first stop was just off the drop off in 60 feet of water. The depth finder always shows some stuff on the bottom. Down went the camera and it showed lots of one to two foot weeds do that is what those marks are. Then I moved out to some bigger marks out in 72 feet. The camera showed that these marks were a taller weed. The weeds quit at 75 feet and I put the camera down to show a sandy bottom with little divots in it, no whitefish. When the depth finder showed some red marks right on the bottom I put the camera down again, this time it showed that the bottom looked like a moonscape with small to large rocks on the bottom. One interesting thing was that there were small translucent blobs floating around the rocks. They kind of looked like small jellyfish. I put the camera down one more time and saw nothing. Bruce was catching fish so I put the jigging rods away and started trolling for lake trout. I caught 4 and lost 3 in an hour and a half. Then the wind picked up and I headed in. I may give up on my quest to catch a whitefish fron Bete Grise Bay.
Wednesday, August 14, 2019
Close in fishing
Some friends from Irom Mountain were up and staying in Copper Harbor. They found a place where there cell phones would work and texted Marge to say that they were up. We knew that Steve liked to fish and the weather looked nice so we set up a trip. Ed's daughter Ruth was up so I called them and said, "boat leaves at 9:00, you coming?". They said, "sure" and a trip was on. We left and there were some swells in the channel and the farther we got out the bigger the swells and waves were. There was a stiff breeze from the NE blowing so it make trolling a little more difficult. The fish had moved from where Gene had caught them two day earlier so we had to hunt a little to find them. It looked like there were more in 90 feet on top of the reef them in the 110 to 130 foot range. Once we located them the lure we call "the usual" was producing. It didn't take long to get a few fish in the box. We also picked up two cohos on dipseys. We quit at 12:30 with 8 fish in the box, a good morning on the lake.
Monday, August 12, 2019
Take Liam out fishing
Mark Pomroy, a guy I play hockey with wanted to take his boy out fishing in the big lake. We wanted to get him some big fish so we headed for the offshore reef. We stacked the deck by having Emil, Bruce and Tom join the crew. That meant that the boat was full of expert fishermen. After a 30 minute run to the reef we set lines. It took quite a while to get the first fish and they were showing up on the graph and not hitting. Soon we figured out where they were and cut back to two lines so we could work them over. The fish were running from 6 to 12 pounds so they were almost all "boat stoppers". Liam, who is 12, hauled in almost all of the fish. He is really fast at getting to the lines and that is a good thing when a down rigger trips.
The fish were showing up in 110 to 130 feet of water, right where the thermocline hits the bottom. Most fish were 5 to 10 foot off the bottom and that seems to be typical for this year. It is hard to get them to hit. About 11:00 they seemed to start coming off the bottom and now were suspended about 90 to 100 foot down. We raised our baits to that depth and the bite turned on. We were getting hit after hit and now they were sticking on the line. There were a lot of rigger trips earlier with no fish on the line. The box was rapidly filling up so we called it quits with 18 fish in the box. The last fish was a beautiful 14 pounder that we were going to throw back but it was hooked in the gills and was bleeding bad so it went into the cooler. It will make some excellent smoked fish.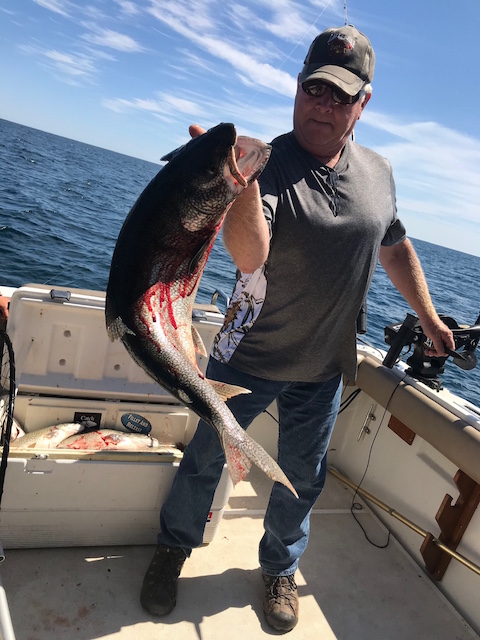 Tom with 14 pounder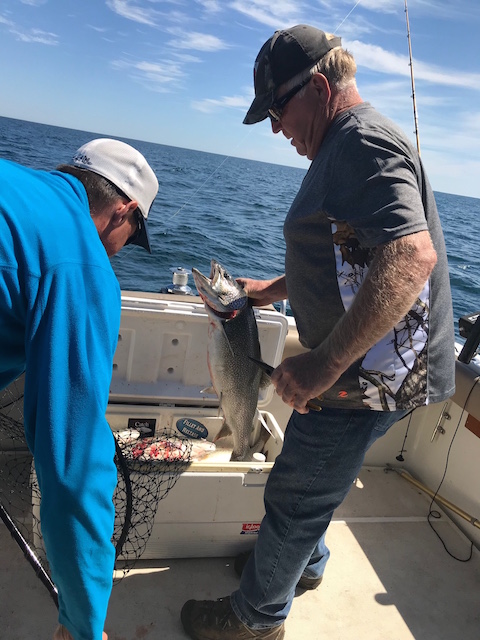 Full cooler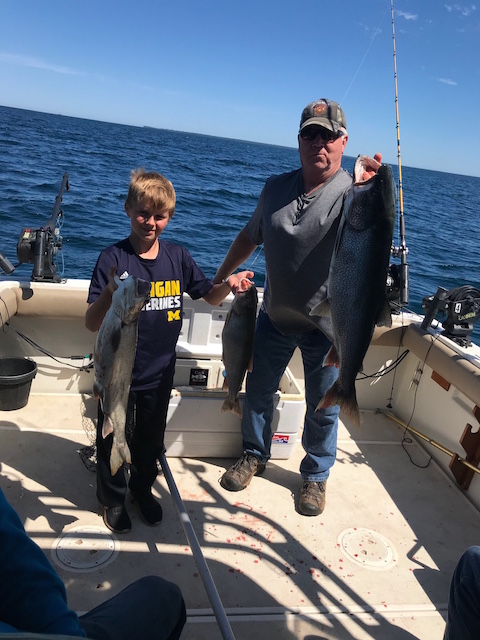 Liam and Tom
Monday, August 5, 2019
A plan comes together
A classmate, Joanne, called and asked if I could take her brothers, Joe and Chris and grandsons Will and Nick out while they were in town. Monday looked like a good day so we planned a Monday morning trip. The radar showed that there were some strong thunderstorms in Minnesota and they were heading our way. We left at 9:00 and didn't go out very far. We set lines at 75 feet and started trolling to 110. It didn't take long and we had the first fish. We landed that. It had to change our plans because there was a pretty good sea running from the Southwest. That meant that the easiest trolling would be to run either with the sea or right into the sea. That meant that the depth would change as we had to cross the reef rather then go parallel to it. I cut back to two lines as they would have to be attended to as the depth kept changing. That plan worked, I taught the guys how to set lines and net fish. I would keep the boat on course and they would set lines and haul in fish. With just two lines in I could make a sharp turn after we landed a fish and go right back to where we caught the last fish. In a couple of hours we had 15 fish in the box and headed in to get the fish cleaned before the storm blew in from the west. We made it and the boys got going an hour before the big blow hit. I love it when a plan comes together.
Thursday, August 1, 2019
Trout there, salmon gone
Troy, the owner of the Lac La Belle Lodge, wanted to take his brother in law, Carl out fishing so we decided to go out. Troy has never been fishing on the Kala Moiakka so we decided to go on Thursday. I called Emil and asked if he wanted to be a deckhand, he said SURE. The other member of the crew was Jeff, Troy's nephew.
The lake was like glass as we cleared the breakwall and headed out to the drop off. Lines went down at 75 feet with Emil setting one side and me the other. We set the deep lines first and were setting out the dipseys when the first line popped, Jeff boated a nice trout. Emil and I kept trying to get our two shallow lines set but our deep lines kept tripping with trout on them, a good problem to have. Carl and Jeff kept hauling in trout. Troy was net man and fish dispatcher while Emil and I set lines. We had eight trout by the time we reached the end of the reef. Emil said "boy, that was busy". The action slowed a little after that and we fished the 90 to 120 foot depths along the drop and caught a few more trout. We ended up with 11 keepers and one throwback, no salmon. A footnote, Don't take Troy out if you are looking for salmon, he has never been on a boat that has caught a salmon.
Sunday, July 28, 2019
Don't let Captain Bob touch anything
7:30 AM my phone rings and it is Bruce. Of course he says "The lake looks nice, let's go fishing". I hopped in the car and headed over to his place. On the way I saw Ed sitting on his deck so I stopped and said, "Let's go fishing". Of course he said yes and he joined us.
When we cleared the breakwall, the lake was calm. Bruce said, "let's go to the offshore reef" so off we go. It didn't take long and we dropped lines in 100 feet. A lot of fish showed up and soon we were into fish. Bruce drove, Ed hauled in fish, and I set lines. Soon our box was filling up with 6 to 8 pound trout. Then a downrigger quit working. It seems that I broke a pin in the plug that connect power to it. Bruce had a spare so he replaced the downrigger. About ten minutes later I broke the plug on that one. The fish quit hitting so we decided to quit. One line came up with no lure on it, a fish must have stolen our lure. Well I wasn't through breaking things, when I took the fish guts out for recycle I broke the handle on the gut bucket. Don't let me touch anything!
By the way, we caught 11 trout, 1 coho, and 1 pink salmon.
Thursday, July 25, 2019
Bruce found them
Bruce was out ahead of us today. He had Emil on board and we had Ray, Finn, George and Corbin. The super spot was where the lake bottom suddenly dropped from 100 feet to 160. The trout were located on the side of the reef and that made it hard to fish. You had to keep on your lines to keep from running into the reef.
Bruce and Emil had two in the box by the time we set up. It didn't take long and we had a fish on. I was setting a line out but Finn was on the ball and saw the rod trip. Finn had fished with us last year and knew the drill. They had the line tight to the trout and soon it was in the net. It was a workout keeping the lines in the water and we hooked fish after fish. We quit at 11:30 with 12 trout and a pink salmon in the box. A very successful day on the lake.
Sunday, July 14, 2019
Out with Tom's boat
Tom needed to check out his radar. He had to take it off the arch because it won't fit into the boathouse with it mounted. We took his boat out in front of Wendels and drifted while the radar was mounted.
It took some playing with the controls but soon we had it working. The first test was to see if it would pick up a couple of kayaker that were crossing Lac La Belle. It worked and they showed up well.
Bruce was out fishing so we called him on the marine radio to get a fish report. He said that the lake was calm so out we went. Tom's auto pilot worked great and we used it to troll in 130 to 150 feet. We caught 9 with two being small so they were thrown back. Two came on lead core. It looks like there are trout up near the surface.
Tuesday, July 9, 2019
Quick trip
I made a trip to town and drove along the lake shore. The lake was slicky calm and it was calling. When I got back to the camp I told Marge "Get ready, we are going fishing". After my lunch and a short nap we fired up the Kala Moiakka and headed out only to find that the lake had changed. The SE wind had started blowing and we had one to two footers with some whitecaps coming at us.
The lines went down in 140 foot and soon a downrigger tripped and a nice 20 inch eater trout came on board. We trolled to the South with a couple more trout in the box, then we turned and headed back North. The seas were building so we called it quits with 6 trout in the box. Not bad for a two hour cruise.
Friday, July 5, 2019
Family Vacation
The family was up for the Fourth of July weekend. There was a lot of partying going on so the crew , Kris, Kam, Michaela, Evan, and Kamden were late for the 8:30 departure. Bruce was out way ahead of us. Our first spot was way down the shore in 90 to 125 feet of water. Bruce already had two fish in the box by the time we set up. The first rod that tripped went to Kamden. She had it coming in and the line went slack, it seems that the captain forgot to close the swivel.
The first spot dried up so Bruce and I decided to make a big move. Lines came up and out to an offshore hump we went. When we dropped off the hump and into 200 feet of water fish started to show up on the sonar and also on the lines. We ended up with 10 in the box and called it quits when Kamden landed a 10 pounder.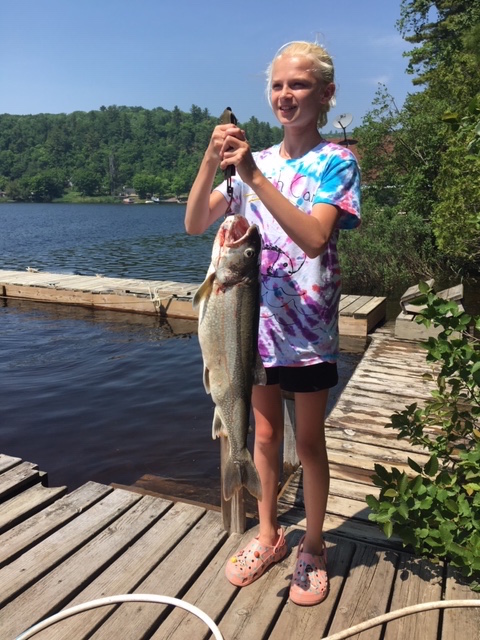 Kamden with 10 pounder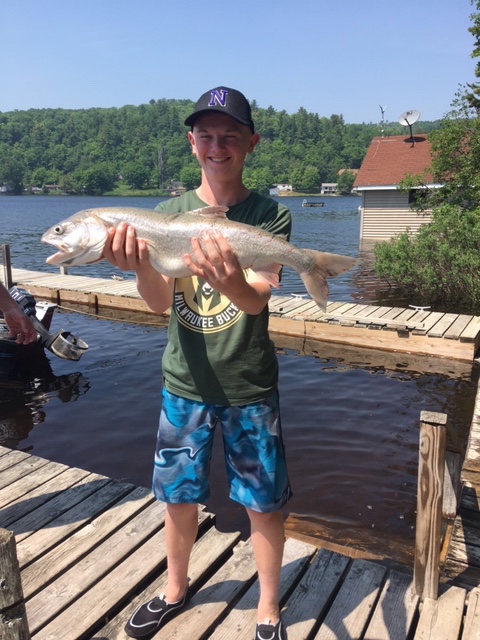 Even with a nice trout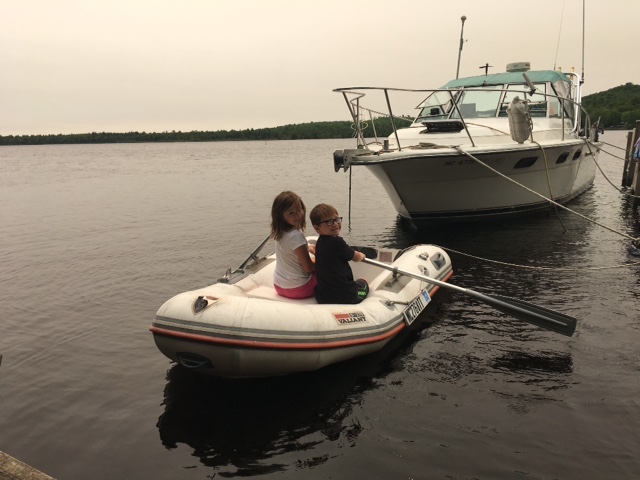 Big boat and dingy, Brisol and Chase
Wednesday, June. 19
Red boat works
Another beautiful morning so Marge and I took the 16 footer out. Of course we headed for the 140 foot that Bruce and I fished the other day. We tried the SPOT LOCK out and stopped over a couple of rock piles. It seemed that the trout had moved on us again. We drifted, caught a trout and activated the spot lock. The boat stayed right where we wanted it, the only trouble was that we couldn't catch another in that spot. We moved a few times and caught one more keeper and one small trout. It still was a great shake down cruise for the Namacush.
Sunday, June 16
Out with Bruce
The weather was nice, Bruce called and I said that I would pass on fishing. Marge was off to church and I had a couple of jobs to do around the camp. (there are always jobs to do around the camp) The gods must have interviened as when I put the phone down on the counter it butt dialed Bruce. That was a sign so I told Bruce to come over and pick me up at my dock. Out we went to where Tom and I had fished. We drifted a couple of times and did catch a couple of trout in deep water. Tom was trolling in 130 to 150 feet and had caught his limit so he headed in. We decided to try shallower so we started jigging in 150 feet. I had a bite within seconds after my bait hit the bottom. Then Bruce caught a trout. It didn't take long and we caught out limit of 10 trout with two small ones thrown back. The fish are a little smaller but they sure taste good.
Thursday, June 13, 2019
Fishing with Tom
Tom Talvensari has a new boat for him, a very nice Grady White. The electronics are different on it so we headed out to work on the GPS and sonar. The sonar is a Furuno so that was easy to set up. The GPS is a Simrad so it was a learning experience for both of us. Once we got a few features set up we headed out to the bobbing hole. The anchor went down and we ended up in 202 feet of water. We fished there for an hour and only one fish came up to the boat where it spit the hook and was gone. Up came the anchor and we moved to another spot in 195 feet, after a half an hour we didn't even have a bite so we moved again. This time our luck was better as we caught two trout so we broke in his new boat.
Monday, June 3, 2019
Just a nice day
I took Rowdy for a walk and the weather was beautiful, sunshine and a light wind. Bruce was down and I hadn't heard from him. I thought he would have given me a call about 7:00 and say "Lets go fishing". That didn't happen so I had to call him and say "lets go fishing". He said that he had to go to town and hung up. He called back in about 30 seconds and said "lets go". A call went out to Emil and he was on his way. It was a good thing that the Keweenaw County Sheriff wasn't on patrol as Emil said he was hitting 70 and only passed three cars on his way down. Bruce had repaired his alternator system on hi boat and wanted to check it out so we took his boat. We headed out and cleared the breakwall about 10:30, a late start but what the heck. The anchor went down in 190 feet and we were trying to get anchored in 195 feet. Sometimes it is very hard to get the boat to settle in to the depth you want. Things worked and we settled in at 195 feet. My line barely hit the bottom and I had a trout on the way up within a minute. Emil soon hooked one and landed that, we had two in the box in the first three minutes, a good start. Well that didn't last long and things slowed down. It seemed that the fish would come by in small bunches and we would all get fish or hits at the same time. It went on like that for the next two hours and soon our fish clicker showed 15 fish and up came the lines and we headed for the cleaning station. I think that soon we will have Bruce converted to a rod and non strech line as both Emil and me outfished his geppu, a rare occurance.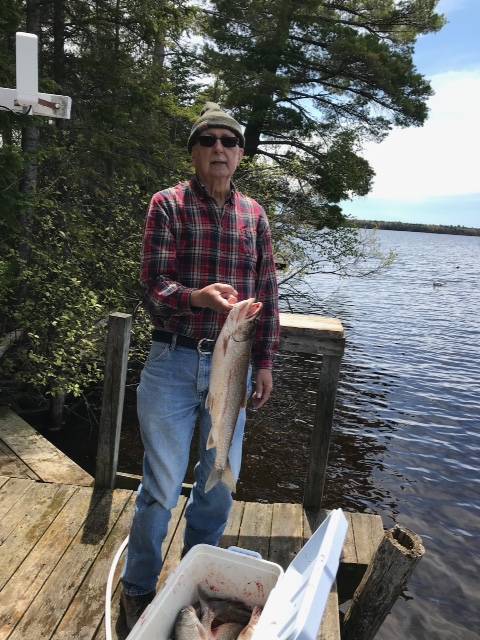 Emil with nice trout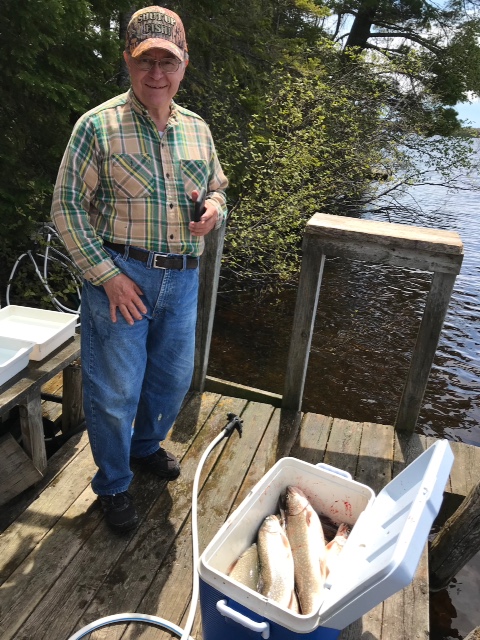 Bruce is ready to start cleaning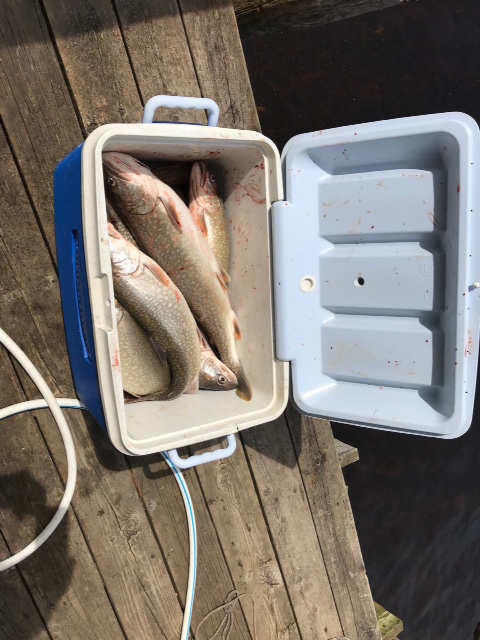 Another full cooler
Wednesday, May 22, 2019
Open up fish camp
Montana Joe was already here, Dave arrived at noon. We started working on the dock. There is a floating section that we install every spring. This year Lake Superior is above the all time high for this time of year and this made installation a little more difficult. The new jet pump and jetting pipe made the jetting operation go much smoother then last year. The floating section was installed but it is not quite level bit it functions. Time for some Bloody Mary's. These tasted very good and down went the tomatoe juice "salads". Joe was feeling no pain as he switched over to straight Vodka on the rocks.
Thursday, May 23, 2019
Launch of the Kala Moiakka
We were all feeling the affects of the Bloody Mary's in the morning. Joe was about useless. Fred arrived around noon and we went to work getting the Kala Moikka ready for launch. It was windy but we launched anyway. About 4:00 Emil came down and we headed out to troll the shallows for spake. Our first pass was to the South of the channel in 12 feet of water. It didn't take long and we had a fish on. Emil brought a nice spake right up to the boat and it got off at the net. We made another pass and lost another fish. Then we caught a 6 pound brown. It was just a beautiful fish. We trolled up the channel and caught a 7 pound northern. Then back to the camp for more beer and "salads".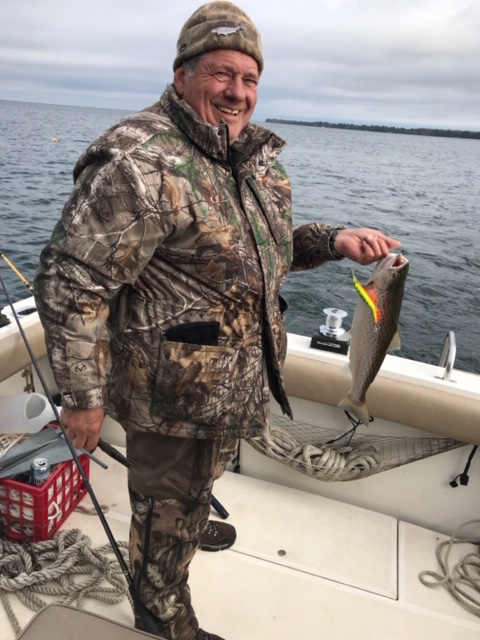 Dave with brown trout
Friday, May 24, 2019
Bobbing has started
The forecast was for strong winds and small craft warnings but the lake looked dead calm. We headed out and hit fog at the channel. The radar was spun up and it was an instrument run out to our bobbing hole. The anchor went down and Bruce caught the first fish, a nice 4 pound lake trout. They kept coming by and we kept catching. "Fish Hog" was catching the most as usual. The fish were running from 3 pounds to 6, all nice and orange inside. We had our limit by 11:00 and headed in with Joe out fishing Bruce and his geppu.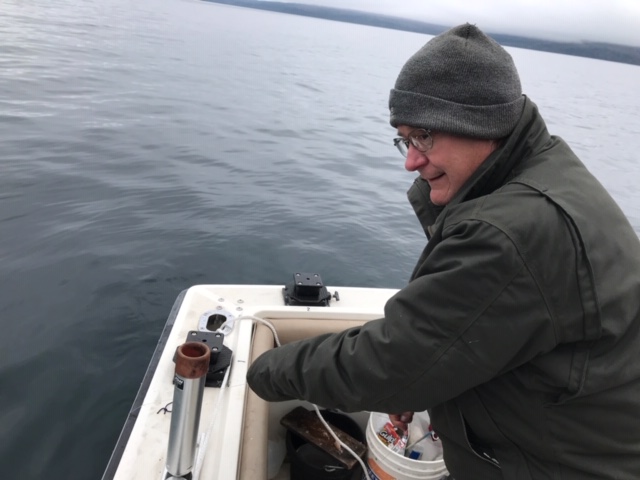 Bruce hauling one up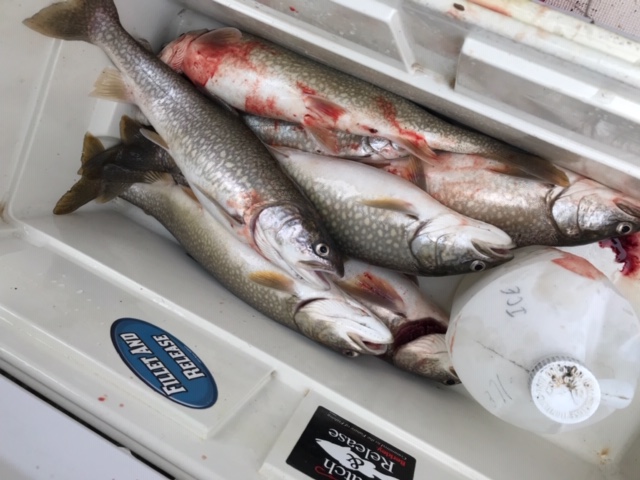 Its a start
Saturday, May 25, 2019
The fish hog returns
Same crummy forecast for high winds. The lake looked calm and we headed out again. The seas were glassy when we arrived at our bobbing hole. Down went the anchor and "fish hog" Joe went to work catching fish. There were lots of fish there and we had a blast. We even had a couple of triples. The box was full by 11:30 and we headed in to clean fish. I don't mean to complain but it shouldn't take longer to clean you fish then catch them. Another great day on the lake. Ignore the weather forecast and just go and look. Some days the forecasters are just wrong, just go and see for yourself and you may have a good day of fishing.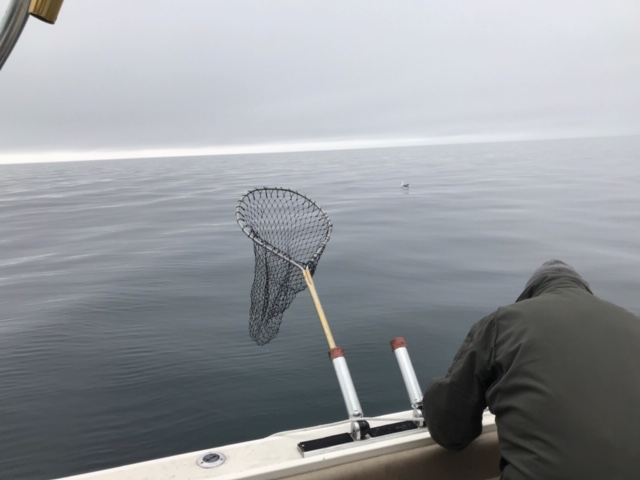 Calm with seagull

Fred hauling one up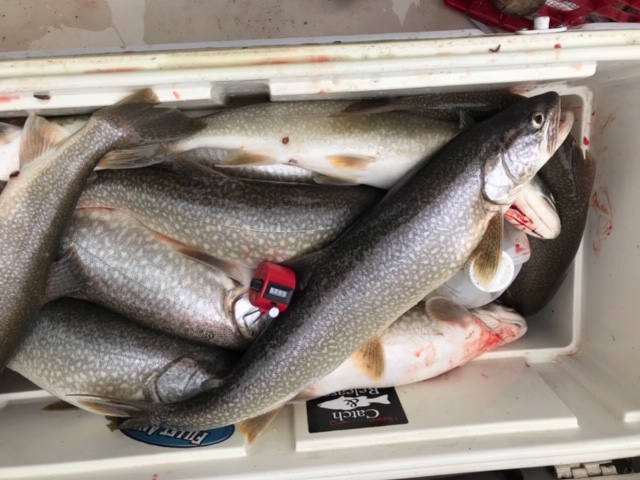 Need a clicker to keep track of fish, cooler full
Sunday, May 26, 2019
Emil makes it again
Sunday's forecast was for light and variable wind. That brought out the weekend warriors. There were 10 trucks parked in the parking lot when Emil drove by. Dave went with Bruce in his boat and Fred, Emil and Joe were with me. We cleared the breakwall and could see boats all over the bay. There were even two in our bobbing hole when we got there. Of course the weather guys were wrong again as it was blowing about 10 from the Southwest. We tried to anchor but it would not hold. Our boat was drifting and was going to hit the boat that was already there. Bruce managed to get his anchor to stick but he was at the wrong depth. Our anchor puller was attached to the anchor line and we pulled it in and headed to another spot. We put out nearly 400 foot of anchor line and our anchor held. This place was a better fishing spot then the other ones. At one time we had all four lines in the boat with fish on them. The box soon filled up and we took a slow ride in with the wind now blowing about 15 to 20, so much for the predicted light and variable. Everybody is going to go home with fish this Memorial Day Weekend.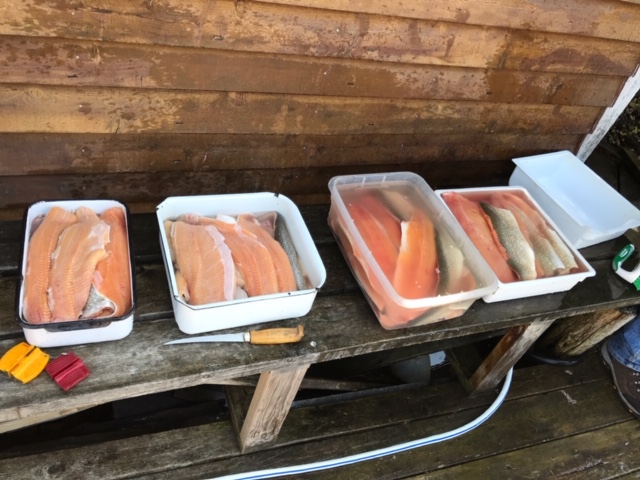 Cleaned fish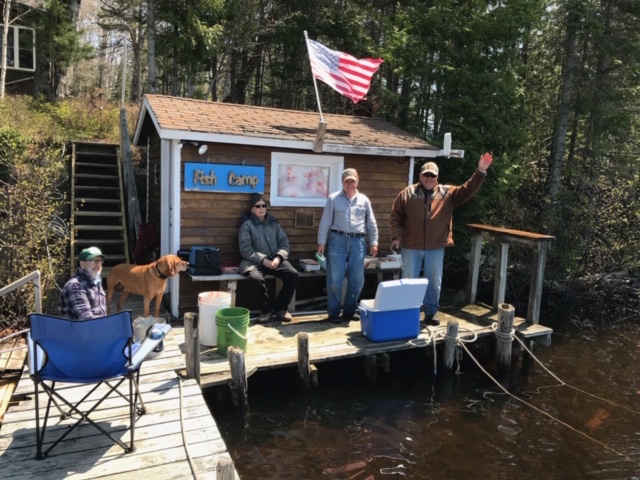 Joe, Rowdy, Emil, Bruce, Dave, Fred is at the cleaning station

Wednesday, April 24, 2019
You can catch whitefish from a boat
This week we had two boats and four guys in the crew and the plan was to head out into deep water to see if there were still whitefish there. We left the marina about 9 and headed out to deeper water. The seas were running about a fit or so from the SE so the trip out was a little slow. About 2 miles out onto Green Bay the seas flattened right out. Last weeks spot was our destination and it didn't take to long to get there. Steve and Willy were already there and set up by the time we got there. This was the shakedown cruise for Steve List and he couldn't find the remote for his trolling motor. We dug through at least six compartments looking for it. Finally he found it right under his seat hidden in plain view. Steve remarked, "that's not where I put it last year."
Once we got the trolling motor and remote problem fixed we motored over to where Willy and Steve were fishing. This was right where last weeks good fishing hole was. They didn't have anything in the box yet. Steve was sending out a good string of unmentionable words because his trolling motor was not locking onto a spot. The SPOT LOCK would activate but then drop out. After a bunch of tries and a few more choice words it started to work.
We fished there for an hour without s bite. The current was strong and the water was muddy. Steve List and I decided to make a major move. We debated about where to go and finally decided to try where we caught fish last winter. The subject came up, "you can't catch last weeks fish, what makes you think you can catch last winters fish." We ignored that thought and made the move anyway. IT WORKED, the fish were there. So we had three in the boat and called Steve and Willy, they had one in the boat. It was what we call a sucker fish. It suckered them into staying there while we caught three more fish. That did it, up came there lines and Steve put all 225 horsepower to work getting over to where we were. Once there and after a few more choice words from Steve about electronics, they got the SPOT LOCK to work. Then they started to catch fish. We quit at 3:00 with 36 nice whitefish in the box. Another good day on the water.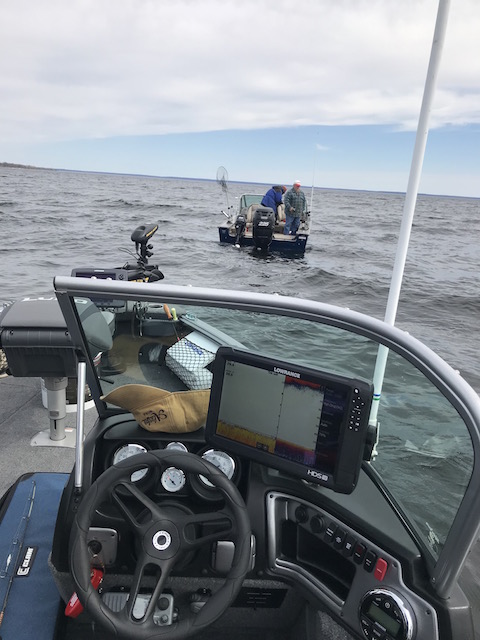 Steve and Willy jigging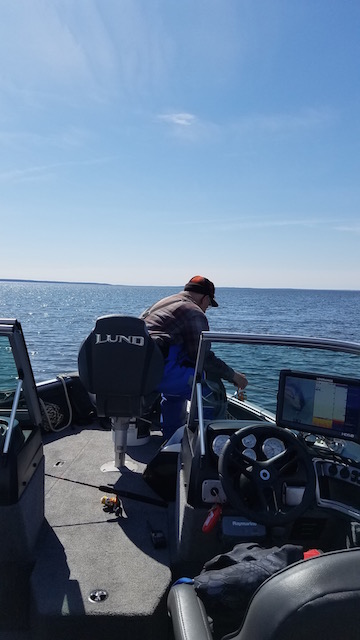 Bob jigging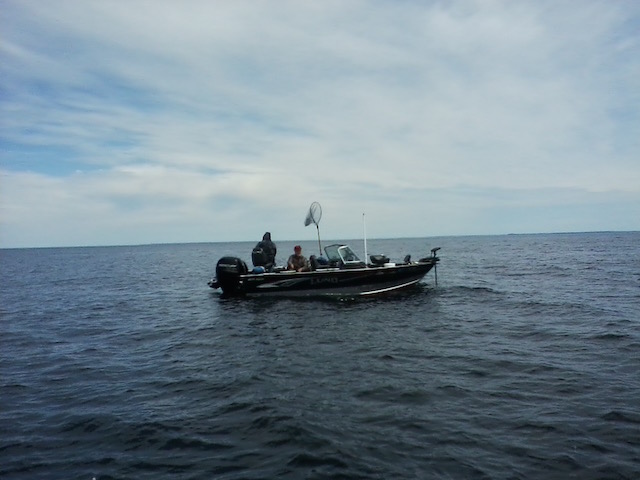 Steve List Boat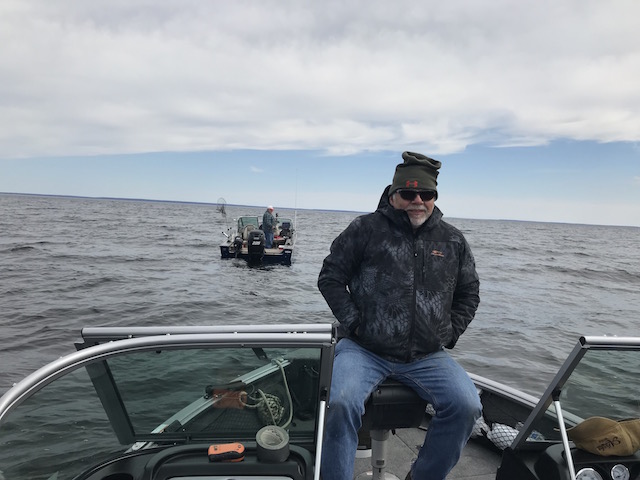 Steve List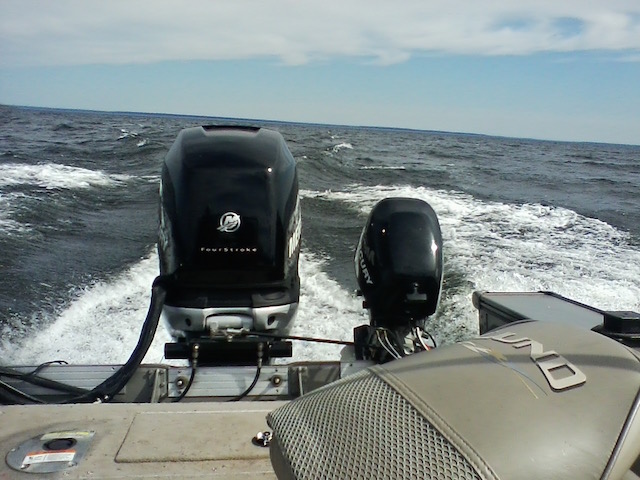 Rough Water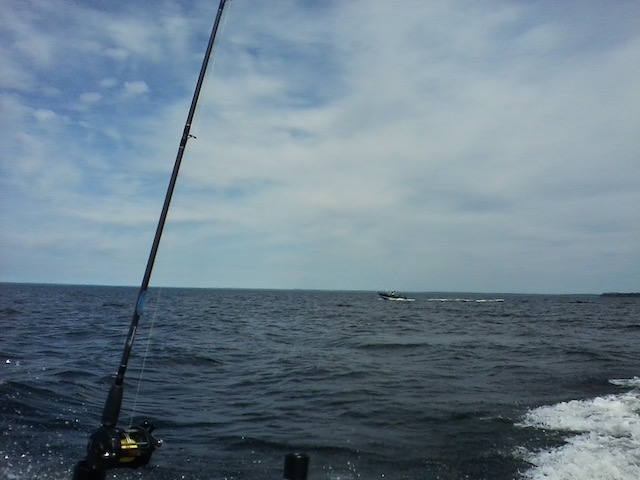 Heading home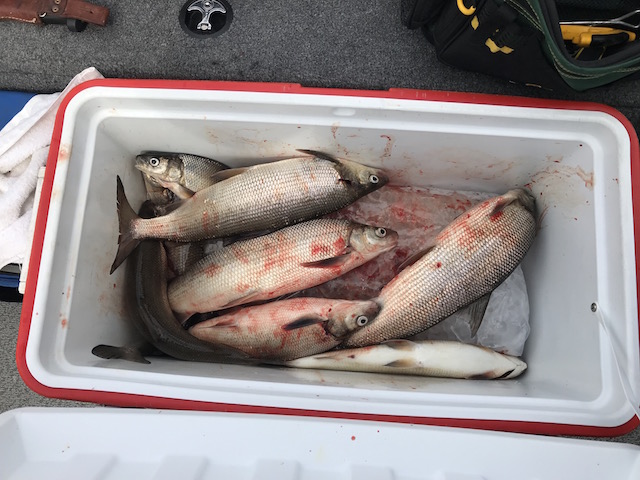 Fish on ice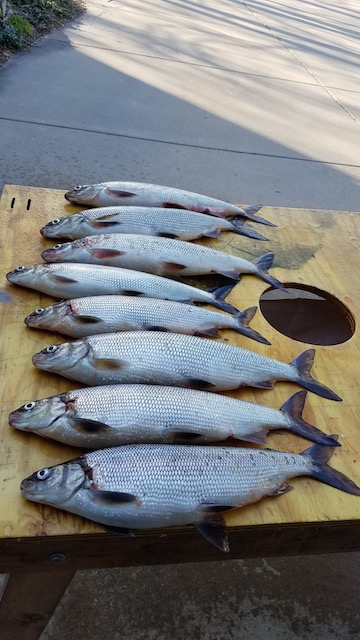 Ready for cleaning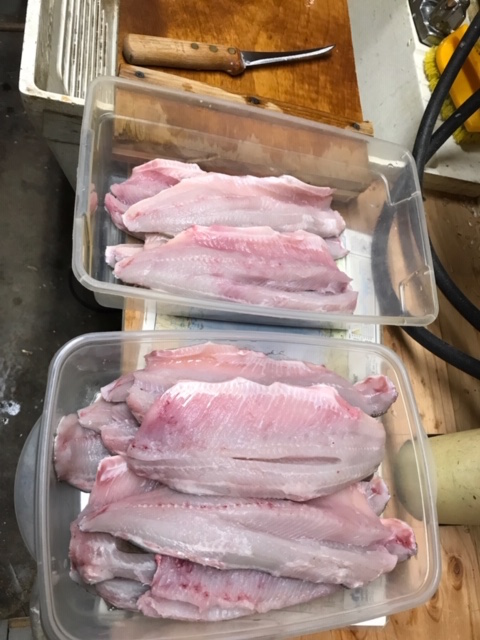 Ready for the grill

April 16, 2019
Shakedown Cruise
The ice is out on Green Bay. The boat launches are open so we decided to put Steves boat in the water and see if we could find the white fish. Whitefish Willy joined us so we had the Wizard with us.
The boat went in without any trouble and out we went into calm seas. There were slight seas from the SE when we cleared the breakwall and headed for an offshore reef. The first spot was a winter ice fishing hole. It had produced lots of fish over the winter. Steve put the boat on SPOT LOCK and we started fishing. We tried for half an hour and nobody had a bite. Up came the lines and we headed to try and catch "last years fish". The sharp drop off was located and the SPOT LOCK turned on. Well it didn't lock and we were moving a little. It was hard to hold bottom but that didn't stop Willy from hooking a fish. It looks like they are there. After resetting the electric motor controller the SPOT LOCK worked, our lines hung straight down and this is essential when jigging in deep water. Willy caught the first fish. (As usual). The fish came in spurts throughout the day. We quit at 3:30 with 24 nice sized whitefish in the box.
The shakedown problems were minimal. Gps not locking up, broken tip guide on a rod that broke two fish off. My rod had the furl plugged by a mud dauber and wouldn't go together. Other then those minor problems it was a highly successful day.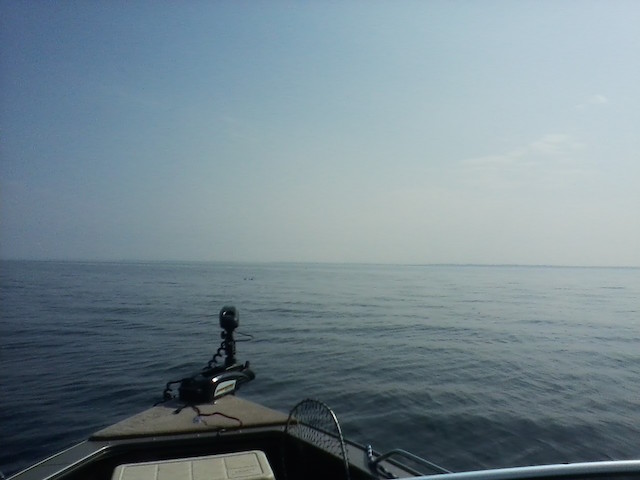 The Ipilot kept us in one spot all day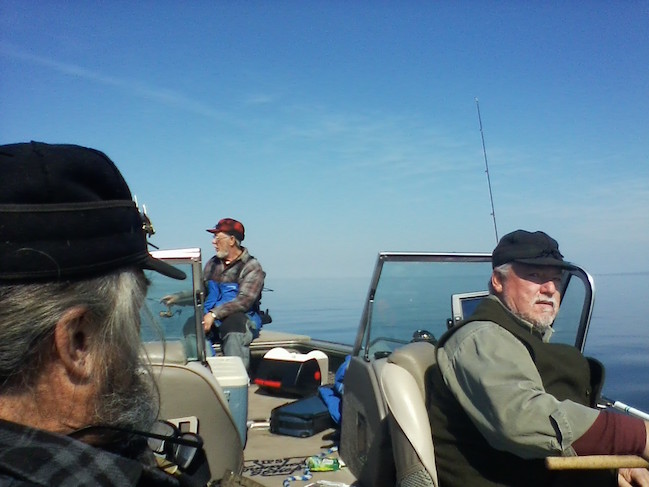 The crew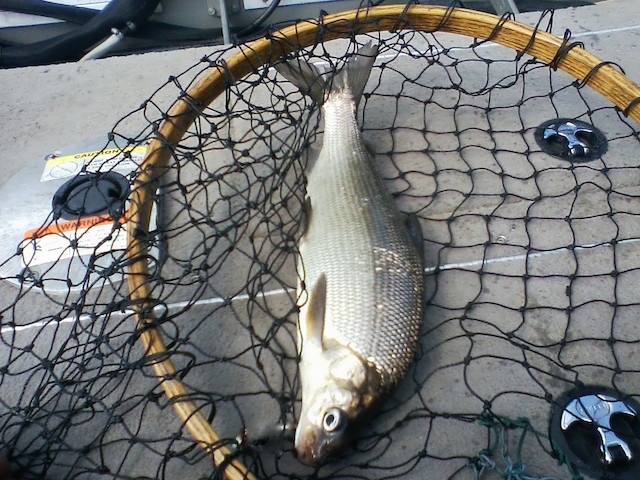 First fish of the day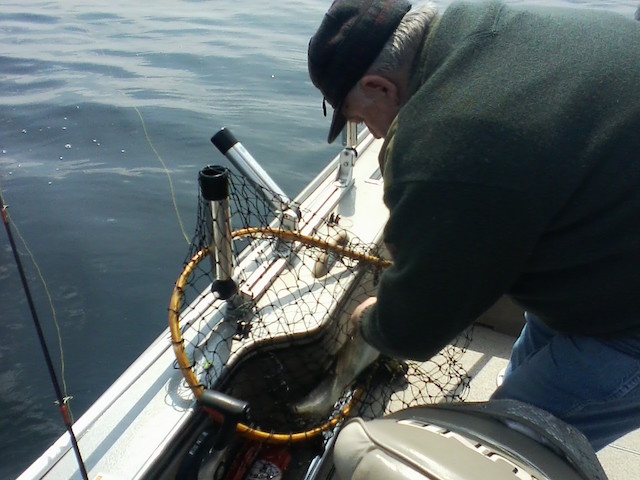 Steve, the Captain with a fish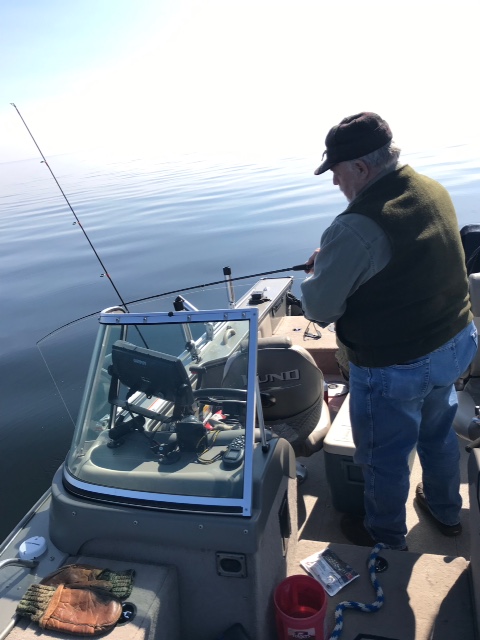 Steve jigging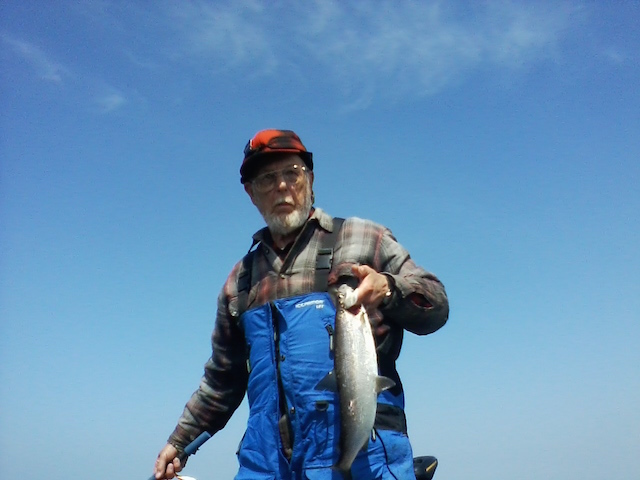 Bob with a smaller one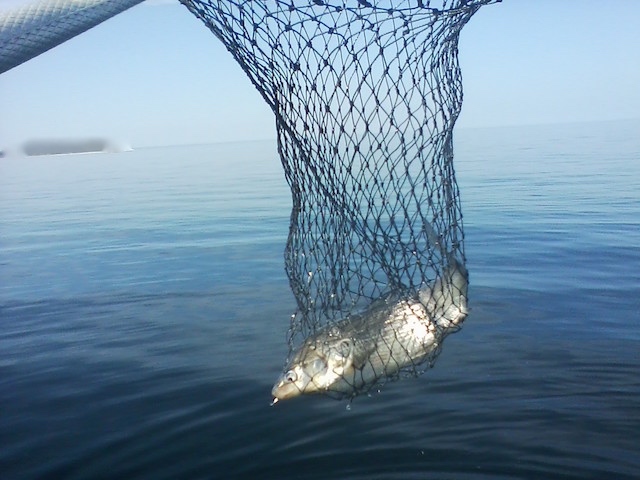 They kept coming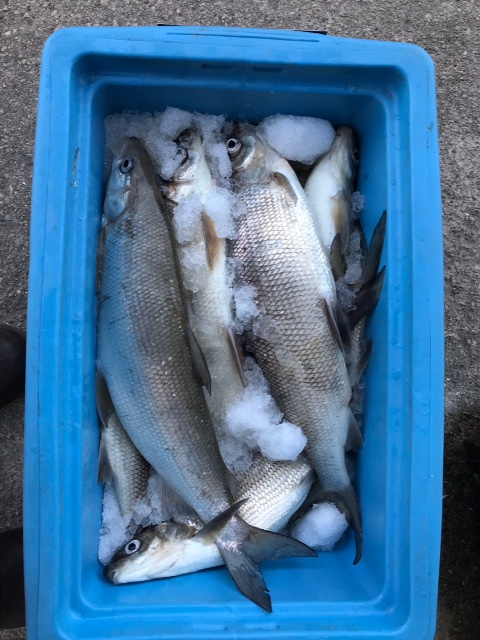 Cooler full