---
By Toivo from Toivola on Wednesday, December 4, 2002 - 07:53 pm:

<!-NOTE: Message edited by 'admin'-!> So Charlie gives me a call late this afternoon and says "Toivo, there's a mid-week pasty shipment that needs extra attention, so can you do the Pasty Cam again?" Sure, I says, if you save a couple of those pasties for me. "You drive a hard bargain", he mumbles.

So here in Charlie's Inbox I find a portrait he apparently overlooked. It's from Charles Mills, a week ago Sunday when his boy turned 6 years old. Late happy birthday, Master Mills, and here's your puppy online. They say his proper name is "god of thunder", or just Thunder for short.

Reminds me of another Christmas Canine here on Pasty Central a couple of years ago: "Bear" at the Einerlei in Chassell.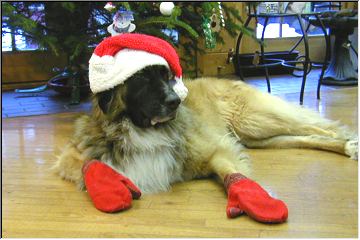 The Pasty Cam is goin' to the dogs. <!-/Post: 14613-!> <!-Post: 14614-!>