---
By Charlie at Pasty Central on Wednesday, November 6, 2002 - 05:37 pm:

Tom Harris from Wisconsin has had a few adventures lately up here in the U.P. One shot appeared a few weeks ago, as Carson Klemp surfed Superior. There's plenty more where that came from, and this one caught my eye.

I don't know what it is about old junkyards... Feels like stepping back in time, sort of a living museum of automotive memories. The one above almost looks like so many headstones in a mechanical graveyard. Perhaps it should have been our Halloween shot last week.

Reminds me of that classic shot in the Keweenaw woods by Joe Kirkish...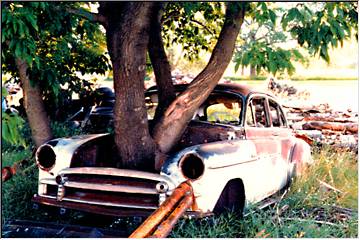 <!-/Post: 13784-!> <!-Post: 13785-!>