---
By Charlie at Pasty Central on Tuesday, June 11, 2002 - 05:25 am:

<!-NOTE: Message edited by 'admin'-!> patron, Toivo, jj - Thanks for emailing the Detroit Free Press, but I think they just wanted one email per person, instead of how Toivo made it sound ("vote early and often"). I bet he says that during the primaries, too. No doubt he was trying to make a funny (like he "makes wood")

I looked up the article he was referring to. One of the writers is Heather Newman, who visited us here at Still Waters awhile back, and did a very nice story. She and Mike Wendland will apparently be publishing their list of readers' favorite Michigan websites next month.

Pasty Central owes a lot to the Detroit Free Press for stories several years ago which were re-published in newspapers all over the country. I have a picture hanging on my wall, taken by Free Press photographer Al Kamuda, with residents from Still Waters around the table peeling veggies for the pasties. It was so long ago that this project has outlived most of the folks in the picture. I could tell you stories about each one.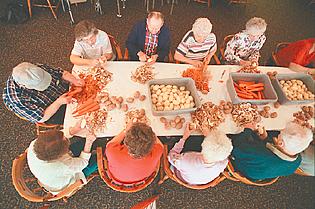 <!-/Post: 10479-!> <!-Post: 10481-!>