---
By Charlie at Pasty Central on Friday, February 15, 2002 - 10:12 am:

<!-NOTE: Message edited by 'admin'-!> Yesterday it came to our attention that CNN had a special report about the snow castles here in the Copper Country. This is the very same structure which appeared in place of the "bridge cam" last month, as the snow structure was being constructed.

Wow, this area has received lots of national media coverage lately! The current issue of Men's Journal includes Houghton as one of the healthiest, safest, most fun towns in America... and as you travel north along the Keweenaw Peninsula, it gets even better!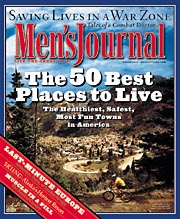 <!-/Post: 8509-!> <!-Post: 8510-!>