---
By Charlie at Pasty Central on Monday, February 4, 2002 - 09:57 pm:

Blinding sunshine was abundant in the Copper Country today, and especially striking along those trails which wind through the woods all the way from the Lift Bridge to the point at Copper Harbor. This particular stretch not far from Cliffview and Vansville is well known to our family, because it's where the kids first ventured out on our snowmobiles years ago.

We've not done any sledding this year, and I miss those times of exploration and excitement with discovery around each turn. The kids are all grown up now, and with the snowless start to winter this year, we haven't even gotten them out of the garage. Know anybody looking for a good RXL or a Yamaha (not quite as good)?

Hey, if you've considered a trip to the Keweenaw, now's the time to come on up. And if you hurry, you can make it in time for the snow sculptures this week at Tech.

And if you can't make it... stay tuned.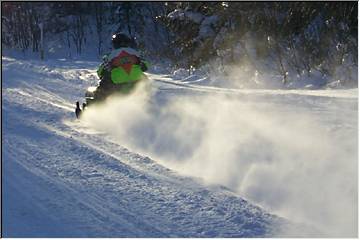 <!-/Post: 8316-!> <!-Post: 8317-!>