---
By Charlie at Pasty Central on Saturday, December 23, 2000 - 09:19 pm:

How many times I have driven US-41 from Eagle River to Calumet in blinding snow... realizing there is something up ahead. Feeling that the snow is suddenly a thicker cloud, you strain to make out any tail lights in front of you. Then you emerge into a clearing through the wall of white as the road commission truck becomes visible.

This stretch of highway is a favorite of Jonathan's, with the rising cliffs ahead, just south of Phoenix. One of my personal all-time favorite shots on the Pasty Cam was a view he captured a couple of years ago, from the other direction.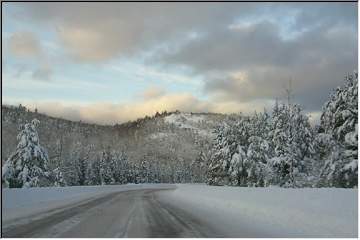 <!-/Post: 2118-!> <!-Post: 2119-!>