---
By Charlie at Pasty Central on Tuesday, November 28, 2000 - 10:29 pm:

The folks at Still Waters always enjoy it when Carol Peterson brings her golden retriever "Cody" for a visit. I have tried to capture Cody "taking himself for a walk" around the halls of the Home. It's hilarious! - He takes the end of his leash in his teeth and appears to lead himself around just like a human.

As mentioned on today's Pasty Cam home page, Dan Sullivan had a nice article in the Mining Gazette this afternoon, with some comments by Evelyn Alatalo (right) about her involvement over the years helping to make pasties. Dan also had an article in Saturday's Gazette about (of all things) rock piles. He reminded us of Gert Keranen's unforgetable quote on her birthday back in the winter of '97-98, when asked by the Pasty Cam how old she was, quipped: "Old enough for the rock pile".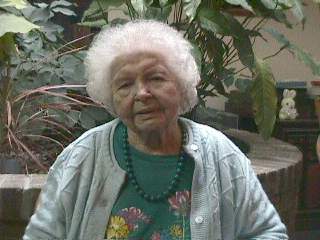 <!-/Post: 1807-!> <!-Post: 1814-!>