---
By Charlie, Pasty Central on Saturday, September 16, 2000 - 02:06 pm:

We've had a number of email requests for information about the space picture of the U.P., which was used to introduce the extra "Vacation Scrapbook" shots we are displaying this month. The picture above, a view of Lake Michigan and the Lower Peninsula, is from the Johnson Space Center collection. NASA does not place copyright restrictions on its photos, but be advised that its appearance here does not imply endorsement of our pasties. Wonder if that policy would change if they had a little taste test? :o)

Here is a larger version of the U.P. shot we have been displaying. Our thanks to Dave and Gloria Dix for relaying this unique perspective to us. If you would like to download this photo, do a right-click on the picture and select "Save Image" in most browsers. More vacation/reunion shots are coming next week, as we wrap up Summer 2000.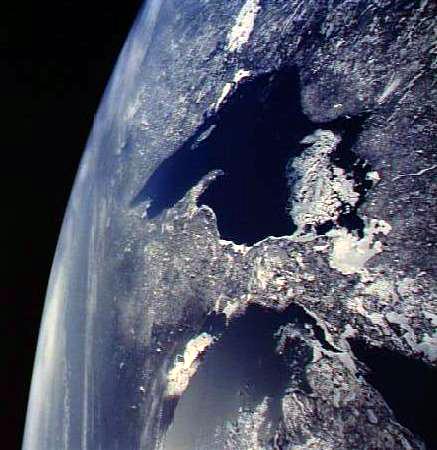 <!-/Post: 1129-!> <!-Post: 1130-!>