By Annette from Hawaii on Friday, July 9, 1999 - 10:56 pm:

Just a note to let you know that the pasties arrived on Wednesday at approx. 1:30 PM. Honolulu time. Thank you for such great service I will be sure to pass this information along to my friends. Again Thank you.

Annette
Just 1 day to the Islands!

comes through again.
---
By Jackie from Nevada on Friday, July 9, 1999 - 07:17 am:

I just noticed that your last couple of days on the Pasty Cam are listed June instead of July. Might want to correct that. J I just love checking in every day and seeing the new picture for the day. It makes me want to come back home. I will be moving back there from Las vegas in a year and a half, but for now I can go there through Pasty Cam. J Just wanted to let you know about the date error. Thanks.

Jackie Nees

Ooops! We liked June so much we wanted to do it again... But time to move on, and now it's fixed. Thanks to all who help de-bug our pages
---
By Annie from Texas on Thursday, July 8, 1999 - 10:12 pm:

I love your pasty site! I'm from Michigan, but currently living in Texas. There are no pastys down here! I'll be sure to order some from you guys real soon.

LOVE THE PASTY-CAM,
Annie Jarvis
---
By John L. Hoh, Jr. on Wednesday, July 7, 1999 - 05:58 pm:

Quoting Lisa on 7/6:
"Just found the Live Lift Bridge Cam and it is the coolest thing ever! What a great photo. I will be driving across it in just a few days. (The bridge, not the photo!!)"

Actually, if Lisa drives across the bridge, she could be driving across the photo? I've noticed that cars appear and disappear as the photo is updated.

By the way, Lisa, a good friend of mine is pastor of St. John's north of Ann Arbor, which is right next to Ypsilanti. It's actually in Northfield Township. If you meet Rev. Andrus, say "hi" for me.
---
By Jeanie, visitor on Wednesday, July 7, 1999 - 09:09 am:

I am enjoying this site. After leaving there on Wednesday of this past week how nice it is to check in every day to see what is happening up where my Dad and Mom came from. We stayed at Laurium Manor Inn.
Please know that you are appreciated.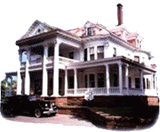 Fondly, Jeanie
---
By Joan Eshleman-Velde, Illinois on Tuesday, July 6, 1999 - 12:07 pm:

I was so thrilled to find your website, and since have ordered pastys to be sent to my sister in Tacoma, WA, and my daughter, in Gig Harbor, WA. It's a surprise for them both, and they both LOVE pastys! We've spent many August weeks up in Copper Harbor, since I was a child, and it is one of our familys' favorite places. My Mom and Dad celebrated their 50th wedding anniversary there, at the Keweenaw Lodge, and the flowers were wildflowers my future husband and I picked along the roads. Since my Dad died, we haven't gone up there as much, (l994 was the last time) but it will always have a special place in our hearts.

I love the Pasty Cam. I, also, would like to see the Falls at Smith Fisheries - I've only hiked there once, but have never forgotten how beautiful it was.

That's the Montreal Falls, and we've had several requests to get a Pasty Cam shot. Stay tuned...
---
By Lisa Walters Ypsilanti MI on Tuesday, July 6, 1999 - 07:17 am:

Hi,
Just found the Live Lift Bridge Cam and it is the coolest thing ever! What a great photo. I will be driving across it in just a few days. (The bridge, not the photo!!)
---
By Daryl Brunner, Illinois on Monday, July 5, 1999 - 08:19 pm:

Thank you for the Copper Aroma Candle from Copperworld. I will enjoy it and think of the U.P. I lived in the U.P. all of my growing up years. It was a great place to grow up. I do miss being able to go and get pastys went ever we want too. Thank you again

Daryl Brunner From Illinois

Your prize will be on its way this week!
---
By Kyle Cross on Monday, July 5, 1999 - 03:32 pm:

I order pasty's from your site monthly (love the things:) and was wondering what is the nutritional information on a pasty, specifically the calories. Thanks for your time

Kyle

We are in the process of having nutrition labeling developed for us. Until now we have operated with an exemption from the USDA, because of less than 100,000 of any given item. But it appears we are on our way to reaching those kinds of numbers, so we seek the labeling. When we receive the lab report we will post the results on the website, and begin including the information along with every order.
---
By Martin L., Michigan on Sunday, July 4, 1999 - 11:36 am:

Just wanted to let you know what I thought as I browsed through your website.

It is WONDERFUL! Simple without being crude, very professionally done, succinct, and colourful.

I am a pasty "freak, and when I was in England, I got a rather unique recipe for them in Dartmouth, that is an entirely different approach to pasties. Everyone with the exception of one person thought they were fantastic.

Anyway, I am still checking out your site, and I sent it to a friend of mine in California who is from England, and was looking for pasties. You did such a good job on this site, it actually makes one proud to be from the U.P.

THANK YOU!!!!

Martin :0)
---
By Eileen Moira OBrien on Saturday, July 3, 1999 - 01:30 pm:

Pasty Cam Request:
Jim and Terry O'Brien (my parents) on the front porch of their cottage in Eagle River waving at us all out here, their 10 children, many grandchildren and friends around the country. They've waited many, many years to be able to hang out at their camp all summer. I'd love to tune into Pasty cam and see them there with their friends.

Seeing those pictures of E.R. brings tears to my eyes. Many happy memories of home. Thanks. Keep up the great service.

Eileen Moira OBrien

We'll dispatch the Pasty Cam to find Jim and Terry sometime this summer
---
By M. Flister, Texas on Friday, July 2, 1999 - 01:26 pm:

Our gift recipient reports that the pasties arrived in Austin, TX on Tuesday, June 29. He says that they are even better than he remembers from our many visits to the UP and various restaurant experiences there. Thank you for your promptness and courteous service. We will tell our friends about these great treats!!

Mary
---
By Peter Chiomenti, Maryland on Friday, July 2, 1999 - 01:23 pm: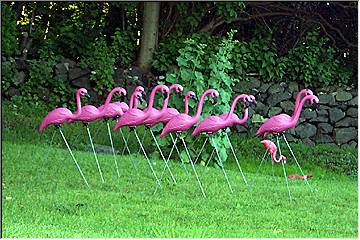 Dear Pasty Cam,

Loved those flamingos! They must be the hearty Yooper variety, because I saw them in May when I was there and it looked like they got there ahead of me.

Peter Chiomenti
Maryland

(By the way, hello Jeannie from Maryland. You should visit Michigan's UP it's a great place -- but a loooooong drive from MD.)
---
By Joy H., Wisconsin on Friday, July 2, 1999 - 10:18 am:

I would love to see Lac La Belle included in the Pasty Cam one day. Also, possibly the Smith Fisheries, although it is a hike. Both places are very dear to my heart as they have been a part of my family's summer vacations all my life (28 years).

Thank you,
JOY Huwatschek
Port Washington, WI

That's one of our favorite hiking spots, too. Next time we're there, the old Pasty Cam will get an eyefull.
---
By John from Wisconsin on Thursday, July 1, 1999 - 01:21 pm:

Six, beautiful, bouncing pasties arrived yesterday. Money order on way--it shouldn't be bouncing.

John Hoh
---
By Susan Marks, Minnesota on Thursday, July 1, 1999 - 05:44 pm:

I have heard there are Big Trees up near Copper Harbor. Could they be a future Pasty Cam photo?

Thanks

You probably are referring to the Estevant Pines. Maybe we can hike there this summer
---
By Sue Popma on Thursday, July 1, 1999 - 05:28 pm:

I would like to see the Lighthouse in Copper Harbor. During a sunset would be nice.

We will be at Copper Harbor on August 6, 7, & 8 to see the reenactment at the fort. My sister & brother-in-law are reenactors with the 7th Michigan & my brother-in-law will be participating at the fort while my sister & I (& some other relatives) will be touring Copper Country. But could you include a picture of the reenactment on the PastyCam?

For the summer our son is working at the MTU research lab near the airport. Can you get inside the lab to take any pictures? One of the research projects involves an Army tank, so maybe they have a model they are working on.

Do you have any pictures of bears?

Sue

Last year we featured a page of the re-enactment at Fort Wilkins. And we'll keep an eye out for bears :o)
---
That's all of July 1999 Past-E-Mail! Go To current month to post your message.