---
By The Hoyers, Minnesota on Wednesday, August 22, 2001 - 02:09 pm:

Grandma's Pasties is proud to partner with Pasty Central! We're Sandy and Chuck Hoyer, the owners, former Yoopers from Houghton and Hancock.

Visit us at the Minnesota State Fair August 23 - September 3. We are located on the corner of Underwood and Dan Patch, across from the Visitor's Plaza and next to the original Penny Arcade.

This year we are adding two new flavors -- breakfast with ham, scrambled eggs, cheese and potatoes and pasty pizzano with sausage, pepperoni and cheese. This brings our menu to six different pasties -- meat, chicken, veggie and our delicious apple dessert pasty. Grandma's also offers frozen pasties to take home.

Another surprise for everyone -- VERNORS ginger ale. It took much searching and we found it in the fountain variety. Vernors kind of goes hand in hand with the South American cruise boat which was featured not too long ago on the pasty cam. They both stir little remembrances of the past.

After the fair, these wonderful pasties are available locally by calling 612-747-6033 and placing an order. Our office is located in Bloomington not far from the Mall of America. Pasties can even be picked up the same day if your order is received by noon. You can reach us at the fair by calling the same number.

We are happy to be a part of the Pasty Central family!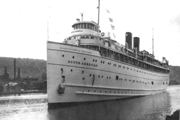 <!-/Post: 5306-!> <!-Post: 5309-!>