---
By Dan Urbanski on Tuesday, August 21, 2001 - 07:42 pm:

My backyard has been crawling with Grey Tree Frogs this week, and I finally had an opportunity to chase one down. This one parked himself on top of our porch light, in the process doing great business eating the bugs attracted to the light. He was great; so laid back that I was able to arrange him into different poses!

Why are they called Grey Tree frogs when they are green? 1) they turn grey when they mature, or 2) they change color to match their surroundings. Iím sure someone among Pasty Cam viewers has the definitive answer.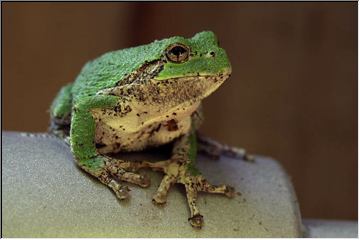 Visit QuietlyWild.com

<!-/Post: 5298-!> <!-Post: 5299-!>