---
By Charlie Hopper, heading back to Pasty Central on Saturday, February 24, 2001 - 06:55 am:

Earlier this month a guest photo from Doug Smith took us to the snowy dunes of Lake Michigan, and today we're back (via Steve Brimm), this time on the north shore (near Escanaba), with a dog sled instead of cross country skis. As I mentioned in yesterday's Notes, I've been updating the Pasty Cam remotely, on vacation in the South (even got a little sunburn yesterday afternoon). Tomorrow we head north again, and should see Lake Michigan in person by Monday, passing through Traverse City/Petoskey area.

If you have never visited the Northern Great Lakes area in winter, you ought to consider it sometime. It's a whole different world.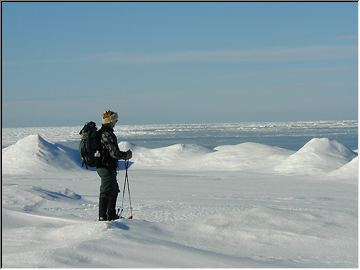 <!-/Post: 2872-!> <!-Post: 2875-!>