---
By Charlie at Pasty Central on Wednesday, January 3, 2001 - 11:50 pm:

Last week, Cam watchers peeked in on a couple of weddings in the U.P. Today honeymooners Bryan and Becky are back, having some fun in the snow.

I had to stare at this picture a long time before I could see Becky. Look again, if you haven't seen her yet.

We saw the cleanup of the stampsand after the winter of '98-'99 here in front of Cooper's cottage in Eagle River.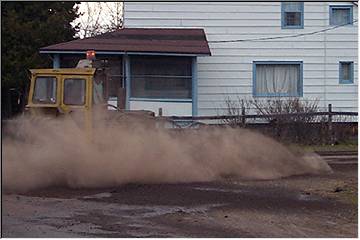 <!-/Post: 2237-!> <!-Post: 2242-!>