---
By Charlie at Pasty Central on Friday, January 17, 2003 - 07:56 am:

One of our newer Pasty Camists Karla Korpela reports improving trail conditions with the current blast of cold and snow across the U.P. Quite a change from the sweltering temps these guys are accustomed to in Arizona. What a colorful crew :o)

The seasons are so extreme here in the U.P. It was a different world 5 months ago today when our original Pasty Camist, Jon Hopper, walked the isle in Laurium with his bride Katriina, on a warm August afternoon. Seemed a lot like Arizona, as I recall.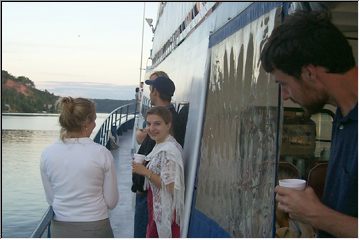 Aha! That's the appeal of living in the U.P. Our sense of adventure loves to see new places. Some people travel thousands of miles for this experience. When you live here, all you have to do is wait. <!-/Post: 15984-!> <!-Post: 15990-!>