Guest Column originally published in Keweenaw Now
December 2001

by Charlie Hopper
A Tale of Two Couples

In the early 70s they had been married little more than a year, still getting to know each other, fresh out of college, settling into the working world. He was a drive-time radio announcer in the Detroit market, facing many challenges for a 22 year old. But his most memorable challenge came one afternoon in the form of a frantic phone call from his young wife.

She hadn't even told him she was pregnant -- that was his first surprise. The panic and desperation in her voice expressed more than words: She was undergoing a painful and turbulent miscarriage. Losing blood, about to pass out, her only thought was to grab his number at work, 25 miles away. He quickly called a neighbor for help and said he would meet them at the hospital as soon as he could. It was a long ride.

There was mixed news when the doctor met him at the emergency entrance and they talked on the way to her room. His wife was O.K., out of danger, resting -- she was only a couple of months along -- and, of course, the baby was deceased. The doctor called it a "spontaneous abortion." Maybe that young man had lived a sheltered life, but for the first time he understood what the word meant. The doctor left them alone, and he sat down beside his wife's bed. Both were thankful to be over the crisis, but saddened by the sudden loss of this third unknown person in the early stages of life, with an unsuccessful attempt to enter theirs. It was a profound moment for them both. He held her hand until she fell asleep.

Fast-forward seven years to a younger couple -- sweethearts still in high school, both from large families, both normal, healthy kids in every way except one: She discovers she is expecting his child. High school, unmarried and 17 is not the best choice of a situation to raise a baby. Some other very important choices had to be made.

Whether she ever considered abortion, we'll never know. But we do know this particular young couple together chose to do the hard thing. Every day for the next eight months she experienced the most intimate of human relationships. There was another person growing inside of her -- gaining strength and size, making that same mysterious journey we all have made.

The young unmarried father and his family took financial responsibility for that journey until, one day, she finally gave birth to a healthy baby girl. Through the advance help of a caring, elderly social worker, this young couple allowed that newborn to cross yet another passage: into the arms of a loving family who had been hoping to find her for almost eight years.

Several times during November on the main street in Houghton my wife and I drove past a sign at the Best Western: "Celebrate Adoption Month." Actually, we celebrate in December -- on our daughter's birthday. Perhaps you've already guessed that my wife and I were the first couple in the scenario above. We never met the second couple, but for almost 20 years we have loved and cared for the one to whom they chose to give birth. Perhaps you've caught a glimpse of Becky over the last four years on the "Pasty Cam": riding a muddy four-wheeler… skating with her hockey team… trying on her wedding dress.

In recent days in the Copper Country the opening of a Planned Parenthood clinic has sparked a storm of debate. A note on one of the discussion pages criticized those whom the writer labeled as "pro-lifers" for only being able to give anecdotal evidence to support their point of view. Excuse me, but life is anecdotal. Time passes, stories unfold, life goes on -- when it is permitted to do so. Label me as you will. I do understand the reality that each person's choice is her own to make, unless, of course, her choices are irreversibly taken away by the choice of another. Isn't it odd how someone may ask, "Is he pro-life or pro-choice?" as though one excluded the other?

From what I can see, life is a beautiful choice.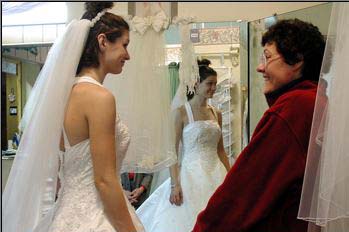 Becky and Edie Hopper (Photo courtesy Pasty Cam)