Our History:

Thurner Bakery has been blessed with great employees over the years:
Elwood Nelson 40 yrs. (retired)
Dan Butkovich has been at the bakery for 30 yrs., his grandfather and his father worked here, and his daughter works here
Dave Hella 30 yrs.
Paul Pintar 20 yrs.
Jerry Fountaine 18 yrs.
Ken Lutz 18 yrs.
Dave White 12 yrs.
Wade Roznik 11 yrs.
ALL of the Thurner boys and girls have worked at the bakery at one time:
Frank, Henry, Arthur, Alfred, Charles, George, Elizabeth and Helen
At Thurner Bakery, we don't just "raise and bake." Joe wouldn't want it any other way.
| | |
| --- | --- |
| | German immigrant Frances Dumke arrived in Oshkosh, Wisconsin on the Fourth of July, 1913, married Joe Thurner the next day, and began an American dream. |
| | |
| --- | --- |
| Joe Thurner established the Quality Bakery in Laurium, Michigan in 1920. | |
| | |
| --- | --- |
| | An early Quality Bakery truck. |
| | |
| --- | --- |
| Frank Thurner, left, took over the business from Joe and ran it from 1947 to 1977. | |
| | |
| --- | --- |
| | Jack Krans and an old Quality Bakery Truck. |


319 Fifth St., Calumet, MI 49913

Telephone: 906-337-3711

Fax: 906-337-0407

E-mail: thurner@pasty.net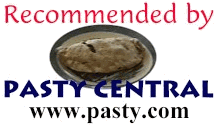 [Thurner Bakery Home Page]
[Info: Our Special Breads, Buns, Rolls, and Cakes]