Welcome to the Copper Country Reflections web site!
Here you will find a variety of photographs, postcards, Copper Country historical items plus many other things that will hopefully bring back some fond memories for you.
Don't let this simple home page fool you; there are over 1,000 images throughout this site, so start exploring and enjoy.
Start by browsing through the photographs and work your way from there. Use the arrows at the top of each page to move around. The Mining Company History section also contains many photographs, so browse there too.
Also, remember to look for active links on pages, as these lead to new pictures.
After 8 years, I'm no longer updating the
What's New
page, except with the date of my last revision. This site is basically complete. I'll make updates as I find new things to share.
For those interested in doing additional research, I've added an "
Illustrated Bibliography
" section, showing the cover pages of some of the key, and perhaps rare, Copper Country publications from 1845 and later. I hope you find this information helpful.
Thanks again to the folks at
Pasty.com
for hosting this web site. And please, let me know if you have any comments or suggestions.
Thanks for visiting....Chuck Voelker
Copyright © 2001-2010, Charles Voelker. All rights reserved. Reproduction by any means, physical or electronic, in part or in full, without the express permission of the author, is prohibited, except those items identified and credited to other organizations.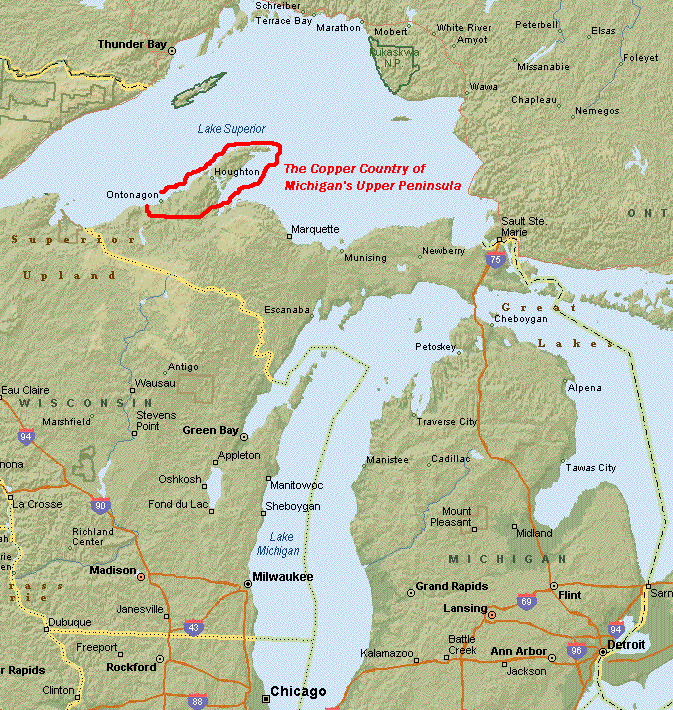 This map shows the location of The Copper Country, which consists of Keweenaw, Houghton and Ontonagon Counties, and a little of Baraga County too.