Postcards from the past
Many great images can be found among the various old postcards our parents or grandparents (hopefully) saved and left for
us today. I'm lucky enough to have few with little family stories written on them, but I've found many others in small flea markets across the state.
I'm not an expert regarding the multitudes of postcard varieties, so I offer no detailed background. In most cases, the picture says it all.
Here are some that I believe don't appear anyplace else on this web site. I hope you enjoy them!
The first 3 show the great old Amphidrome in Houghton, probably around 1910.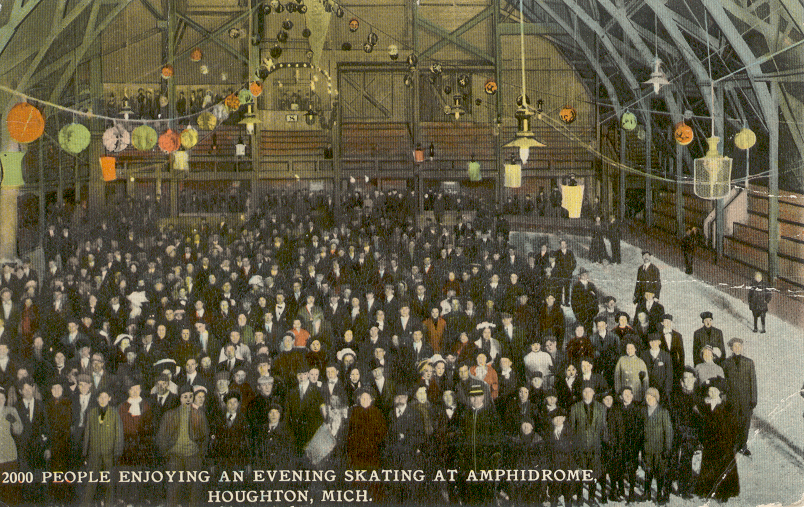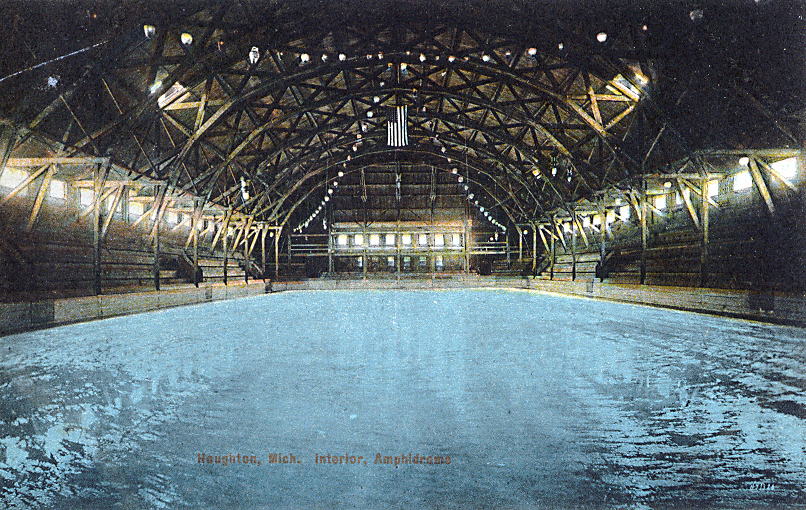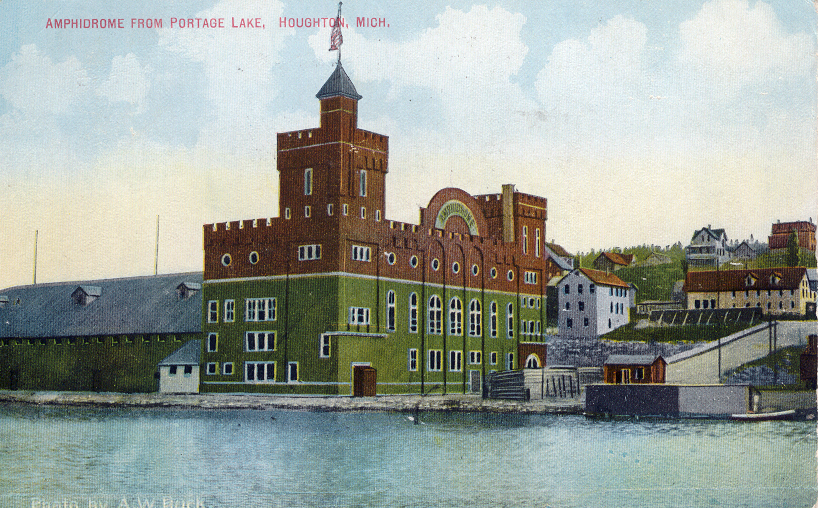 Here's a nice photo of a "Scandinavian" family, used as a postcard, 1915. Ten children was probably very normal then!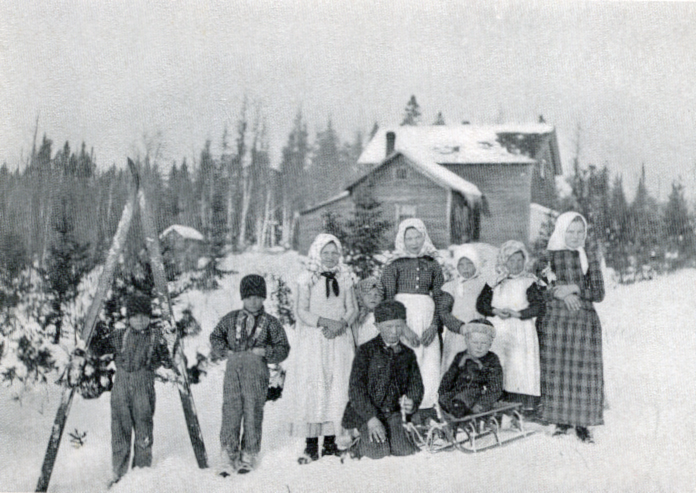 This advertising card from 1912 gives you a good sense of the latest home offerings. And we think junk mail is a new problem!
But can someone tell me what "sanitary matting" is?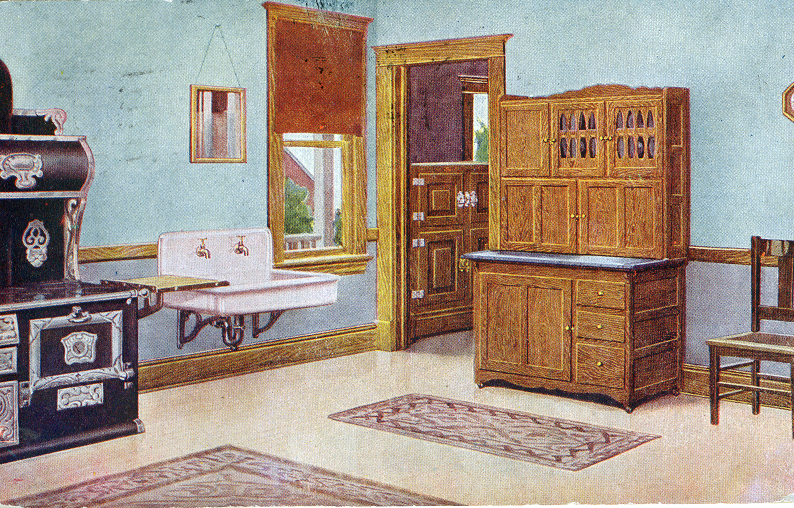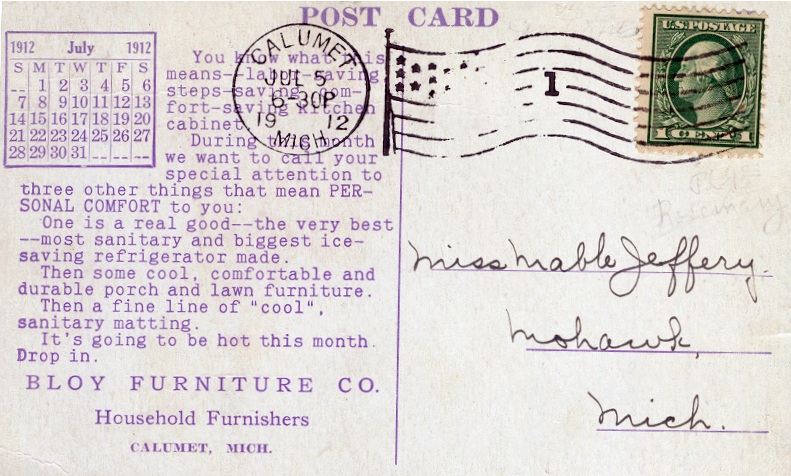 A nice view of the early, center pivoting Portage Bridge from the 1920's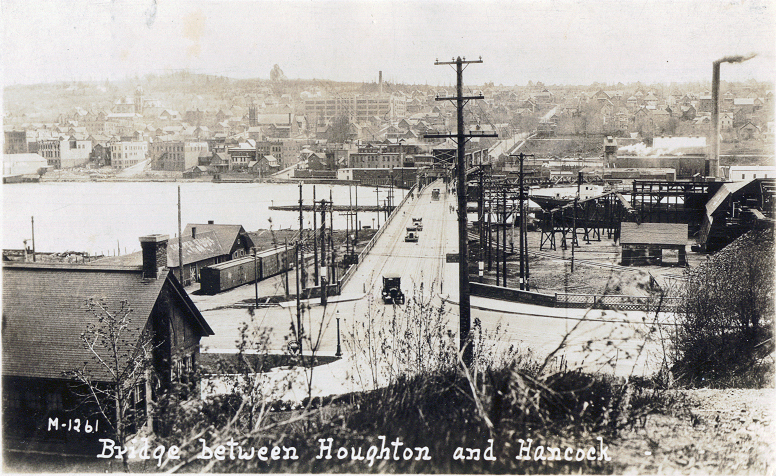 This gives you a good idea about the amount of coal C&H used for it's various operations.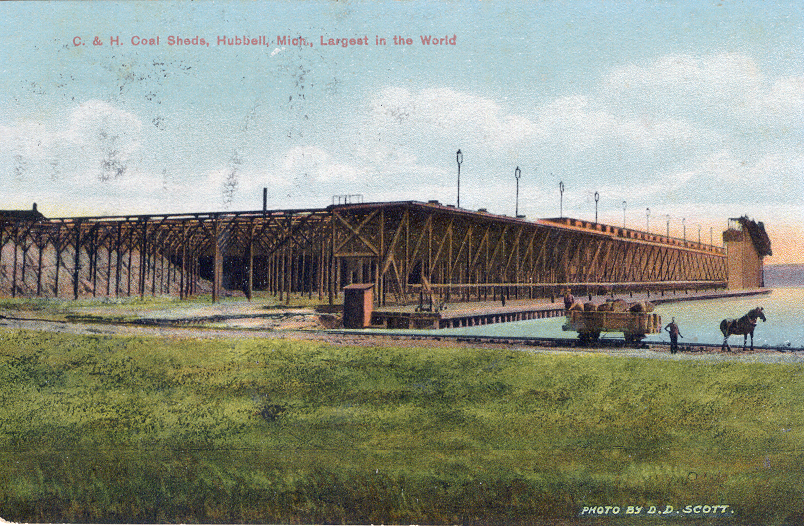 An electric tram, or mule, for hauling rock to the shaft. Note the lunch pails to the right of the driver.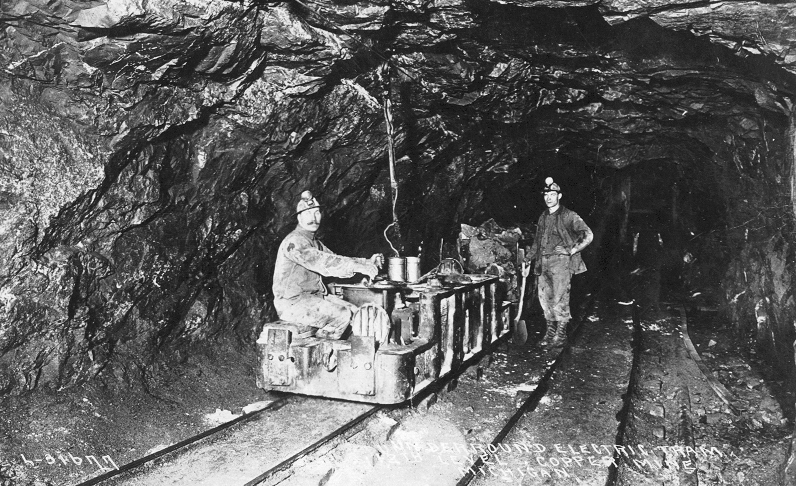 An earlier view of the fire station on Sixth Street, now a fireman's museum.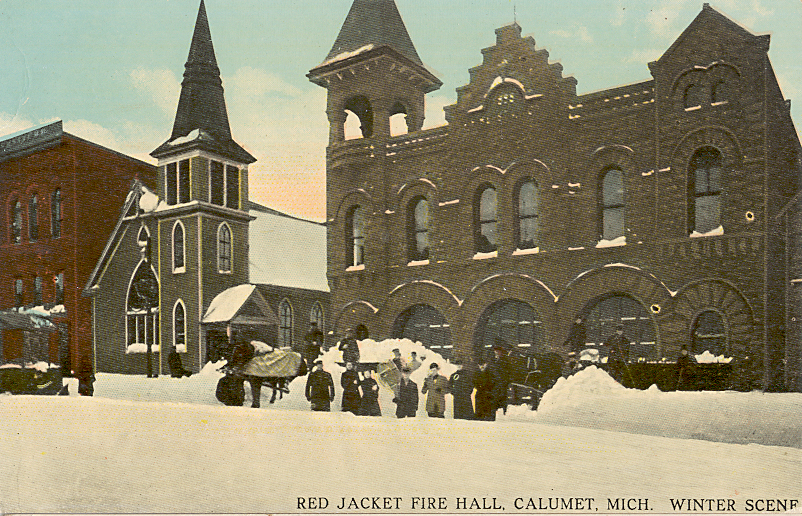 OK, here's an oddball card. It's a float, representing Michigan's Copper Country, in a parade obviously not in the UP.
Where else besides southern California or Florida would we see palm trees? Rose / Orange Bowl?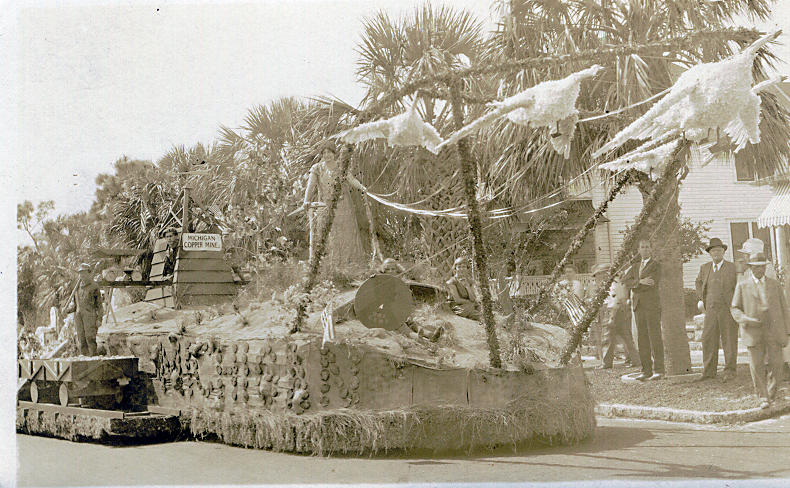 Quincy Street, Hancock, looking west.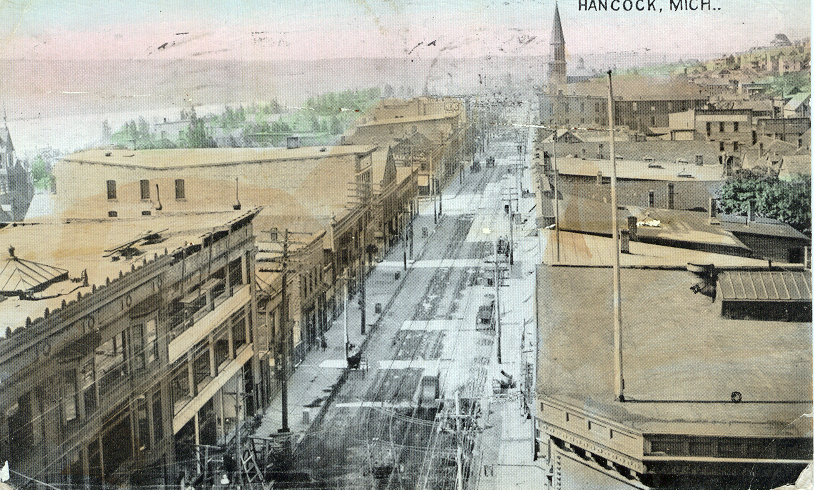 The C&H machine shop, on Mine Street, with the Hecla #2 (or #3) shaft.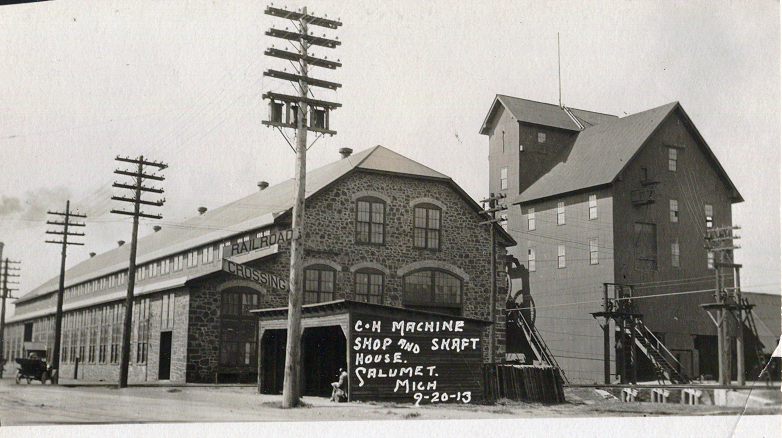 Not sure if this was the Quincy #7 shaft?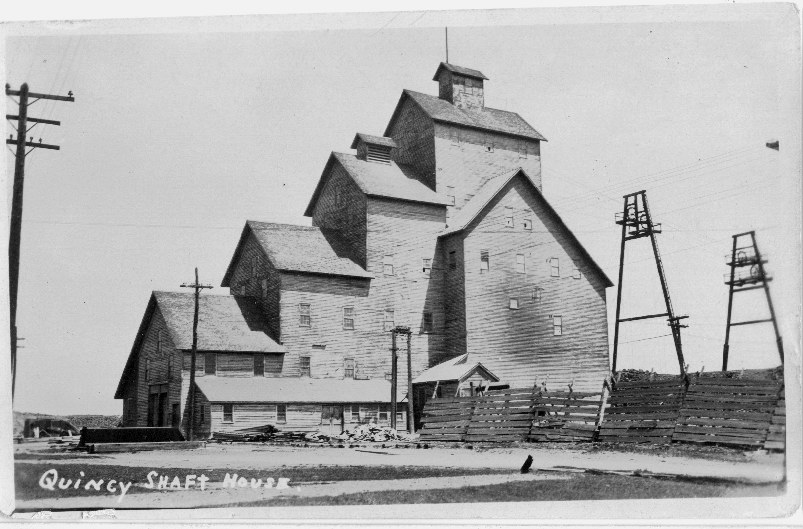 The old Scott Hotel, and the Kerredge Theatre to the right.
A nice streetcar/winter scene at the depot on Oak Street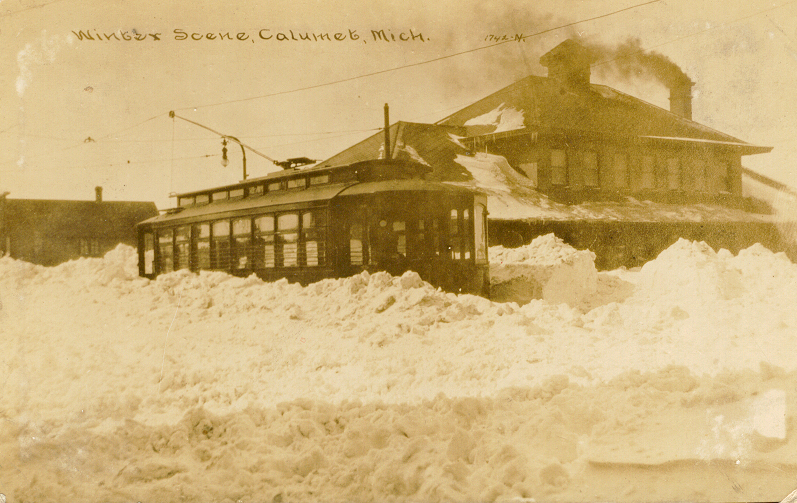 The next two show the Tamarack #2 shaft, west of downtown Calumet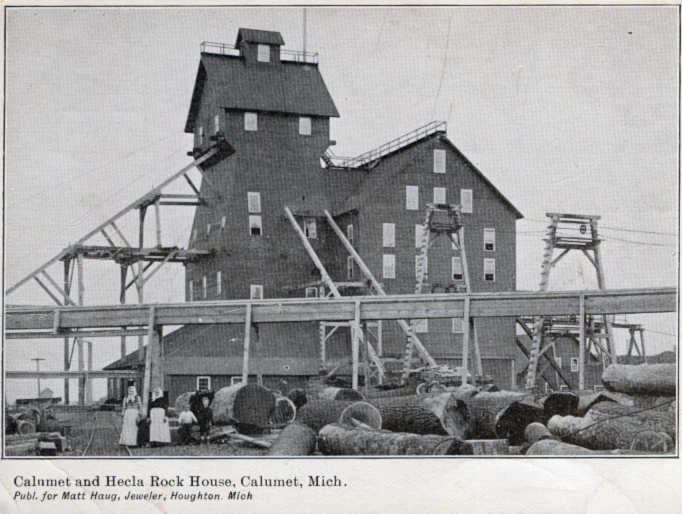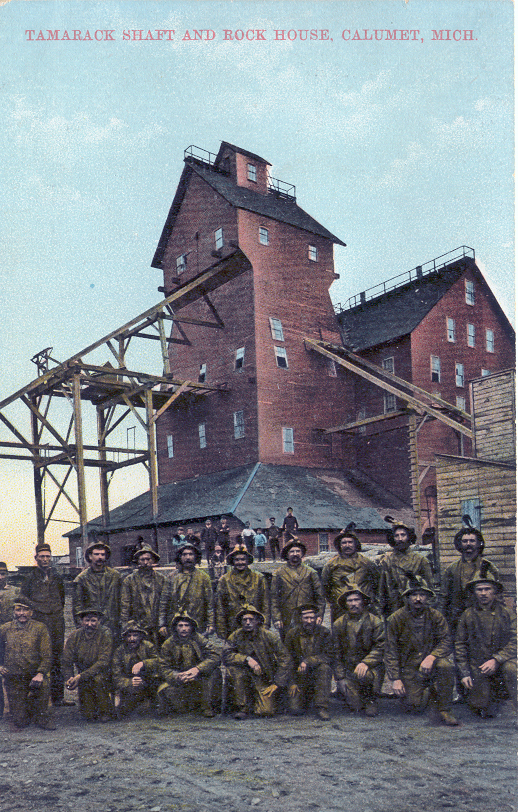 Here's a view of the East end of Pine Street, Calumet, with the Vienna Bakery sign in the background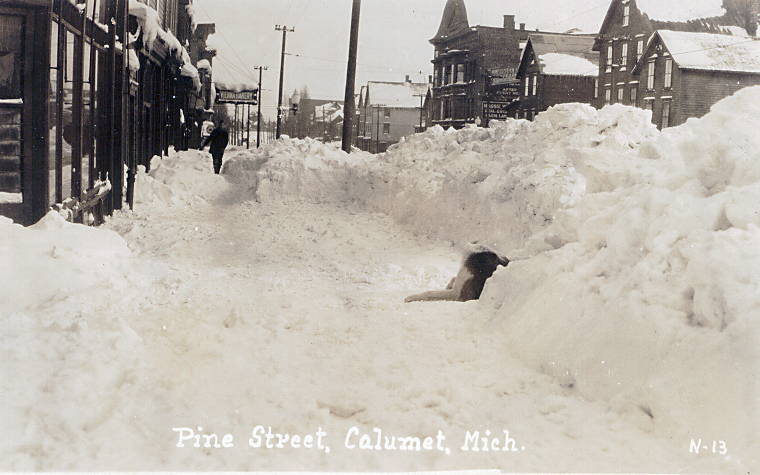 Unfortunately, this card is blurry, but it reads "Houghton, tourist park". I'm guessing sometime in the 1930's, early 40's.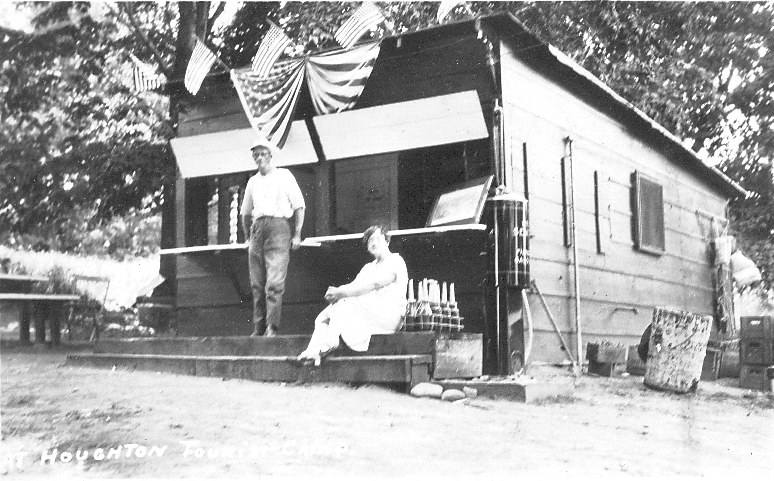 Finally, a view of Oak Street I've never seen until this card. Taken from the location of the railroad station, looking southeast towards Eighth Street.
Starting from the right, you can see the John T. Collins grocery store. To the left is a Saloon, though I can't read the name. This building is still standing, and has been recently refurbished.
The sign on the large building in the center says LIEBLEIN, though again, I can't see much else. I know nothing about this structure.
Finally, you can see the Arlington Hotel to the left. Any help identifying anything in this photo would be appreciated.