Early Laurium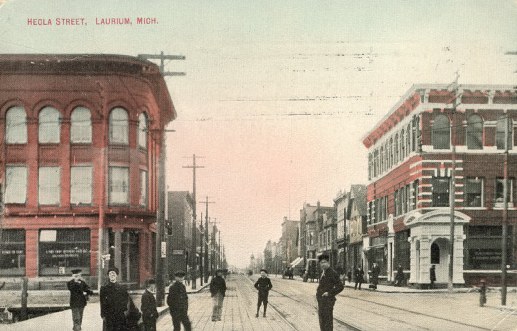 The development of Laurium has a very interesting, and confusing, past. What we call Laurium today was actually called the Village of Calumet. And Calumet today was really Red Jacket, but only until 1929. From what I can gather, the residents of "Calumet" wanted their own post office, since as the population continually moved east, getting to the post office in Red Jacket was not getting any easier. Plus, I'm sure it was prestigious to have your own post office. And the only way to achieve this was by changing the name of the village. So, it appears that Laurium became a separate entity (with a new post office) by either 1885 or 1889, and by 1910 its population had grown to over 8,500 residents,
Here are a few images of Laurium to enjoy while pondering this question:
If the Village of Calumet was renamed Laurium by 1889, and Red Jacket didn't officially change to Calumet until 1929, did a legal village of Calumet exist between these years?