Published in 1881, this "Birds Eye" view shows the area around Calumet as it was approaching its industrial peak. Drawings like this were very popular during the period. This example comes from the Library of Congress.
Click a section to see larger view...(This page may appear mis-aligned when viewed on a 17-inch or larger monitor. My apologies.)
Here are a couple more views of the village. Click on the images below to see the larger version.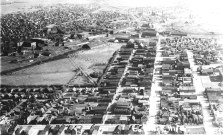 Aerial view of Calumet approximately 1934.
Looking south, Pine Street running horizontal across bottom.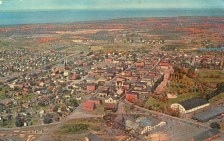 Looking north, 1964. Note C&H shops still running.