GRILLED LAKE TROUT OR SALMON
1 fresh Lake Trout or Salmon
2-3 Tbsp melted butter, or olive oil
salt
pepper
Paul Prudhomme's Veal and Pork Magic, or McCormick's Zesty Herb and Garlic, Montreal Steak works good too.
Fillet and bone fish, but leave the skin on. Cut the fillet into 3 or four pieces. Rub the veal and pork magic on to the flesh side of the fish. Add the salt and pepper. Baste the flesh side with the melted butter. Place the fish directly on the grill (do not use tin foil) with the flesh (presentation) side down. Cook the fish for 4 minutes. Baste the skin side while it is cooking. Turn the fish with tongs or spatula. (The fish will not fall apart, honestly) Cook another 4 minutes or until the fish flakes easily. Baste the fish while it is cooking. Remove the fish from the grill and serve with baked potatoes and cole slaw or garden salad.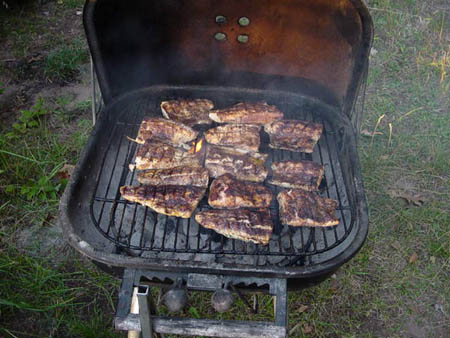 KALA MOIAKKA (FISH CHOWDER)
1 c. water
3 medium potatoes, cut up
1 lb. fresh fish (whitefish, trout, salmon)
3 slices of bacon
7 whole peppercorns
1 tsp. sunner savory
1 medium onion, chopped (2-3, if desired)
1/2 tsp. salt
1 tsp. flour
2 c. milk
4 Tbsp. butter
Brown the bacon, add onions, cook until almost done, add water, Boil potatoes in water for 10 minutes; add fish, peppercorns, and salt, and spices. Cook until potatoes are done. Add flour to milk; mix well. Stir the milk into the soup, stirring while it heats. Blend in the butter; cook soup for another 3 minutes. Serves 4.
CRISPY BATTER
1 c. flour
2 tsp. (Calumet) baking powder
1 1/2 tsp. salt
1 tsp. sugar
1 Tbsp. salad oil
1 c. water
Measure, mix and sift dry ingredients into bowl, and make a well in the middle of the mixture. Mix oil into water and pour into the well. Mix, working from the middle, until all flour is blended in and mixture is smooth. Dip fish into batter and deep fry in kettle at 365 to 375 degrees. This is a great recipe for smelt, perch, and with walleye. (With walleye the batter tastes great)
PAN FRIED TROUT
1 c. flour
1 c. bread crumbs
1 egg
1/4 c. milk
salt
pepper
Fillet, bone, and skin the trout. Cut fillet into pieces about 3/4 inch wide. Add flour into a plastic bag, add trout and shake until fish is lightly coated with flour. In a bowl mix the egg and milk together. Place the bread crumbs in a plate, dip the fish in the egg/milk mixture and roll the fish in the bread crumbs. Cook in a fry pan with at least 1/4 inch of oil in it. Turn the fish once while it is cooking. This recipe will even work well with frozen trout.
SMOKED TROUT
Brine:
Start with about 2 1/2 gallon of cold water. Add one cup of sugar and enough pickling salt to just float an egg. (It comes out to about 1 1/2 cup of salt of salt. Add wash pan full of (15 to 20 pounds) fish fillets and brine for 12 hours. Rinse and keep refrigerated until ready to smoke. Note: I now use PS seasonings Maple Cure to make the brine. It adds a little maple flavor to the smoked fish.
Smoke:
Grease racks in smoke house and place fish on racks so they do not touch. Bring temperature up to 150 degrees while adding smoke. Smoke for 6 hours at around 145 to 155 degrees. Remove fish and place on paper toweling while they cool down. (Don't let the dog eat them). Fish can be refrigerated in a paper, not plastic, bag for about 2 weeks. Fish also can be vacuum packed and frozen or canned for longer storage.


SMOKED FISH DIP

1 cup smoked fish - flaked
1/2 medium onion - diced small
1/2 cup miracle whip
1 tea spoon horseradish
2 Tablespoon sweet pickle relish

Mix - taste and adjust ingredients, add more of what you want.
Better after it sits several hours.