Link to HOME, OLDER FISH REPORTS
Thursday June 15, 2017
Up at 3:30 AM to get to the Houghton Airport to get checked in, through security, and catch our flight to Chicago. At Chicago we would catch a flight to Seattle, then a flight to Ketchican, then a small plane to Klawock on the Prince of Wales Island, then we were to meet up with some guy called Jeff. Jeff would take us from the airport to the grocery store in Klawock, then to Naukati to meet Steve who would be using a skiff borrowed from Ben. What could possible go wrong? Unbelievably, everything went just as planned and we met Jeff at the airport and off to the grocery store in Klawock we went. The store was dark, the electricity was off. Jeff made a call to Craig to see if there was power there. The power was on so off we go eight miles farther down the road to get our groceries. We got our grub and then there was a 60 mile ride up to the dock at Naukati. Steve was there so we loaded the skiff and took a 21 mile boat ride to Edna Bay. We changed from Bens skiff to Steve's skiff and took a one mile ride to his cabin, unloaded the grub and supplies, tied the boat to the out-haul and made it to his cabin in just around 23 hours.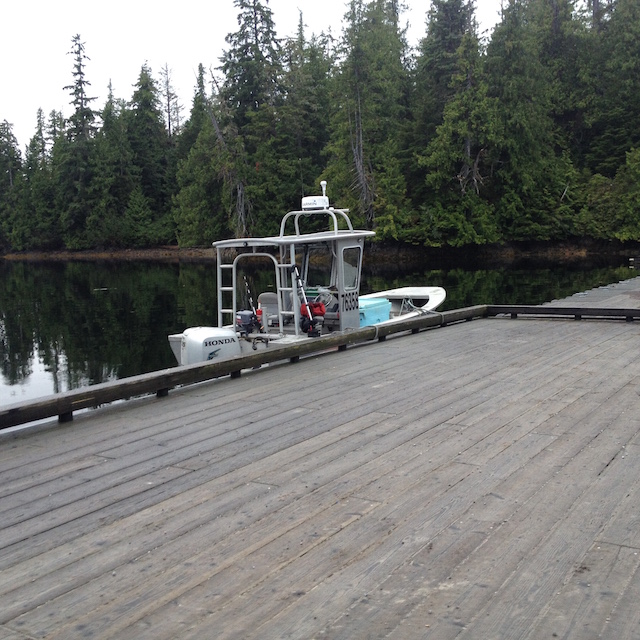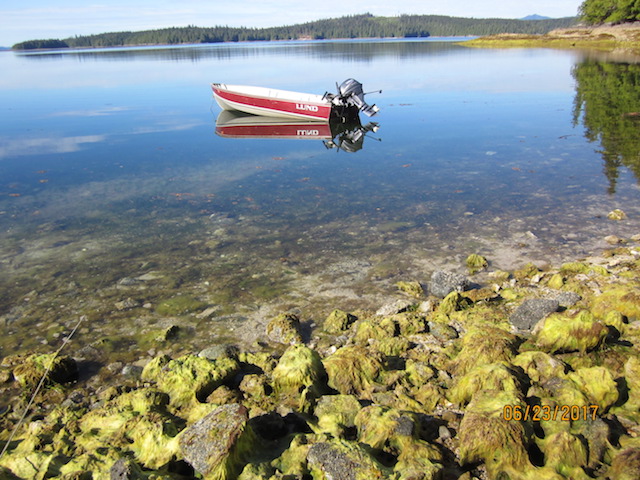 Friday June 16
Went jigging in Steve's skiff. We jigged up some small hallibut and some rock fish. We kept a couple of rock fish (bombers, Steve calls them) for supper. The motor was not running very well. We had to keep pumping the bulb in the gas line to keep the motor running. After we had rounded Limestone Point and were out in the sound the motor quit and was not starting. Bruce was a little concerned that we were going to drift to China but Steve wasn't concerned. I said we could always row back using the oars. Steve said "look at the oars, they have no paddles on them". I guess we were going to head for China. Well the motor finally started and we made it back to the camp and had a good meal of deep fried Alaskan rock fish.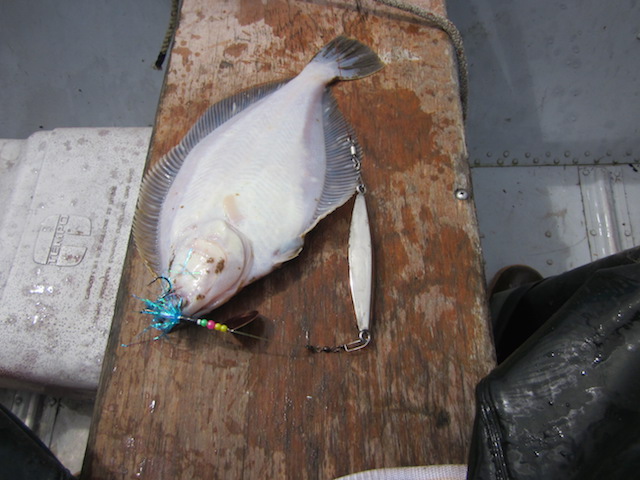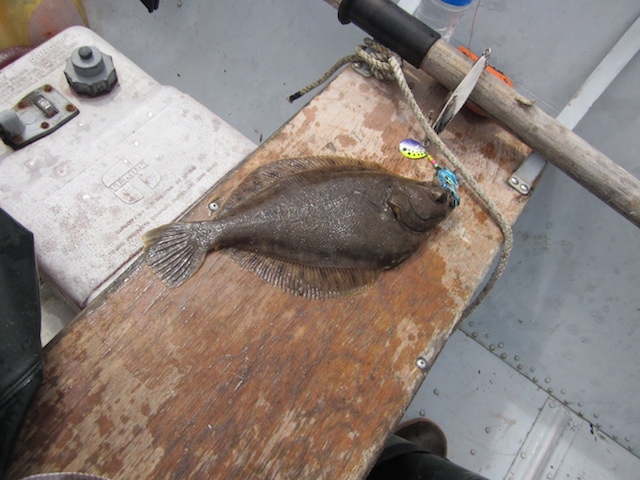 The reason we were jigging is that Steve hadn't used his down riggers for a couple of years. An eight pound cannon ball was hooked to the first down rigger, the rod was hooked and down into the briney deep it was lowered. When it was down about 40 feet the cable parted and that was it for our first cannon ball. The second downrigger was set up and that one lowered to 10 fathoms. When we were fishing with it we noticed a frey in the cable. That is always a disaster waiting to happen so we raised that down rigger and went to jigging.
Saturday, June 17
Fished with Ben's boat. His boat had one downrigger and one rod holder. We fished one down rigger and one dipsey diver. Trolled all the way to the end of Whale Head Island. There were some charter boats fishing near the Breakers. We picked up a large ling cod on the way out there. Ben's boat had an electrical problem and you had to keep wiggling wires under the dash to keep the depth finder and fuel flow guage operating. Bruce and Steve changed gas filters and added some alcohol to the gas on Steves skiff. Motor runs good now. Internet quit working.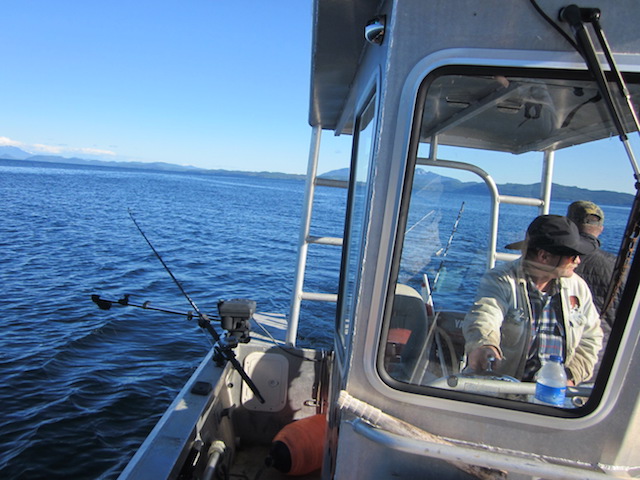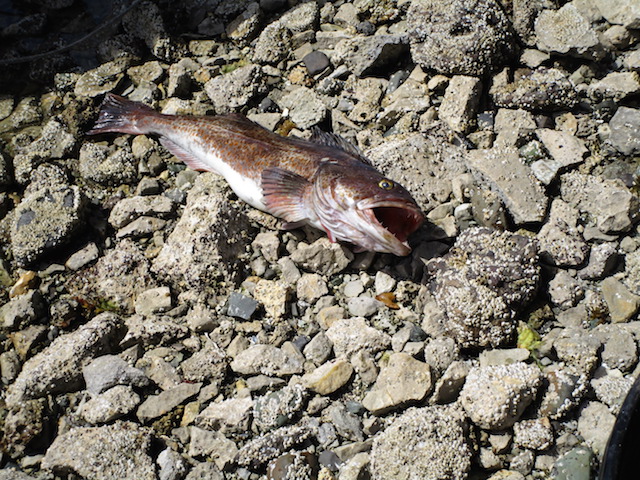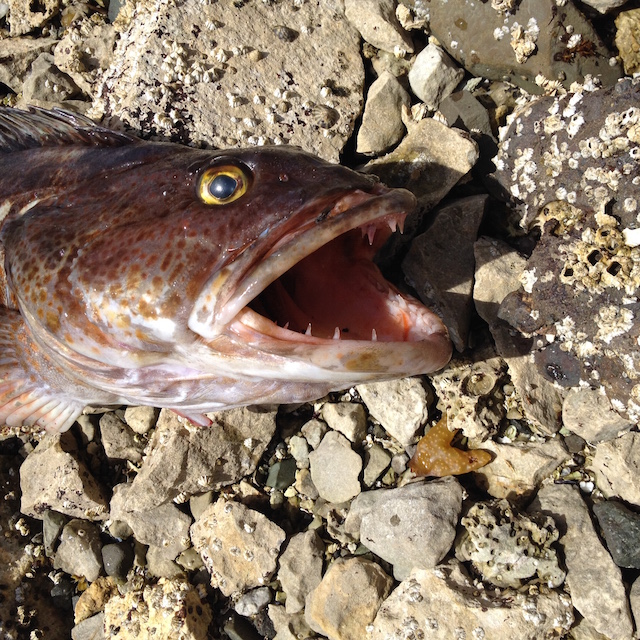 Sunday, June 18
Raining and blowing, a good cabin day. We had a good wood fire going. Steve made a run over to the other side of the bay to pick up the downriggers that are to go onto his new boat that Ben is building for him. The new downrigges have 250 foot cables on them and Steve is going to put 400 foot cables on the new riggers. We took the cables off the new down rigges and wound it onto the manual down riggers that are on Steves skiff. We also took the line counters off the new down riggers and put them on the manual riggers. We now have two fully functioning downriggers. Also borrowed a 15 pound cannon ball from Harry, a local fisherman from across the bay.
Monday, June 19
We fished for a while from Steves skiff, no salmon yet. When we came in Steve took the skiff over and came back with the internet repair guy. They worked on it and finally got it working. We heard that Harry got a 25 pounder in the evening. Looks like the kings are around.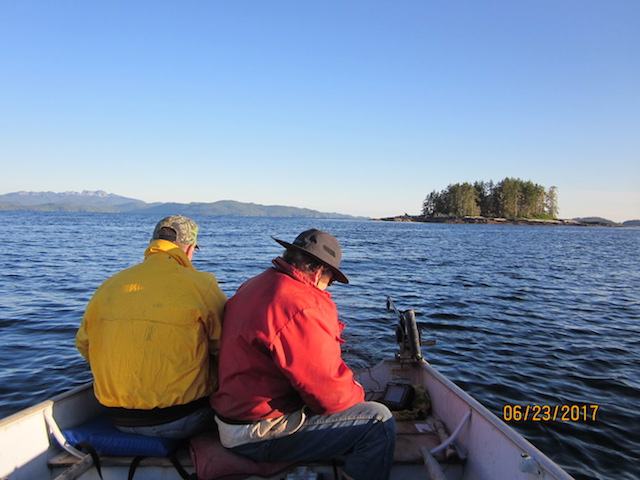 Tuesday, June 20
Motor runs, we have two working down riggers. We decided to fish with meat lines (no rods) attached to the down riggers. The lines were made up of 100 pound rip cord and 100 pound monofilament to the squids (hoochies). The leaders were attached directly to the downrigger cables so when a fish hit the lure, the downrigger would bounce and you would hand crank the fish and cannon ball to the surface. Then you would grab the leader and fight the fish all the way to the boat. We decided on an early supper and then out fishing we went. Steve wanted four king salmon to take back so that was our mission. Well we did it, between Harry, Steve, Bruce and me we came in with four nice king salmon. Steve will have his salmon to take back to Michigan.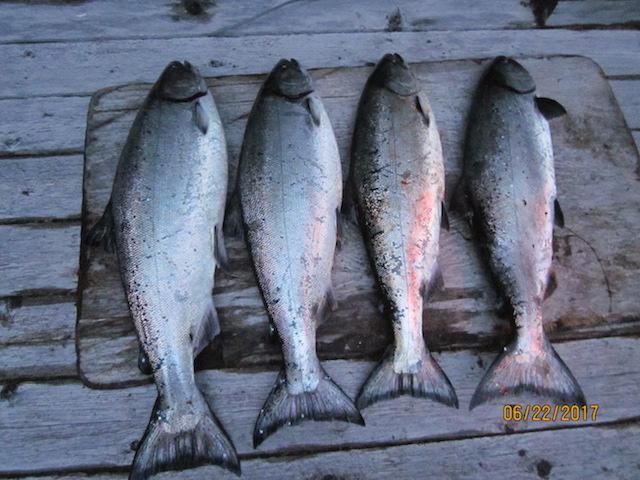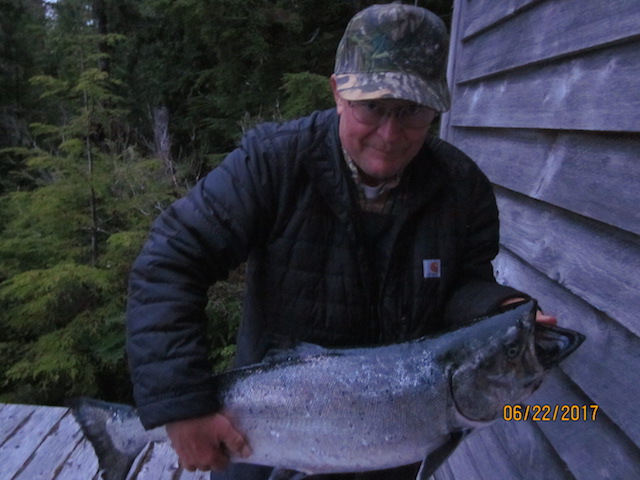 Wednesday, June 21
Bruce and I were out in Steve's skiff, Steve was out in Ben's. Steve was over by Green Island and we were closer in to Edna Bay and were not far off of Entrance Island. We had been watching a big white boat on the horizon all morning. Soon it was close enough to see it was a Coast Guard boat and that there was a smaller inflatable with it. We watched the small boat come zooming up to Steve. We had no safety equipment on the skiff so I told Bruce to slowly pull our lines and not make any fast moves. We sneaked the lines into the boat and we motored off on a course that would put Limestone Point between us and the Coast Guard cutter. As soon as we were behind the point we zoomed over to Steves cabin and put the skiff on the outhaul. It didn't take long and here comes Steve and not to far behind him was the Coast Guard cutter. I think they were looking for the guy with the blue float coat and the red stormy cromer who was sitting next to the guy in the bright yellow float coat. The cutter anchored right out in front of Steves cabin and they spent the night there.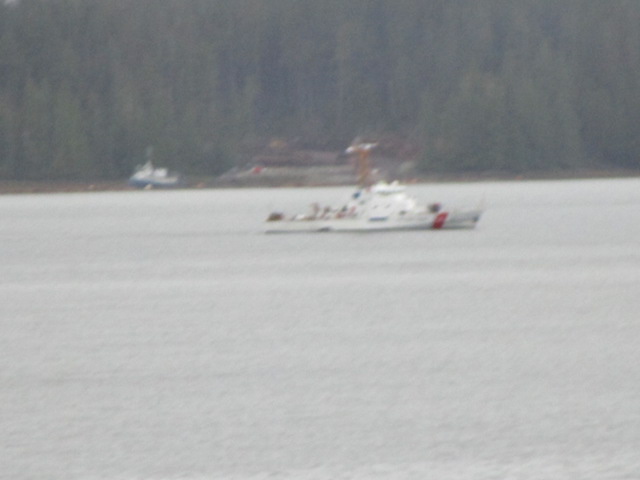 Thursday, June 22
We had Salmon bacon for breakfast. It went well with eggs. Nice sunny day and we sat outside. We filled Steve's wood shed with split cedar fire wood. Steve went to get gas for the skiff and for Ben's boat. Internet still down. We went out fishing by Green Island after supper. We had three hits from king salmon. One tried to pull the 15 pound cannon ball to the surface. When he hit the end of the cable he broke off a 100 pound leader. It must have been a trophy fish. We had a full day without rain. It has rained every day since we got to Alaska and Bruce's favorite saying is "It rains every day in Alaska".
Friday, June 23
Clean up day, sunny and warm, 52 degrees. We went beach combing and found some clam shells. Steve is busy installing a propane powered freezer. While doing that he cleaned out a corner and found the missing cannon ball that he has been looking for. He has been in the attic, in the crawl space and in the wood shed but no cannon ball. It was in the corner of the kitchen under some card board. The freezer worked and his fish will be frozen for his trip back.
Saturday, June 24
Harry, the German, commandeered Ben's boat. Our plan was to meet Jeff in Naukati at 1:00. Harry had to get to Craig earlier so we left Edna Bay at 6:30 in Ben's boat. We met Jeff for our taxi ride to Klawok, then Island Air Express to Ketchican, a ferry ride from the airport to Ketchican, and a shuttle to the New York Hotel. Our room was on historic Creek Street, two houses down from Dolly's Whorehouse. Steve left early on Sunday. Bruce and I fly out on Monday.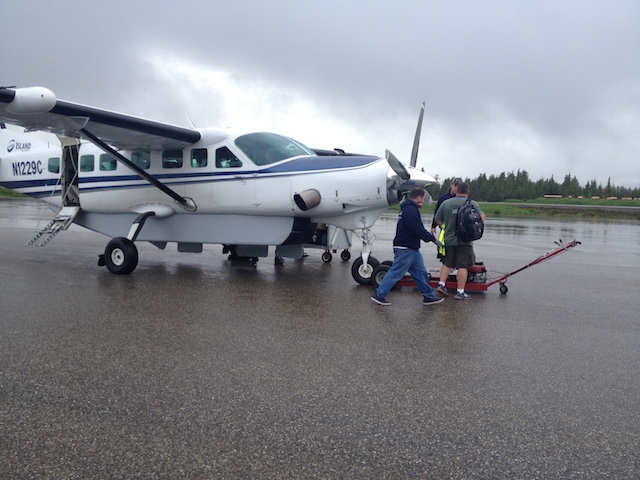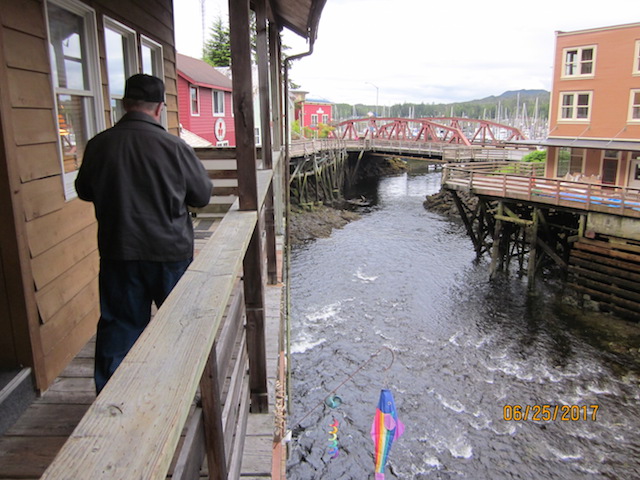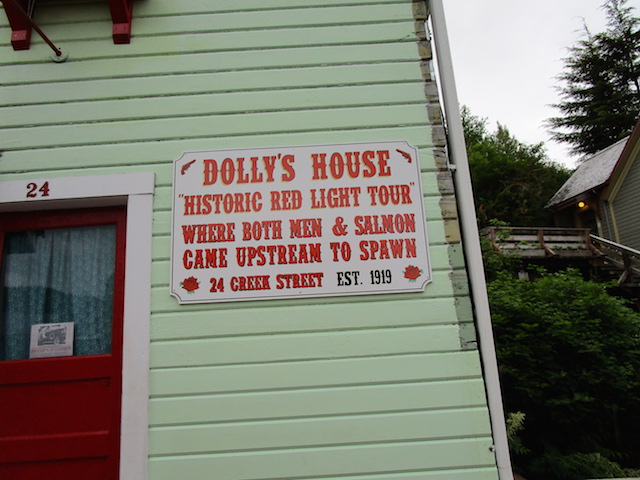 Sunday, June 25
Met with Ron, the captain of the Silvertip, on his boat in the marina at Ketchican. It is a neat boat. We talked fishing and tied knots. The cruise ships were in so the town was crowded. The town shut down at 3:30 and the cruise ships left at 4:00.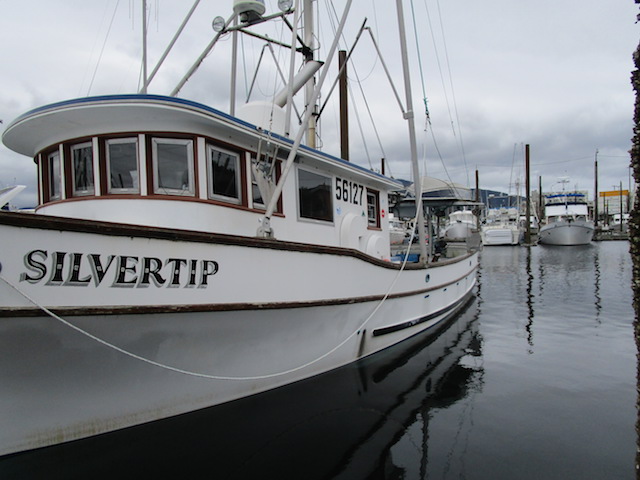 Monday, June 26
We left Ketchican in the afternoon.Our flight from Seattle was at midnight. I thought it would be an empty flight but it was packed. Everyone is trying to get to Chicago to make their connections from there. Because you are flying against time you have to travel at night from Seattle to arrive in Chicago at daylight. Bruce had a hard time making it through security in Ketchican. He gave the gal his drivers license with the picture of a younger Bruce on it. He even had dark hair. The Bruce she saw standing in front of her was an old fart with grey hair. The supervisor had to come over and look at the picture. While in the Seattle airport, I was being eyed up by a cute blond. I texted that to Marge and she said, "In your dreams". Then I told her that the blonde was a 4 year old. Marge said I attracted dogs and kids.
Tuesday, June 27
Made it home by 1:00. Marge and Paula were at the airport to take us home from our great Alaskan adventure.