---
By Charlie at Pasty Central on Friday, July 26, 2002 - 10:22 pm:

<!-NOTE: Message edited by 'admin'-!> Sorry for the Cam update being late, I really prefer to publish it early in the morning. But it has been a busy, busy day here in the Copper Country. Jonathan and I have been to the high spots around the Peninsula again today, working on an exciting new project for our area. You can read about it over at Keweenaw Now.

After a hard days work, this shot by Tom Christofferson caught my eye, among the plethora of photos we received for Lighthouse Week. Somehow the sky has the cool flavor of a blueberry popsicle. Which reminds me of the Beyer boys a few weeks ago, when we REALLY had some heat.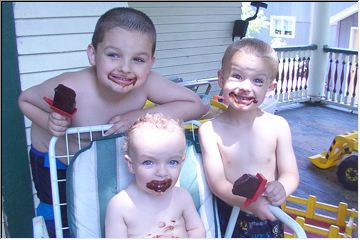 <!-/Post: 11323-!> <!-Post: 11324-!>