---
By Charlie at Pasty Central on Friday, May 3, 2002 - 11:52 pm:

This morning after uploading today's picture, I suddenly got busy with the demands of running an Internet service/Pasty Kitchen/Home for the Elderly, and was unable to post any comments about the lovely ladies holding up the trees. I believe Rose and Shibumi appeared on these pages with a couple of other friends, almost exactly one year ago. And as I recall, it was Taka who took that shot, too.

I'm so grateful for the friends we have come to know through this website, who share their obvious love of the U.P., this land of pure air and pasties. When I woke up one morning in May, six years ago, with the idea for a place called pasty.com, little did I realize the deep connection so many people have with Upper Michigan. Caring for the "behind-the-scenes" of Pasty Central takes a lot of work, but all of you who visit, and comment, and contribute, and appear on these pages make it well worth the effort. I feel like it's not a job, but rather, an adventure.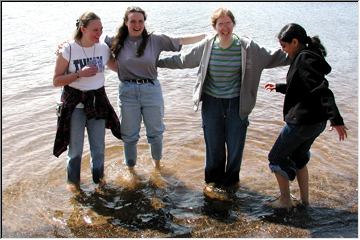 <!-/Post: 9756-!> <!-Post: 9757-!>