---
By Charlie at Pasty Central on Saturday, March 23, 2002 - 06:39 am:

On that long stretch of U.P. wilderness between L'Anse and Ishpeming, before you reach Michigamme, there's the lovely cabin community of Three Lakes. Gordy Rice sends this eyewitness report from his family's camp, wondering if Spring really arrived this week.

In another year, another season, my wife and I saw this peaceful scene on Ruth Lake (one of the "Three"), passing along US-41.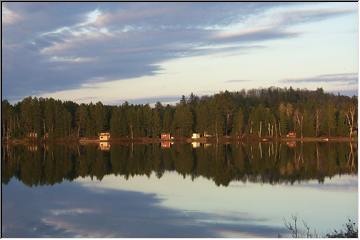 <!-/Post: 9119-!> <!-Post: 9120-!>