---
By Charlie at Pasty Central on Saturday, December 2, 2000 - 10:27 pm:

Perhaps you saw the notice of this event on the Pasty Cam in November. Hundreds of Keweenaw and Copper Country hunters turned out to vote on the Best Buck of 2000 and best all time, as well as share a good meal of wild game and hear Deer Dr. Les Ollila. Les grew up in the northern suburbs of Mohawk (yeah, right) and tonight he related how that he has missed so many deer over the years, he tried to hit one on the highway just to get even.

Pastor Hart is the retired Camp Director of Gitche Gumee in Eagle River and First Baptist in Calumet. In 1958 he bagged this buck in Ontonagon County while he was out for a stroll in the woods.

By the way, Les and Pastor Hart appeared with his other dear (Joyce) back in August of '98 (no, not 1898), when Les presented Charles with his honorary doctors degree. Perhaps Pastor Hart is the real Deer Doctor.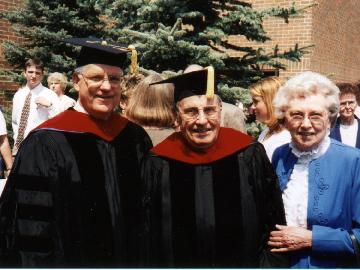 . Here are some other scenes from tonights's happening:


<!-/Post: 1867-!> <!-Post: 1868-!>