---
By Charlie at Pasty Central on Thursday, October 26, 2000 - 06:37 am:

<!-NOTE: Message edited by 'admin'-!> An early morning walk down by the Arnold Docks rewarded Jon Jacobson with a special sight. It's not too unusual to see lightning here in July, but rarely in October. More of Jon's work can be seen at Picture Michigan.

This reminds me of a Pasty Cam adventure back in '98, when I sat in the car up on Bumbletown Hill during a lightning storm. I must have tried 20 time to capture one of the flashes, but it was like attempting to eat jello with chopsticks. Finally... BOOM and I clicked a startled, lucky shot.

Thanks for another good glimpse of the east end of Pastyland, Jon.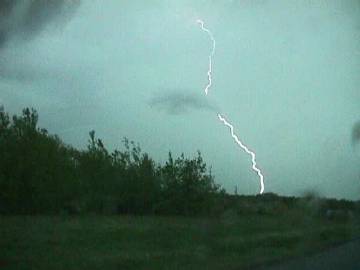 <!-/Post: 1473-!> <!-Post: 1475-!>