---
By Charlie at Pasty Central on Wednesday, October 18, 2000 - 09:47 pm:

As you know if you're a daily Pasty Cam watcher, yesterday we did a little shopping in Marquette. After an overnight at the Econo Lodge, we headed back to the Copper Country. On US-41 between Michigamme and Nestoria is a lovely collection of lakes, which today had hardly a ripple. If it weren't for the little patch of bushes down by the Pasty.com watermark (quite literally), you might think this shot was possibly upside down.

Reminds me of one of my favorites, shot by Jonathan little more than a year ago at No Name Lake. This one resulted in a few monitors being turned upside down.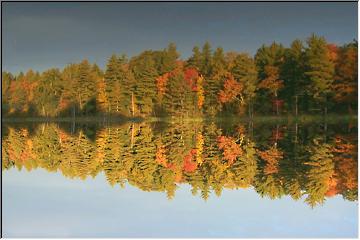 Here's a little trivia: Today's shot of Lake Ruth is on the north side of US-41. Can you name the lake on the south side? <!-/Post: 1400-!> <!-Post: 1401-!>